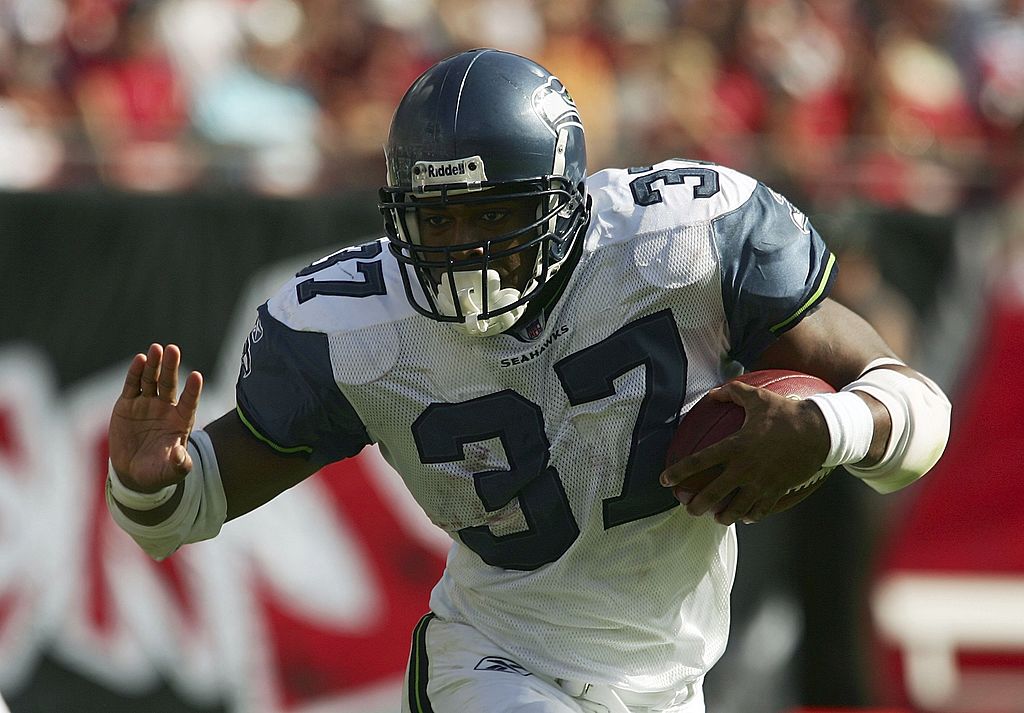 What Happened to Former NFL MVP Shaun Alexander?
Shaun Alexander was one of the best players in the NFL in the early 2000s, but his career crashed and burned after his MVP season in 2005.
Shaun Alexander was arguably the best player in the entire NFL in 2005. He rushed for 1,880 yards and a mind-numbing 27 touchdowns. It still stands as the second-most rushing touchdowns in a season in NFL history. LaDainian Tomlinson had 28 a season later, but no one has topped 27 since then. Alexander won the NFL MVP in 2005 for his incredible season. He was awarded the prestigious Madden cover and the largest contract for a running back in league history. Seahawks fans were thrilled to lock Alexander up for the next eight years, but he didn't even last three more seasons in Seattle. He was out of the league by 2009. What went so wrong so quickly for Alexander and what is he up to in retirement?
Shaun Alexander was the NFL's best running back in the early 2000s
Alexander proved his superstar potential in just his second year as a pro. In 2001, Alexander got the bulk of the carries in Seattle and recorded 1,318 rushing yards and 16 total touchdowns. He only improved from there.
Alexander rushed for over 1,000 yards in five consecutive seasons starting in 2001. He scored at least 16 total touchdowns in each season. Many thought his 20-touchdown season in 2004 was Alexander's peak, but he still had another gear.
The former Alabama running back exploded for nearly 2,000 total yards and 28 touchdowns in 2005 en route to his NFL MVP award. It holds up today as one of the greatest seasons for a running back in NFL history.
The Seahawks decided to extend their franchise playmaker for eight more seasons after 2005. Seattle gave Alexander $62 million and $15 million guaranteed, which was the largest contract for a running back in NFL history at the time. Alexander was 28. He would be out of the league by age 31.
Alexander's career took a nosedive after he signed $62 million contract
The Seahawks thought they were locking up the NFL's best offensive player for the rest of his career. If they had known at the time Alexander's career would only last three more seasons, they surely would've rethought giving him $62 million.
Alexander followed his MVP season with a pedestrian 896 yards and seven rushing touchdowns in 2006. He missed six games due to injuries, but his 3.6 yards per carry in 10 games was the worst of his career to that point.
Seattle chalked the off-year up to minor injuries, but the worst was yet to come for Alexander. The former MVP took another step back in 2007, as he rushed for 716 yards and just four touchdowns. Again he missed multiple games due to injuries, and his yards per carry decreased once more.
Just two years after signing his eight-year, $62 million contract with Seattle, Alexander was cut by the Seahawks. He was scooped up by the Redskins prior to the 2008 season, but he only lasted four games in Washington before getting cut again. Just like that, his NFL career was over just three seasons after winning the league MVP award.
What is Shaun Alexander up to now?
Alexander was forced to retire after the 2008 season. Too many injuries piled up and the former league MVP didn't have anything left in the tank at 31 years old. His NFL career only lasted nine seasons.
Alexander stayed in Washington D.C. after retirement and turned to a life of family and charity. He and his wife Valerie had 11 children, but their ninth child died just 70 days after birth. Shaun and Valerie homeschool all of their children.
Along with being a full-time father to 10 kids, Alexander tours the country to speak about faith and family. He also partnered with Play to Win Inc. to help manage a Purcellville baseball field and community center.
Even though he stayed in D.C. to raise his family, Alexander is still one of the biggest Seahawks fans out there. He'll never forget what the organization did for his career, and the Seattle fans still adore Alexander for his incredible stretch with the franchise.