If Aaron Rodgers Leaves the Packers, It's His Choice, but If Brian Gutekunst Goes, That Better Not Be Rodgers' Decision
So, whose side are you on? Are you with Aaron Rodgers, the veteran quarterback who is attempting to whine his way out of the Green Bay Packers organization? Are you with Brian Gutekunst, the man responsible for what might be the most foolish draft of all time? At the moment, it doesn't appear likely the two will be together much longer. If Rodgers goes, it's his decision. If Gutekunst goes, it better not be Rodgers' decision.
Aaron Rodgers' problem appears to be with Packers GM Brian Gutekunst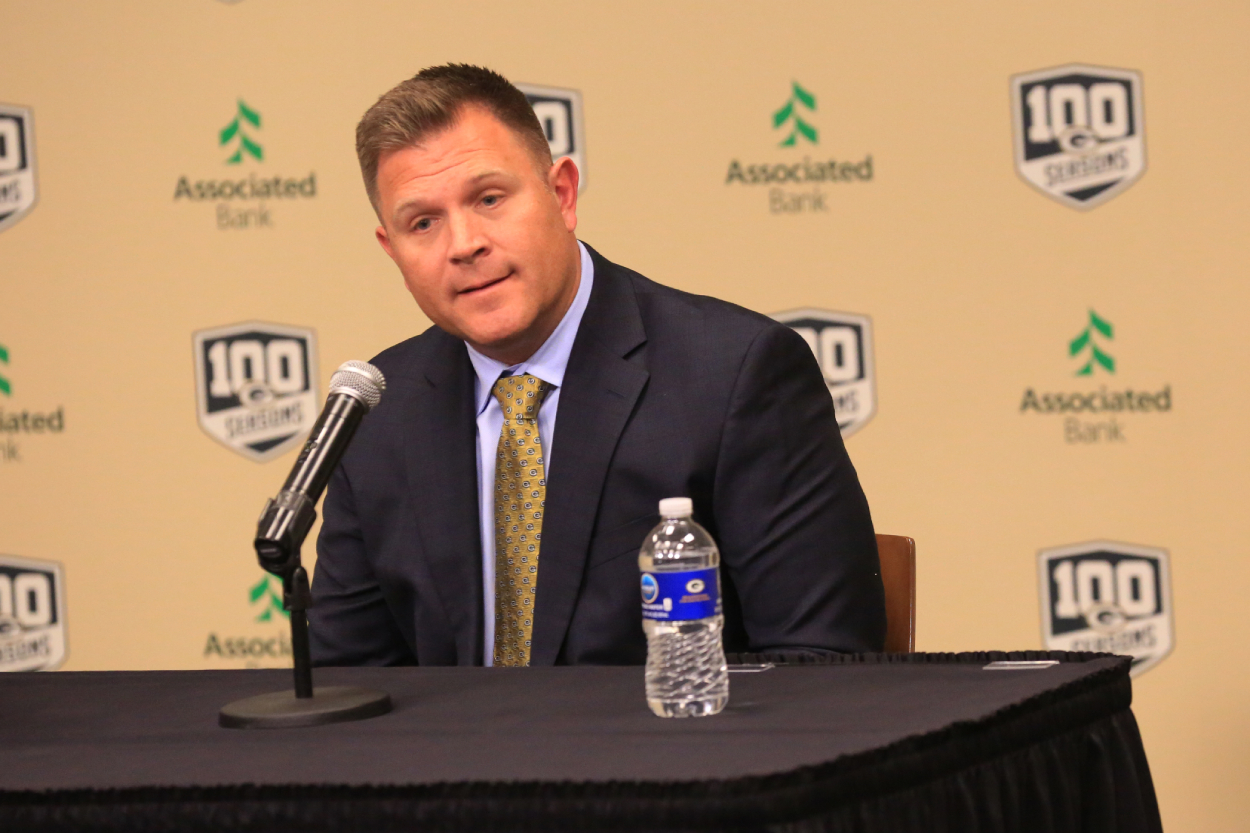 Aaron Rodgers isn't happy. Until he speaks publicly, we'll never know exactly what the reason is. Speculation is he's upset with Packers GM Brian Gutenkunst. That brings up the next question. Why exactly is he upset with him?
It all likely shifts back to the 2020 NFL draft, one that Gutekunst took a lot of heat for. Gutekunst upset a lot of Packers fans and raised the eyebrows of the collective NFL world when he traded up in Round 1 to select Utah State quarterback Jordan Love, Rodgers' eventual replacement. That pick appears to have set off Rodgers, who no longer wants to remain in Green Bay.
There has to be more to this. The Love pick was a no-doubt a head-scratcher, but for Rodgers to remain upset after gaining some payback by winning the MVP is absurd. Maybe there was a lot more friction between Rodgers and the Pack before this, prompting Gutekunst to make that move.
Gutekunst's 2020 draft was woeful at best
Why did the Packers draft Love? He wasn't an immediate need for a team that had a then-two-time MVP quarterback playing at a high level. The Packers were coming off a season in which they reached the NFC Championship. At the time, Rodgers had four years remaining on his deal and didn't appear to be going anywhere.
Was Rodgers already upset with the Packers heading into that draft? Did Gutekunst sense there was trouble ahead and made that pick for insurance purposes? If Rodgers and the Packers were already headed for a divorce, the Love pick could be justified, but there have never been signs of that being the case.
If there were no problems before the draft, Gutekunst blew it. Not only did he trade up and draft Rodgers' eventual replacement, but he also screwed up the second pick as well. He snagged running back A.J. Dillon, a quality runner, who was a backup to Aaron Jones. Jones made the Pro Bowl and was then re-signed for four more years.
If Brian Gutenkunst is fired, Aaron Rodgers shouldn't have a say
To be clear, the Packers do not owe anything to Rodgers. They extended his contract during the 2018 preseason. The team gave him four years at $134 million, making him the league's highest-paid player at the time. Maybe the Packers should have shown Rodgers some courtesy by letting him know they were drafting Love last year, but they certainly weren't required to do so.
According to Yahoo! Sports, Rodgers has made it clear he won't return if Gutekunst is with the team. Gutekunst already did a great job of putting one of his feet out the door with that 2020 draft. He had a team one victory from the Super Bowl and did absolutely nothing to give the team immediate help. Those first two picks were good players who were not an immediate need for a team ready to win now. Maybe if Gutekunst picked a player who could contribute right away, the Packers would have advanced to the Super Bowl.
If the Packers were to let Gutekunst go, I'm not sure how many Packers fans would be upset. He was crucified for that 2020 draft and there could possibly be some very small justification for him being let go. Drafting players who likely won't shine until 2024 didn't sit well with many. Rodgers, however, shouldn't have the final say on the Packers' roster, and he definitely shouldn't be a factor in whether or not Gutekunst remains with the team.