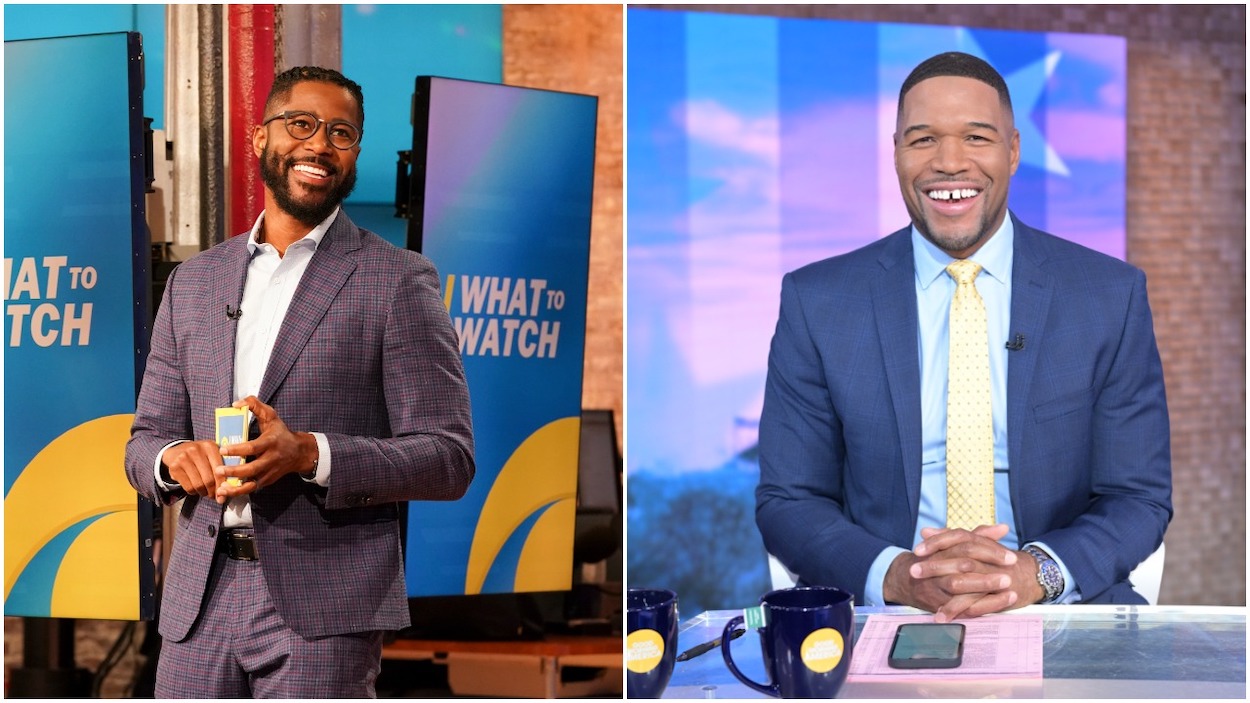 Nate Burleson Bids Emotional Farewell to 'Good Morning Football' as He Leaves to Follow in Michael Strahan's Footsteps
Nate Burleson has carved out a nice niche in the TV football world, but has his sights set on bigger things joining a major morning show. After five years on 'Good Morning Football' the former NFL player is joining CBS This Morning, trying to follow in the mainstream TV footsteps of NFL great Michael Strahan.
The NFL Network's Good Morning Football is the morning talk show of record for diehard football fans. The hosting foursome of Kay Adams, Kyle Brandt, Nate Burleson, and Peter Schrager started in 2016 and have created one of the most important studio shows in sports media today.
This week, the former NFL wide receiver Burleson said an emotional goodbye to his daily hosting responsibilities on the program. While he will still make occasional appearances on NFL Network, he is moving on to the big leagues, trying to replicate the success of former NFL great Michael Strahan.
Nate Burleson had a solid 11-season NFL career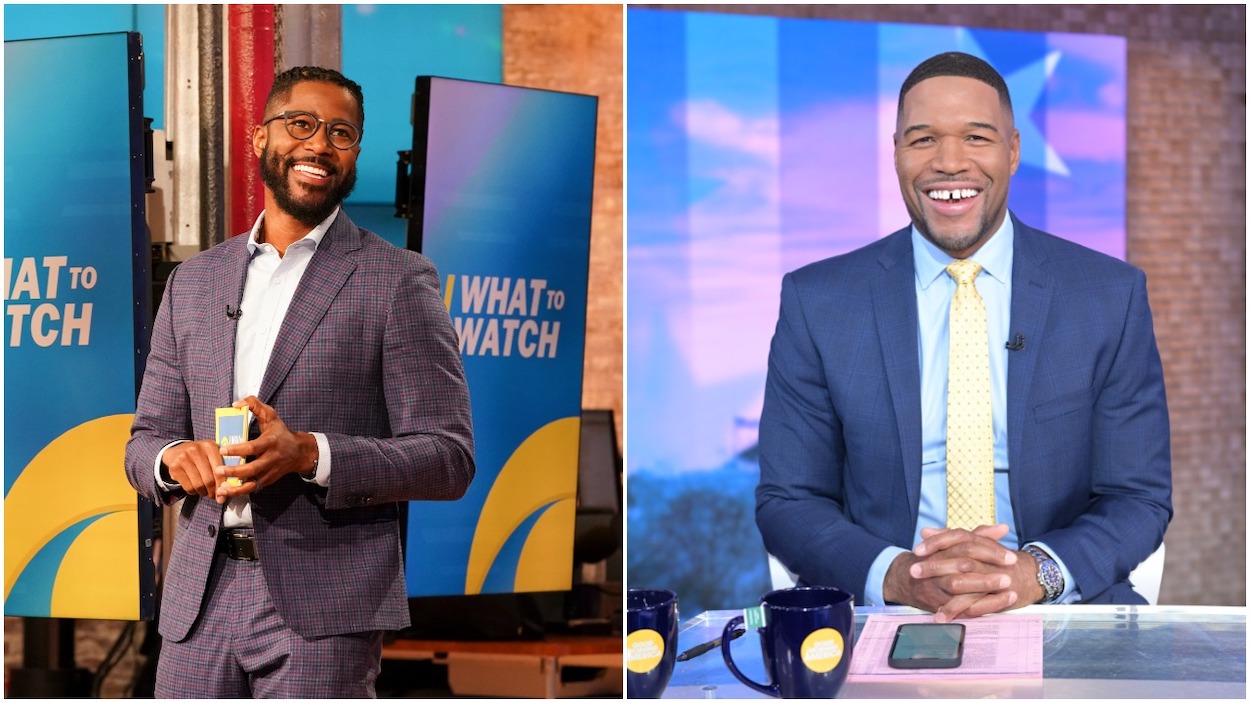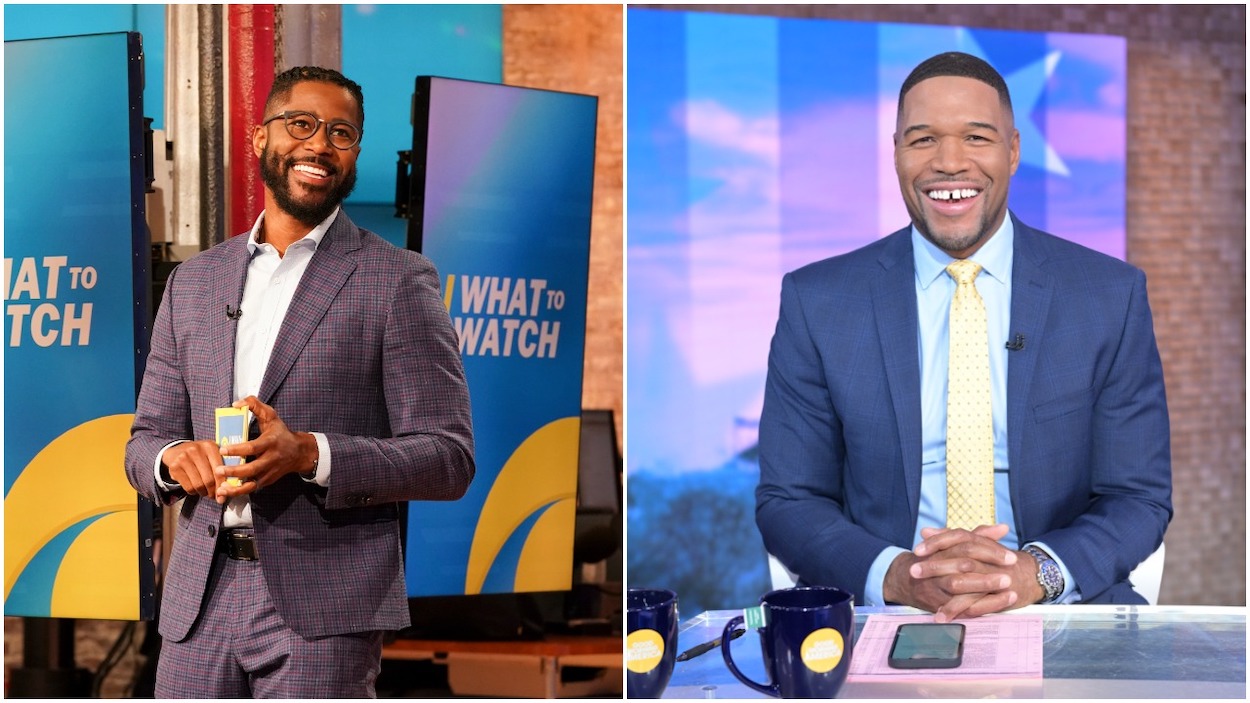 Burleson was born in Canada while his father played in the CFL and grew up in Seattle, Washington. He then played three seasons for the Nevada Wolfpack before the Minnesota Vikings took him in the third round of the 2003 NFL Draft.
Over the course of 11 NFL seasons, Burleson played for the Vikings, his hometown Seattle Seahawks, and the Detroit Lions.
Burleson never made a Pro Bowl but was an integral part of one Minnesota, one Detroit, and two Seattle playoff teams. He retired following the 2013 season. During his career, Burleson caught 457 balls for 5,630 yards and scored 39 touchdowns.
In his post-playing career, Burleson transitioned into broadcasting. In addition to Good Morning Football, the former WR has also worked as a color commentator, an analyst for other NFL Network shows, and he hosted the SpongeBob SportsPants Countdown Special leading up to the 2020 NFL playoff game on the kids' network Nickelodeon.
Burleson bid farewell to 'Good Morning Football" as he heads to 'CBS This Morning'
After five years on Good Morning Football, Burleson bid his co-hosts goodbye. In a somewhat surprising announcement, the talented Canadian announced his next adventure in television:
We started this show, what seems like forever ago, as friends, and now five years later, we're family. Truly brothers and sister. Not just here, at the table, but also everybody behind the scenes. Which is why this is tough to say, and right now, I'm announcing I will be joining 'CBS This Morning' as a host.

Nate Burleson announcing he's leaving Good Morning Football for CBS This Morning
The emotion in the host's voice was evident when he declared that he was "going from one championship-caliber team for another" moving to CBS. He shared that he will still be involved in NFL Network and GMF but will be on CBS five days a week starting in September.
His co-hosts were also emotional but also obviously proud of their colleague. Burleson ended his announcement by saying, "It's not goodbye. It's just I'll see you later."
Michael Strahan is the football to mainstream fame blueprint
There are plenty of ex-NFL players who've carved out great careers in the broadcast booth or hosting sports shows. However, there are very few who've turned themselves into mainstream television personalities. One player who made this difficult transition was former New York Giants defensive end Michael Strahan.
After retiring in 2008, Strahan joined the NFL pregame show FOX NFL Sunday, per ABC News. In 2012, Strahan transitioned from football analyst to morning talk show host, replacing the iconic Regis Philbin and forming LIVE! With Kelly and Michael with co-host Kelly Ripa.
After four years of hosting with Ripa, Strahan moved on and became a regular co-anchor of ABC's flagship morning show, Good Morning America. Strahan is still a regular contributor to GMA and also now hosts the revamped '70s game show, The $100,000 Pyramid.
Nate Burleson has a long way to go in order to come close to having the mainstream success Strahan has, but joining a non-sports morning show is a significant first step.
All stats courtesy of Pro Football Reference