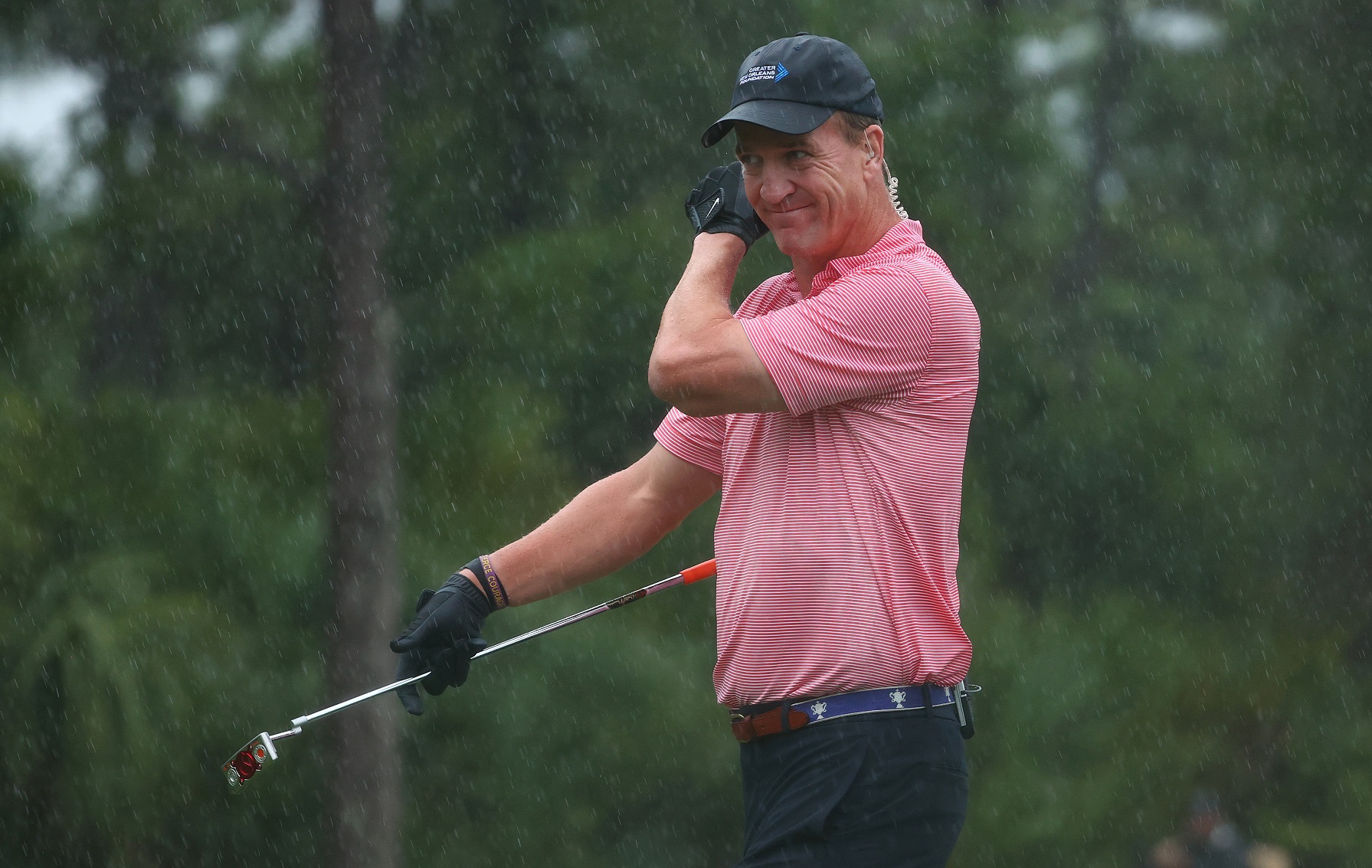 Peyton Manning and Jay Glazer Nearly Brawled at the Pro Bowl Over Michael Strahan
A day of drinking at the Pro Bowl in Hawaii nearly led to a fight between quarterback Peyton Manning and Fox Sports NFL insider Jay Glazer.
The first indication that something might go horribly wrong the week of the 2007 Pro Bowl was that Jay Glazer exchanged words with Peyton Manning regarding the Fox Sports NFL insider's friendship with Michael Strahan.
The second indication of trouble on the horizon was that it happened while Glazer was competing with Sean Payton, Eddie George, Lorenzo Neal, and Ronde and Tiki Barber to see who could consume the most Mai Tais.
The third indication was that Chuck Liddell had to intervene to keep the peace.
When one of the original bad-ass champions of the UFC has to step in to stop Peyton Manning from brawling with Jay Glazer, you just know there's an awesome story to be told.
Jay Glazer knows a wide variety of celebrities
Football fans recognize Jay Glazer from Fox Sports' NFL pregame shows, where he frequently offers scoops on the status of players and coaches. Before that, Glazer was a reporter for the New York Post, and along the way he took an interest in Mixed Martial Arts, frequently helping train football players in the offseason.
It's a safe bet he can place a call that results in Peyton Manning or Jerry Jones answering instead of letting it dump into voicemail. But Glazer's network of contacts goes far beyond that. When GQ interviewed him in 2014, Glazer allowed a look at the names stored in his cellphone. Among them were actors Ron Perlman and Mickey Rourke, Michael Phelps, Usher, and Carrot Top.
In that context, you have to figure Glazer has some funny stories to tell when he's throwing back a few drinks or doing a podcast.
The beef with Peyton Manning all started with John Lynch
John Lynch was one of the greatest NFL safeties and biggest hitters. The former Stanford star played 15 pro seasons and was selected to the Pro Bowl nine times, including after his final season in 2007. He moved into broadcasting shortly after retirement, then joined the San Francisco 49ers as their general manager in 2017.
Somewhere along the line in his playing career, Lynch purportedly set a record unrelated to football. According to Jay Glazer, Lynch consumed 34 Mai Tais in a single day. Considering that a Mai Tai contains two ounces of rum, that presumably made for an interesting day, not to mention a sizeable bar tab.
When Glazer and his football buddies gathered that day in 2007 ahead of the Pro Bowl, their intent was to break Lynch's record. There are a few variations of what subsequently transpired leading up to a near-fight with Peyton Manning regarding Michael Strahan, but they're all fairly similar.
Glazer originally recounted his recollection on a Bill Simmons podcast and more recently on the Endless Hustle podcast. It all started with Glazer getting the bartender to open the doors at 9 a.m. to get started on challenging Lynch's record.
Jay Glazer says Peyton Manning was the instigator
According to Jay Glazer, wives and girlfriends intervened after the ill-fated drinking contest had reached the eight-hour mark. Glazer and a few others adjourned to a lounge while the Fox Sports NFL insider awaited the arrival of friend Chuck Liddell, who was the reigning UFC light heavyweight champion at the time.
In walked Indianapolis Colts quarterback Peyton Manning, who was about halfway through his career at that point. According to an account published by BroBible.com, Manning made a remark along the lines of New York Giants great Michael Strahan begging Glazer to do stories. And that would be a mistake, because Strahan and Glazer have been close friends for years.
"I just kind of snapped on him. and I won't tell you what we said, but a couple of them pulled me away from him. It was Eddie George, Lorenzo Neal, Sean Payton pulled me away from him, and his buddy jumped in for him.

"Well, my buddy jumped in for me, and my buddy was Chuck Liddell. So, all of a sudden, his friend was like, 'Whoop' and walked over here. And then Peyton's like, 'Oh my God.'

"I'm just kind of a pit bull."

Jay Glazer
Did it destroy the relationship between Manning, who thought Strahan might have been too critical of his brother Eli, and Glazer? Hardly. They got together shortly afterward and straightened everything out.
"Peyton's version is funny now, too," Glazer said, "because Peyton's version is like, Chuck threw a kick at his head! And I'm like, 'Chuck did not throw a kick at your head.'"
Like Sportscasting on Facebook. Follow us on Twitter @sportscasting19.