Ezekiel Elliott Fires Back at Critics Who Think Cowboys Should Bench Him for Tony Pollard: 'They're Not the Ones Signing the Checks'
The Dallas Cowboys have a problem. Right now, the team has two running backs splitting carries. In and of itself, that isn't a problem. But, when one back is far less effective than the other, it becomes an issue. When the ineffective back is a highly-paid former first-round draft pick, it can become a distraction, and that's …
The Dallas Cowboys have a problem. Right now, the team has two running backs splitting carries. In and of itself, that isn't a problem. But, when one back is far less effective than the other, it becomes an issue. When the ineffective back is a highly-paid former first-round draft pick, it can become a distraction, and that's where the cowboys are at with RBs Ezekiel Elliott and Tony Pollard. 
Running backs with very different pedigrees and paychecks 
Ezekiel Elliott is a star. He was a star at Ohio State in the Big Ten, where he rushed for 3961 and 43 touchdowns in three seasons. He's been a star on America's Team since Jerry and Stephen Jones picked him No. 4 overall in 2016. The back has 8,477 yards from scrimmage in his NFL career and 57 touchdowns. 
Tony Pollard is not a star. He put together a nice career at Memphis in the American Conference with 2,233 all-purpose yards and 18 touchdowns in four years as both WR and RB. He's also backed up the Cowboy's star running back for the last two-plus seasons after the Jones' drafted him No. 128 overall in the fourth round in 2019. In the NFL, Pollard had 1,373 yards from scrimmage and nine touchdowns.
Elliott is also paid like a star, while Pollard is not.
The former Buckeye is in the third year of a six-year, $90 million deal that pays him an average of $15 million a season. The former Tiger is also in year three, but of his four-year, $3.1 million rookie contract that pays him an average of $796,945 per season.
This is all normal for an NFL team. A star gets paid more because they get the ball more and produce more. It's the NFL — and really all of sports — work.
When the "not a star" guy starts out-producing the star player, though, that's when a team has a problem. And the Dallas Cowboys have a problem.
Elliott hears the chatter, but he doesn't care
As Tony Pollard continues to outperform Ezekiel Elliott, the calls are getting louder for the understudy to get more stage time.
In 2020, Elliott had 244 carries for 979 yards (a career-low 4.0 yards per carry) and six touchdowns. Pollard put up 435 yards on 101 carries (4.3 yards per carry) and four touchdowns.
This season, Elliott had 11 carries for 33 yards in a Week 1 loss to the Tampa Bay Buccaneers. Pollard carried the rock just three times for 14 yards. In Week 2, Elliott got 16 carries to Pollards 13, and the latter outgained the former 109 yards to 79.
There are plenty of other numbers that all back up the same conclusion, too. Pollard is outperforming Elliott and probably deserves more time. The groundswell to get Pollard more touches is growing, but Elliott says it's not phasing him.
A reporter asked the starting back during a mid-week press conference, courtesy of the Fort Worth Star-Telegram, "For people that try to relate the size of your contract with the amount of carries you're getting, do you hear that stuff? Does it annoy you at all?"
Elliott responded:
You hear it, but what really matters is what's going on in this building. I mean, they're not the one signing the checks. They're not the ones sending the wires, so I don't think it matters.

Ezekiel Elliott on critics
While that sounds like a healthy attitude to have, we'll see how the star reacts if he ever does have to take a backseat to Pollard, although that isn't that likely to happen.
Will Dallas Cowboys head coach Mike McCarthy bench his star back?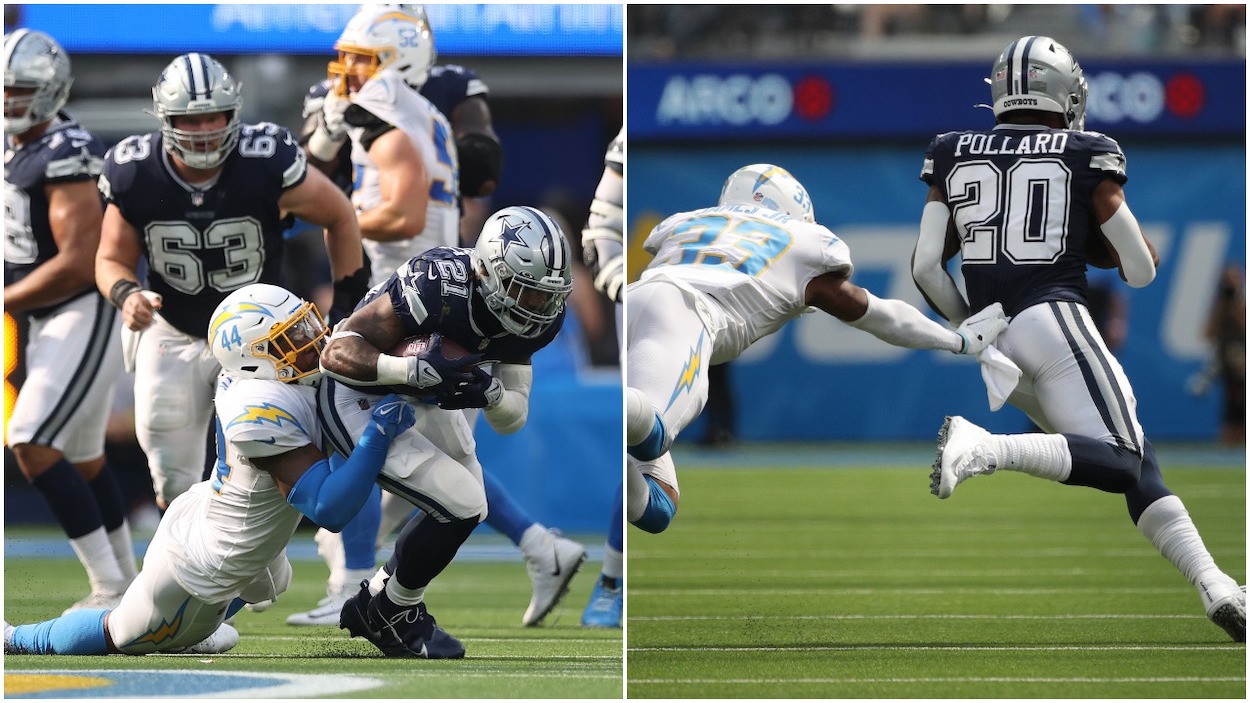 In the Week 1 loss, Dallas quarterback Dak Prescott dropped back and passed 58 times. In the Week 2 win, he only threw in 27 times.
The Cowboys, like most NFL teams, are better with a more balanced attack. The problem for Dallas is that they have an injury-riddled defense (that want all that good to begin with), which lends itself to shootout games.
In games the 'Boys have to drop back and pass a lot, Elliott will continue to take the majority of the snaps over Tony Pollard. While he's not necessarily a better pass-catcher than Pollard — who played receiver in college — he is one of the best pass-blocking backs in the league.
For Dallas, protecting its star QB who is coming back from a gruesome 2020 injury is the most crucial aspect of the offense, which is why Elliott will continue to see lots of field time, regardless of production.
If Mike McCarthy and offensive coordinator Kellen Moore can find more balance, though, they will have to go with the more productive back, and that is Pollard.
The Jones' will keep signing Elliott's checks and sending those wires for now. However, the club does have out after 2022, so the star's time as a Dallas Cowboy may not last that much longer.
All stats courtesy of Pro Football Reference and contract figures courtesy of Spotrac