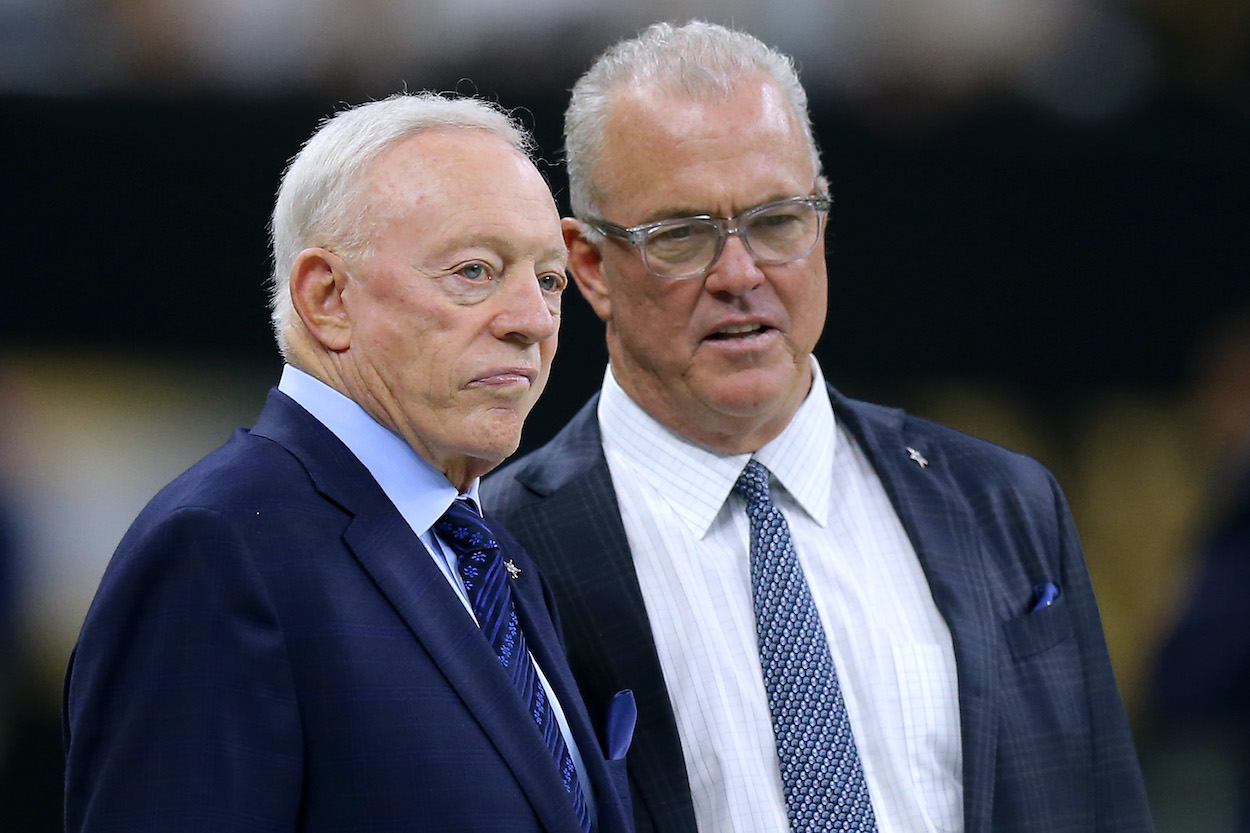 Dallas Cowboys Exec Stephen Jones Has 1 Regret About Dak Prescott's $160 Million Contract
Dallas Cowboys VP Stephen Jones wishes the team would have taken care of the Dak Prescott situation sooner rather than later. Signing the star QB two years ago would have saved a lot of unnecessary drama and tension, as well as saved the Cowboys a good deal of money.
When you have a young, winning quarterback in the NFL, you have to pay them when the time comes. This is exactly what the Dallas Cowboys did in the 2021 offseason. They paid their franchise star, Dak Prescott, even after suffering a gruesome ankle injury in 2020.
The Cowboys gave Prescott a $160 million contract extension with $126 million guaranteed. It is a deal a win for both sides and helps secure Prescott's and the Cowboys' future. For one Cowboys exec, however, it is part of his biggest regret in his three decades with the Cowboys.
Who is Stephen Jones?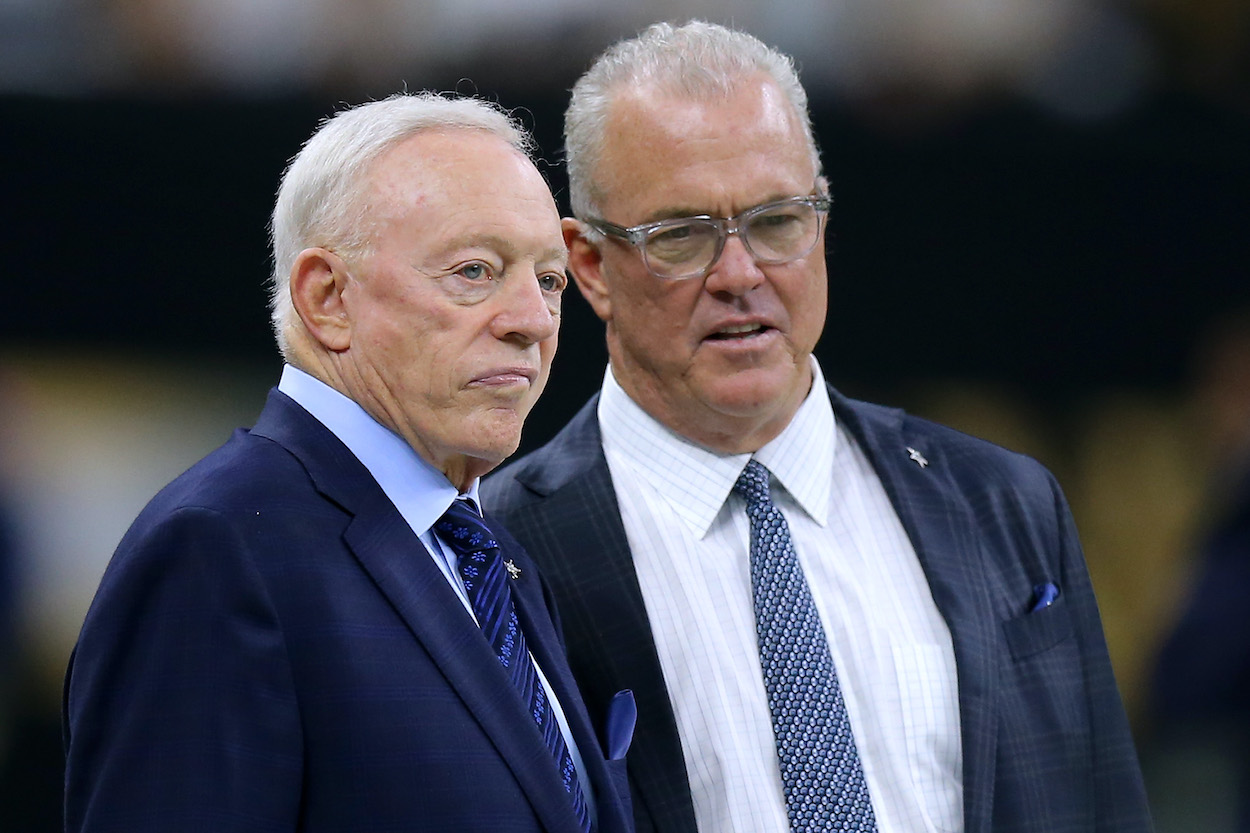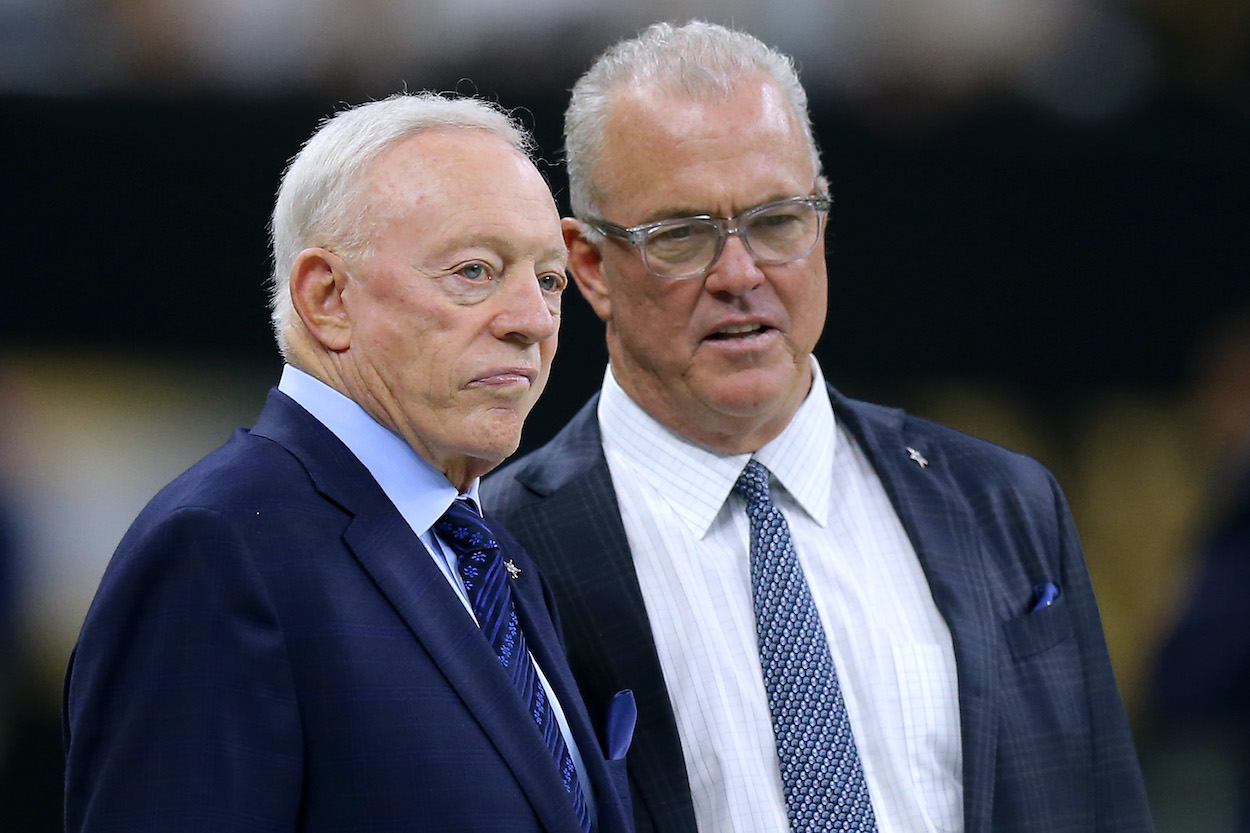 Stephen is the oldest child of Dallas Cowboys owner Jerry Jones. The eldest son started working in the Dallas front office when his dad bought the team in 1989 after playing football at Arkansas, where he was a "special teams standout," per DallasCowboys.com.
Stephen works on both the football and the business side of the organization in his current role as Cowboys Chief Operating Officer/Executive Vice President/Player Personnel and President of AT&T Stadium.
He was a driving force in developing two of the most significant projects in not just Cowboys but also NFL history. Stephen helped lead the development of the $1.15 billion AT&T Stadium and the Cowboys' state-of-the-art corporate headquarters and training facility, The Star, in Frisco, Texas.
His team bio also credits him with helping manage the team's salary cap, free agency, and the NFL draft.
Stephen Jones says his biggest regret has to do with Dak Prescott's contract
Jones sat down for an interview with NBC DFW, answering some rapid-fire questions about his career with his dad's team.
Looking back at his tenure in Dallas, Stephen said his proudest accomplishment is developing the new stadium and practice facility. His happiest moment is when the Dallas Cowboys lifted their first Lombardi Trophy. "Nothing like the first one," Stephen told reporter Pat Doney.
When asked about his biggest regret, Jones told the interviewer:
The contract came after two seasons of speculation about whether the former Mississippi State QB would get a big new deal. He played last season, prior to the injury, on the franchise tag. If Stephen, Jerry, and the Cowboys signed Prescott earlier, they would have avoided a lot of the drama and the headlines, as well as the decision about whether to sign him after the injury.
It would have likely saved the Jones some money as well. Cason Wentz, who the Philadelphia Eagles drafted 133 spots ahead of Prescott, got $128 million total with $107 guaranteed two years ago.
Prescott will try to be the first QB to lead Dallas to a Super Bowl since Troy Aikman
In 1996, two-time Super Bowl-winning coach Jimmy Johnson was gone, but Barry Switzer led the familiar faces of Troy Aikman, Michael Irvin, and Emmitt Smith to the franchise's this Super Bowl win in four years.
Since that January day, the Cowboys have gone through six head coaches, 22 starting QBs, and countless backs and receivers trying to replicate that success. Even good signal-callers like Drew Bledsoe and Tony Romo haven't been able to get it done, and they are the positive exceptions on a list that includes names like Quincy Carter, Drew Henson, and Brandon Weeden.
Now America's Team and the expectations that come along with it rest squarely on Prescott's shoulders. With offensive weapons galore and a weak NFC East, the Cowboys need to make the playoffs and probably win at least a game for the season to be a success.
If Prescott can't do that, the next time Stephen Jones sits for an interview, signing Prescott at all might be his biggest regret.
All stats courtesy of Pro Football Reference and contract figures courtesy of spotrac