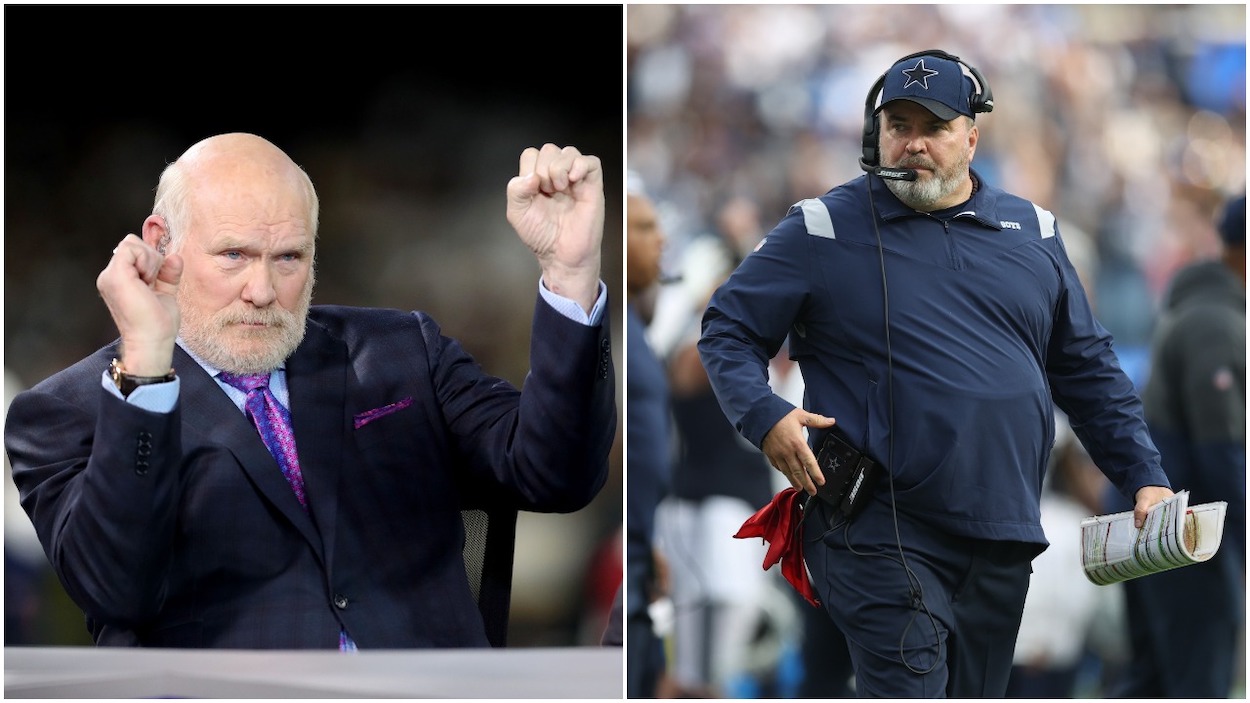 Terry Bradshaw Called out Mike McCarthy, and the Dallas Cowboys Coach Listened: 'You're Gonna Get Prescott Killed'
FOX's Terry Bradshaw took a shot at Dallas Cowboys' Mike McCarthy coaching and how much he passed the ball Week 1. While McCarthy seemed to listen, it may have caused more problems within the team.
Former Pittsburgh Steelers great Terry Bradshaw used his platform on the FOX NFL Sunday pregame show to take a shot at Dallas Cowboys head coach Mike McCarthy. The broadcaster implored the coach to run the ball more. He noted that running the ball gives the Cowboys a better shot at victory. Also, he said it will help keep quarterback Dak Prescott upright and healthy.
 McCarthy did exactly what Bradshaw suggested in a Week 2 win over the Los Angeles Chargers. However, with a more significant rushing attack, the team may have created other problems. Specifically, there may now be issues with how McCarthy divvies up those handoffs.
Terry Bradshaw called out Mike McCarthy for his play-calling in Week 1
Mike McCarthy's Dallas Cowboys threw it around the field in the Week 1 loss to the Tampa Bay Buccaneers. Dak Prescott dropped back and passed a staggering 58 times to keep up with Tom Brady and company. Prescott handed the ball off 14 times and took off on his own four times.
Not only was that a losing recipe, but it was also incredibly dangerous. The Cowboys have a quarterback who is less than a full year removed from a gruesome ankle injury that he suffered while scrambling away from a pass play.
Former NFL-QB-turned-analyst Terry Bradshaw knows firsthand how vital a running game is to a team. So, he sent that message to McCarthy on the FOX pregame show. He called out the former Green Bay Packers head man, saying that if he kept calling pass plays at the rate he did in Game 1, it would be terrible for the team and Prescott:
After the first week's loss to Tampa Bay, the first thing that came to my mind is, you can't do this to your football team again, Mike McCarthy. You have got to not throw the ball 40, 45 times a game. You're gonna get Prescott killed. You gotta lean on Ezekiel Elliott. You've got to run the football. You keep this up, chances are you're gonna lose your quarterback again. You've got to learn how to run the football, and if you'll run the football, all you're gonna do is just take time off the clock, rest your defense, who by God, from what I've seen, need some rest.

Terry Bradshaw on Mike McCarthy
If anyone knows firsthand how important a running game is to team success, it's Bradshaw. It was a different era in the NFL for sure. However, even with Hall of Fame receivers Lynn Swann and John Stallworth, Bradshaw is 62nd all-time in passing yards.
On the flip side, his primary running back with Pittsburgh, Franco Harris, is 15th on the all-time rushing yards list.
McCarthy could stand to learn a thing or two about winning football games from Bradshaw and, by extension, his coach Chuck Noll, and that's precisely what it seemed like he did Sunday against the LA Chargers.
McCarthy did exactly what Bradshaw suggested in Week 2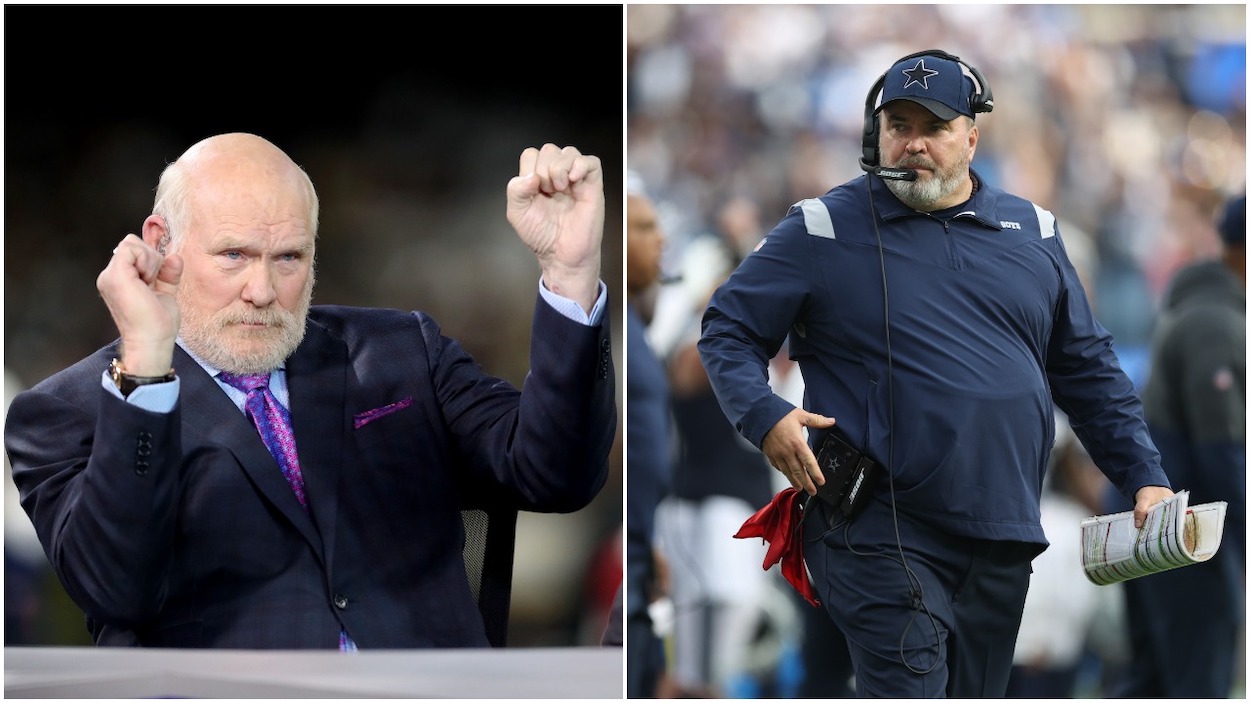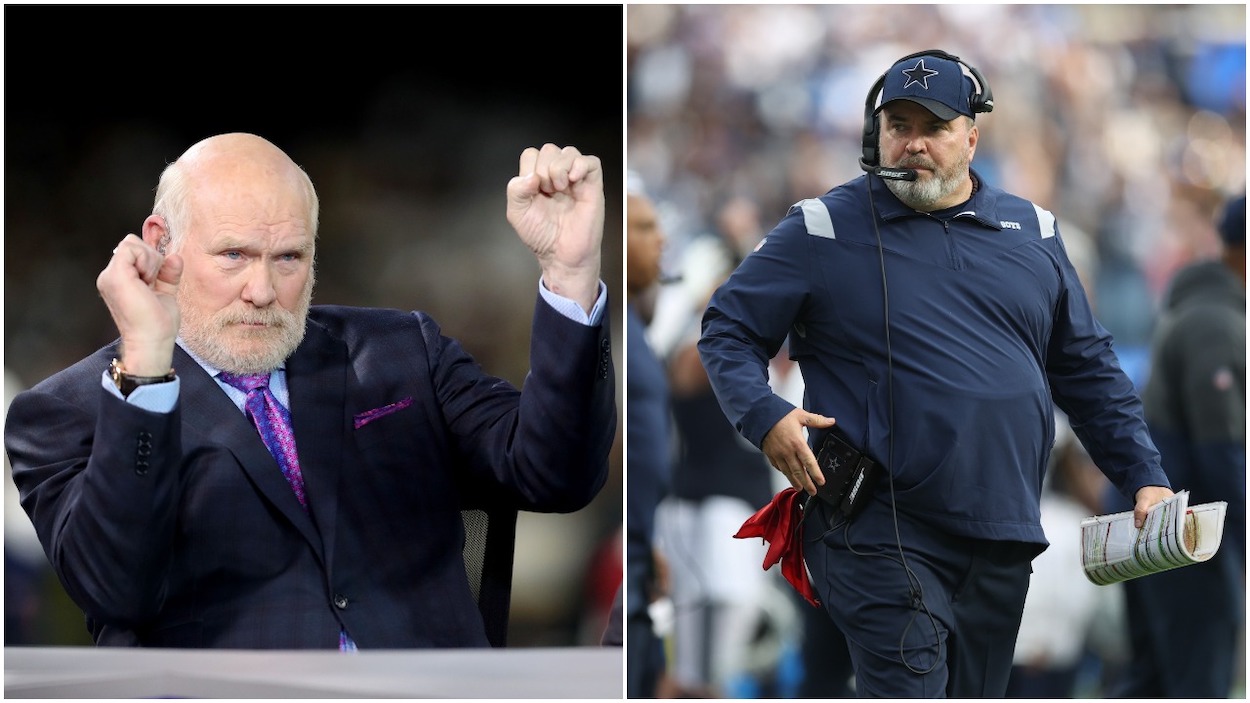 After the throw-it-around-the-yard performance in Week 1, McCarthy seemed to get Bradshaw's message loud and clear.
Taking on another high-powered offense in the Chargers and their sophomore sensation Justin Herbert, the Dallas Cowboys leaned on the run a lot more than the game before.
In this matchup, which ended in a 20-17 Cowboys victory, Prescott finished with less than half as many pass attempts as he did in Tampa Bay. His final stat line was an uber-efficient 23-of-27 for 237 yards with no touchdowns and an interception. He also didn't have a rushing attempt while being sacked twice.
With less passing, the Dallas running back tandem got a lot more work. Elliott and Tony Pollard combined for 29 attempts for 180 yards, and receivers CeeDee Lamb and Cedrick Wilson Jr. also each got a carry for 13 and five yards, respectively.
Getting the W while using a more run-heavy attack is good for the Cowboys and shows that McCarthy might be an old dog, but he can figure out some new tricks. This new strategy may cause a different set of problems moving forward, though, as the second-string Pollard was much more effective than Elliott, the highly-paid superstar.
Ezekiel Elliott vs. Tony Pollard
Ezekiel Elliott and Tony Pollard couldn't be more different on paper. Elliott was a standout tailback at Ohio State and the No. 4 pick of the 2016 draft. The Cowboys picked Pollard during the 2019 draft out of Memphis, 124 picks later than Zeke. Elliott signed a six-year, $90 million extension in 2019. Pollard is now in the third year of his rookie deal and makes $1.01 million.
This is normal for an NFL starter and a backup in terms of both pedigree and compensation, but it can become a problem when the No. 2 man outperforms the star.
That is exactly what's happening with Elliott and Pollard.
In 2019 and 2020, Pollard has rushed for 5.3 and 4.3 yards per attempt while Elliott has put up 4.5 and 4.0 during the same period. This season, it's even more pronounced, with Pollard averaging 7.7 yards each carry and Elliott gaining just 3.9.
Elliot also has nine fumbles in the past two seasons to Pollard's one.
The win against LA wasn't just about the fact that the Cowboys ran it more. It was also about who they ran it with. In Game 1, Elliot got 11 carries to Pollard's three. The Game 2 16/13 split ended with much better results for Jerry Jones' bunch.
Elliott's saving grace — in addition to his draft spot, giant contract, and close friendship with Prescott — is that he is one of the best pass-blocking RBs in the league.
If Mike McCarthy continues to take Terry Bradshaw's advice and keeps running the ball, the next time the former QB attacks the coach, it may be about how he uses his backs in this new scheme.
All stats courtesy of Pro Football Reference and contract figures courtesy of Spotrac