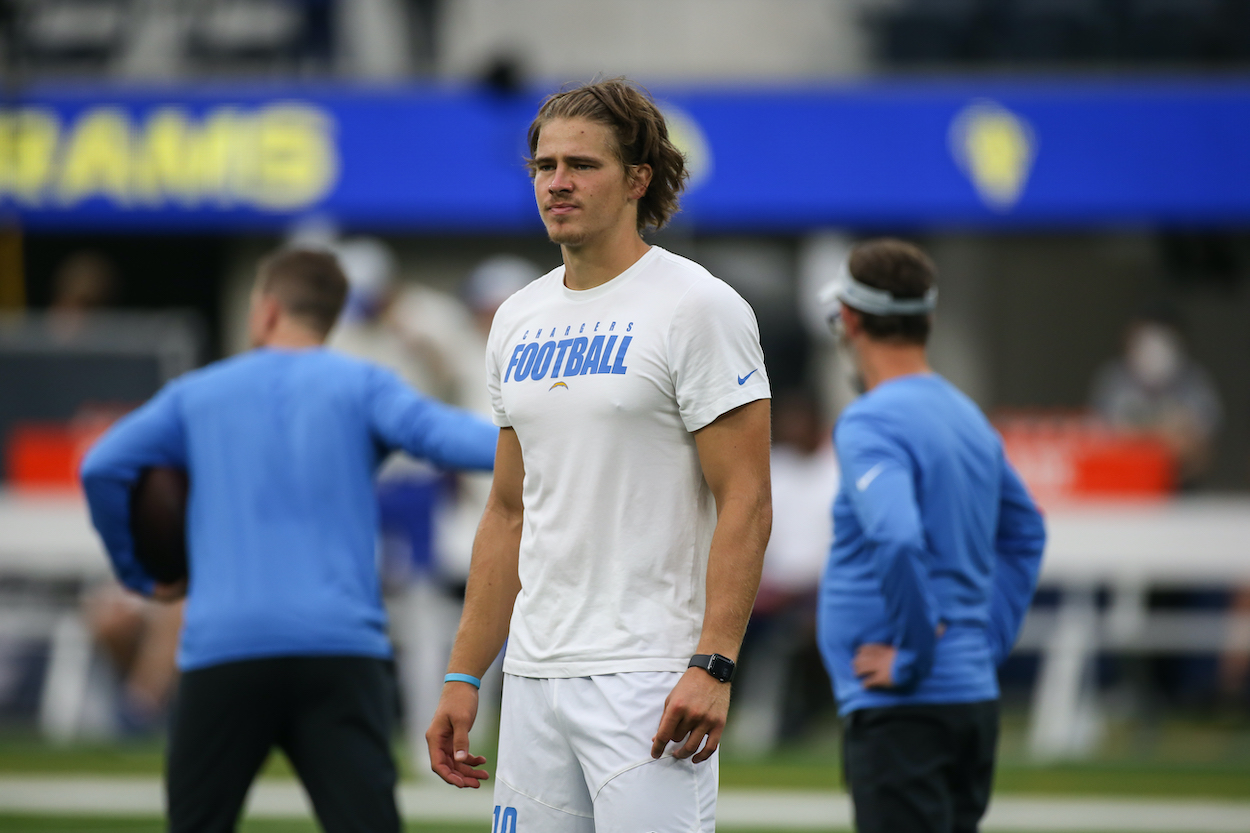 Justin Herbert's Biggest Pet Peeve Shows That the $26 Million QB is Just Like Us
LA Chargers second-year quarterback Justin Herbert is incredibly laid back but he is a quiet leader and will get mad if he sees his pet peeve. The QB doesn't like when people leave their shopping carts in the supermarket parking lot, but that is just about the only thing that can rattle the second-year star.
Los Angeles Chargers star second-year quarterback Justin Herbert took the NFL world by storm. The team took the eventual Rookie of the Year with the No. 6 pick, behind LSU's Joe Burrow and Alabama's Tua Tagovailoa. After a surprise start in Week 2, Herbert would quickly become an NFL superstar QB. However, despite the multimillion-dollar contract and the growing fame and acclaim, Herbert is still incredibly down-to-earth and even reserved. That is, unless you do something at the grocery store that makes many people, including Herbert, livid.
A big second year is on the horizon for Justin Herbert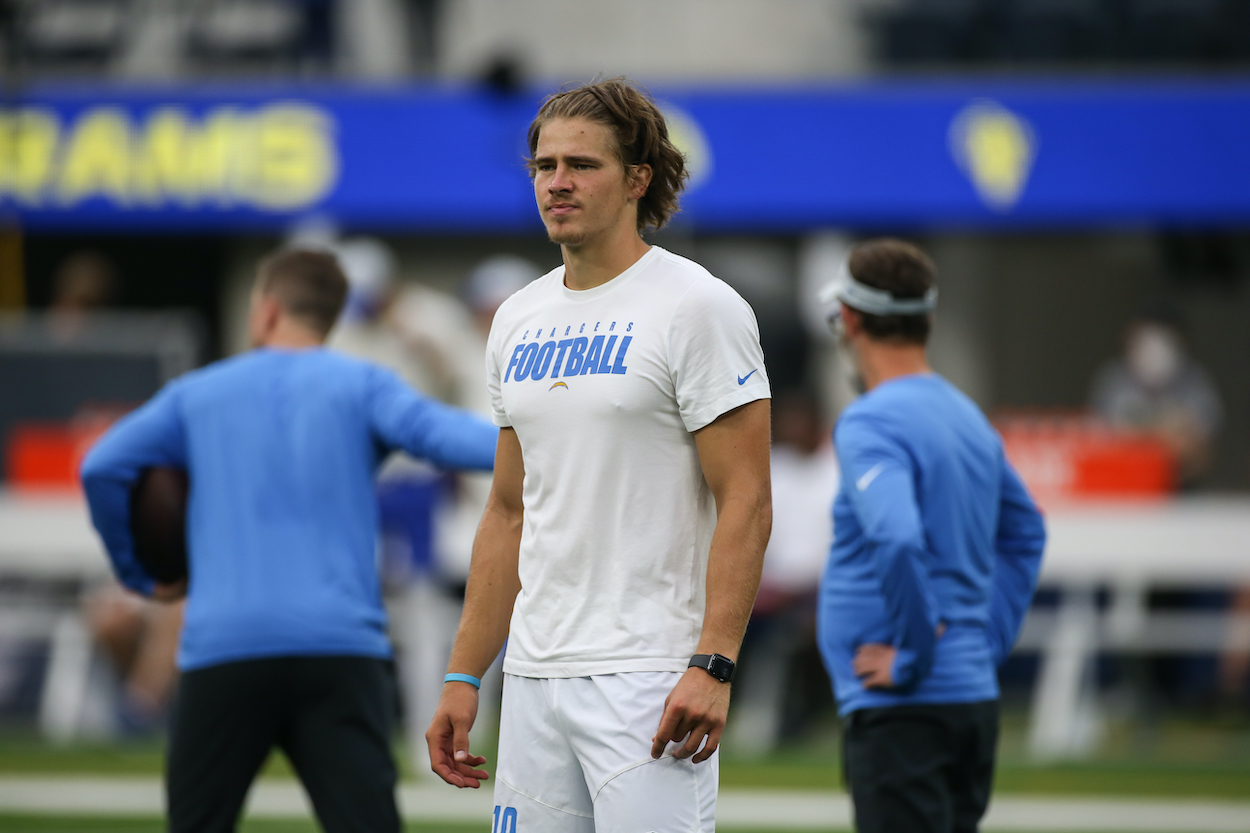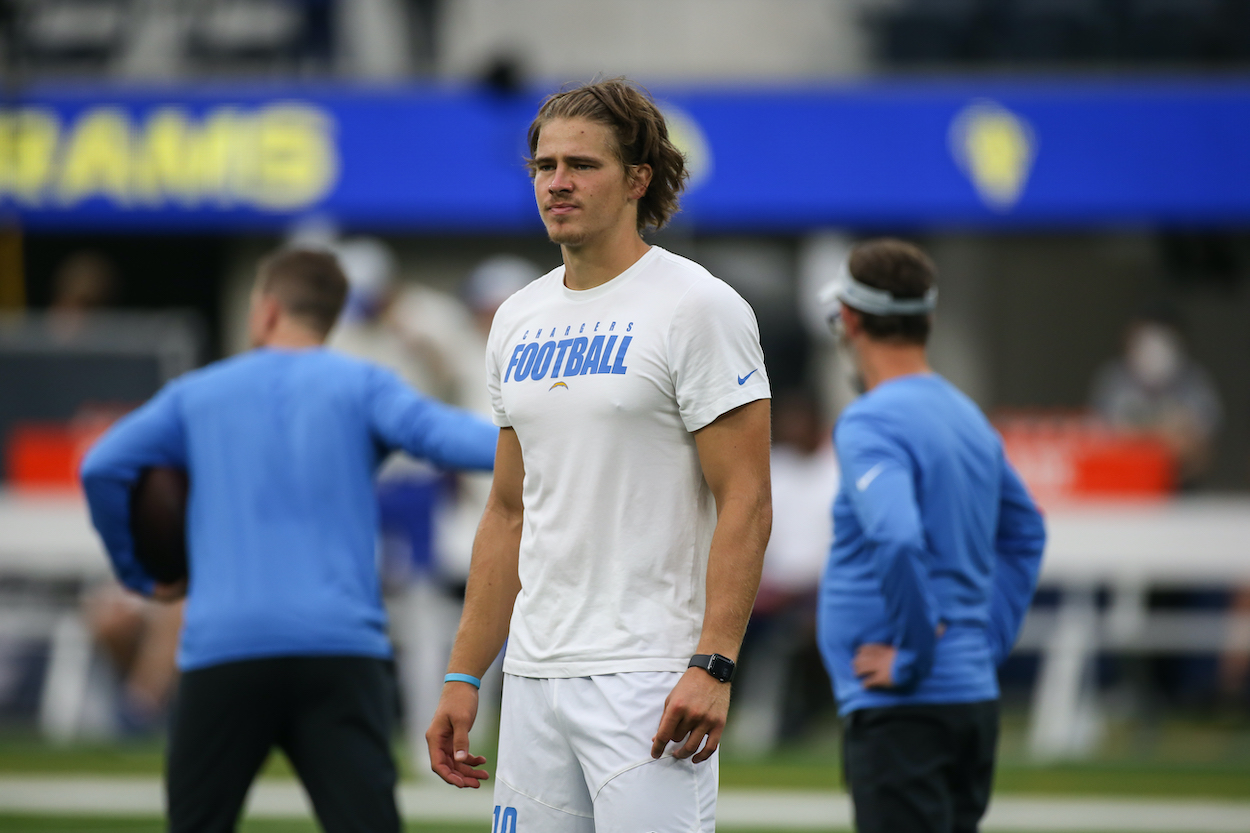 The unassuming former Oregon Duck got a surprise start in Week 2 of the 2020 NFL season. This happened after the Chargers training staff accidentally punctured starting QB Tyrod Taylor's lung a half hour before a game against the Kansas City Chiefs.
Herbert went 22/33 for 311 yards, one touchdown, and an interception. He also added a rushing touchdown. Most importantly, he took the defending Super Bowl champs to overtime, even though LA ultimately lost 23-20.
The rest of the year unfolded in a shockingly similar manner. Herbert threw for 4,366 yards and broke Baker Mayfield's rookie passing touchdown record with 31. But, the team went just 2-8 in the next 10 games. The good news for Herbert and the Chargers is that they finished the year on a four-game winning streak to end the season 6-10.
Heading into 2021, the Chargers have a new head coach (former LA Rams DC Brandon Staley) and offensive coordinator (former Saints OC Joe Lombardi). The team also invested a lot in upgrading the 6-foot-6 passer's offensive line. The franchise took Northwestern tackle Rashawn Slater No. 13 overall in the 2021 draft and signed All-Pro center Corey Linsley from Green Bay.
These changes, along with normal development between a QB's first and second season, could mean big things for Herbert and the Bolts in 2021.
Herbert is usually a laid-back guy, except for when it comes to one pet peeve
Despite all the obvious physical gifts, there has always been one knock on Herbert. His laid-ball demeanor and introverted personality have made coaches, from Willie Taggart at Oregon to the teams considering drafting him in the pros, question his leadership ability.
The Eugene, Oregon native can get riled up at times. Especially when it comes to an incredibly common pet peeve at the supermarket.
In an ESPN profile by Mina Kimes, Herbert's teammate and former roommate, Chargers fullback Gabe Nabers, told a story about the time he saw Herbert lose his cool. It involved a situation that many of us can relate to: Someone leaving their shopping cart in the middle of the parking lot. Kimes tells the story:  
Nabers says he has seen Herbert's temper flare up only once, when Nabers tried to abandon his grocery store cart in the parking lot. 'The first time we went shopping, I was like, Eh, I'll leave it right here,' he says, pantomiming a gentle push. 'And he said: No. Take it all the way back.'"

Gabe Nabers on Justin Herbert's pet peeve
For most, that light scolding might not be a big deal. For the mild-mannered Herbert, though, this rebuke left an impression on his buddy. It also goes to show that when it's needed (like it absolutely is when someone doesn't return their shopping cart!), Herbert can do and say what's needed.
Quiet leadership could get the Chargers to the playoffs in 2021
The ESPN profile goes on to talk about how Herbert is a calm leader who keeps his cool, even when things are going bad. Star wideout Keenan Allen even says that, while Herbert and former Chargers signal-caller Philip Rivers couldn't be more different in their approach, "Rivers and Herbert share the same competitive fervor, it just manifests itself in different ways."
This quiet competitive fervor could take the Chargers a long way in 2021. With the new coaches, their leader on offense, an upgraded offensive line, and a star-studded D with Joey Bosa and Derwin James, the organization has a real chance to be a playoff team.
Winning the division will be difficult. The Chiefs have dominated for the last several seasons and are likely to do so again if they can stay healthy. The Chargers should have a leg up in the AFC West, though, over the Las Vegas Raiders and Denver Broncos.
That means LA will have to battle it out for a Wild Card spot with the likes of the New England Patriots, Miami Dolphins, Indianapolis Colts, and two of the three AFC North teams that don't win the division.
If the coaches can get the best out of the entire team, including Herbert, the Chargers have a real shot to not only get to the postseason but also make noise.
Maybe they should tell Herbert that Patrick Mahomes doesn't return his shopping carts.
All stats courtesy of Pro Football Reference