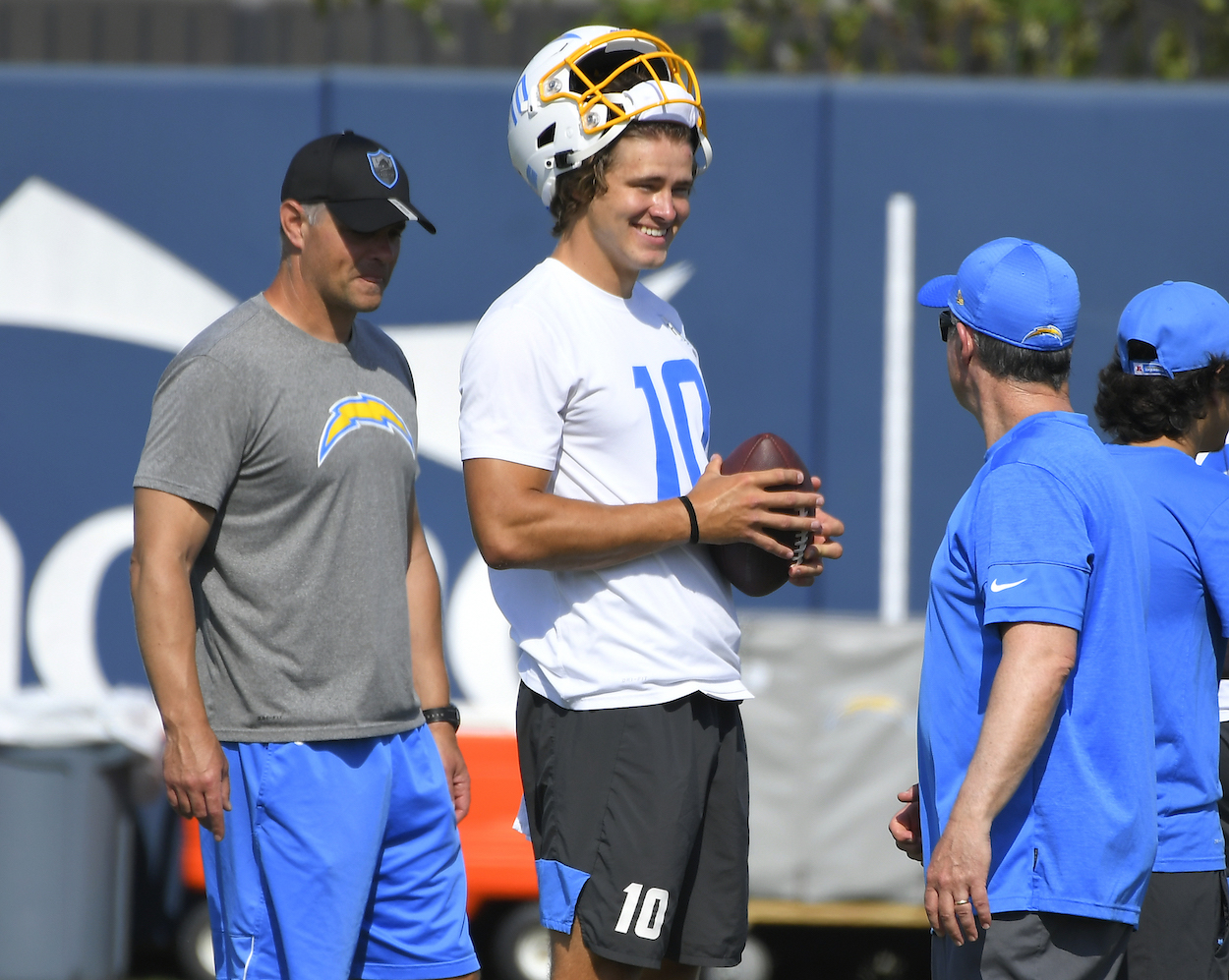 Justin Herbert Plans on Blowing up Drew Brees' Phone
Los Angeles Chargers quarterback Justin Herbert struck up a relationship with legendary QB Drew Brees at minicamp and plans on calling him in the future to get tips and advice. His new coaches, Brandon Staley and Joe Lombardi are working on building their relationship with Herbert as well.
Los Angeles Chargers rookie quarterback Justin Herbert was one of the revelations of the 2020 NFL season. The former Oregon Duck got a surprise start in Week 2 and went on to throw for 4,336 yards and 31 touchdowns. Despite finding its new QB, the Chargers fired head coach Anthony Lynn following the season.
Now, Herbert has a new coach in Brandon Staley and a new offensive coordinator, Joe Lombardi. The latter is no stranger to great QBs, and during Chargers minicamp, one of Lombardi's old pupils stopped by to visit.  
Recently retired Drew Brees visited his former coach at Los Angeles Chargers minicamp
After 20 seasons and over 80,000 passing yards, Drew Brees called it a career following the 2020 season. He'll be joining NBC as a commentator starting in 2021. In this capacity, he visited the franchise that drafted him and his old coach.
The then-San Diego Chargers picked Brees out of Purdue with the No. 32 pick in the 2001 draft. After five seasons with the franchise, the Chargers let Brees go in favor of a young Philip Rivers. Brees then signed with the New Orleans Saints. It was there in Louisiana that Brees became a legend.
Brees put up a 142-86 record in 15 seasons in the Big Easy with 13 Pro Bowl appearances and one Super Bowl title. For a dozen of those seasons, Lombardi was an offensive assistant and then Brees' quarterbacks coach.
Justin Herbert says he's going to be calling Brees a lot 
Brees and Herbert got to spend some time together while the former Saint was at Chargers camp and they both seemed impressed by the other.
Brees told reporters that he was impressed with Herbert's physical gifts, his work ethic, and his "intangibles." He also said that he believes that "the sky's the limit for a guy like him."
According to Yahoo! Sports, Herbert also enjoyed his time with Brees. He said they got to watch film together, and Brees shared some technical advice on reading defenses as an NFL quarterback. The young QB also shared that this was just the beginning of his and Brees' relationship.
"He's a guy that I'm gonna reach out to continuously," Herbert said, sounding like an eager pupil for one of the best QBs of all time.
New Chargers coaches are building a relationship with Herbert too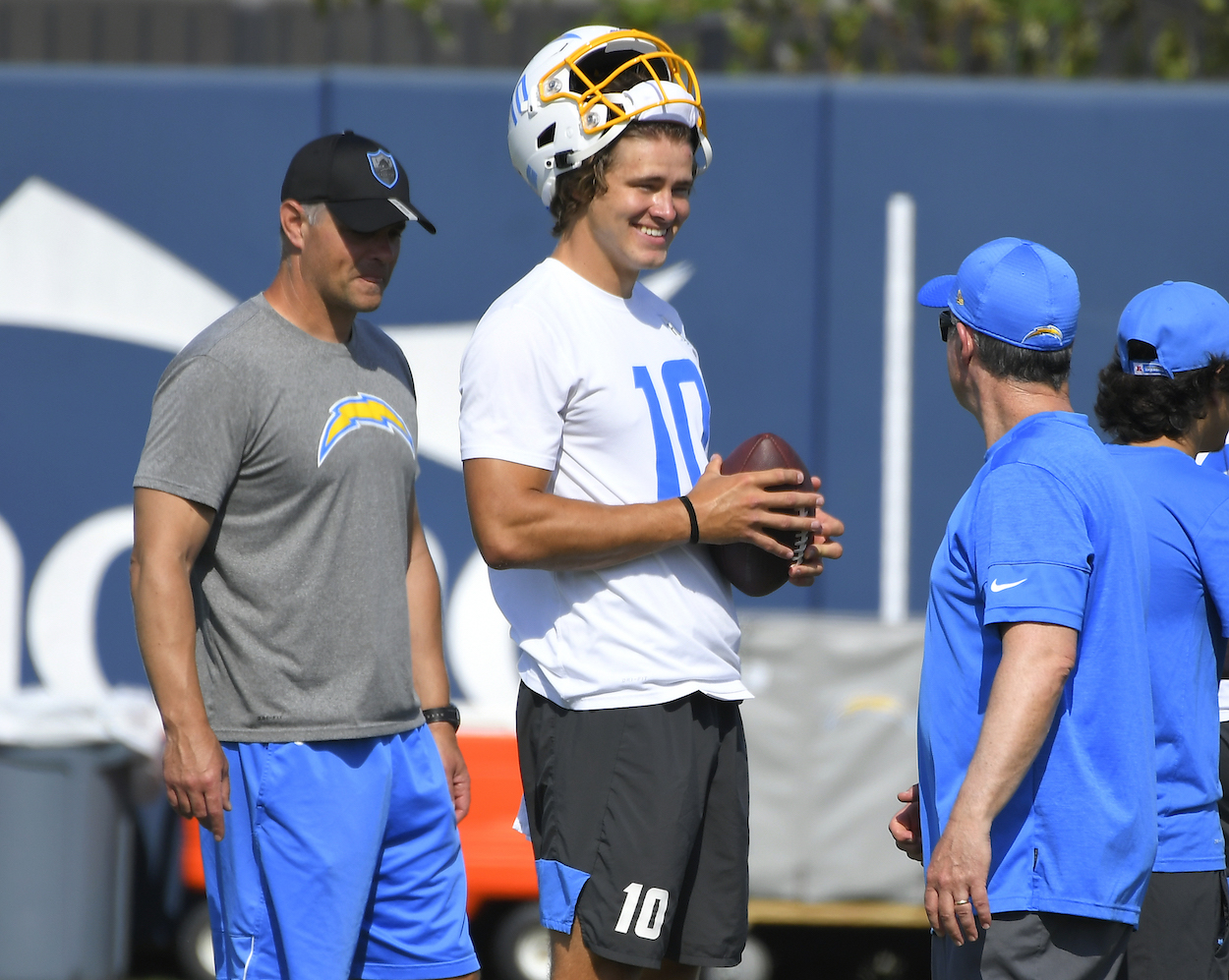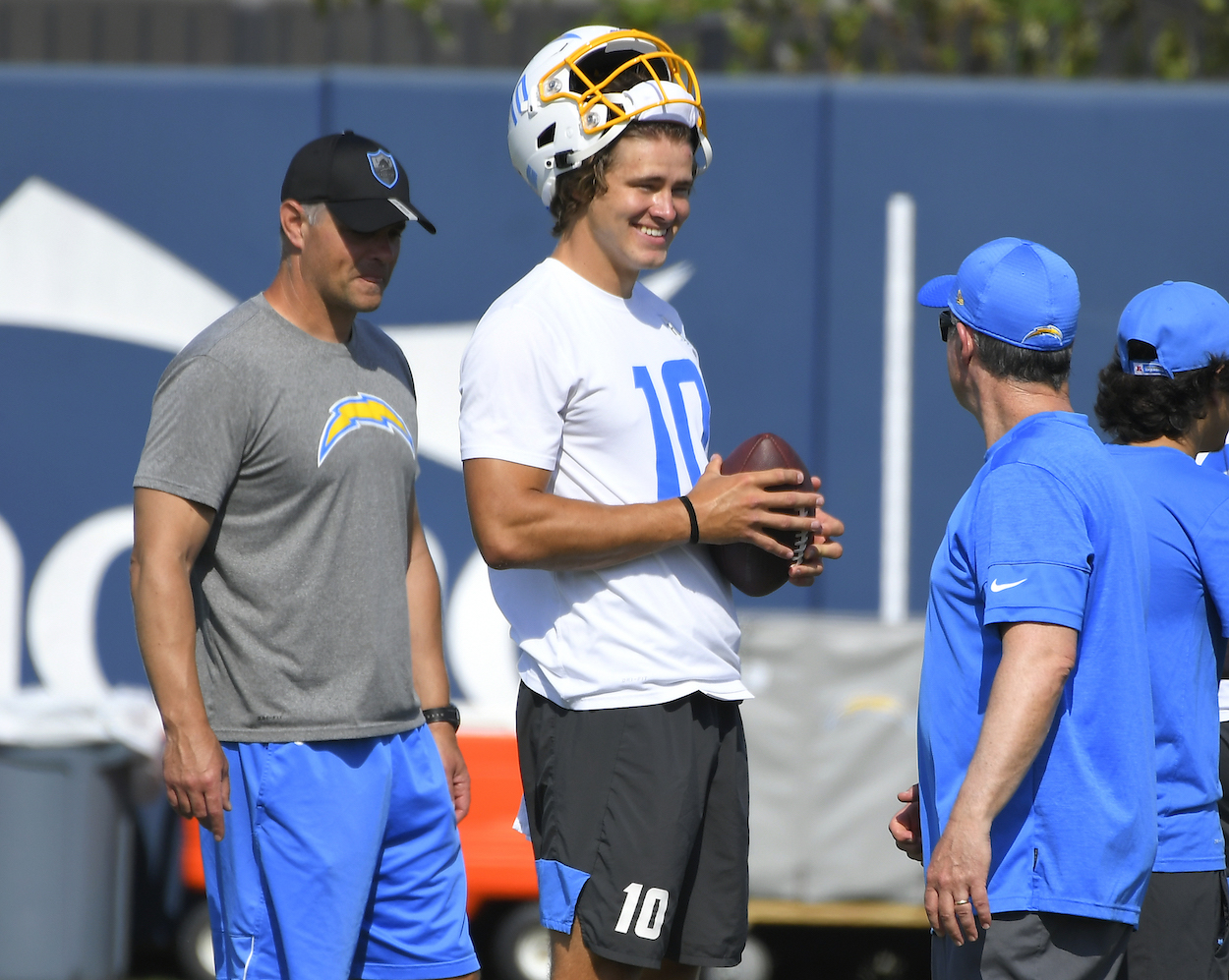 It's not just Bree and Herbert that are building a relationship that they hope will pay dividends when the season comes. It's the coaching staff too.
Staley comes from the defensive side of the ball, where he coached for the Chicago Bears, Denver Broncos, and Los Angeles Rams. He was a QB in college, though. He played Dayton and at Mercyhurst, per Sports Illustrated. At that second stop, his coach was none other than Lombardi.
Now, the two are working together and, along with quarterbacks coach Shane Day, are working on creating a bond with Herbert. All the coaches are doing things big and small to forge a connection with their new star:
The new Chargers coach might send Justin Herbert a clip from practice late at night. He might text, asking for a shot of his scorecard, if he hears the 23-year-old phenom's playing golf with the guys after practice. Other times, it's been Staley sending a picture of his son Colin's wearing a No. 10 jersey to school.
Little things like this help a coach and QB succeed together, as Brees did for a long time with his head coach, Sean Payton. The close relationship may not specifically show up on the field, but it should manifest as wins if done right.
All stats courtesy of Pro Football Reference