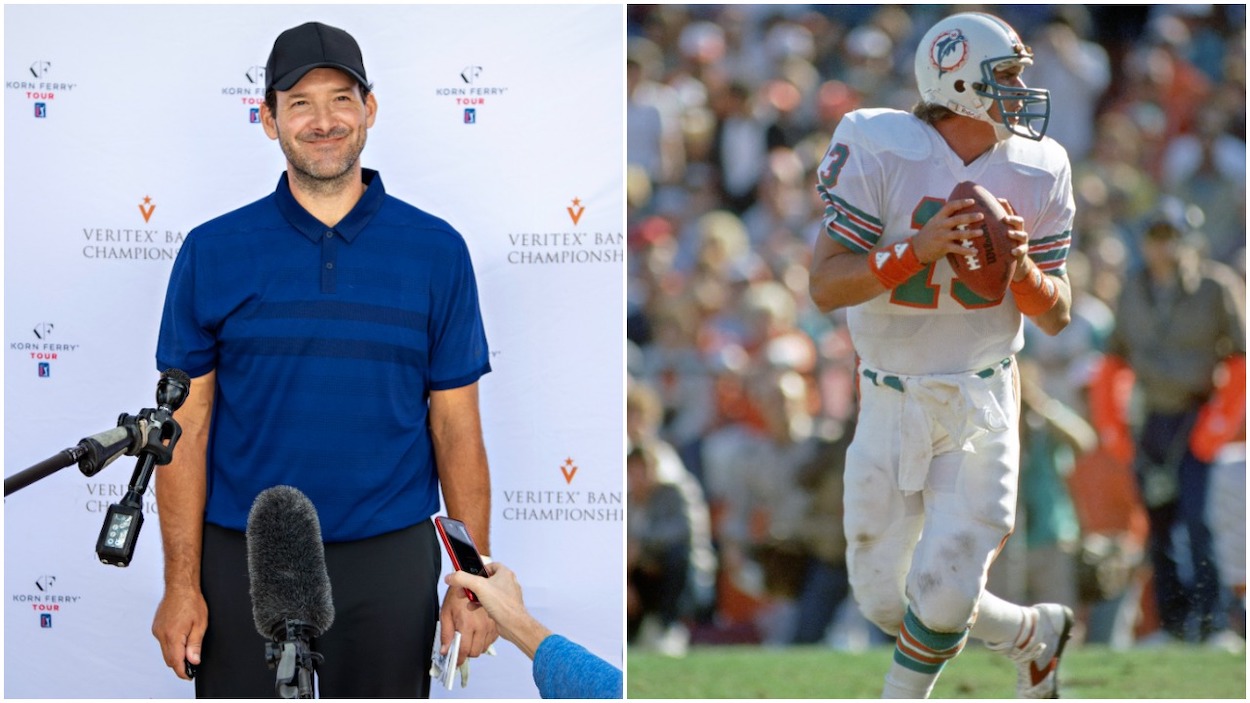 Tony Romo Absolutely Loves One of This Year's Rookie Quarterbacks: 'He's Like a Young Dan Marino'
Tony Romo heaped an incredible amount of praise on one of the top 2021 NFL Draft first-round QBs, even comparing him to Dan Marino. The QB-turned-commentator thinks that New York Jets rookie Zach Wilson looks similar to the Miami Dolphins legend in training camp and has a ceiling as high as Patrick Mahomes.
As a young quarterback in the NFL, getting praise from an NFL legend is an excellent sign for your fledgling career. Getting compared to an NFL legend is an even bigger compliment for top draft picks. The New York Jets No. 2 overall pick, Zach Wilson, got both these affirmations in a signal shot early in his first training camp when former Dallas Cowboys great Tony Romo heaped praise on the former BYU star, comparing him to Hall of Fame Miami Dolphins QB Dan Marino.
Zach Wilson will get his chance to become an NFL star earlier than most rookie QBs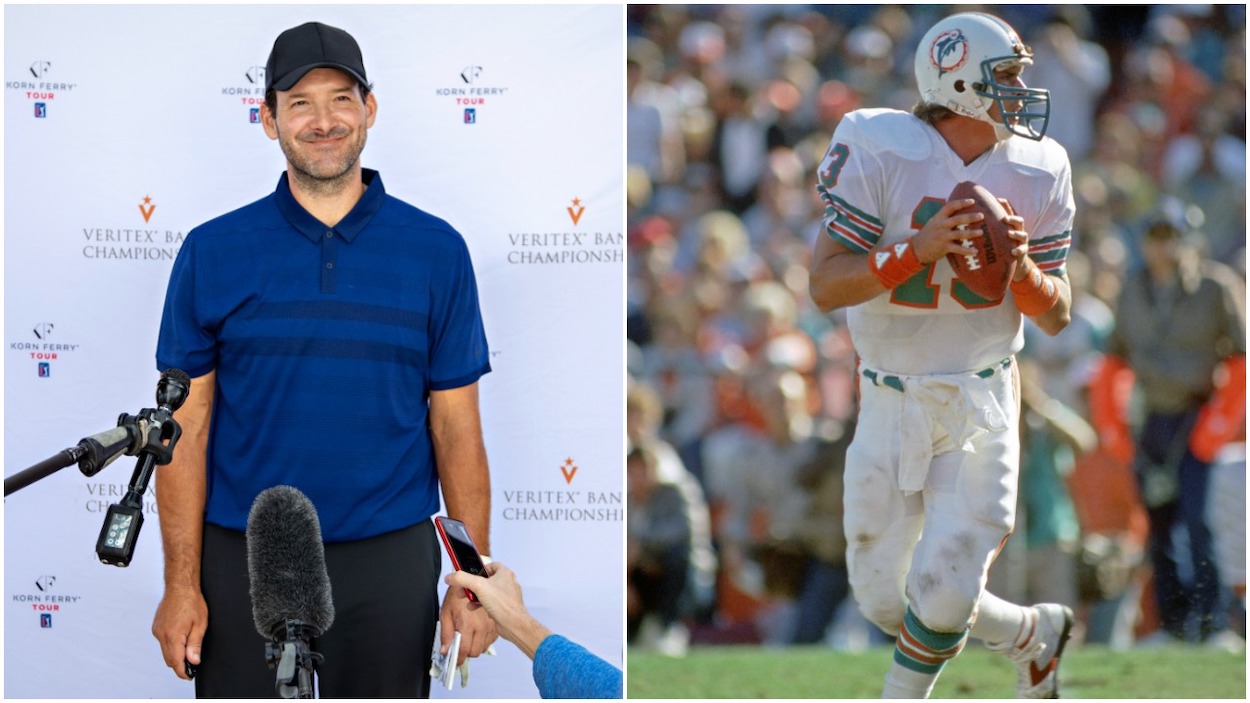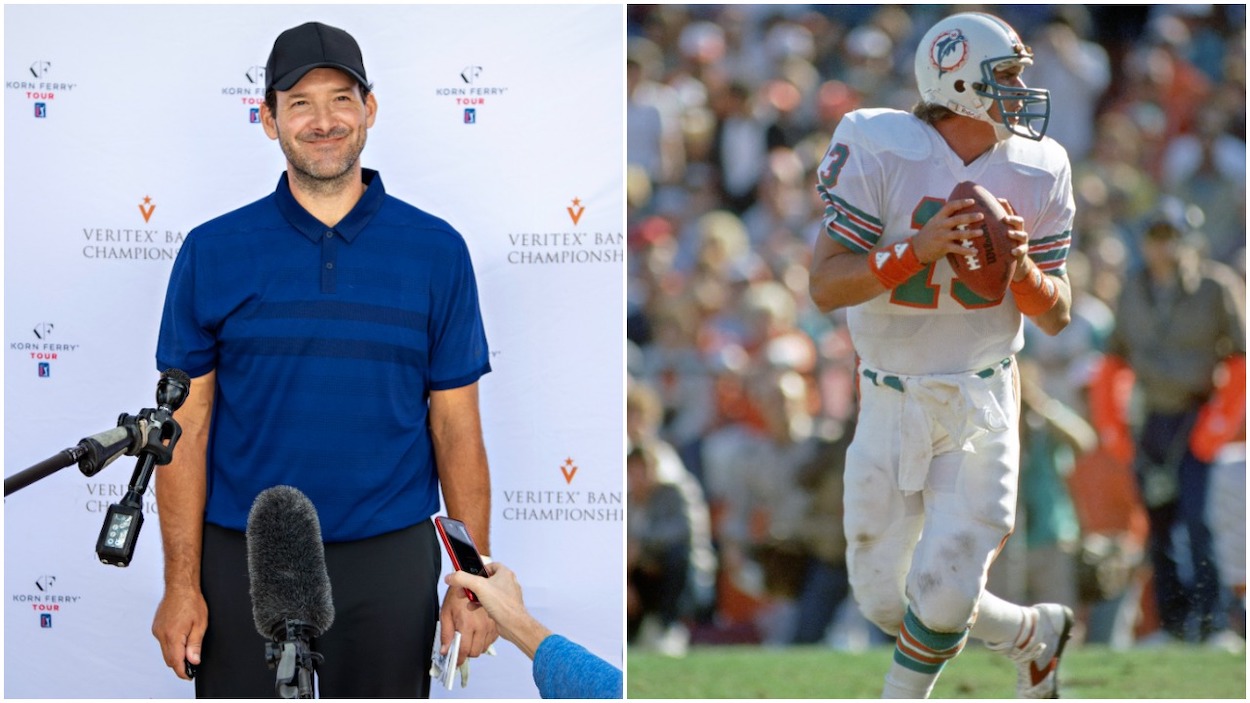 The Jets took Wilson ahead of North Dakota State's Trey Lance, Ohio State's Justin Fields, and Alabama's Mac Jones.
Those three QBs are currently in training camp fighting battles against experienced NFL vets Jimmy Garappolo, Andy Dalton, and Cam Newton, respectively. Wilson's only "competition" is James Morgan and Mike White, two young passers who haven't thrown a pass in an official NFL game.
Ready for the bright lights of Broadway or not, it's almost certain that Wilson will take the first snap of the Jets season when they lineup against the Carolina Panthers (and former Jets QB Sam Darnold) in Week 1.  
This "sink or swim" philosophy that Gang Green is taking with Wilson is a risky one. For every Payton Manning and Matt Ryan who found success taking the reins for the majority of their rookie season, there are plenty of Blaine Gabbert's and Brandon Weeden's too.
Even an all-time great like Dan Marino sat for at least two weeks behind veteran David Woodley before he got his first rookie action.
Tony Romo thinks Wilson has a chance to be great
Tony Romo went from slinging passes for America's Team to slinging analysis during some of the most important games of the NFL season as part of the No. 1 CBS announcing team with Jim Nantz, so his evaluation of young QBs now gets a lot of attention.
While talking about Wilson, the formers Eastern Illinois star couldn't have been more positive. Before playing in a golf tournament in Wilson's home state of Utah, Romo shared his thoughts on the Jets signal-caller with the Desert News.
"I think you guys don't quite know how good this kid is," Romo told reporters. "He is super rare." The QB-turned-color-commentator then compared Wilson to one of the greats of the game:
I think [Wilson's] like a young Dan Marino and for people who are a little bit older, we saw Marino. People forget how Marino was 'the guy' in the '80s. … I just think Zach has a rare ability. I watched him his first preseason game and some other places and I can see certain things; he has a couple of special traits. God doesn't give those gifts to very many people. I think, without knowing him, he is a hard worker and cares and loves the sport.

Tony Romo on Zach Wilson
Romo would go on to make even more lofty player-comps for Wilson, saying, "The ceiling [for Wilson] is crazy. It feels good. I mean Patrick Mahomes crazy levels, which is saying a lot."
This is serious praise coming from Romo, but it's even more impressive if you hold Marino in the high esteem Romo obviously does. And, if you don't remember Marino as one of the best of all time, you probably should.
Romo is right… at least about Dan Marino
The Miami Dolphins took Dan Marino with the No. 27 pick in the iconic 1983 NFL Draft. Rumors about his partying habits caused the Pittsburgh Panthers passer to slip to the end of the first round, behind QBs like John Elway, Todd Blackledge, Jim Kelly, Tony Eason, and Ken O'Brien.
While you can make an argument that Elway and Kelly were on par or better than Marino, the Chiefs, Patriots, and Jets that took Blackledge, Eason, and O'Brien, respectively, have been kicking themselves for almost 40 years.
Marino's numbers and awards show how great he was for 17 NFL seasons. He threw for 61,361 yards and 420 touchdowns (both sixth all-time in NFL history) with a 59.4% career completion percentage. He was the 1984 NFL MVP, made three All-Pro teams, and nine Pro Bowls.
His quick release was legendary, and his arm could sling it all over the field. He made stars out of relatively average receivers such as the "Mark's Brothers," Mark Duper and Mark Clayton. The only real knock on Marino is that he never won a Super Bowl, even with a 147-93 regular-season record as a starter.
Most of his contemporaries, Joe Montana, Phil Simms, Troy Aikman, and Elway, all have multiple Super Bowls. Kelly doesn't have a ring, but on his way to reaching four consecutive Big Games, his Buffalo Bills bested Marino's Dolphins head-to-head for the AFC East title almost every year.
If Wilson has Marino's Hall of Fame career, most will consider it a success. However, an outstanding NFL tenure without a ring might not sound that great to Jets fans right now.
Like Sportscasting on Facebook. Follow us on Twitter @sportscasting19
Zach Wilson's Uncle is Spending Some of His $400 Million Fortune to Fly 200 People to the Jets Opener