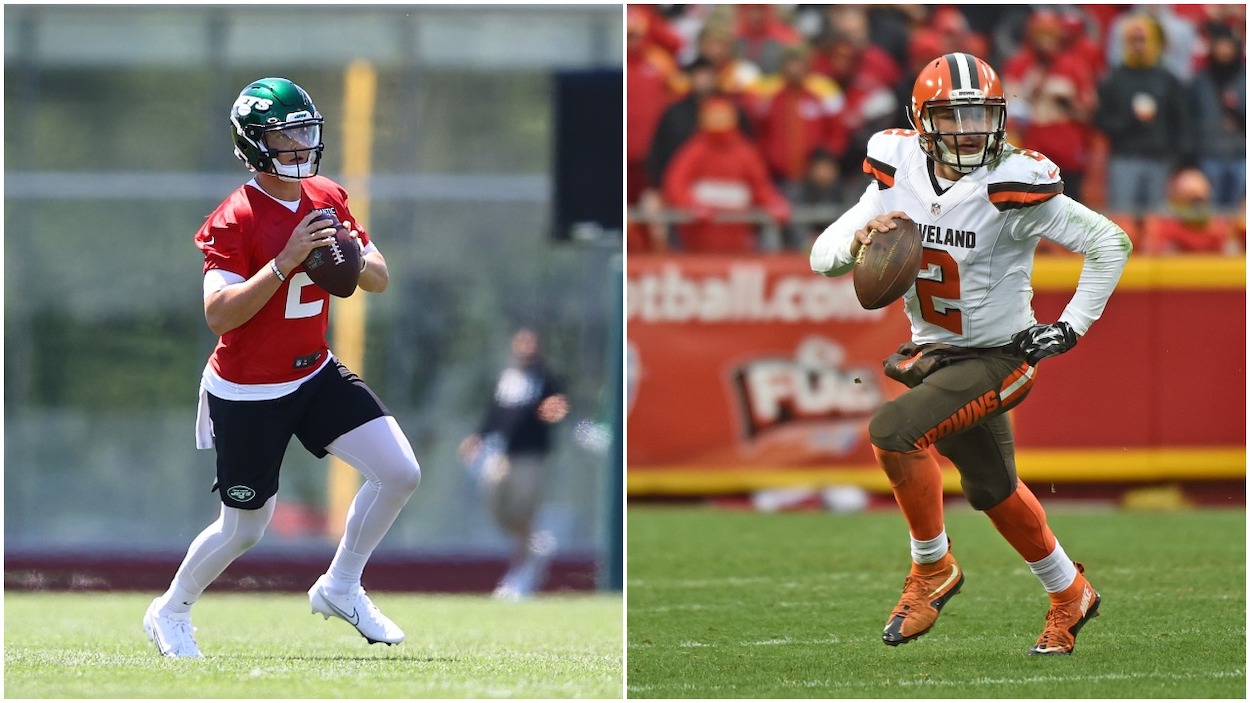 Zach Wilson Was Just Blasted by Colin Cowherd in the Worst Way: 'I See a lot of Johnny Manziel'
Colin Cowherd doesn't not believe in the New York Jets this year, mostly because of the team's rookie QB, Zach Wilson. The radio host went so far as to compare him to one of the most notorious draft busts in NFL history, Johnny Manziel. The comparison might be more accurate than you think.
Radio and TV host Colin Cowherd is known for making outlandish comparisons of teams and players he doesn't like. He recently compared the Cleveland Browns to Coachella, and not in a positive way. Now, he's turned his ire on Zach Wilson and the New York Jets. Cowherd compared the rookie QB to one of the biggest busts in NFL draft history: Johnny Manziel.
Johnny Manziel is one of the biggest NFL draft busts ever
The future looked incredibly promising when he took over under center in 2012 for departed Texas A&M quarterback Ryan Tannehill. The Texas native had a magical redshirt freshman season.
He threw for 3,706 yards, ran for 1,410 yards, and scored 47 total touchdowns. Those numbers were impressive enough to make him the first freshman in NCAA history to take home the Heisman trophy.
In his sophomore season, he threw for more yards (4,114), more TDs (37 passing), and improved his completion percentage (69.9%) and yards per attempt (10.0). These numbers impressed the Cleveland Browns brain trust enough that they made him the No. 22 overall pick of the 2014 NFL draft.
The pros didn't treat Manziel as kindly as college football did. In two seasons, he started eight games, threw for 1,675 yards, seven touchdowns, and seven interceptions. He was out of the league by 2016 due to a combination of poor performance and off-field issues.
Colin Cowherd doesn't believe in the Jets' Zach Wilson
Cowherd went through his NFL division predictions on his radio show, The Herd with Colin Cowherd. His AFC East prognostication has, in order, the Buffalo Bills (12-5), Miami Dolphins (10-7), New England Patriots (9-8), and the New York Jets (5-12).
Cowherd explained why he has such little faith in the Jets, and it mostly comes down to the No. 2 overall pick: 
The Jets, I think will be mostly a mess. I do not believe in Zach Wilson. I think he is the one quarterback out of the draft I have questions about. I see a lot of Johnny Manziel, I see a little bit of arrogance, I see a smaller athlete, who can make plays off schedule. But this roster, though they've improved significantly on the offensive line, because of the last two drafts — Joe Douglas, GM, has done a very good job — I don't see the kind of playmakers you need.
The fact that Cowherd likes what Douglas has done on offense overall casts even more aspersions on Wilson. That said, 5-12 actually would show improvement for a Jets team that went 2-14 last season and likely outpace some experts' expectations who think the Jets could be the worst team in the league in 2021. 
Zach Wilson vs. Johnny Manziel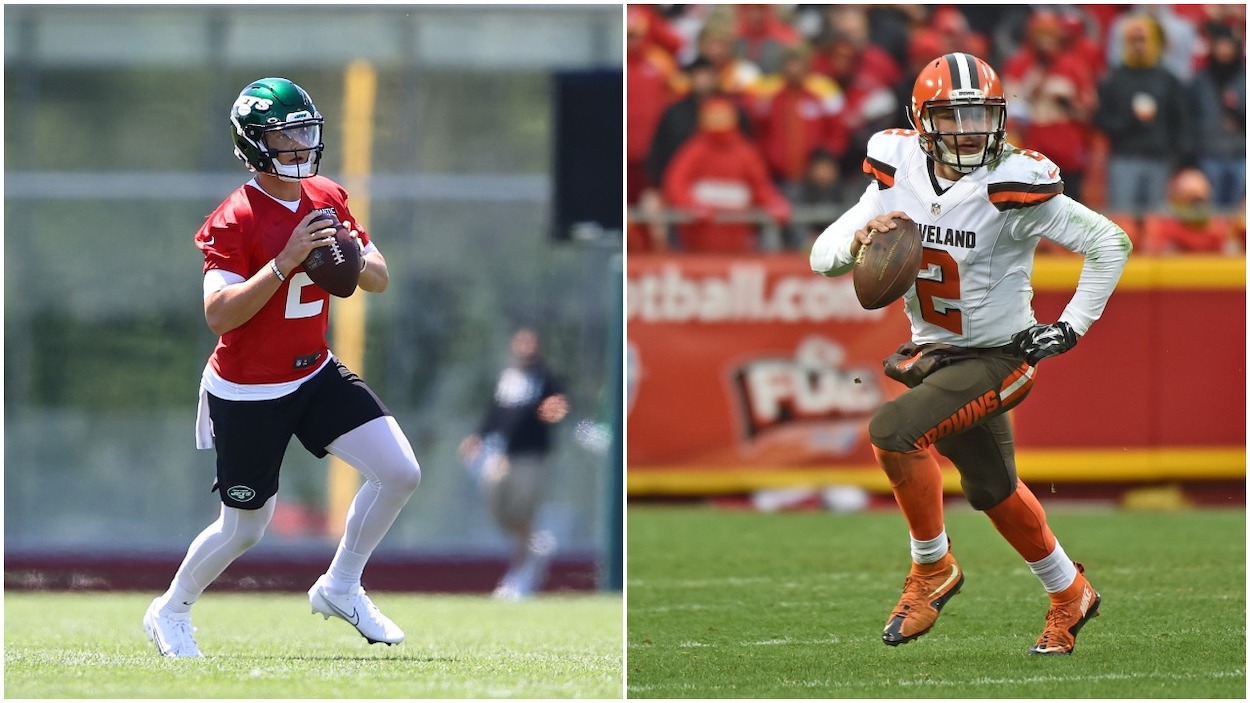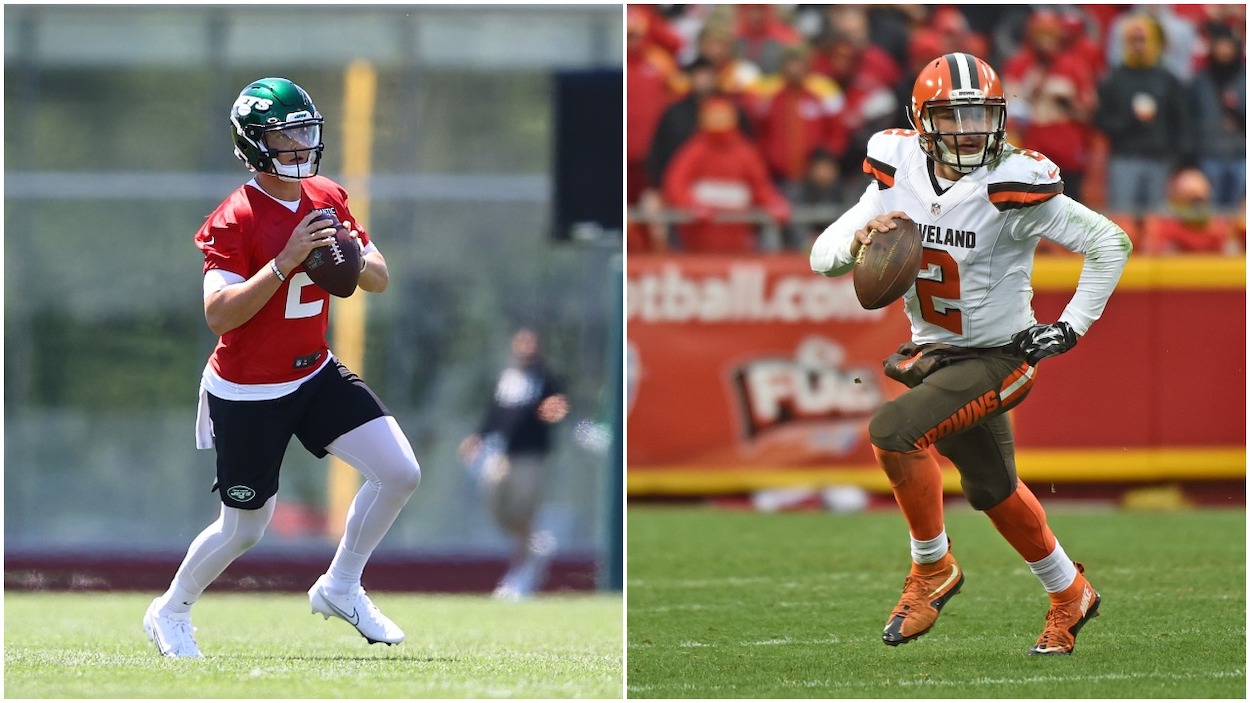 From a production standpoint in college, Manziel comes out on top. In Wilson's best/last year, he threw for 3,692 yards and 33 touchdowns. He was more accurate, though, completing 73.5% of his passes, and he pushed the ball down the field more, to the tune of 11.0 yards per attempt. These numbers came against an Independent West Coast schedule with just two top 25 teams. Manziel put up his stats in the NFL-like SEC.
Size-wise, the two are also similar. Manziel measured 6-feet, 207-pounds at the 2014 combine, while Wilson came in at 6-foot-2 and 214 pounds, per NFL.com. Without a traditional combine in 2020 due to COVID-19, Wilson didn't test like Manziel did, but it's safe to assume he wouldn't have run the 4.68 40 that Johnny Football did.  
Manziel's off-field issues started with an arrest before he ever played a game. In 2012, police charged Manziel with failing to identify himself to police, possessing a fake driver's license, and disorderly conduct by fighting. He pled guilty to the first charge, and the other two were dismissed, per The Eagle.
Wilson has no such issues but, there have already been several incidents involving his mother and social media that could signal distractions in the future.
The one other similarity that Wilson and Manziel now share is that the former picked the same jersey number the notorious bust wore in the NFL.
All stats courtesy of Pro Football Reference and Sports Reference