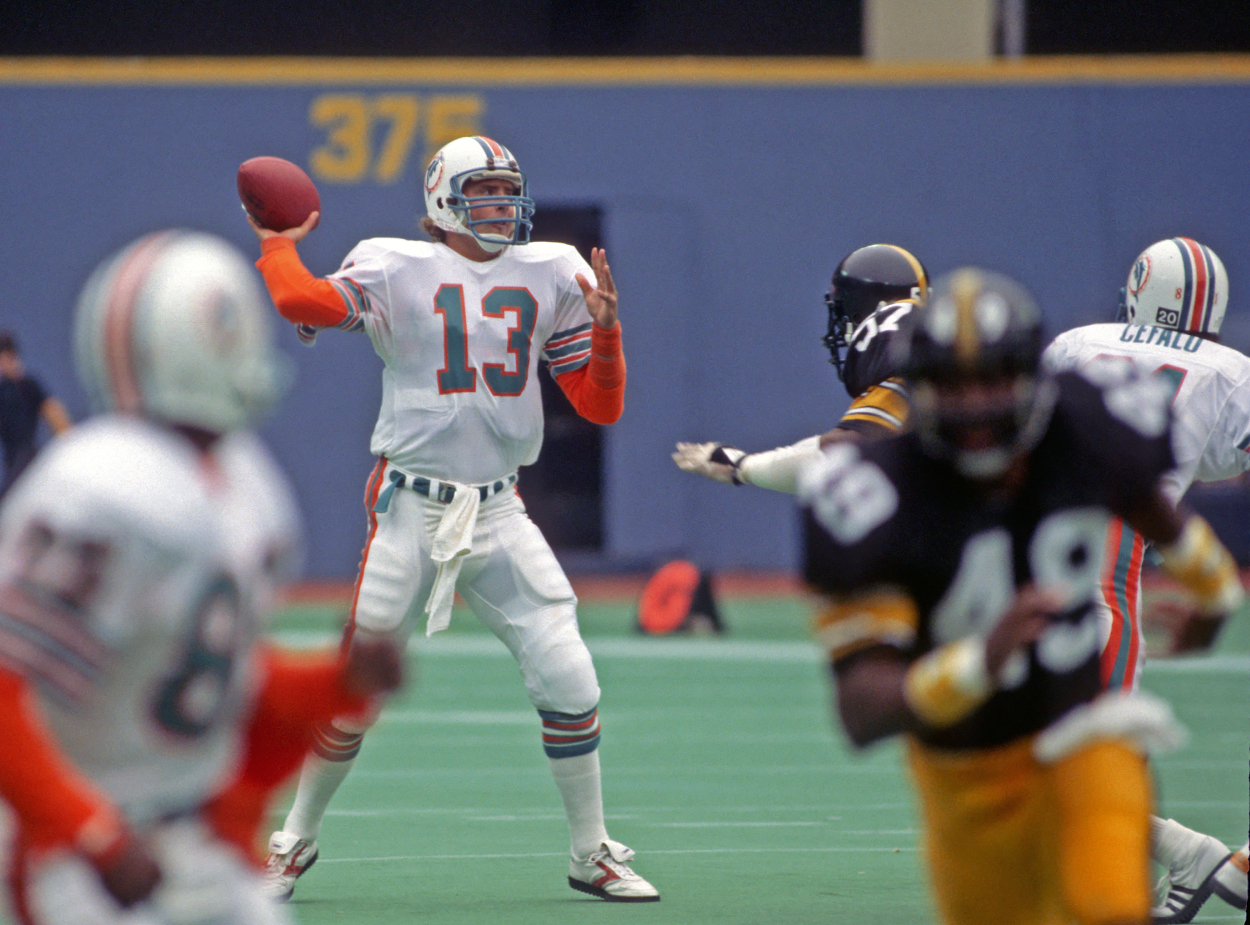 Dan Marino Never Won a Super Bowl, but He Had His Opponents Applauding Him in the Game That Got Him to One
Dan Marino is one of the all-time best quarterbacks despite never winning a Super Bowl.
Dan Marino is widely considered the greatest quarterback never to have won a Super Bowl. He brought the Miami Dolphins to one early in his career, sparking hopes of future championships for the franchise.
Marino never got the Dolphins back to the big stage after his second year in the league and first as the team's No. 1 quarterback. That's not to say the 2005 Pro Football Hall of Fame inductee didn't have his share of big games. In fact, one of his biggest came during the AFC Championship Game in the 1984 season when he even had Pittsburgh Steelers players applauding him for his performance.
Dan Marino's best game may be the one that got him to his only Super Bowl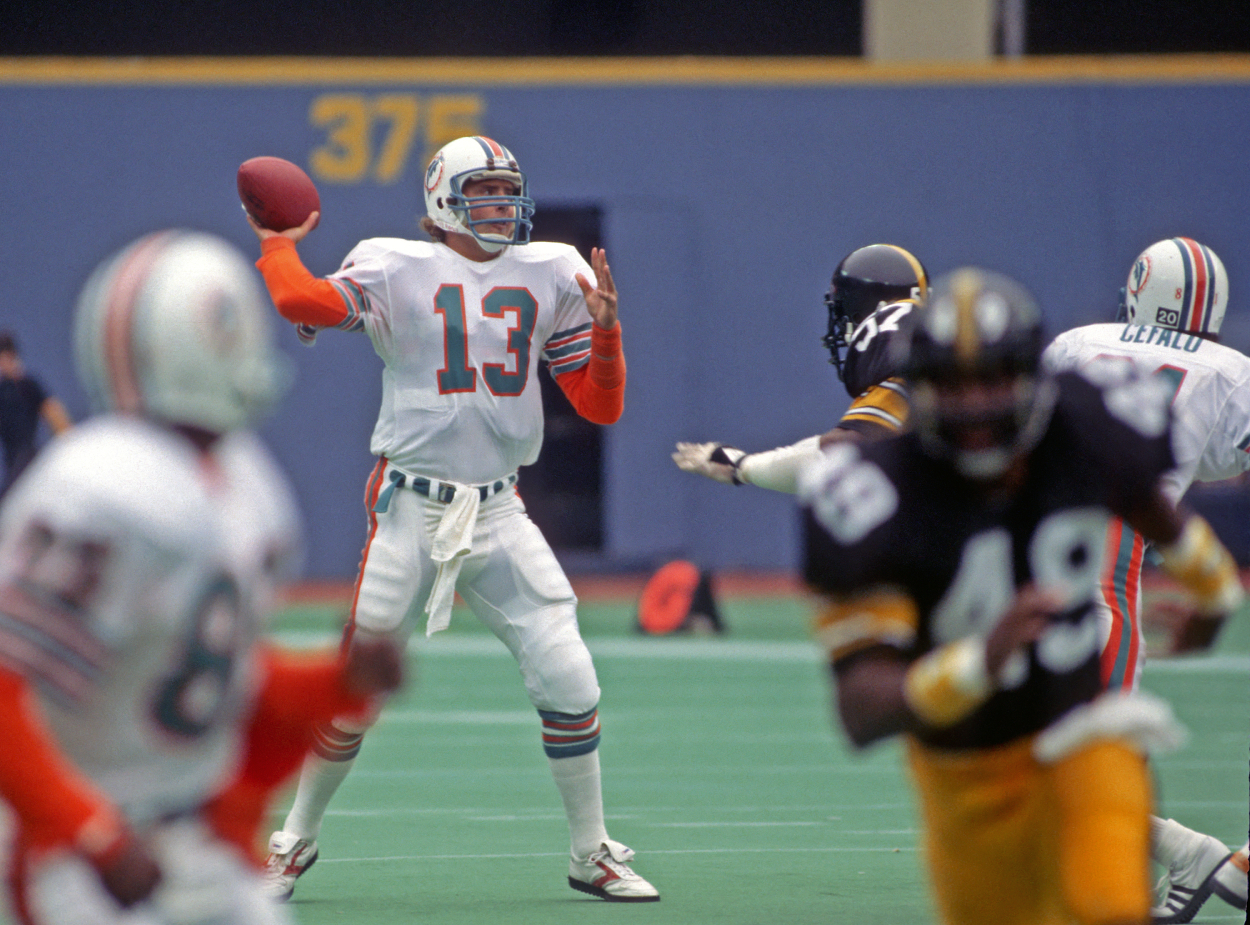 Marino spoiled the Dolphins and their fans early and often in his career. The Dolphins' first-round pick in the quarterback-heavy 1983 NFL Draft took over the starting job for good seven weeks into his rookie season. He made the first of his five straight Pro Bowls that year after throwing 20 touchdowns in nine starts and going 7-2.
The following season, Marino guided the Dolphins to a 14-2 record and a berth in the Super Bowl. Although he wowed everyone throughout the season, his best game ever may have been in the AFC Championship Game against the Steelers. Marino dominated, forced the Steelers from their game plan, and eventually had Pittsburgh players and coaches offering nothing but praise.
The Miami offense put up 45 points, with Marino throwing for 421 yards and four touchdowns in a dominant 45-28 win.
"He's the best we've seen, no question," said Steelers coach Chuck Noll after the game, according to Sports Illustrated. "We gave it our best shot; it's tough to overcome Marino and their passing game. Our offense ran well. The big plays they hit were the difference."
"If (Marino) is just a little off, just once or twice, maybe we can get an interception," said Tony Dungy, the defensive coordinator for Pittsburgh. "But he was not off. It was his day."
Dan Marino had Pittsburgh Steelers players applauding him
The Steelers played well. Quarterback Mark Malone threw three touchdown passes and racked up 312 passing yards. He did have three interceptions, but Pittsburgh's offense did manage 28 points. Marino was just better.
"Danny just had a field day," Malone said. "I'm not talking about a normal offense. They scored so quickly, they ran away from us."
Marino's quick-strike offense prevented the Steelers from their ball-control plan. Veteran center Mike Webster felt the Steelers could chew up the clock, but they were forced into playing catch-up after Marino's offensive outburst.
"We could've run all day," said Webster. 
Webster found himself on the sideline admiring Marino's efforts throughout the game.
"Dan put the game out of our reach," he said. 'I enjoyed watching his performance. I applauded. He's explosive. We wanted to possess the ball, and we had to convert the possessions. Make it impossible for him to win. But he got in front and didn't look back."
Marino took the victory in stride
It was just his first full season as a starter in the NFL, and Marino made things look easy. He went 14-2, earned a Super Bowl berth, and led the NFL in completions (362), attempts (564), touchdown passes (48), passing yards (5,084), and QB rating (108.9), among others. After the win over the Steelers, he deflected the credit to his wide receivers.
 "The speed of our outside receivers makes the decision one way or another," Maruno told Sports Illustrated back then. "We knew we could go upfield. It was there. It's always there."
"You don't break all the records Dan Marino has broken this season without doing something right," said Miami coach Don Shula. "Teams have tried all kinds of schemes against him—drop eight men and rush only three, or blitz everybody, or combinations. Pittsburgh tried the combinations today. Dan had the answers."
The Dolphins went on to lose 38-16 to the San Francisco 49ers. It was Marino's only Super Bowl appearance in his 17-year career with the Dolphins.
Marino went on to become one of the best quarterbacks ever to play. He finished with 61,361 passing yards and 420 touchdown passes. Marino is the prime example of why quarterbacks should not be judged on Super Bowl wins alone.