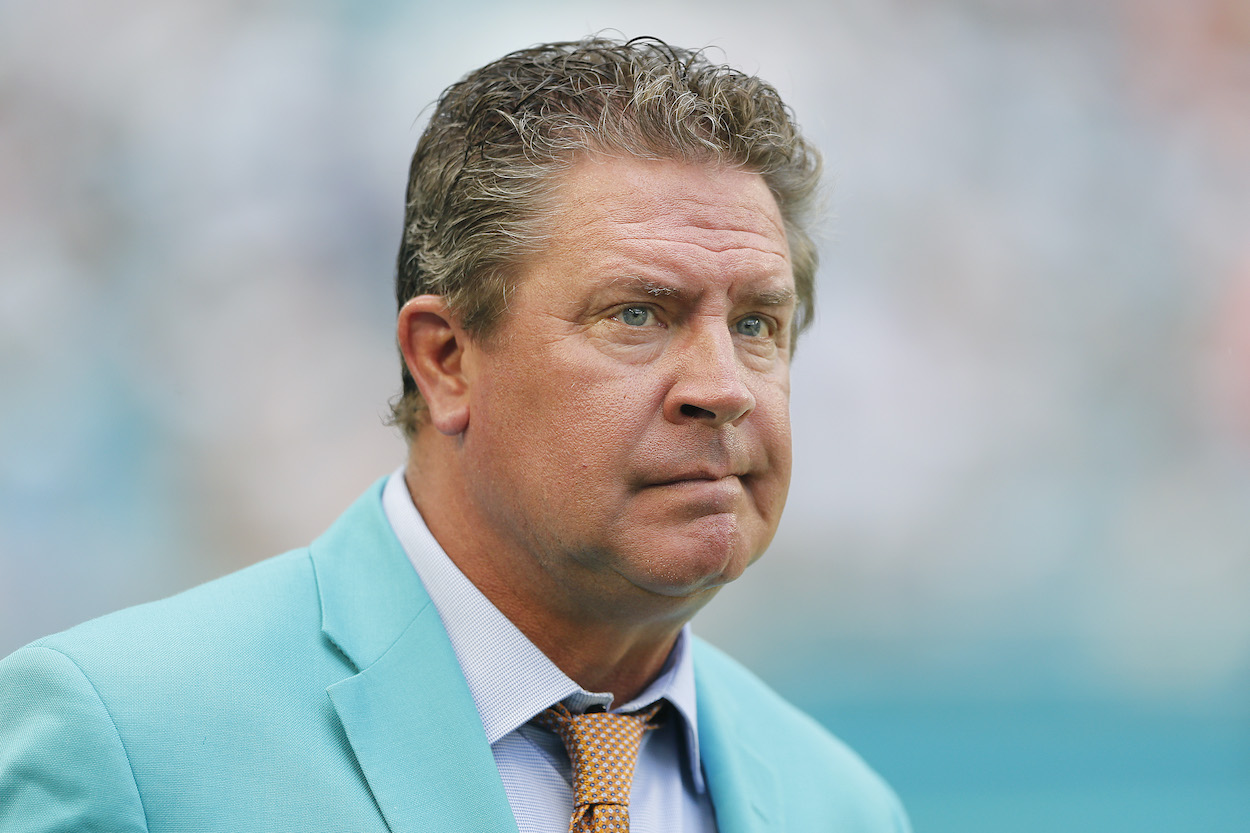 Dan Marino Candidly Admits He's Rooting for Bill Belichick and the Patriots to Fail
Dan Marino played 13 seasons for legendary Miami Dolphins head coach Don Shula, and recently admitted he's rooting against Bill Belichick breaking Shula's NFL wins record
Records are meant to be broken, right? Well, not according to Miami Dolphins legend Dan Marino.
As longtime New England Patriots head coach Bill Belichick inches closer to Don Shula's record for the most wins in NFL history, Marino openly admits he's rooting against the future Hall of Fame coach and hopes he never gets there. Marino, who played 13 seasons for Shula, badly wants to see his old head coach hold on to his prestigious record, even if that means Belichick and the Patriots have to suffer for it.
Bill Belichick is closing in on Don Shula's wins record
The Dolphins were an absolute juggernaut for most of the 1970s and 1980s. Players came and went throughout Miami's prolonged run of excellence, but there was always one constant throughout it all: Don Shula.
Shula took over for the Dolphins in 1970, and he wasted no time bringing the team to prominence. The Hall of Fame head coach led Miami to a Super Bowl appearance in just his second season in charge. He couldn't bring home a Lombardi Trophy in his first trip to the championship game, but he brought his team back to the Super Bowl in each of the following two seasons and prevailed in both.
Shula went on to coach 33 seasons with the Dolphins. He finished his career with 328 regular-season wins, which still stands as the NFL record for a head coach. No coach has even come close to touching Shula's record since he retired in 1995, but Belichick is now in striking distance after 27 stellar seasons, including 21 with the Patriots. Belichick has now amassed 280 regular-season wins in his career, which is the third-most all-time behind just Shula and George Halas.
Just five more seasons might be enough for Belichick to pass Shula for first place.
Dan Marino candidly admits he's rooting against Belichick to break the record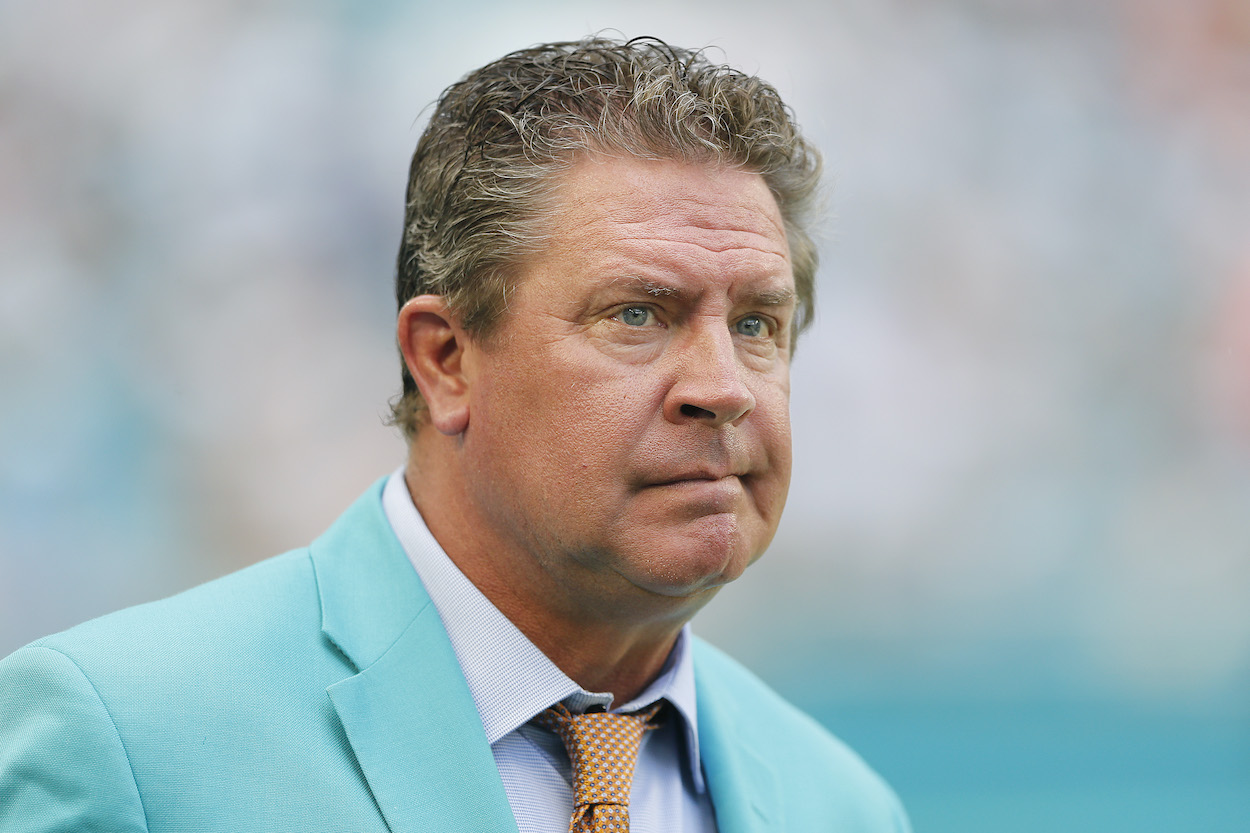 Hundreds of NFL players had at least something to do with Shula's all-time wins record, but maybe none were more important than Marino. The Hall of Fame QB played 13 seasons for Shula on the Dolphins, and Miami won 163 regular-season games over that span.
Marino still considers Shula the greatest coach in NFL history, and he recently admitted to ESPN's Cameron Wolfe that he's actively rooting for Belichick and the Patriots to fail so that his old head coach can retain his place atop the all-time wins list.
"I hope [Belichick] don't get it," Marino said. "I'm a Dolphin for life. Coach Shula for life. I don't want him to get it.
"[Shula] was the best," Marino continued. "He took care of me all the time. He was an incredible man and head coach. He taught me how to be in the community, be a leader, work hard. But from Day 1 — which I thought was genius — he said I want you to be the starting QB so you have to learn this quickly and now you're going to call all your plays in practice and exhibition games. It takes more work instead of a coach telling you what to run. You have to think about it beforehand; you have to prepare for it beforehand.
"I always thought that was special and probably different than what a lot of people do now I'd imagine. It would be a lot harder to do it now than it was then, but it did put a lot of pressure on me to learn quickly."
It's a nice sentiment from Marino, but the only way Belichick doesn't catch Shula is if he retires within the next few years. And we don't see that happening.
Marino believes the Dolphins are in good hands with Brian Flores
During the same interview with ESPN, Marino spoke about the current Dolphins roster and what he thinks of their newest head coach, Brian Flores. While Marino will never compare another coach to Shula, he did say Flores shares some of the same qualities as the all-time wins leader.
"It's a different time. It's different people. But the discipline factor, the fact that he demands the best all the time — they have those same characteristics," he said. "That's what you want from a head coach. Be demanding, relate to the players and want the best out of them. They both have those characteristics."