Whatever Happened to Former Miami Dolphins Quarterback Jay Fiedler?
Whatever happened to former Miami Dolphins starting quarterback Jay Fiedler?
Jay Fiedler came into the NFL in 1995 as an undrafted quarterback out of Dartmouth College. He didn't throw his first pass until 1998. Fiedler didn't make his first start until 1999 and then finally got hit first full-time starting job with the Miami Dolphins in 2000. Hard work, perseverance, and success (a 38-25 record, postseason included) kept him around the NFL for 10 years. These days, Fiedler is keeping his hand in football in several different ways.
Jay Fiedler is the last QB to win a Miami Dolphins playoff game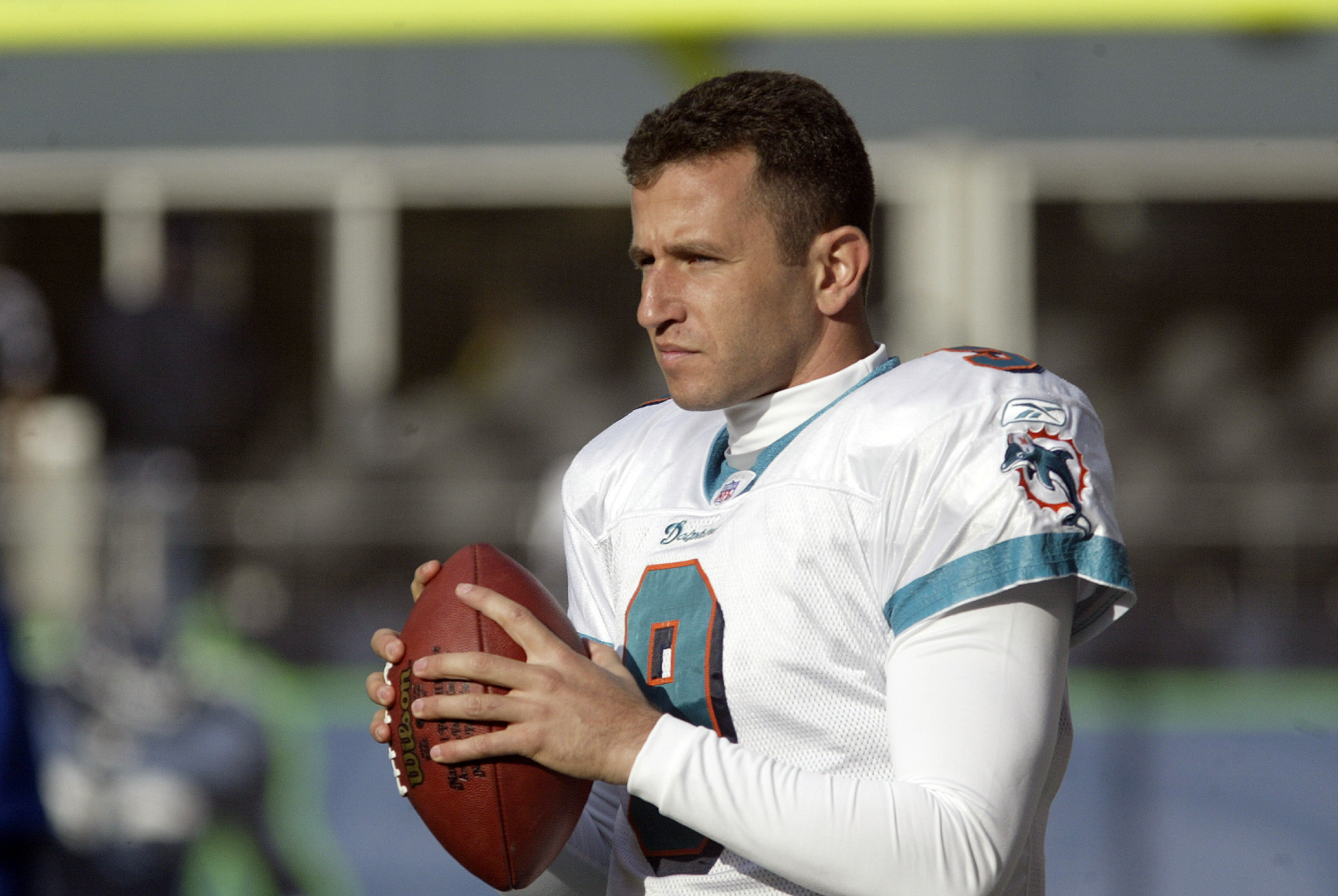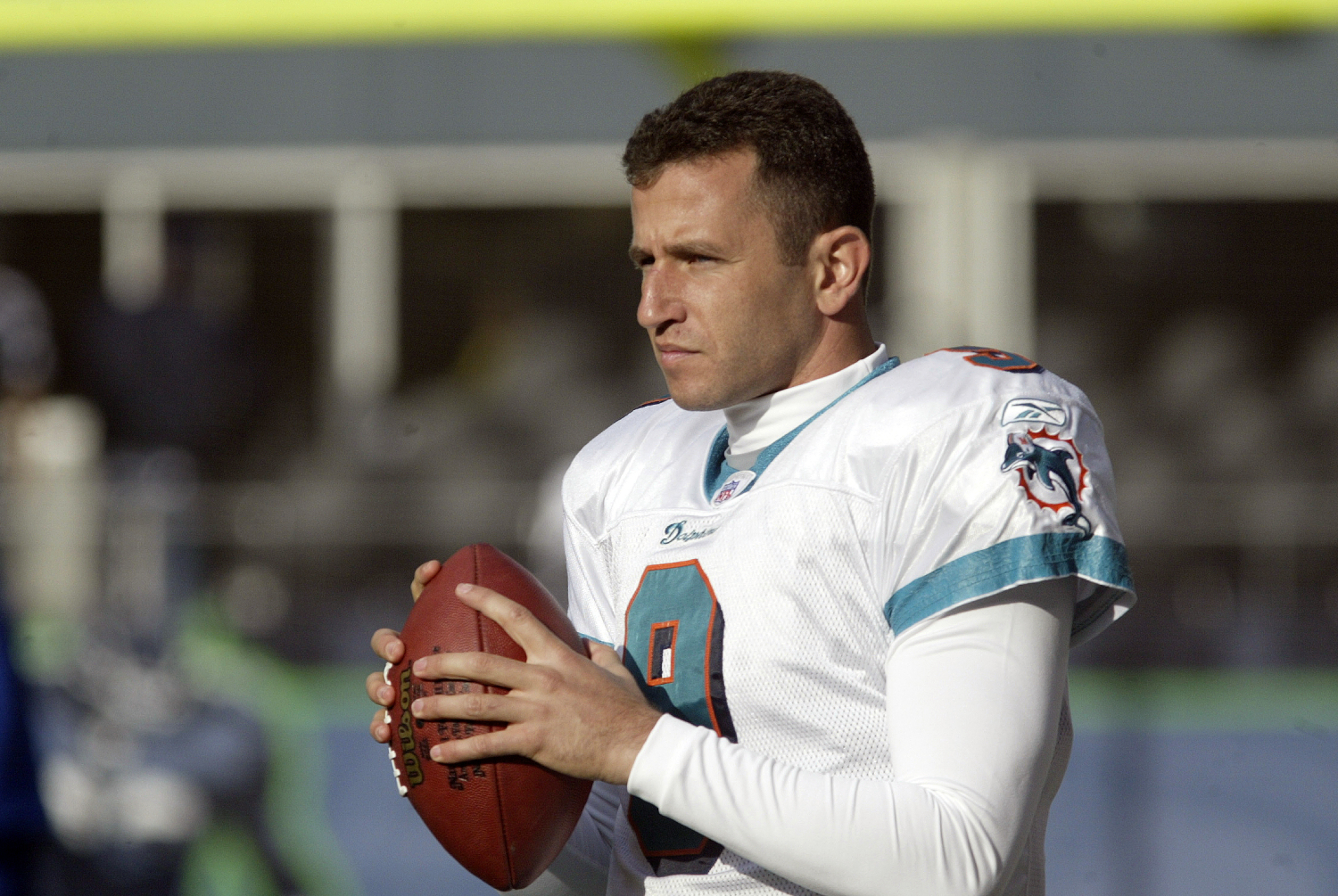 Jay Fiedler is much more than the guy who replaced Dan Marino. Yes, he did replace the legendary Marino as the Miami Dolphins starter in 2000, but just the road he took to get there tells you a lot about the man. Fiedler played college football at Dartmouth. He went undrafted. He got a taste of life in the NFL with the Philadelphia Eagles in 1995. Then he was out of the league.
Fiedler was a volunteer assistant coach at Hofstra University before the Minnesota Vikings came calling in 1998. He threw a total of seven passes for the Vikings and then signed with the Jacksonville Jaguars in 1999. Fiedler made one start for the Jags and played in seven games. In 2000, he got his big break, signing a multi-year deal to become the starter for the Dolphins. Fiedler guided the Dolphins to a 23-17 overtime win over Peyton Manning and the Indianapolis Colts in the wild-card game in December of 2000, Miami's last playoff win.
"We had a lousy start to that game," Fiedler told sportscasting.com. "Winning that game was a big highlight." Fiedler also has another game that stands out from his Miami days. "It was the game right after 9-11," he said. "It was a fourth-quarter comeback (at home against the Raiders). I dove in for the winning score. That play was memorialized on the cover of Sports Illustrated. It's pretty cool."
Fiedler is the owner of The Sports Academy at Brookwood Camps
Jay Fiedler hasn't played a down in the NFL since 2005. Although his NFL days are over, he's still very much involved in sports. Fiedler, along with his brother Scott, owns The Sports Academy at Brookwood Camps in New York. The camp gives boys and girls from ages 6-17 a unique summer camp experience in a variety of sports. Brookwood provides the campers with top-notch instructors, allowing them to enhance both their athletic and social skills.
"It's a family business and we have 160 acres in the Catskills," Fiedler told sportscasting.com. "We bring in top-level instructors. We have Leo Mazzone come in and do our baseball. We've had Charles Oakley for basketball. I do football. We've had Chris Chambers and Scott Brunner as instructors."
For those who want to get into sports broadcasting, Fiedler's camp can help, too. "We have a sports broadcasting program to do something for kids who aren't hard-core competitors but love sports," Fiedler said. "I'm pretty good friends with (ESPN broadcaster) Steve Levy. We've had him and Adam Schefter." The Brookwood camp also has programs for soccer, lacrosse, dancing, golf, and tennis.
Fiedler also has his own football training business
While Jay Fiedler's Sports Academy at Brookwood Camps is geared for the summer, Fiedler also has his own football training business, Prime Time Camps. "My football training business is year-round," Fiedler said. "It actually started as a basketball camp. My dad was very close with Anthony Mason."
Fiedler also is part of a twice-a-week podcast on Phinmaniacs.com. Fiedler, along with co-host Jason Sarney, gives his thoughts on all things Miami Dolphins. Fiedler, who has broken down film of Dolphins rookie quarterback Tua Tagovailoa on the podcast, likes what he sees in the young QB.
"My advice to Tua would be to just be himself," Fiedler said. "Just work on your game like you normally would and don't focus on the outside distractions. His focus needs to be on improving each week, what goes on in the team meetings, those type of things. I think he's done a phenomenal job with that."