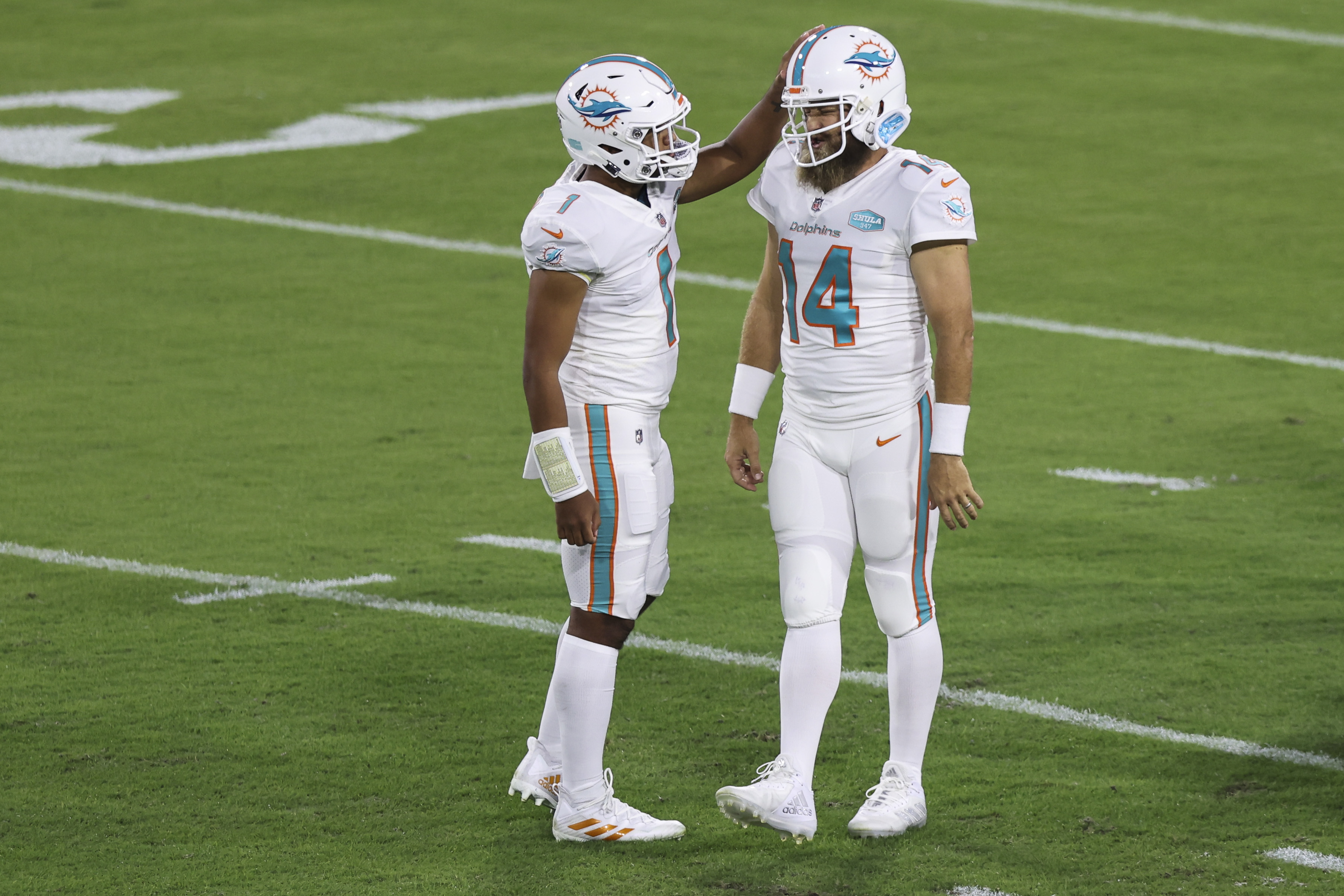 Tua Tagovailoa Has the Perfect Mentor in Ryan Fitzpatrick
Miami Dolphins rookie quarterback Tua Tagovailoa has the perfect mentor in veteran Ryan Fitzpatrick to show him the way.
It's been a learning year for rookie quarterback Tua Tagovailoa. The Miami Dolphins took the former Alabama quarterback with the fifth overall pick in the 2020 NFL draft and have brought him along slowly. Tagovailoa has gained valuable experience on the sideline watching Harvard graduate and longtime NFL journeyman Ryan Fitzpatrick run the show.
Miami Dolphins showing patience with Tua Tagovailoa
The Miami Dolphins are 1-3 and not much is expected of them this season. Sure, they could throw rookie quarterback Tua Tagovailoa under center and get him some NFL action, but the plan is patience. The Dolphins would rather see Tagovailoa learn from the bench the same way many great quarterbacks began their NFL careers.
Tagovailoa's college career ended with a significant hip injury. Although he's medically cleared, the plan continues to bring him along slowly. He's second on the depth chart and the team is confident in him if his number gets called.
"He's one play away from having to play. I feel like he'll go in and play well," Dolphins offensive coordinator Chan Gailey said, according to ESPN. "He hadn't been in a game at all so it'll be a new experience for him. He'll have to go in there with eyes wide open; but I think knowing the person that he is and knowing the type of preparation that he puts in, I think he's going to be ready when his time is called."
Tua Tagovailoa loaded with talent
The Miami Dolphins know what they have in Tua Tagovailoa. The numbers he put up at Alabama, especially in his final two seasons, are eye-popping. The Dolphins are starving for that star quarterback they haven't had since Dan Marino.
During his sophomore year with the Crimson Tide, Tagovailoa played in 15 games and completed 69% of his passes. He threw for 3,966 yards and 43 touchdowns. He also rushed for 190 and five more touchdowns. During his junior year, Tagovailoa completed 71% of his passes. He threw for 2,840 yards and 33 touchdowns despite playing in nine games because of injury. He elected to enter the 2020 NFL draft and give up his senior year.
Miami Dolphins head coach Brian Flores said there was zero hesitation in drafting Tagovailoa. They were comfortable in selecting him despite his hip injury. "He fit a lot of the criteria that we talk about at the quarterback position. Good player, good person, leadership qualities," Flores said. "We're very happy with this pick. We felt very comfortable that he would be a good fit here."
Tagovailoa is in a great spot
Tua Tagovailoa is in a great spot with the Miami Dolphins. Especially with the wacky world of 2020 with no preseason games, he's able to learn by watching. Ryan Fitzpatrick might be the perfect guy for him to watch. Fitzpatrick knows he's just a bridge between Tagovailoa and the Dolphins. There's no animosity between the two and Fitzpatrick is willing to play the role of teacher.
"I probably talk more on the bench than I normally would in-between series," Fitzpatrick said to ESPN. "I want him to kind of understand what I'm seeing and to be able to ask questions even if it is in a game-like setting. … It seemed like he saw the game pretty decent from the sidelines in terms of the stuff that we were talking about and the questions he was asking. It was good and it was a good start just to build on that communication now, just being another set of eyes for me to be able to trust."
Head coach Brian Flores said he doesn't believe Tagovailoa is quite ready to start, but he's very close. He believes Fitzpatrick is the best man for the job right now. Fitzpatrick might also be the best man to serve as Tagovailoa's mentor. "As far as (Tagovailoa) being a starter, we just don't feel like he's ready there just yet," Flores said. "Right now, we feel like Fitz gives us the best chance to win."