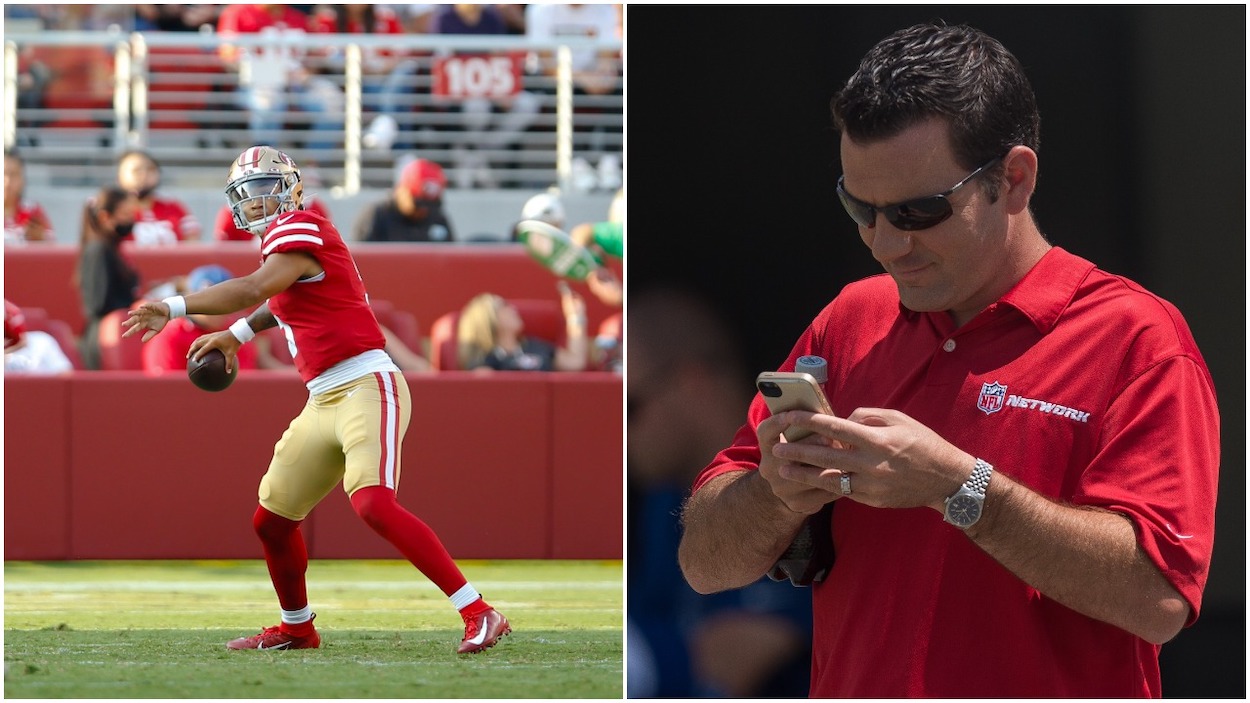 NFL Insider Goes Wild on Twitter After Trey Lance 80-Yard Touchdown Pass
Trey Lance is trying to be the next small school QB to find success in the NFL and with his preseason flashes, it's hard not to overreact, just like NFL insider Ian Rapaport had to remind himself not to do when Lance threw a smooth 80-yard touchdown pass on just his second-ever NFL throw.
It's hard not to overreact to preseason NFL football games sometimes. After months of talk and speculation and projection, it's the first opportunity we get to see players back in action. No one knows this better than NFL insider Ian Rapoport. However, even he can get swept up in the first on-field action of the new season, which is why he went wild and had to remind himself on Twitter to calm down after watching the San Francisco 49ers rookie quarterback Trey Lance throw a spectacular 80-yard touchdown pass.
Trey Lance is a top NFL quarterback prospect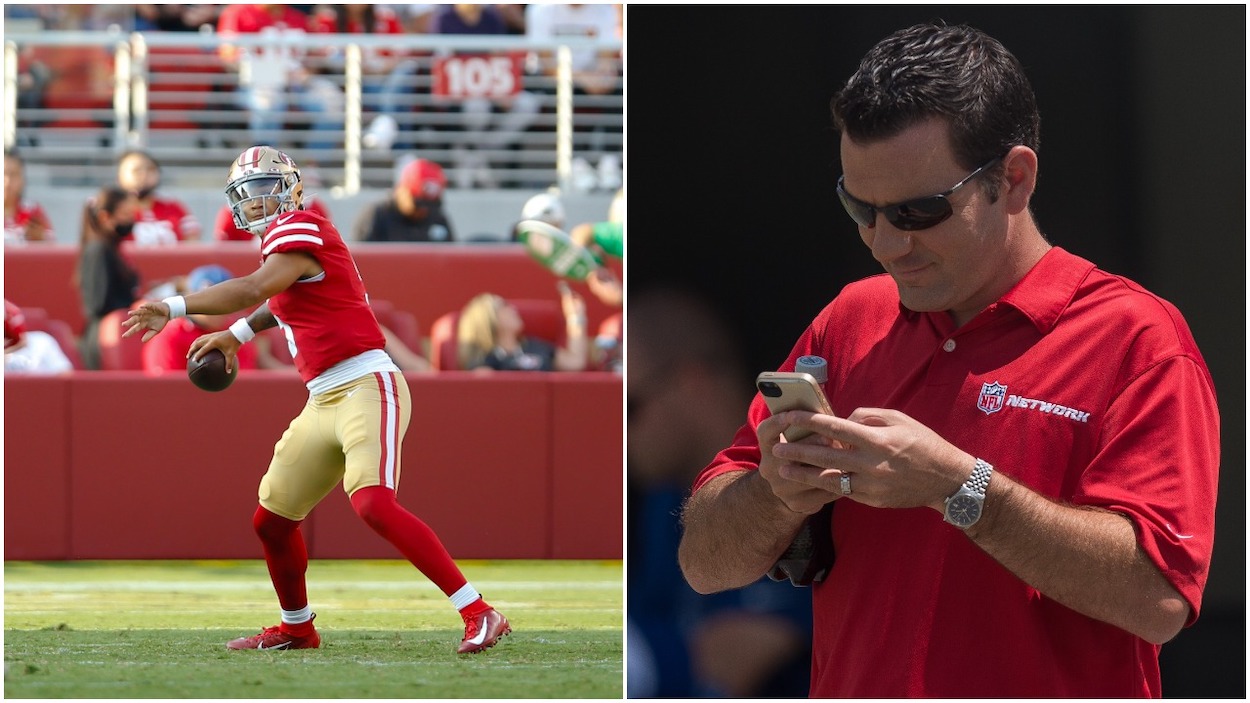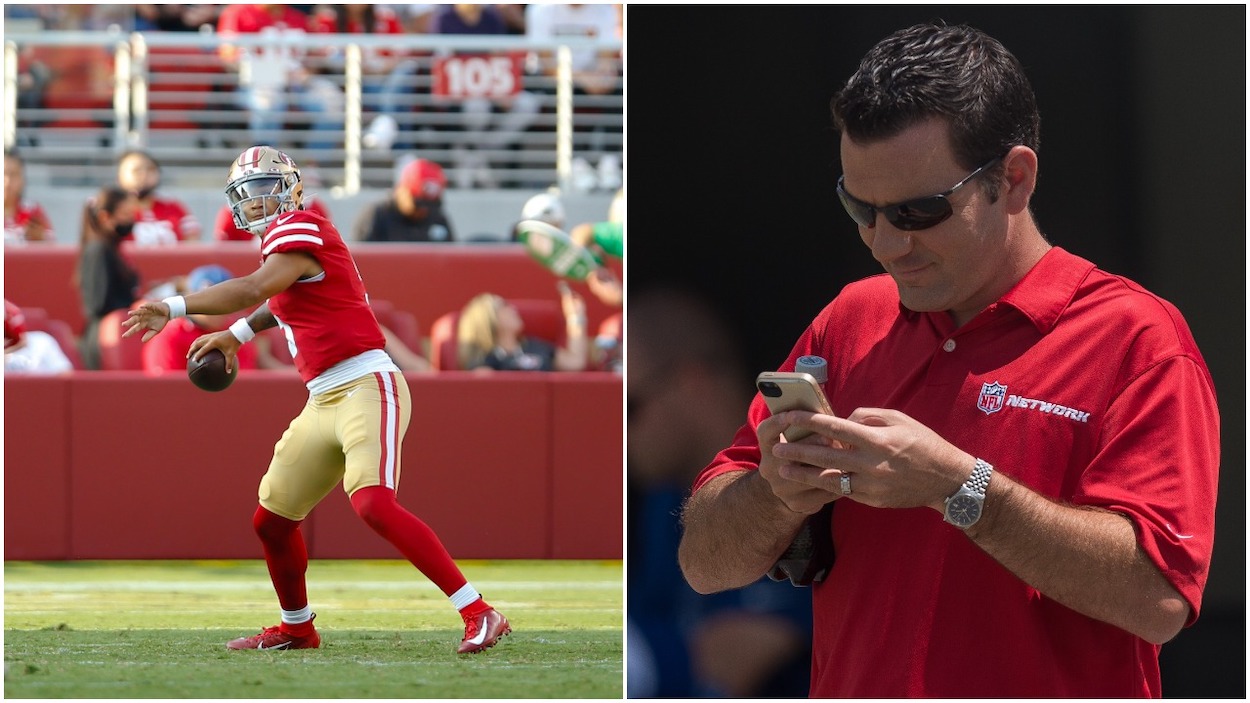 Growing up in Marshall, Minnesota, Trey Lance was destined to become an NFL player. His father Carlton played college ball at Southwest Minnesota State then tried out at the training camps of the Houston Oilers and San Francisco 49ers. While Carlton's true NFL dream never came true, he did play for the Saskatchewan Roughriders in the CFL and the London Monarchs in the World League. Per GoBison.com.
By the time he was in high school, Trey was already on track to follow in his dad's footsteps. He played quarterback and strong safety, made All-District three times, as well as the 2017 Minnesota Vikings All-State Team. These achievements made him a two-star dual-threat QB, according to Rivals.com, and he earned a scholarship to North Dakota State.
In North Dakota, Lance's development truly took off. He bulked up from 190 to 221 pounds, and, in 2019 during his redshirt freshman season, he led the Bison to a 16-0 record and a national championship while picking up a slew of FCS and Missouri Valley Football Conference.
Lance only played in one game in 2020 before the postponement of the FSC season due to COVID-19. He opted out of the 2021 portion of the season to prepare for the upcoming NFL Draft.
At the draft in April, San Francisco's Kyle Shanahan, who traded up to pick No. 3 for a QB, confounded expectations and confidently took Lance over Alabama's Mac Jones and Ohio State's Justin Fields.
Lance connected on a stunning deep touchdown in his first preseason game
Trey Lance is now locked in a battle with the Niners' incumbent QB Jimmy Garoppolo to become the team's starter for 2021. After four up and down, injury-filled seasons in the Bay Area, we all know what Jimmy G is. It's Lance's skill set that is exciting to watch this preseason.
In his first preseason game against the Kansas City Chiefs, Lance showed off some of the skills that made him such a high pick and created so much confidence in his head coach.
The big moment came late in the first quarter on Lance's second-ever NFL pass. He took the snap, rolled left, planted his feet, surveyed the field, and effortlessly flicked the ball 45-yards downfield in the air. The ball dropped over two defender's heads and hit his receiver in stride, who galloped into the end zone for an 80-yard touchdown.
The play fired up the home crowd, the San Francisco sideline, and 49ers fans everywhere. Even a long-time NFL observer like Rapoport couldn't help but be excited at the display of talent.
The NFL insider tweeted out a video of the play, writing, "Do not overreact to the preseason," eight times.
There is a rich history of successful small school QBs in the NFL
If Trey Lance becomes the franchise QB that Shanahan and the organization think he can, he'll join a distinguished group of small school QBs that have made their mark on the NFL. 
Because of his combination of running and passing skills (and recency bias), Lance is most often compared to Buffalo Bills via Wyoming QB Josh Allen. However, these are just the latest examples of signal-callers from college football outposts to make a splash in the pros.
Lance's fellow NDSU Bison Carson Wentz and Garappolo (Eastern Illinois) have both found some success at the next level, as did another Eastern Illinois Panther, Tony Romo. Delaware's Joe Flacco is a Super Bowl champ, and Ben Roethlisberger of Miami (OH) is probably the most successful active example of a small school QB made good.
Prior to these passers showing their stuff in the NFL, there were others. Steve McNair (Alcorn State), Kurt Warner (Northern Iowa), Rich Gannon (Delaware), Phil Simms (Morehead State), and Dave Kreig (Milton College) are some of the top players ever at any position to find NFL glory.
These small school wonders are likely what came to Rapoport's mind when he saw Lance flash his skills. While the NFL Network star is right about preseason, it will be hard not to overreact if we see much more of that from Lance.
Like Sportscasting on Facebook. Follow us on Twitter @sportscasting19