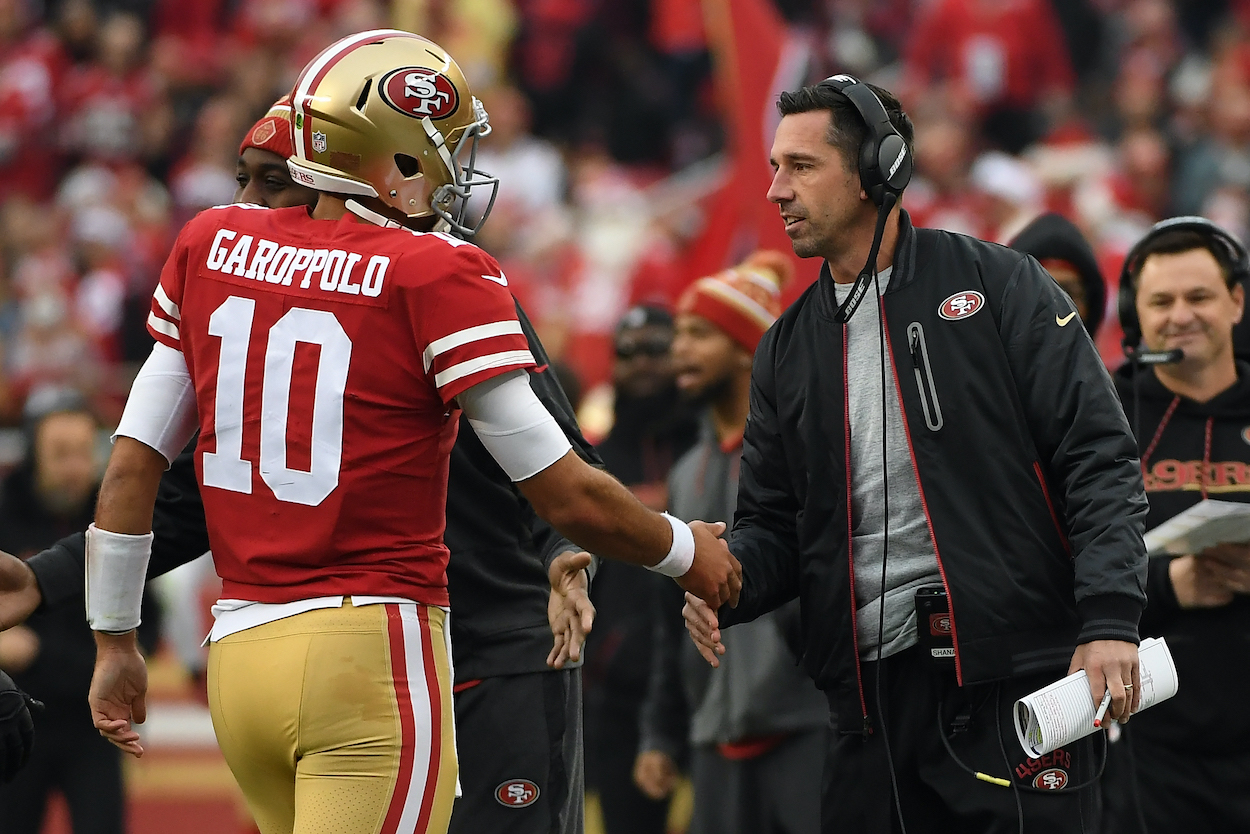 Kyle Shanahan Gave Jimmy Garoppolo a Lukewarm Endorsement in His Training Camp Battle With Trey Lance
San Francisco 49ers head coach gave incumbent QB Jimmy Garoppolo some halfhearted words of encouragement after drafting Trey Lance. It sounds like Shanahan prefers the rookie over the veteran. The Lance vs Garoppolo training camp battle is just one of several important QB competitions that will determine the fates of the teams involved.
One of the biggest surprises leading into the NFL Draft was Kyle Shanahan and the San Francisco 49ers trading a boatload of picks to the Miami Dolphins to move up to No. 3 and select a quarterback. The team selected Trey Lance, and now he and the oft-injured Jimmy Garoppolo will battle for the starting job.
Shanahan praised his veteran QB at the start of camp, but the endorsement was halfhearted at best. While the young head coach seems like he'd be ok with Jimmy G winning the job, it doesn't seem like he'd be too excited if it happened.
Kyle Shanahan and the San Francisco 49ers traded up in the 2021 NFL Draft to take Trey Lance
The 49ers traded up from No. 12 in the 2021 NFL Draft to No. 3 in a pre-draft deal with the Miami Dolphins. The Niners sent the No. 12 pick, a 2021 third-rounder, and first-round picks in 2022 and 2023.
Who Shanahan and the 49ers would pick at No. 3 was one of the biggest points of intrigue heading into the draft. Pundits speculated wildly about whether North Dakota's Trey Lance or Alabama's Mac Jones would be the selection.
The other issue at hand was, what would become of current 49ers QB Jimmy Garoppolo?
Shanahan answered the first question on draft night when he took Lance at No. 3. The answer to the second question is playing out now at Niners training camp. Shanahan recently shared some thoughts on the QB battle that are illuminating.
Shanahan tepidly endorsed incumbent QB Jimmy Garoppolo in his training camp battle against Lance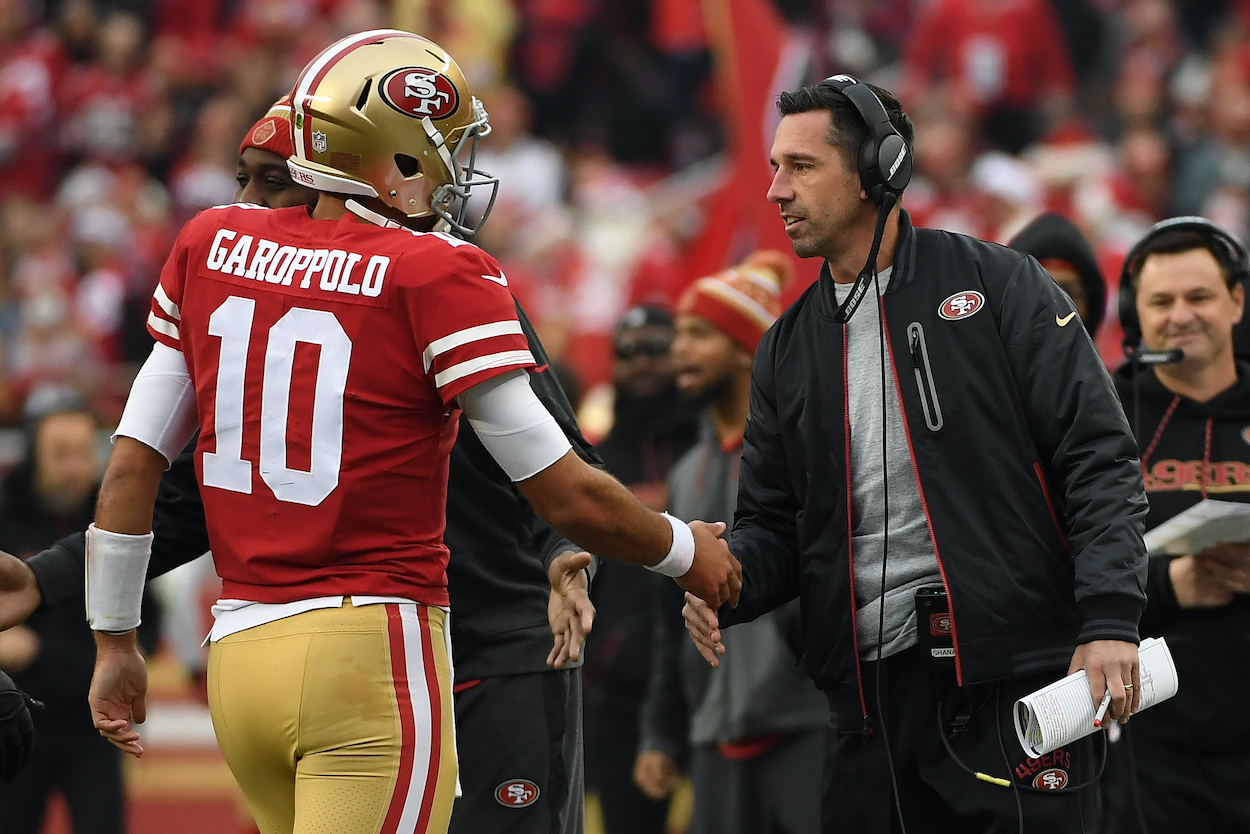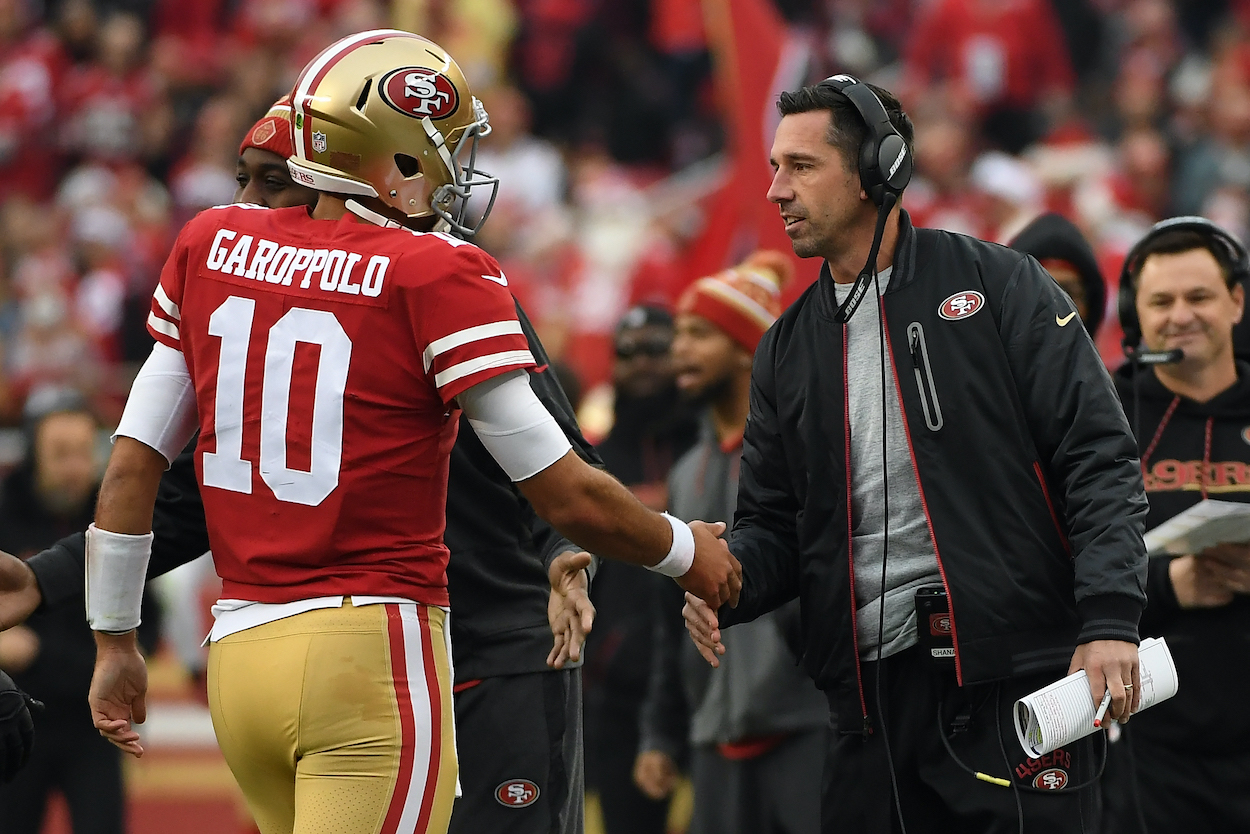 With training camp underway, the battle for the 49ers starting job under center is officially on. Shanahan hasn't named a starter yet and will let the two QBs compete. He's saying supportive things about the vert, but it certainly doesn't sound like the young offensive-minded coach is 100% behind his veteran.
During a recent training camp visit, Shanahan told Pro Football Talk's Peter King:
What I told Jimmy right when we made the trade is, 'I don't know any rookie who can come and beat you out if you're playing at his best self. I didn't necessarily think he was there last year at training camp. Then he had the injuries and stuff. But right now I see him playing well out here. If he can continue to go that way, that's great for Trey. That's great for our team. Then Trey can wait till he's at his best self, which doesn't happen overnight.

Kyle Shanahan on Jimmy Garoppolo
Telling Jimmy G that he can win the job if he's "playing at his best self" isn't a ringing endorsement, especially when you consider that Shanahan followed up that story to King with, "I truly don't know what's going to happen here."
Shanahan's actions already told the story about what he thinks of Garoppolo's prospects as an NFL starter. Now his words are offering the same level of doubt.
Garoppolo vs. Lance is not the only heated QB training camp competition
Lance is not the only rookie battling a veteran for their team's QB1 spot come Week 1 of the NFL season. In fact, the New York Jets Zach Wilson is the only Class of 2021 signal-caller without experienced competition.
In Jacksonville, No. 1 overall pick Trevor Lawrence should be the starter from day one, but the never-to-be-counted-out Gardner Minshew III is right behind him and ready to compete. The other rookie vs. veteran battles in this year's training camp include Justin Fields vs. Andy Dalton in Chicago, Mac Jones vs. Cam Newton in New England, and maybe even third-round rookie Kellen Mond vs. Kurt Cousins in Minnesota.
Elsewhere in the league, Jameis Winston and Taysom Hill will battle it out in New Orleans for the right to replace Drew Brees in the biggest non-rookie competition, and Drew Lock and Teddy Bridgewater will dual in Denver as well.
The winners of all these battles will help decide the fates of their organizations for 2021 and beyond. If Garoppolo wins in San Fran, it might give the team a better chance at the playoffs this year. Long-term, though, Lance seems to be the answer, and also who Kyle Shanahan is rooting for.
Like Sportscasting on Facebook. Follow us on Twitter @sportscasting19