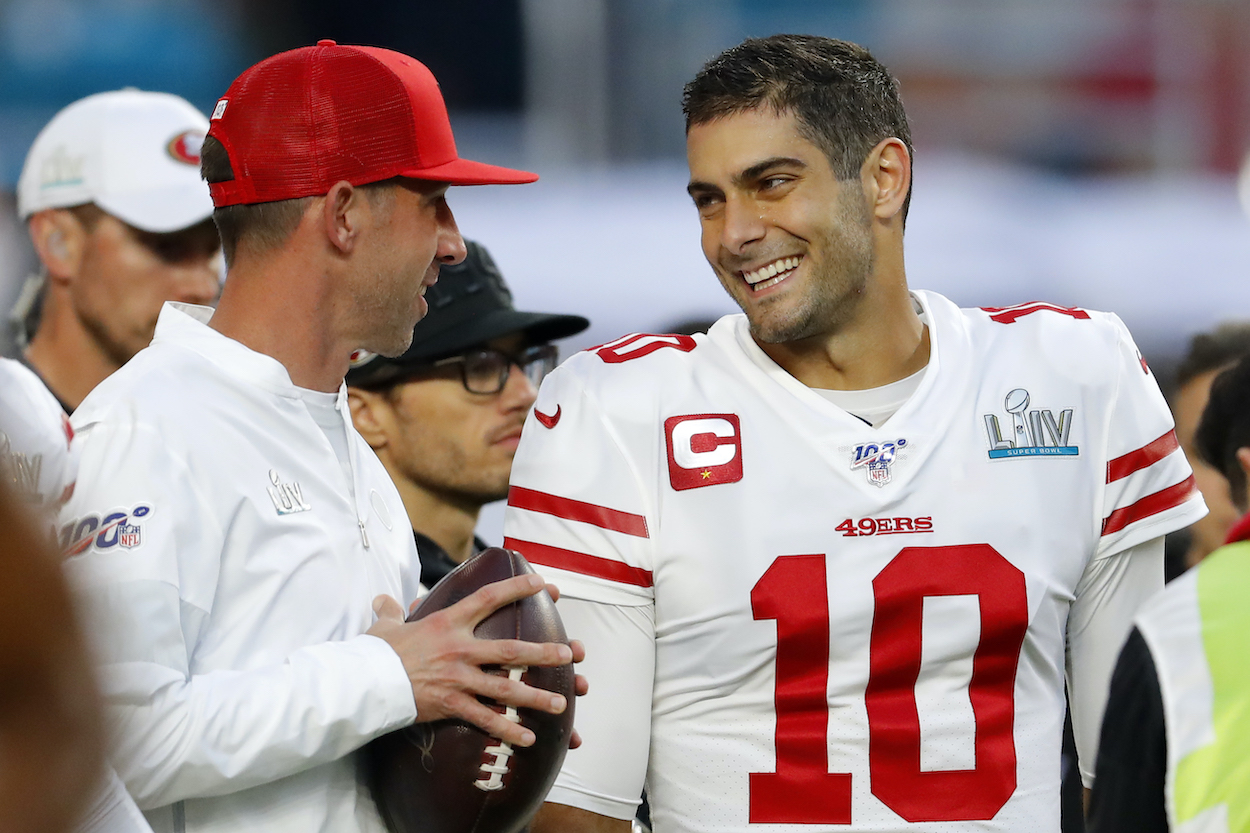 Jimmy Garoppolo Finally Breaks His Silence, Seems Surprisingly Unbothered by the 49ers' Master Plan to Replace Him
Jimmy Garoppolo has been disrespected by the San Francisco 49ers all offseason, but he remains positive about his NFL future.
Jimmy Garoppolo has been disrespected by the San Francisco 49ers all offseason, and none of it has been truly deserved. After all, he brought the franchise to a Super Bowl just 15 months ago. But apparently, one injury-riddled season was enough for the 49ers to completely give up on the 29-year-old signal-caller. Trade rumors have followed Garoppolo all offseason long, and San Francisco traded up in last month's draft to select his inevitable replacement, Trey Lance.
Even after all that, Garoppolo seemed surprisingly unbothered in his first public comments since the draft.
Jimmy Garoppolo hasn't had a fun offseason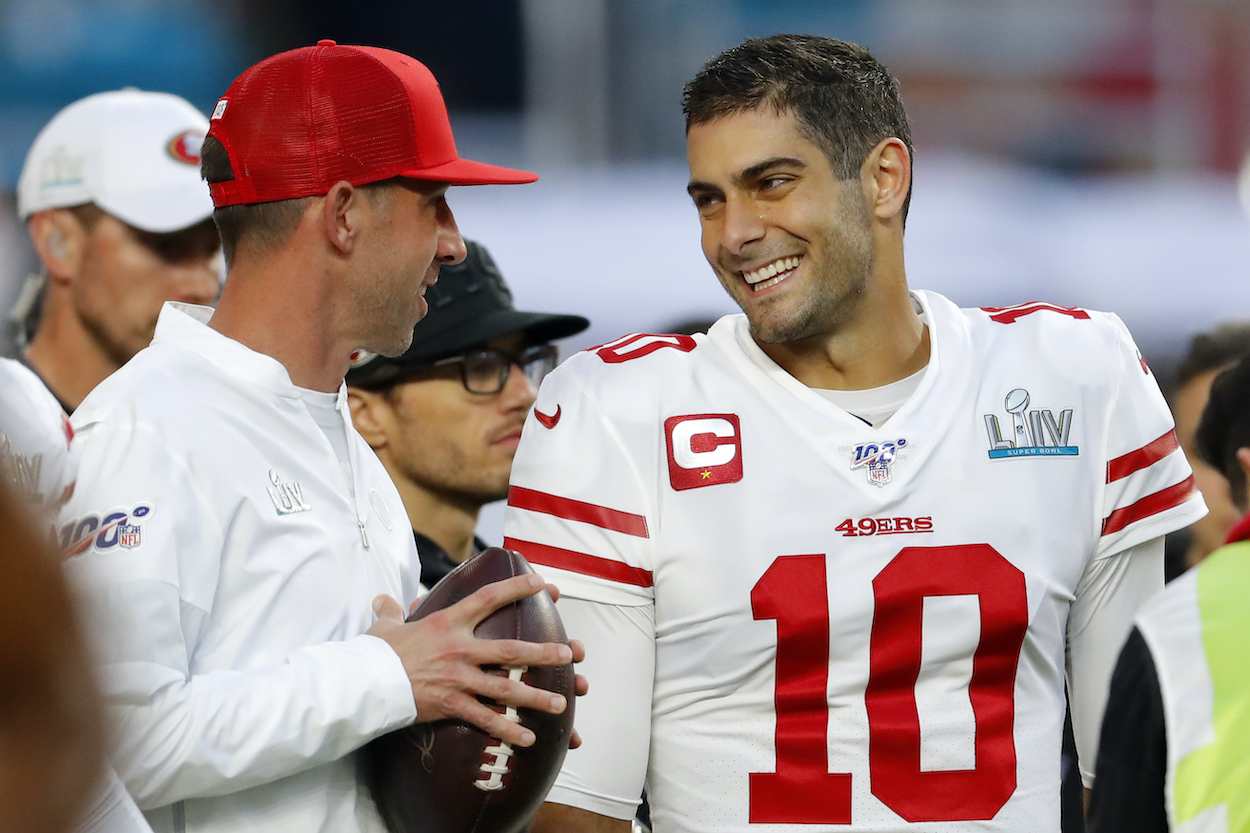 After a disappointing 2020 campaign in which he was only able to start six games, Garoppolo entered this offseason with plans on getting 100% healthy and regaining his spot as the 49ers' starting quarterback. But San Francisco had different plans for their QB.
Trade rumors have swirled all offseason about the 49ers unloading Garoppolo for draft capital or another quarterback. Then, they made it abundantly clear that Garoppolo isn't in their future plans when they traded up for the No. 3 overall pick in the NFL draft and selected Lance.
But has this eventful offseason bothered Garoppolo? The QB recently spoke to Damon Amendolara on CBS Sports Radio's "The D.A. Show" and answered just that.
"No, not really," Garoppolo said. "Like my dad was saying, my dad is an electrician, grew up in a blue-collar household — it's just one of those things you've got to roll with the punches. Whatever opportunity presents itself you've got to be ready to take advantage of it. That's kind of what I have done my entire career and that's what I am going to keep doing. Like my dad said, nothing is going to be handed to me. Nothing is going to be handed to anyone in this league. You've got to go in there and work."
Garoppolo knows the NFL is a nasty business
Just 15 months ago, Garoppolo was on top of the world. He finally found a team that wanted him in the starting lineup and knew how to utilize him, and he rewarded the 49ers with a Super Bowl appearance in 2020.
But the NFL is a nasty business. It doesn't matter what you did last year or last month or even yesterday. Teams will discard you the second a better option comes along, and Garoppolo is now facing that harsh reality.
"It's a 'What have you done for me lately?' kind of business and I know that. I've known that my whole career," Garoppolo said. "It's one of those things. You've got to go out there and do it again. Can't be satisfied with just doing it once, you've got to every season — just keep going at it." 
Although Garoppolo might be feeling slighted by the '9ers right about now, he's still excited to battle Lance for the starting QB position this season.
"It's one of those things that [Trey Lance is] going to come in here. I know it's going to be a competition between us like it was between me and Tom [Brady] when I got drafted to New England," Garoppolo continued. "At the end of the day, like my dad was just saying, all you can ask for is the opportunity. Once they said, you'll have the opportunity to start this year and fight it out, I was all for it. I'm ready for the competition and that's what we're here for."
Garoppolo is embracing his new role
Garoppolo still wants to be the starting quarterback of the 49ers, but that doesn't mean he'll stop showing up to the facility if and when he gets benched for Lance. The QB also appeared on the Keyshawn, JWill & Zubin show on ESPN Radio this week and sounded excited about his new role as a veteran teacher.
"It's kind of coming full circle," Garoppolo said. "You go through this NFL career and you start as a young guy coming in. Tom kind of showed me the ropes. The competition between us was awesome. It really made me grow as a rookie and as a young player. So, that's kind of what me and Trey, we'll mold our relationship into that. But it will happen naturally. It's one of those things you can't force anything. Just let it come as it may."