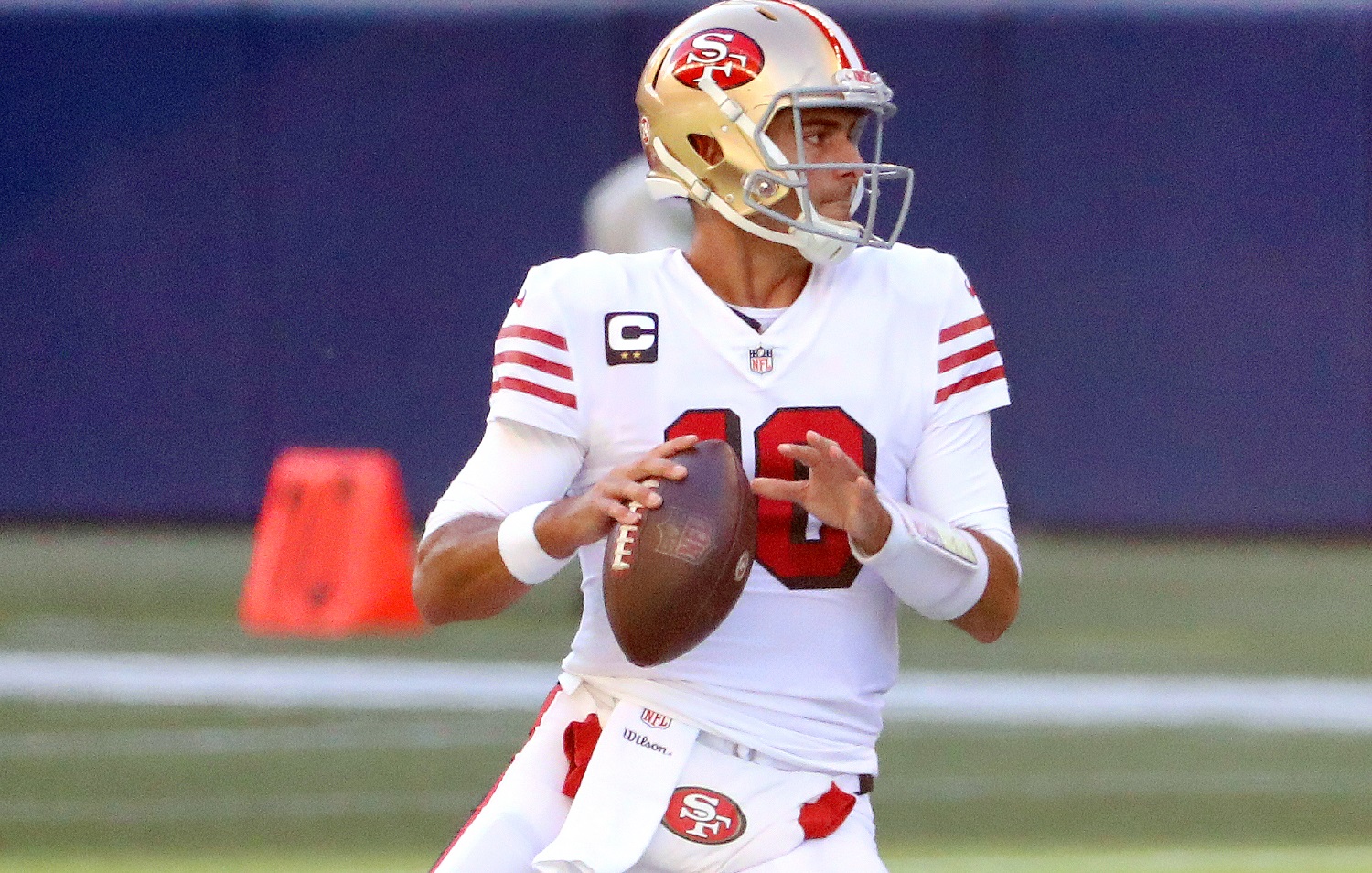 Jimmy Garoppolo Earns a Vote of Confidence of Sorts From the 49ers
An ESPN report says that the San Francisco 49ers are interested in acquiring Deshaun Watson but otherwise would be satisfied with returning Jimmy Garoppolo as their starting quarterback in 2021.
Jimmy Garoppolo entered Super Bowl 54 as the San Francisco 49ers' established quarterback. He came out of the 2020 season as a candidate to be kicked to the curb. But even with multiple veterans on the market and four prospects carrying first-round draft labels, Garoppolo has suddenly received a vote of confidence – even if it isn't gushing. The 49ers reportedly have a better candidate in mind but recognize landing him is unlikely. Short of snaring Deshaun Watson, they're willing to settle for Garoppolo as the least dirty shirt in their hamper.
The dismal 2020 season wasn't Jimmy Garoppolo's fault
Jimmy Garoppolo stats are a little bit like Patrick Mahomes' improvised throwing motions – all over the place but usually getting the job done. Garoppolo threw for 3,978 yards and offset his 13 interceptions with 27 touchdown passes while leading the San Francisco 49ers to Super Bowl 54 against Mahomes' Kansas City Chiefs after the 2019 season.
The 2020 season was a frustrating one for the 49ers. The team lost
Solomon Thomas and Nick Bosa to knee injuries in Week 2. Jimmy Garoppolo injured an ankle that same day that sidelined him for two weeks, hobbled him for four more, and shut down his season after Week 8.
Coach Kyle Shanahan sensed immediately how much danger the 49ers were in as they sought to keep pace with the Seattle Seahawks. He tried sticking with Garoppolo even when it was apparent the ankle limited his effectiveness. Garoppolo was actually 61 or 91 (67%) in parts of four games after the injury, but he wasn't finishing some of the higher-risk throws and was picked off five times in that stretch.
The decision was made to end his season, and there was suddenly a perception problem – definitely in the fan base and likely in the organization: Maybe his Super Bowl 54 showing and his latest injury weren't outliers, and Garoppolo might not be the long-term solution. C.J. Beathard's six TDs and no interceptions in parts of six games further clouded the issue.
As noted by Larry Brown Sports, it has become a question of whether the 49ers were winning in spite of Garoppolo rather than because of him.
The rest of the division is set at quarterback
Barring the unexpected, the Seattle Seahawks and Arizona Cardinals are set at quarterback. While there have been rumblings this month about Pete Carroll making Russell Wilson available, he just completed his ninth season in Seattle, where he has helped the team to eight playoff appearances. Kyler Murray just finished his second impressive season with the Cardinals after arriving as the No. 1 pick in the 2019 NFL draft.
The NFC West's other team, the Los Angeles Rams, made a big move at quarterback by trading Jared Goff and draft picks to the Detroit Lions for Matthew Stafford, a veteran held down by an organization that has gone decades seldom straying from mediocrity.
Naturally, it has served to intensify talk that the San Francisco 49ers must also make a move, particularly since there appear to be multiple teams ready to part with veteran quarterbacks. In addition, the draft class includes Trevor Lawrence, Zach Wilson, Justin Fields, and Trey Lance. All are projected first-rounders, and Mac Jones of Alabama might move himself into the conversation, too.
An ESPN report is good news for Jimmy Garoppolo
ESPN reporter Jeremy Fowler said over the weekend that the San Francisco 49ers remain open to doing something at quarterback, but only in a swing-for-the-fences move because they still believe in Jimmy Garoppolo. Even with all the names being thrown around this offseason, the only QB who fits that description is Deshaun Watson of the Houston Texans.
"They believe they can win with him," Fowler said of Garoppolo, "but it would take a big swing, like a Deshaun Watson-effect here, to make that change. And I'm told that the 49ers are one of the teams that Watson's at least intrigued by."
Yes, it's a move that nearly any NFL team would make – but it must come at the right price. And, although Watson has made it clear that he wants out of Houston, the Texans have remained adamant that they don't see a trade coming in the near future.
That seems to indicate that Garoppolo shouldn't be in a hurry to pack his belongings.
Like Sportscasting on Facebook. Follow us on Twitter @sportscasting19.