Jordan Love Has Nothing and Everything to Do With the Green Bay Packers Drama
Jordan Love didn't do anything to deserve this. He finds himself smack dab in the middle of all the drama that surrounds the Green Bay Packers. Love just happened to be selected by the team in the first round of the 2020 NFL draft as the heir apparent to Aaron Rodgers. After Love's name was called last year, it's been chaos in Green Bay.
Jordan Love has kept a low profile with the Packers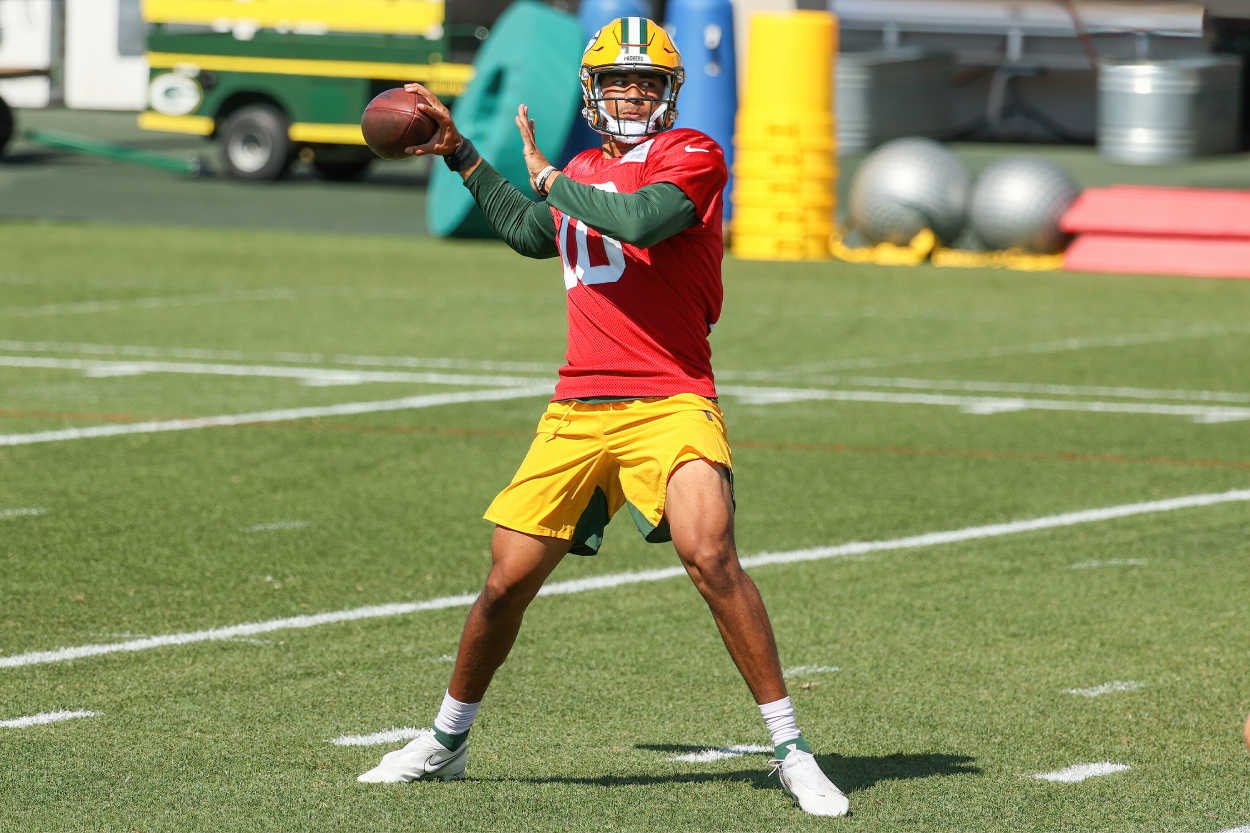 Just how good is Love? It's a question we may find out sooner than expected, or we may not know for a few more years. That choice is up to Rodgers. Rodgers, the reigning NFL MVP, still has three years remaining on his contract. He has reportedly told people he no longer wants to play for the Packers. Love has kept quiet through the ordeal and he was also kept off the football field last season, leaving the team uncertain about his readiness.
If Rodgers sticks to his plan and the Packers decide to trade him – something they've already said they won't do – then it's likely Love's turn. Unless the Packers bring in a veteran as a bridge quarterback, Love could be their man as early as 2021. The team could bite the bullet for a season as he learns to adapt to the pro game. It's not something the Packers had in mind when they drafted him. "He's got a long way to go," Packers general manager Brian Gutekunst said after the first round of this year's draft, according to The Athletic. "But we're ecstatic for his development.
"Obviously, we think the world of Jordan and where he's going to grow and develop. I think it's pretty early to be able to tell you that because obviously with no preseason games last year and just kind of the no-spring. We have a lot of confidence in his talents, in his work ethic, and where he's going to go."
Love is 'like a sponge,' according to wide receiver Davante Adams
Like the rest of the world, Packers wide receiver Davante Adams hasn't had a chance to see Love in any NFL game action. He's seen him in practice. He's seen him in the film room. Adams said it's difficult to gauge the quarterback on on-the-field talent but praised him on his work ethic and willingness to learn.
"Based off what I've seen, he works really hard," Adams said, according to ESPN. "He's really attentive and he's like a sponge with Aaron in that room, just soaking up everything, all the knowledge, and different things. "With his mechanics, I know he's been working on to try and get better and better. 
"It's tough because I haven't seen him play. I haven't seen him get out there in preseason. So after this year, I think we'll be able to give a more accurate assessment of that, seeing him go against a few other teams, maybe some training camp practices. So we'll see. I definitely have faith that he can get it done and whoever's out there, I showed it in 2017 with Brett Hundley, I'm going to get out there and be ready to ball regardless. Control what I can control. And Love, he's been looking good from what I've seen, but that real live action is what will really let us know."
Could Love jump in and play right away?
Love never asked for any of this. He had nothing to do with getting himself into this mess, but he's a big part of what's going on. He's a talented quarterback taken in the first round. Rodgers appears threatened that the team could turn to Love, a much cheaper option, during any of the next three years of Rodgers' contract in which there is no guaranteed money left. If Rodgers is no longer with the team in 2021, could Love jump in?
The Packers could throw Love in after one year of watching from the sidelines. They obviously feel he's talented enough by taking him that high in the draft. In Rodgers' first season as a starter, the Pack went 6-10. The Packers are more talented all-around than that team Rodgers had as a rookie, and could still make some noise in a not-so-great NFC North, where no other team finished above. 500.
"I know (Love) is working his tail off to come back in the best possible shape and be the best possible player he can be," head coach Matt LaFleur said, according to The Athletic. "He has given everything he's got into the workouts and into our virtual meetings. He's doing a great job and learning a lot, but the reality of the situation, he's a young quarterback. He's a young quarterback who wasn't provided an offseason really last year. I think we're all interested to see where he's at. We're excited about him."