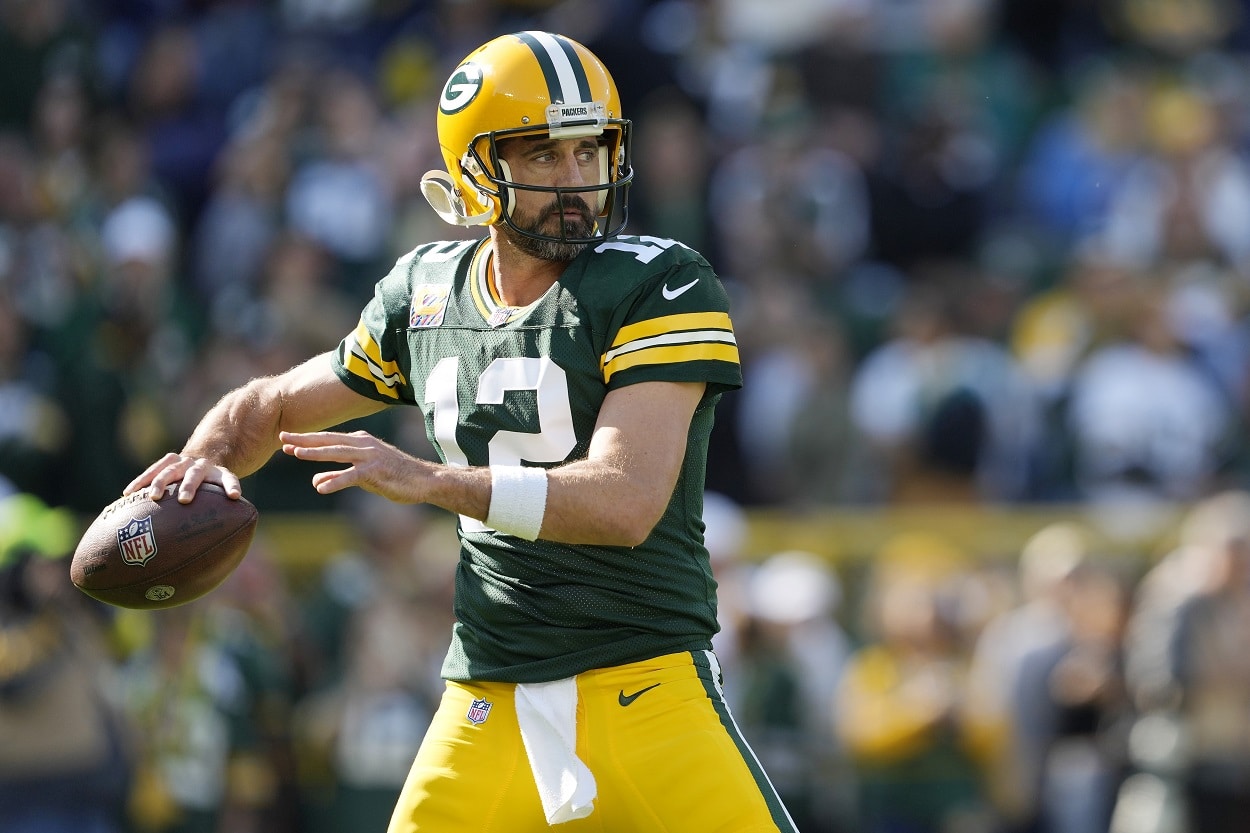 Aaron Rodgers Is On Pace to Do Something He Hasn't Done Since the Packers Last Won the Super Bowl
Aaron Rodgers is on pace to record a stat he hasn't reached since the season he led the Packers to a Super Bowl win.
Two-time reigning NFL MVP Aaron Rodgers certainly hasn't played his best football to start the 2022 season.
But don't go twisting that statement around, as the 38-year-old isn't playing poorly in the slightest. Through four games, he's completed 69% of his passes for 935 yards with six touchdowns and has the Green Bay Packers sitting at 3-1.
Offer that stat line to many NFL quarterbacks, and they'd take it in a heartbeat. It's just that Rodgers has been so dominant for so many years that we've simply come to expect excellence each and every week.
And, let's be honest, we haven't gotten that from him in 2022. Have there been flashes? Of course. It's still Aaron Rodgers. But again, we're just used to seeing a bit more. The curse of being so damn good, right?
Now, with all that being said, the focus here today isn't actually what we're not seeing from the 10-time Pro Bowler, but what we are, specifically the one major statistic I left out of his line above: interceptions.
Aaron Rodgers is on pace to throw double-digit interceptions for the first time since 2010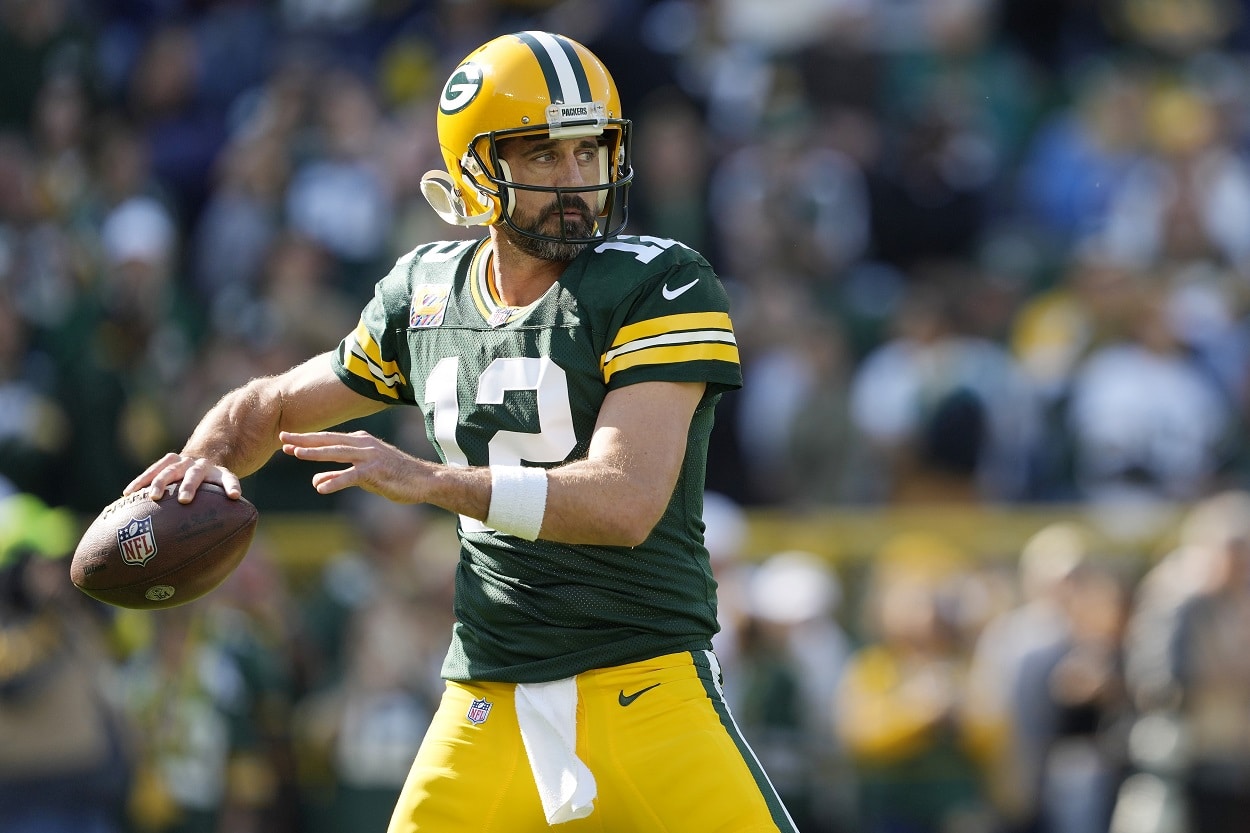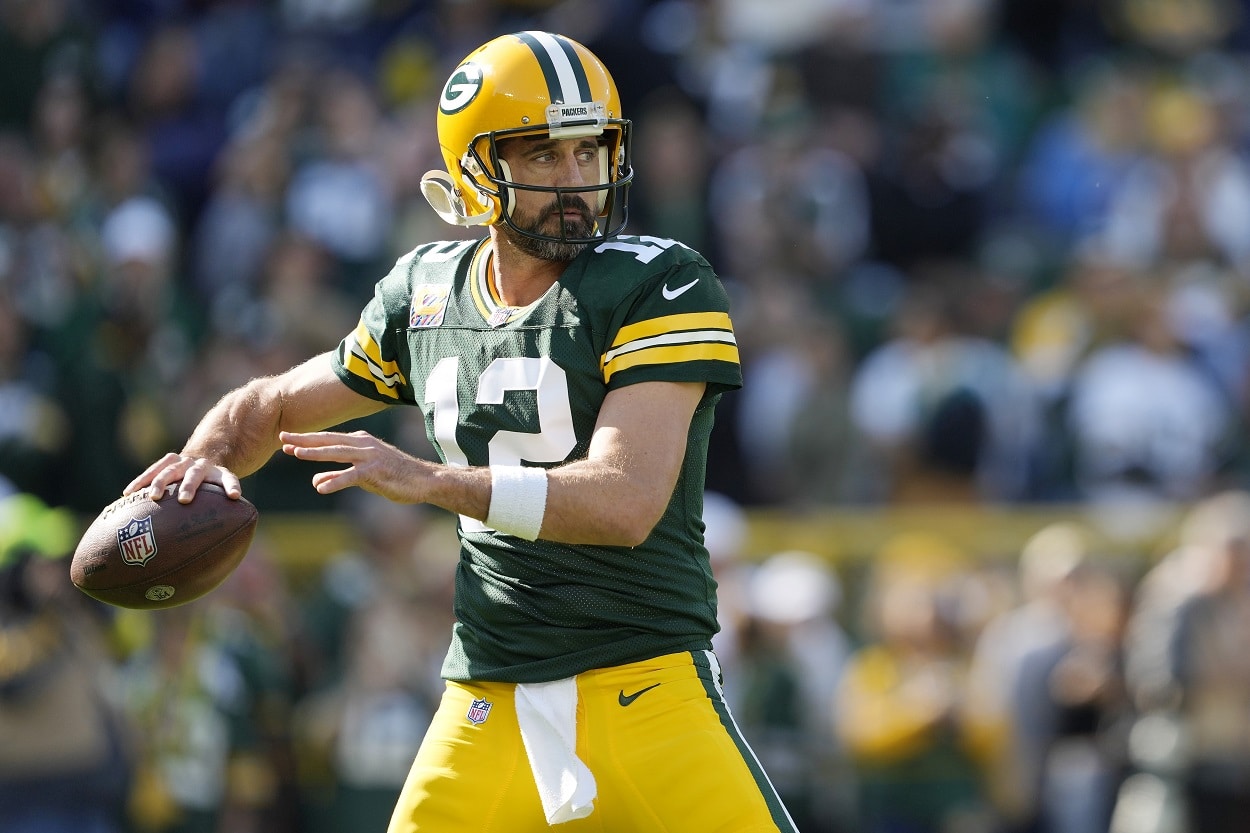 The thing that's surprised me the most about Rodgers through the Packers' first four games is his three interceptions. While we've come to expect so much from the five-time All-Pro over the last decade and a half, what we don't expect is for him to turn the ball over like he has this year.
The only game Rodgers hasn't thrown a pick was in Green Bay's Week 2 win over the rival Chicago Bears. And that shouldn't come as a shock as he's torched the Monsters of the Midway throughout his career.
He threw one in Week 1 against the Vikings, another in Week 3 against the Buccaneers, and the one on Sunday against the Patriots was the worst of all as Jack Jones returned it 40 yards for a touchdown. It was part of Rodgers' dreadful first half in Week 4 against New England, during which he completed just four of 11 passes for 44 yards, giving him a dismal 11.2 passer rating.
Thankfully for the Packers, he turned it around in the second half and overtime and led the team to a 27-24 win.
If this pace continues, Rodgers will have 13 interceptions at season's end, assuming he plays all 17 games. To put that in perspective, he has 13 picks over the last three seasons combined. And the last time he reached double digits in the INT column was in 2010, the year he won his lone Super Bowl, when he threw 11. The only other season he had double-digit interceptions was 2008, his first year as a starter, when he threw 13.
Since 2010, the most Rodgers has accumulated in a season was eight in 2012 and 2015. There's a reason he had the lowest interception percentage throughout the 2010s decade and has the best touchdown-to-interception ratio (4.74) in NFL history. He just doesn't turn the ball over.
But look at it this way, Packers fans. If Rodgers continues to throw picks, maybe he'll do the more important thing he hasn't done over the last dozen years: win a championship.
Stats courtesy of Pro Football Reference
Like Sportscasting on Facebook. Follow us on Twitter @sportscasting19 and subscribe to our YouTube channel.