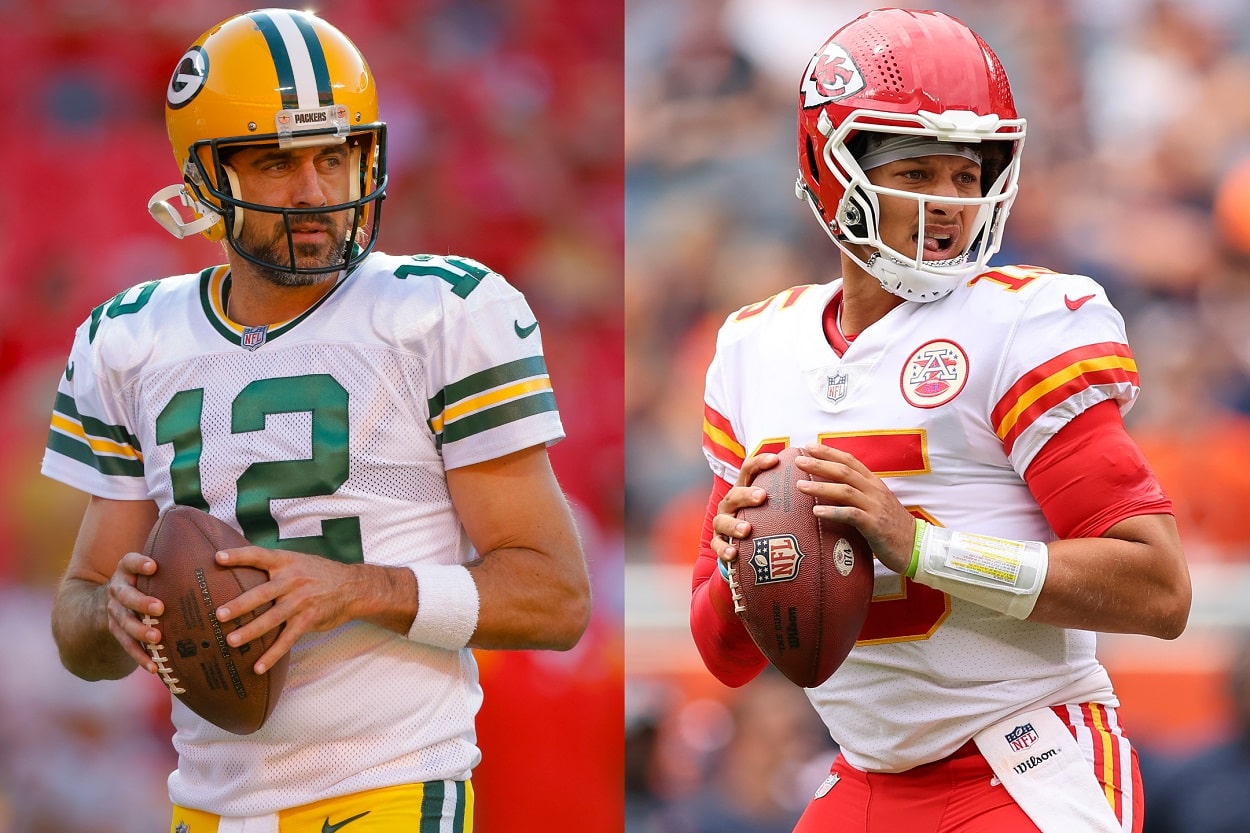 NFL History Says Aaron Rodgers, Patrick Mahomes, and 4 Other QBs Can't Win Super Bowl 57
History says six specific quarterbacks won't win Super Bowl 57.
Since its inception ahead of the 1994 NFL season, the salary cap has been a hot topic of conversation. Simply put, the cap dictates everything about how a team is constructed. Trades get done with the cap in mind. Free agency is handled with the cap in mind. Contracts are restructured with the cap in mind. Trust me. I could go on.
But what if I told you the salary cap also dictates who can and can't win the Super Bowl based solely on how much cap space a team's quarterback uses?
It's true. In the 28 Super Bowls played since the NFL implemented the salary cap, no team whose quarterback represents 13% or more of it has won the Lombardi Trophy.
Not that teams that fall into that category haven't played in the Super Bowl; they just haven't won it. But even that percentage is low.
Only three teams whose quarterback took up more than 13% of the salary cap reached the season's final game: the 2009 Colts (Peyton Manning, 18.8%), the 2016 Falcons (Matt Ryan, 15.3%), and the 2013 Broncos (Peyton Manning, 14.16%).
And who is the highest cap-percentage quarterback to win a Super Bowl? That honor belongs to Tom Brady, who represented 12.61% when the Buccaneers won Super Bowl 55. TB12 also holds the second spot, representing 12.42% during his final title run with the Patriots in 2018.
So using this metric, six quarterbacks and their respective teams can go ahead and count themselves out of a title run in the 2022 NFL season.
History says these six quarterbacks can't win Super Bowl 57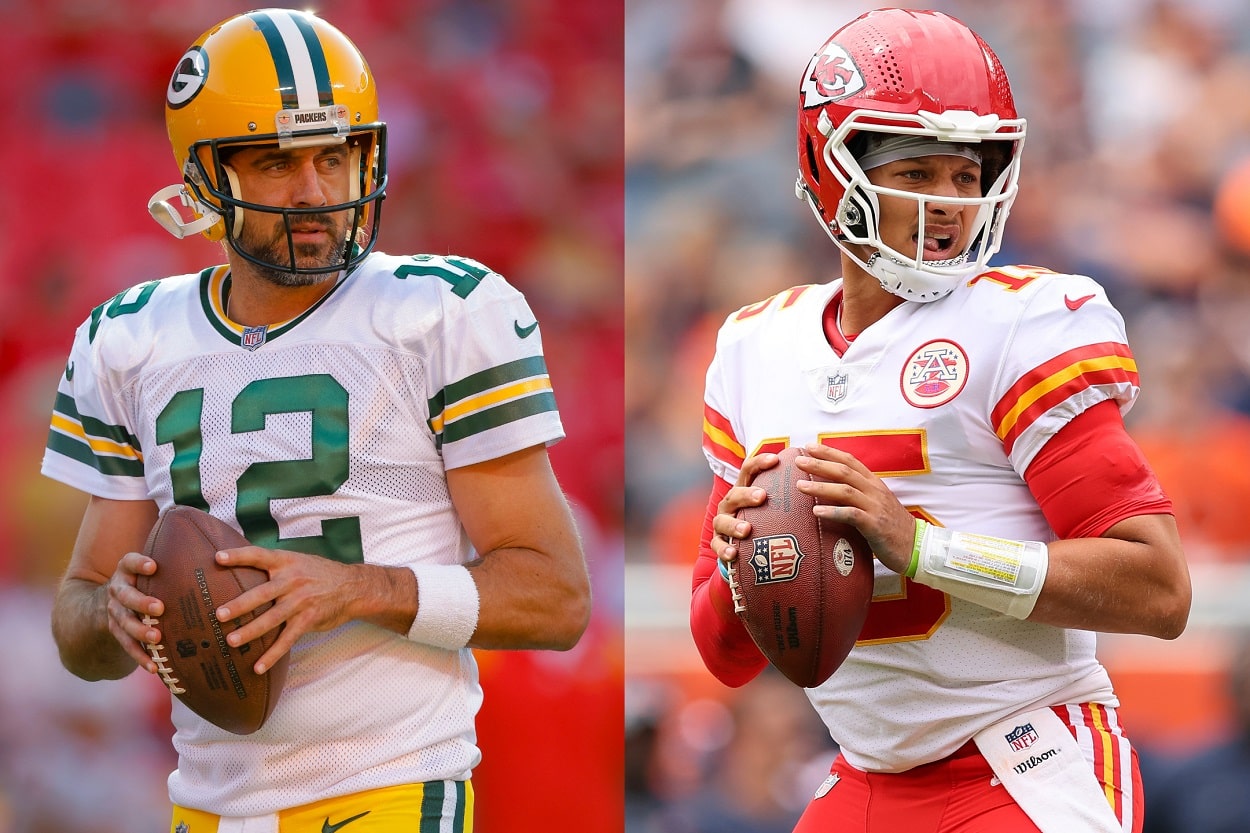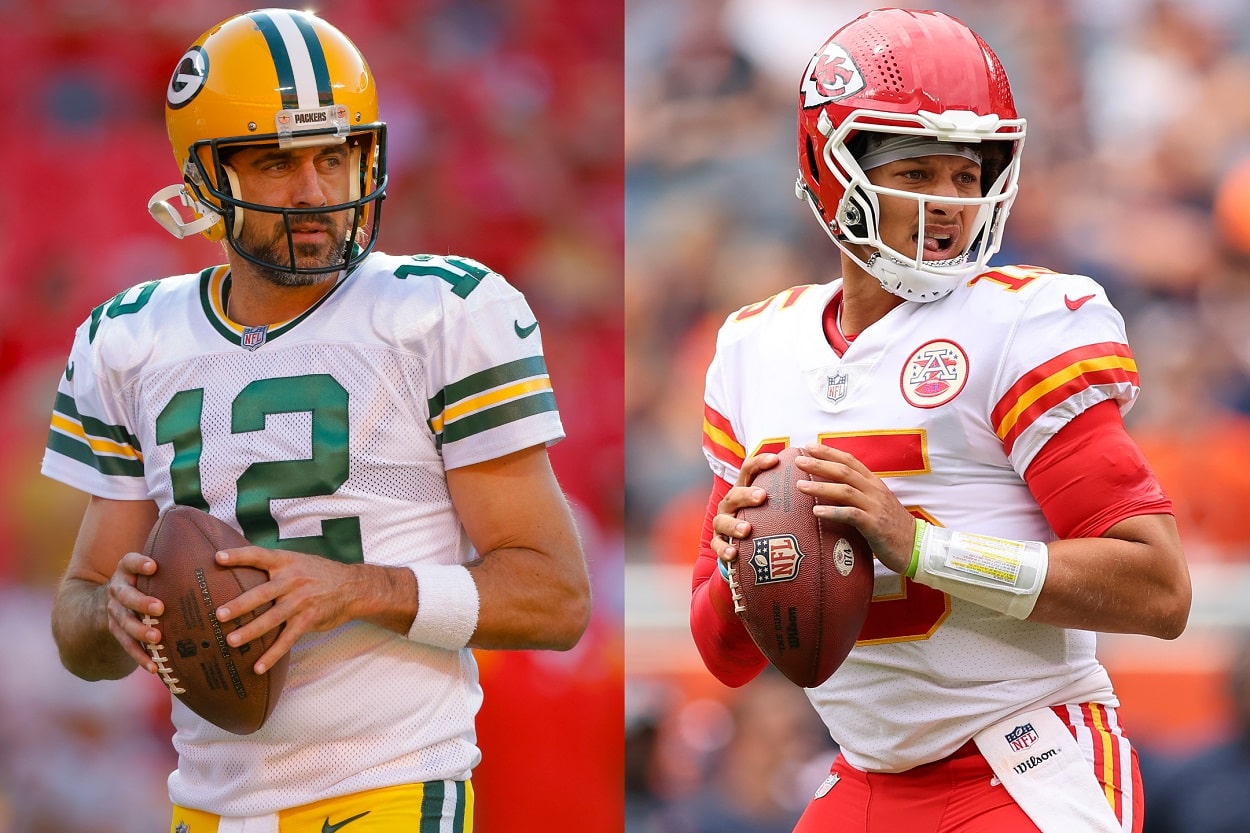 If you're wondering what last year's Super Bowl looked like, Joe Burrow represented just 4.21% for the Bengals, while winning quarterback Matthew Stafford represented 10.69% for the Rams. Given how his new contract is structured, Stafford only represents 6.71% this season, so he's safe.
But these six aren't.
Ryan Tannehill, Tennessee Titans
Ryan Tannehill owns the highest salary cap hit of any NFL quarterback in 2022 at $38.6 million, representing 18.3% of the Titans' overall number.
Tannehill, who's led Tennessee to three consecutive postseason berths since arriving from Miami, is coming off a solid-enough season in which he completed 67.2% of his passes for 3,734 with 21 touchdowns.
But he also threw 14 picks and should see a little better competition in the AFC South this season, especially from the Colts. The Titans are likely still a playoff team, but history clearly says they can already kiss their Super Bowl hopes goodbye.
Patrick Mahomes, Kansas City Chiefs
Of the six quarterbacks on this list, Patrick Mahomes has the best chance to break the 13% trend.
With a hit of $35,793,381, the four-time Pro Bowler represents 17.16% of the Chiefs' salary cap. Despite not reaching a third consecutive Super Bowl last season, Mahomes still took KC to a fourth straight AFC Championship Game, losing an overtime heartbreaker to Burrow's Bengals.
The 2018 NFL MVP is coming off another rock-solid season in which he completed 66.3% of his passes, tying a career-high, for 4,839 yards with 37 touchdowns against 13 interceptions. Mahomes and Co. will have to deal with a much tougher AFC West, which now features the likes of Russell Wilson and Davante Adams, but he should put the Chiefs in position for another title run.
Kirk Cousins, Minnesota Vikings
Kirk Cousins represents 14.97% of the Vikings' salary cap with a hit of $31,416,668.
While the three-time Pro Bowler had an underrated season in 2021, completing 66.3% of his passes for 4,221 yards with 33 touchdowns against only seven picks, it wasn't good enough as Minnesota finished 8-9 and missed the postseason for the second straight year.
While the Vikings are a stronger team in 2022 and could legitimately challenge the Packers in the NFC North, they're not likely to make a strong Super Bowl run.
Jared Goff, Detroit Lions
With a hit of $31.15 million, Jared Goff represents 14.31% of Detroit's salary cap for the 2022 season. That's not the reason the Lions won't win the Super Bowl.
Moving on.
Aaron Rodgers, Green Bay Packers
Just a quarter of a percentage point over the threshold is two-time reigning NFL MVP Aaron Rodgers, who represents 13.25% of the Packers' salary cap with a hit of $28,533,569.
The 10-time Pro Bowler obviously had another monster season in 2021, completing 68.9% of his passes for 4,115 yards with 37 touchdowns against a ridiculously low four interceptions. Rodgers led Green Bay to a 13-4 record, a third consecutive division title, and the No. 1 seed in the NFC.
But as it's gone for Rodgers for over a decade now, he fell short of getting back to the Super Bowl as the Packers were upset at home in the Divisional Round by the 49ers. Reaching the title game will be an even more arduous task for Rodgers & Co. in 2022 with the loss of two of his top three receivers from a season ago in Davante Adams and Marquez Valdes-Scantling.
Carson Wentz, Washington Commanders
Just a touch closer to the line is Carson Wentz, who represents 13.22% of the Commanders' salary cap with a hit of $28,294,119.
Wentz, coming off his one-year run with the Colts, in which he completed 62.4% of his passes for 3,563 yards with 27 touchdowns against seven interceptions, will undoubtedly make his new team better.
But Washington will have a tough time competing with the Eagles and Cowboys in the NFC East and is a long shot even to reach the playoffs, let alone the Super Bowl.
Over the last 10 years, the median cap percentage for a quarterback to reach the Super Bowl has been approximately 8.97%. The median to win the Super Bowl hovers around 10%. The closest to the former in 2022 is Dak Prescott (8.96%), while Derek Carr (9.35%) is the closest to the latter.
So there you have it. The Las Vegas Raiders defeat the Dallas Cowboys in Super Bowl 57.
Aren't numbers fun?
Stats courtesy of Pro Football Reference; Contract info courtesy of Spotrac
Like Sportscasting on Facebook. Follow us on Twitter @sportscasting19 and subscribe to our YouTube channel.