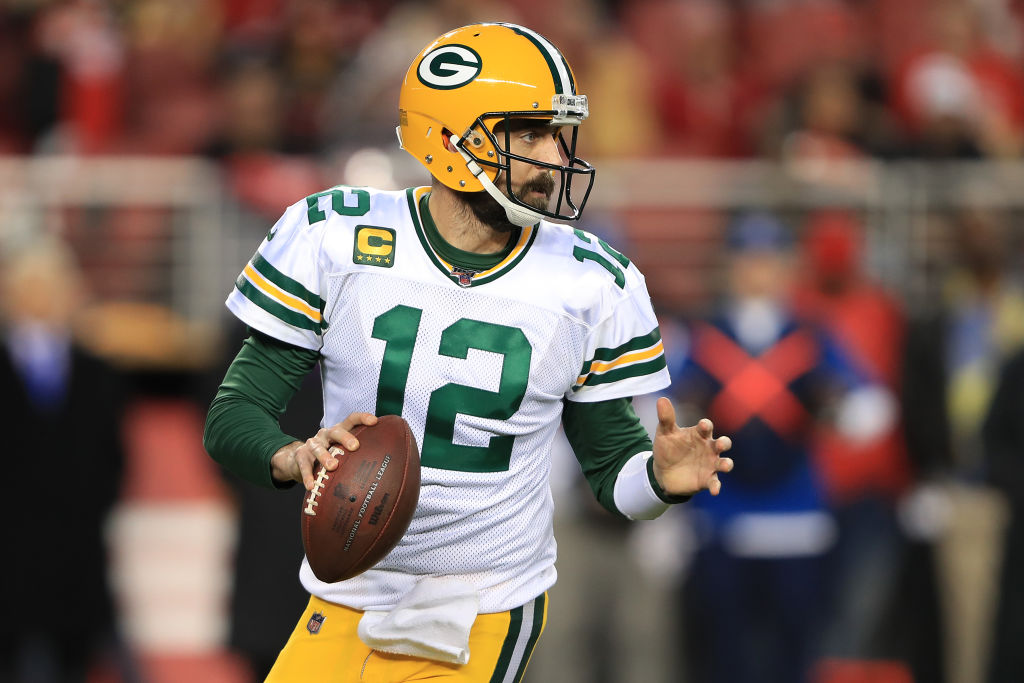 Aaron Rodgers Revealed Packers 2020 Breakout Star and It's Not Who You Think
Aaron Rodgers said the Green Bay Packers plan on bettering their 13-3 record of a year ago and he thinks a breakout performance by this unexpected player will make it happen.
Aaron Rodgers is heading into his 16th NFL season with the Green Bay Packers. Last season was one of Rodgers' best as he and new head coach Matt LaFleur guided the Pack to a 13-3 regular-season finish, just one win shy of reaching the Super Bowl. 
Despite an odd schedule and stranger-than-fiction environment playing in empty stadiums to start the season, Rodgers thinks Green Bay has a lot to prove this season. And he said there's one breakout player in 2020 that will help them get there, and it's not who you think. 
Green Bay Packers 2019 season ends in NFC Championship loss 
Last season the Green Bay Packers finished with a 13-3 regular-season record. The coupling of the young up and coming head coach in Matt LaFleur, with the veteran quarterback in Aaron Rodgers, proved to be a lethal combination in 2019.
Rodgers directed the Packers offense, along with a top 10 total defense, and Green Bay had an outstanding regular season, including an impressive road win against the eventual Super Bowl champion Kansas City Chiefs, who played without an injured Patrick Mahomes.
After winning the tough NFC North title by outlasting the Minnesota Vikings, the Packers defeated the Seattle Seahawks 28-23 in the divisional round. The Packers went to San Francisco for the NFC title game and the 49ers proved to be the better team. It wasn't the desired finish, but it was a big step in the right direction for Green Bay, especially with the team's young first-year head coach.
Jamaal Williams impressed Aaron Rodgers during offseason workouts
In 2019, outside of Aaron Rodgers, the undeniable star on offense was running back Aaron Jones, who tied with Christian McCaffrey for most touchdowns in the NFL with 19. Jones rushed for 16 touchdowns and hauled in three scoring receptions. 
Rodgers expects more of the same from Jones this season. On the Pat McAfee Sirius XM Radio show, Rodgers said he also has big expectations for fourth-year back Jamaal Williams. While the quarterback and running back regularly communicated during the offseason, Williams displayed a concerted effort to improve his game. Rodgers noticed. 
"He posted a bunch of Instagram videos during the offseason, and he would send most of them to me first," Rodgers told McAfee. "'Hey, I'm working on this,' and he's running these deep shake routes, post-corner routes. And I just kept telling him, 'you look great.'"
Aaron Rodgers believes Jamaal Williams will have big 2020
Aaron Rodgers admitted Jamaal Williams' offseason work looked solid, but after watching him a few days at practice, he was truly impressed. There was something different about Williams.
"When he shows up, he's just a half-step quicker, the agility is there, the burst is a little bit more. I give him a lot of credit for the way that he grew. A lot of times the biggest jumps in improvement comes between years one and two or two and three. This guy is heading into his fourth season coming off last season where he had multiple games in a row with touchdown catches and he's an important part of our offense."
Rodgers said it's clear Williams was motivated by the outstanding performance of his backfield counterpart Aaron Jones in 2019. 
"I think he kind of saw what Aaron did and said I need to come back and be a little bit bigger factor in the receiving game. You need to have two backs in this league. I think Jamaal has had a fantastic camp and I'm excited about what he's done. He also just brings so much energy to our football team and he's going to be a big part of what we're doing."
Aaron Rodgers' words have added significance not only because he's the leader of the team, but because he's the quarterback and is the one distributing the ball. Based on what he's seen in training camp, Williams has added some versatility to his game, making himself a viable option out of the backfield. With a now two-headed monster consisting of Jones and Williams in the Green Bay backfield, Rodgers and the Packers offense could have a banner year and possibly take this season one step further than they did a year ago.
Like Sportscasting on Facebook. Follow us on Twitter @sportscasting19.