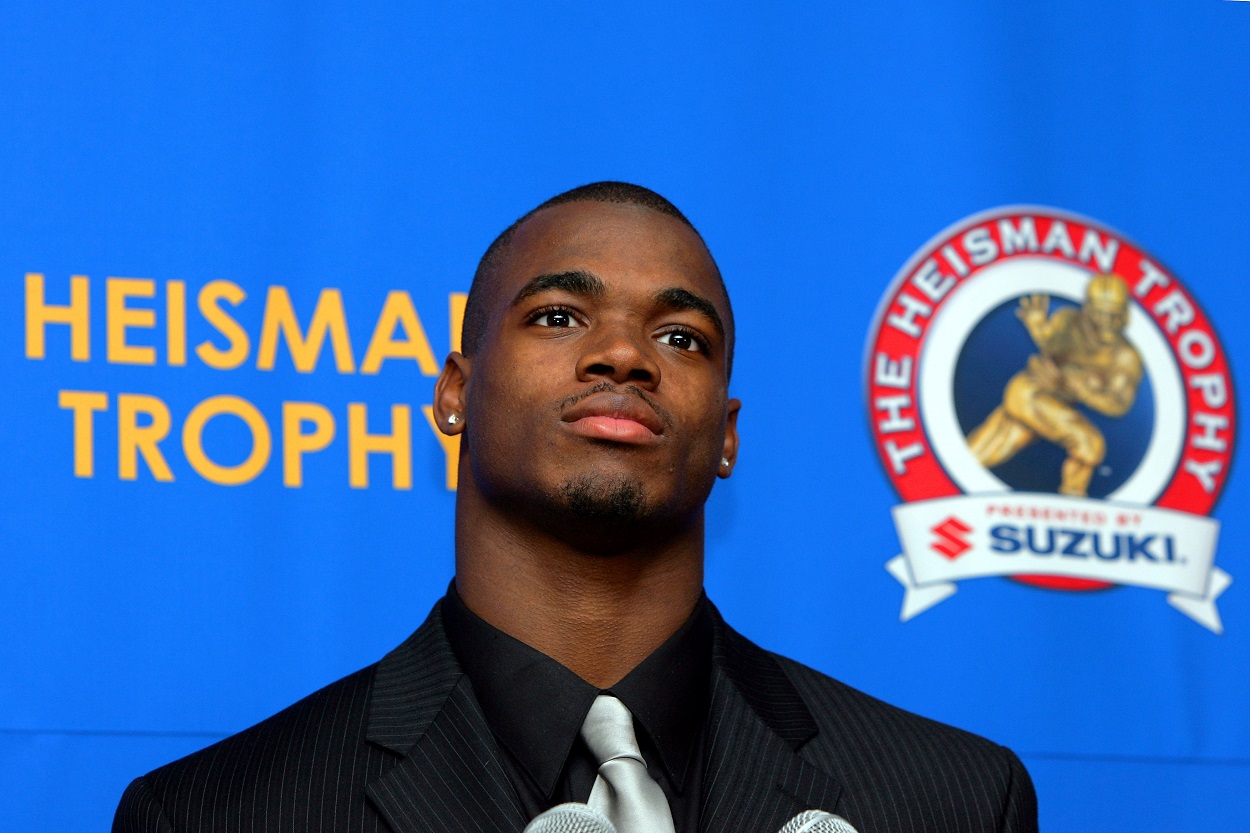 Adrian Peterson Still Holds a 16-Year-Old Grudge He'll Never Be Able to Fix
Future Hall of Fame running back Adrian Peterson is still holding a grudge that dates back more than 16 years that he'll never be able to rectify.
For all of the individual accolades Adrian Peterson has earned in his football career, the future Hall of Famer still seems to be holding a little bit of a grudge for one he didn't.
Over the course of 14 NFL seasons, AP has racked up 14,820 rushing yards, good for fifth on the all-time list, and has built up quite the list of accolades. He was the 2007 NFL Offensive Rookie of the Year, has been selected to seven Pro Bowls, seven All-Pro teams (four First-Team, three Second-Team), is a three-time rushing yards leader, a two-time rushing touchdowns leader, a two-time Bert Bell Award winner, an Art Rooney Award winner, a member of multiple All-Decade teams for the 2010s, and is still the last running back to win NFL MVP.
And during that MVP-winning season in 2012 with the Minnesota Vikings, AP also became a member of the highly-exclusive 2,000-yard club. He also owns the single-game NFL rushing record, which he set as a rookie when he ran all over the then-San Diego Chargers to the tune of 296 yards.
But before any of that NFL success, Peterson was an All-American at the University of Oklahoma, where he was also a three-time First-Team All-Big 12 selection and the Big 12 Offensive Freshman of the Year. And it's that freshman season in 2004 that's our true focus today as Adrian Peterson still feels he was robbed of the Heisman Trophy that year.
Adrian Peterson nearly ran for 2,000 yards as a freshman at Oklahoma
As the highest-rated running back in the country coming out of Palestine (TX) High School, Adrian Peterson had essentially every top college football program vying for his services and he chose the University of Oklahoma over USC as he felt he could step in right away and make an impact. And make an impact he did.
In 13 games for Bob Stoops' Sooners, AP rushed for an incredible 1,925 yards on 339 carries with 15 touchdowns. He had nine consecutive games of 100 yards or more, a freshman record, and helped Oklahoma to an undefeated regular season. However, the Sooners were blown out in the Orange Bowl by Matt Leinart's USC Trojans, 55-19. But that wasn't the only loss Adrian Peterson suffered to Leinart that season.
Adrian Peterson still believes he was robbed of the Heisman Trophy in 2004
Since the award was created in 1935, no freshman has ever won the Heisman Trophy. However, in 2004, many believed that Adrian Peterson would be the one to break that streak given his accomplishments for the Sooners that season.
But it was Leinart that ended up collecting the hardware that night in New York City while Peterson had to settle for second. And AP certainly hasn't gotten over it as he just recently told Shannon Sharpe (video above).
"When it comes to the Heisman Trophy, I definitely feel like I should have been the first freshman to ever win. I felt like they robbed me. I had the most votes by a freshman at that point ever and finished in second place."

Adrian Peterson
AP did go on to say that the situation helped him to a certain extent but you can still feel that there's a little grudge there. It seemed inevitable back then that Peterson would win the Heisman Trophy at some point but a string of unfortunate injuries didn't allow that to happen.
AP never factored into the Heisman Trophy vote again as he suffered injuries in his final two seasons at Oklahoma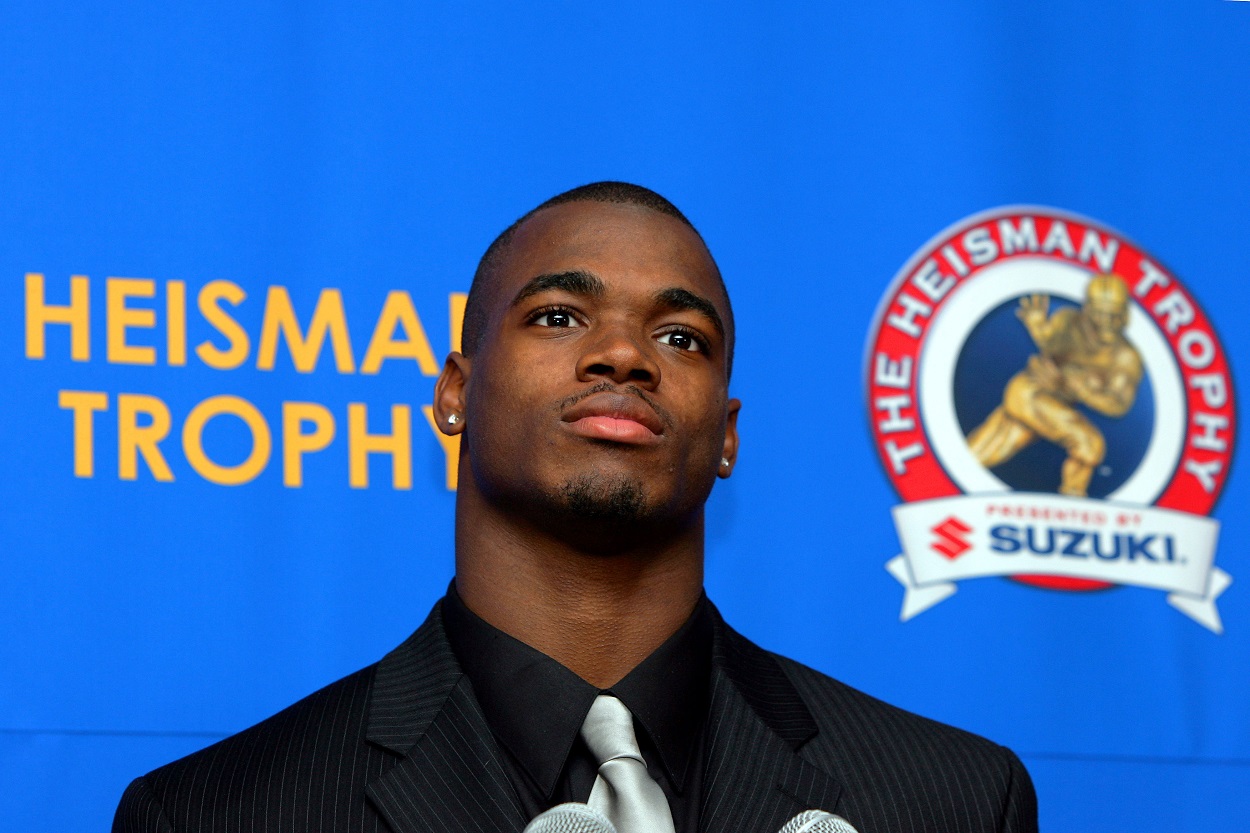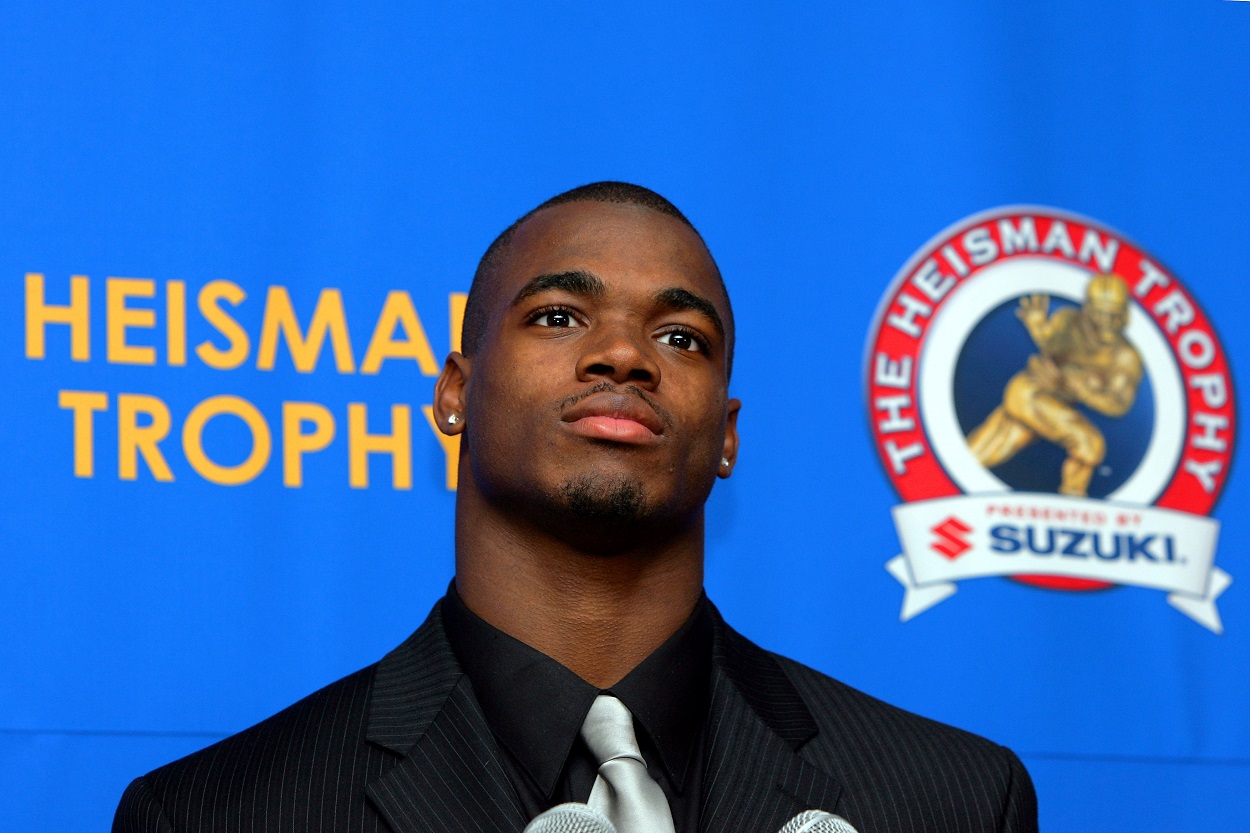 After finishing second in the Heisman Trophy race as a freshman, Adrian Peterson was the favorite to win the award in 2005 but a high right ankle sprain forced him to miss one game that year and he also sat out more than half the game in four others, which obviously hindered his stats. He still rushed for 1,104 yards and 14 touchdowns that season, which is impressive in its own right.
In 2006, AP was likely on his way to being a Heisman Trophy finalist as he was close to hitting the 1,000-yard mark in just six games for the Sooners. In that sixth game, however, on Oklahoma's final offensive drive of the day, Peterson broke his collarbone diving into the end zone at the end of a 53-yard touchdown run.
The injury cost him the rest of the regular season, which took him out of the Heisman race, but he did return for the Sooners' Fiesta Bowl matchup with Boise State, which they famously lost in overtime, 43-42.
Adrian Peterson rushed for 77 yards and scored two touchdowns in what turned out to be his final college football game as he soon after declared for the 2007 NFL draft, where he was drafted with the seventh overall pick by the Minnesota Vikings, three spots earlier than where Matt Leinart was selected the year before. So at least he's got that win over the man who beat him for the Heisman Trophy…that and the exponentially better NFL career.
Stats courtesy of Sports Reference