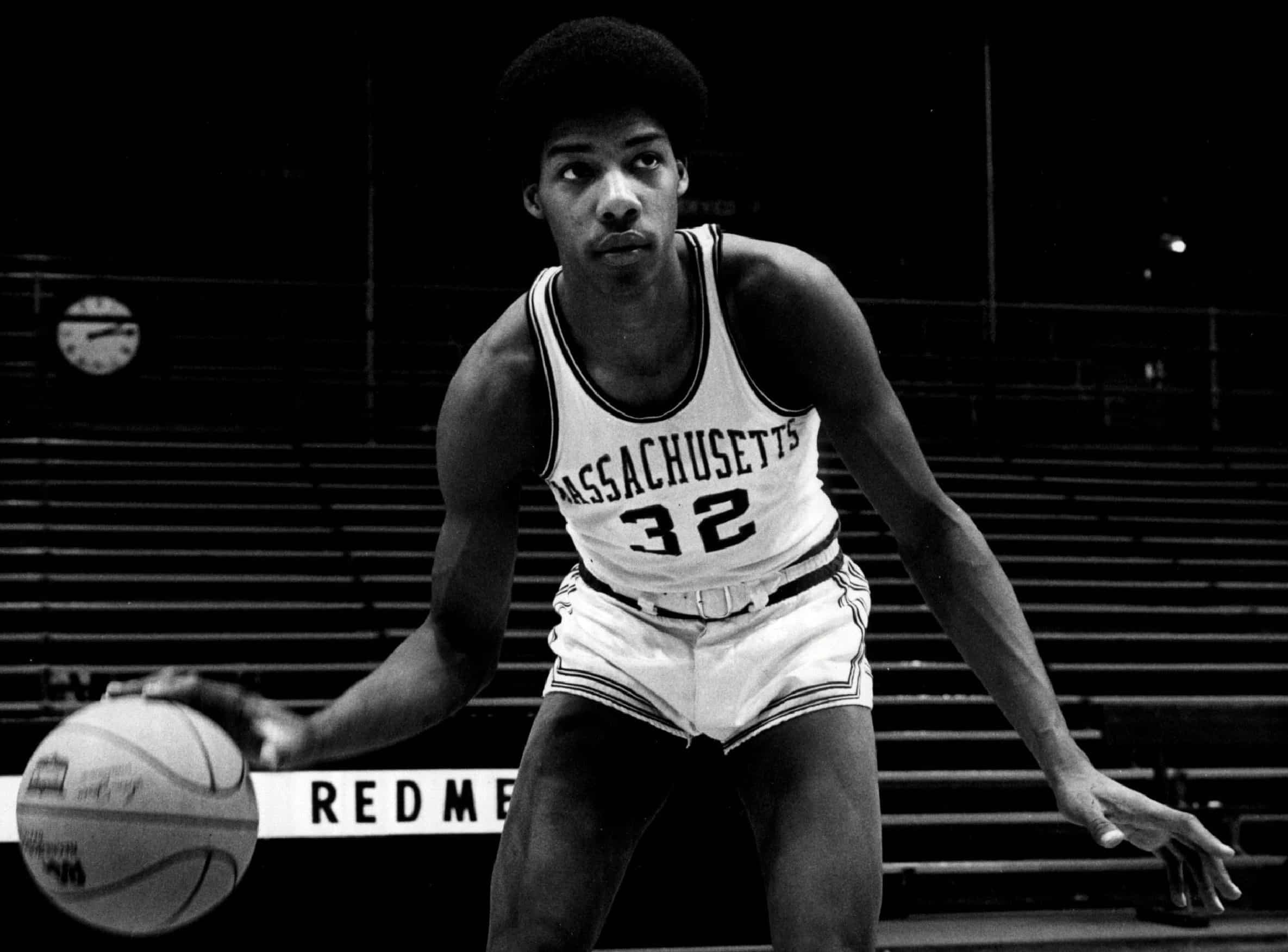 After a Quiet Career at UMass, Julius Erving Burst Onto the Pro Scene, but Don't Give Credit to the Scouting Reports
Despite putting up some big college numbers, Julius Erving was a relatively unknown player coming out of UMass.
While his two-year statistics at the University of Massachusetts are impressive, they were received with little fanfare. Julius Erving played in the Yankee Conference, which is not exactly a basketball hotbed.
Those in New England may have heard of Erving, the man later known as Dr. J. Diehard basketball fans across the country probably knew the name. Once Erving left UMass, he became an instant star in the ABA and NBA, but don't give any credit for that success to any college scouting reports.
Julius Erving made an instant impact in professional basketball
Julius Erving played two seasons at college at UMass, where he averaged 26.3 points and 20.2 rebounds. While the numbers were staggering, he never showed the flair he would later have as a professional. Back then, dunking wasn't allowed in the college game, so Erving's high-flying arsenal of slam dunks wasn't a part of his game.
Erving signed with the Virginia Squires of the ABA after his junior year at UMass. The NBA had a rule that wouldn't allow players who were less than four years removed from high school to be drafted.
As a rookie with the Squires, Erving averaged 27.3 points and 15.7 rebounds and was named a league All-Star. He finished second to Artis Gilmore in the Rookie of the Year voting. In the next two seasons, Erving led the NBA in scoring. In his second pro season, he also led the league in minutes per game (42.3). After two seasons with the Squires, Erving played three more ABA seasons with the New York Nets. He led the league in scoring twice with the Nets.
Erving then joined the NBA, playing 11 seasons with the Philadelphia 76ers. He had no problems adjusting to life in the NBA as he averaged 21.6 points and 8.5 rebounds in his first season. Erving was an All-star in every one of his 16 pro seasons.
Erving's scouting report: Who is he?
Don't be fooled by those who say they knew Erving would be a tremendous pro after watching him play college basketball. The scouting report on Erving coming out of college was that there weren't many scouting reports.
"You should have seen our film on Julius — it was an old grainy black and white," said Johnny Kerr, former business manager for the Squires, per Terry Pluto's book Loose Balls. "It was hard to see what was going on. Neither Al (Bianchi, former coach/GM of the Squires) nor I ever saw Julius play in person until he signed with the Squires."
"Julius Erving was hardly a household name when he was playing at the University of Massachusetts," Bianchi said, per Pluto. "I can't remember the first time I heard of him.
"Johnny Kerr and I tried to get a film of this Erving kid, and it was an NIT game between UMass and North Carolina. Julius got in foul trouble and ended up fouling out. He didn't play that much, but we could tell he was pretty damn good."
Jim O'Brien, former Editor for Street & Smith magazine, had no idea who Erving was at the time.
"I got a letter from Jack Leaman, who was Julius' coach at UMass," O'Brien said. "Jack was upset because we left Julius off our preseason All-American team before his junior year. I wrote Jack, saying it was hard to assess a guy who played in the Yankee Conference because of the weak schedule. I said we'd keep an eye on him, but I never heard of Julius until his coach brought him to our attention."