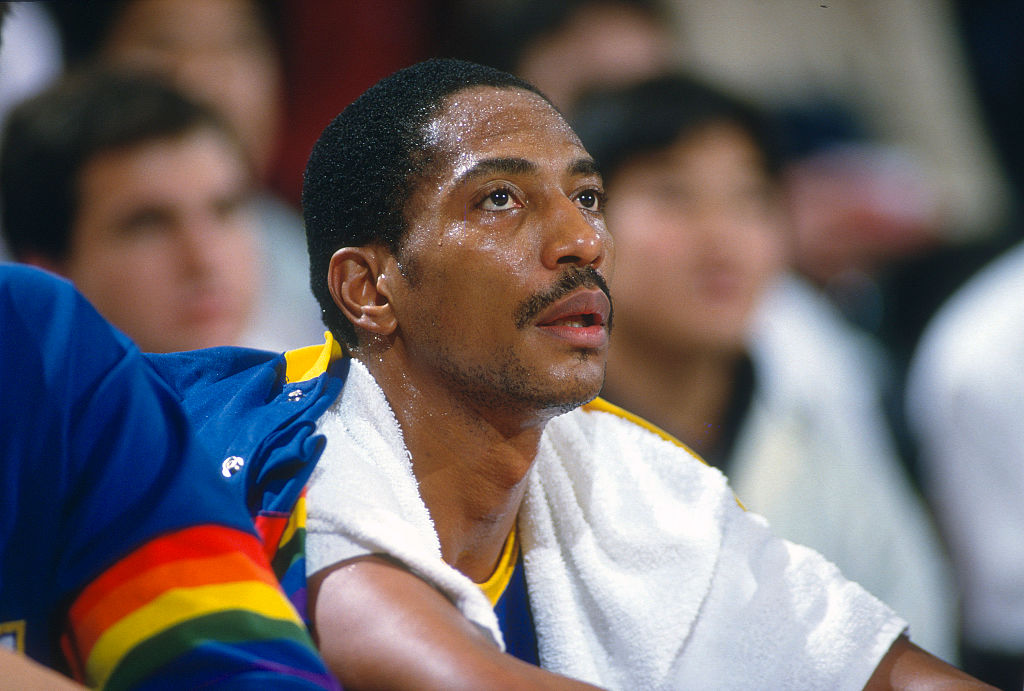 Alex English Might Be the Most Underrated and Underappreciated Player in NBA History
Former Denver Nuggets forward Alex English just might be the most underrated and underappreciated player in NBA history.
He's 20th on the NBA's all-time scoring list. He played during a time when 3-point shots weren't chucked up in waves. Alex English was quiet. He was good. The Denver Nuggets forward could score with anybody during his playing days. So why doesn't English get the credit he deserves when it comes to the listing NBA's all-time greats?
Alex English's NBA career
Alex English played his college basketball at South Carolina where he started every game he played. During his four-year college career, English averaged 17.8 points per game, including 22.6 in his senior year. He was drafted in the second round of the 1976 NBA draft by the Milwaukee Bucks, where he played two seasons before signing with the Indiana Pacers as a free agent in 1978.
During English's second season with the Pacers, he was traded to the Denver Nuggets for George McGinnis. It was in Denver when English made his mark in the NBA. In his first full season with the Nuggets, English averaged 23.8 points and eight rebounds per game.
The following year, the 1981-82 NBA season, English averaged 25.4 points per game and began a string of eight straight NBA All-Star appearances for the Nuggets forward. During those eight seasons, English missed just four regular-season games. He led the league in scoring during the 1982-83 season with a 28.4 points-per-game scoring average. In his 11 seasons with the Nuggets, English averaged 25.9 points per game. He was inducted into the Naismith Memorial Basketball Hall of Fame in 1997.
Quiet but deadly
What NBA player scored the most points in the 1980s? Hint, it wasn't Michael Jordan, Larry Bird, or Dominique Wilkins. It was Alex English, who scored 21,018 points in the decade. English was the most prolific scorer in the 80s and when he retired, he was seventh on the NBA's all-time scoring list.
English played for Doug Moe, who was known for his up-tempo, high-scoring offense. According to NBA.com, English was the first player to put together eight straight seasons of scoring more than 2,000 points. While Jordan, Bird, and Magic Johnson were getting the majority of the attention in the 1980s, English was quietly putting together his Hall-of-Fame career.
There was nothing flashy about English. There was no trash talking. He even said it himself that he just went quietly about his business on the basketball court. "I'm not so flashy, not so boisterous. I'm low-key. My job is to do the job I'm supposed to do," English was quoted as saying on NBA.com. "There are people who don't see it. But they aren't paying attention."
Why isn't Alex English mentioned with the greats?
Maybe it's because there were no flashy passes or thunderous dunks. Maybe it's because his teams never won the NBA title, although Alex English did lead the Denver Nuggets to nine straight postseason appearances. Whatever the case, English is never mentioned in the same category as guys like Bird, Wilkins, or even Paul Pierce.
English wasn't just a scorer. When he left the Denver Nuggets, he was the team's all-time leader in scoring, assists, games played, and minutes played. His career shooting percentage was better than 50 percent. According to NBA scout Marty Blake, the reason English isn't mentioned with the greats boils down to his quiet success in Denver.
"The thing that hurts Alex, at least when you try to compare him with the greats, is that he isn't flamboyant," Blake said in the NBA.com article. "And his nagging problem is that he doesn't get much recognition. (But) I've been associated with 18 players who made the Hall of Fame, and I think Alex is one of the great ones."