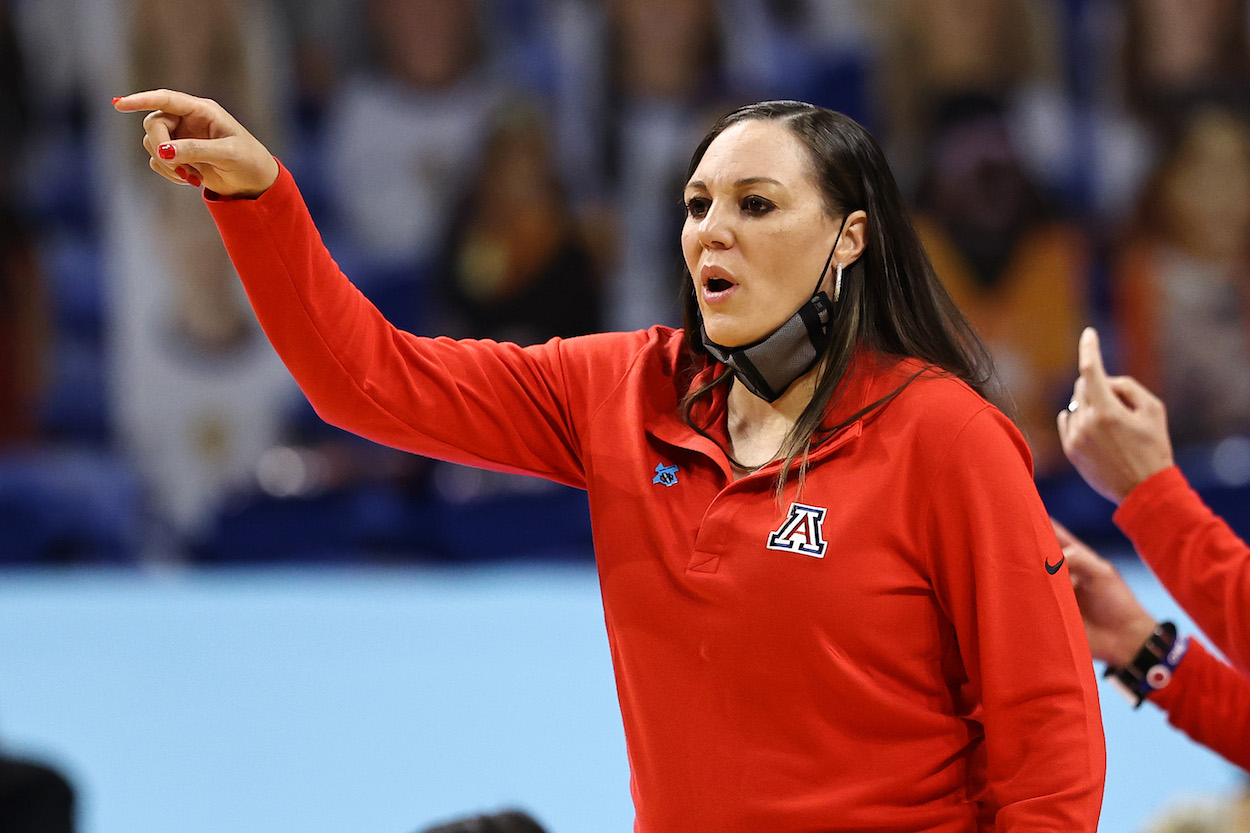 Arizona Coach Gives Middle Finger to Apologizing for Throwing Middle Finger and F-Bomb in Celebration After Historic Win Over UConn
Arizona women's basketball coach Adia Barnes isn't apologizing for using middle finger and f-bomb.
After the Arizona Wildcats pulled off a major upset over the heavily favored Connecticut Huskies during the Final Four at the women's NCAA Tournament in San Antonio, head coach Adia Barnes had a celebratory moment with her players where she used a middle finger and the corresponding four-letter word for what she thought of those who doubted her squad. 
Some thought she might later apologize for her postgame behavior. They thought wrong. On Saturday during a session with reporters, she gave another middle finger to anyone who expected her to apologize.  
Arizona women's basketball shocks Connecticut in Final Four
The University of Connecticut Huskies have set the standard in women's college basketball since 1995. During that time, Geno Auriemma's teams have claimed an astonishing 11 titles. Many experts thought the Huskies, who have appeared in 13 consecutive Final Fours, were destined for a shot at a 12th title even before facing the No. 3 seeded-Arizona Wildcats.
The Wildcats, who were making their first Final Four appearance in program history, were unfazed by the 2021 Huskies or the program's mystique from the opening tip. The suffocating defense kept the UConn offensive attack and the first-ever freshman Player of Year Paige Bueckers in check most of the night.
When the final horn sounded, head coach Adia Barnes watched her Arizona team come away with a convincing 69-59 victory. Everyone considered the win an upset except for the Wildcats and their head coach.  
Arizona coach gives middle finger and drops f-bomb in celebration
Following the victory, Arizona coach Adia Barnes gathered with her team in a huddle and during the joyous moment used a middle finger and dropped an f-bomb in obvious response to those who doubted her team. The moment quickly went viral.
During the postgame press conferences, Barnes acknowledged in her excitement she used some blue language following the team's win. 
"I did say a cuss word. The cuss word is basically, 'Forget everybody. … Forget everybody if they don't believe in us, because we believe in us.'"
Team was disrespected and no need to apologize for celebration
On Saturday, Arizona coach Adia Barnes was asked again about the postgame incident on Friday and whether she should apologize for her behavior. Barnes and her players have been outspoken throughout the tournament, feeling disrespected multiple times, most recently when the NCAA excluded them from the promotional video previewing the women's Final Four earlier this week. Barnes gave any thought of an apology the proverbial middle finger.
"I honestly had a moment with my team, and I thought it was a more intimate huddle. I said to my team something that I truly felt and I know they felt, and it just appeared different on TV, but I'm not apologizing for it because I don't feel like I need to apologize," Barnes said on a Zoom call with the media. "It's what I felt with my team at the moment. I wouldn't take it back. We've gone to war together. We believe in each other. So I'm in those moments, and that's how I am, so I don't apologize for doing that. I'm just me, and I have to just be me." 
Adia Barnes has directed the Arizona women's basketball team to this moment and the precipice of program history doing it her way. And it's worked just fine. There's no reason to change because a select group of people might be offended by a gesture and word they've both likely done themselves. 
Like Sportscasting on Facebook. Follow us on Twitter @sportscasting19.