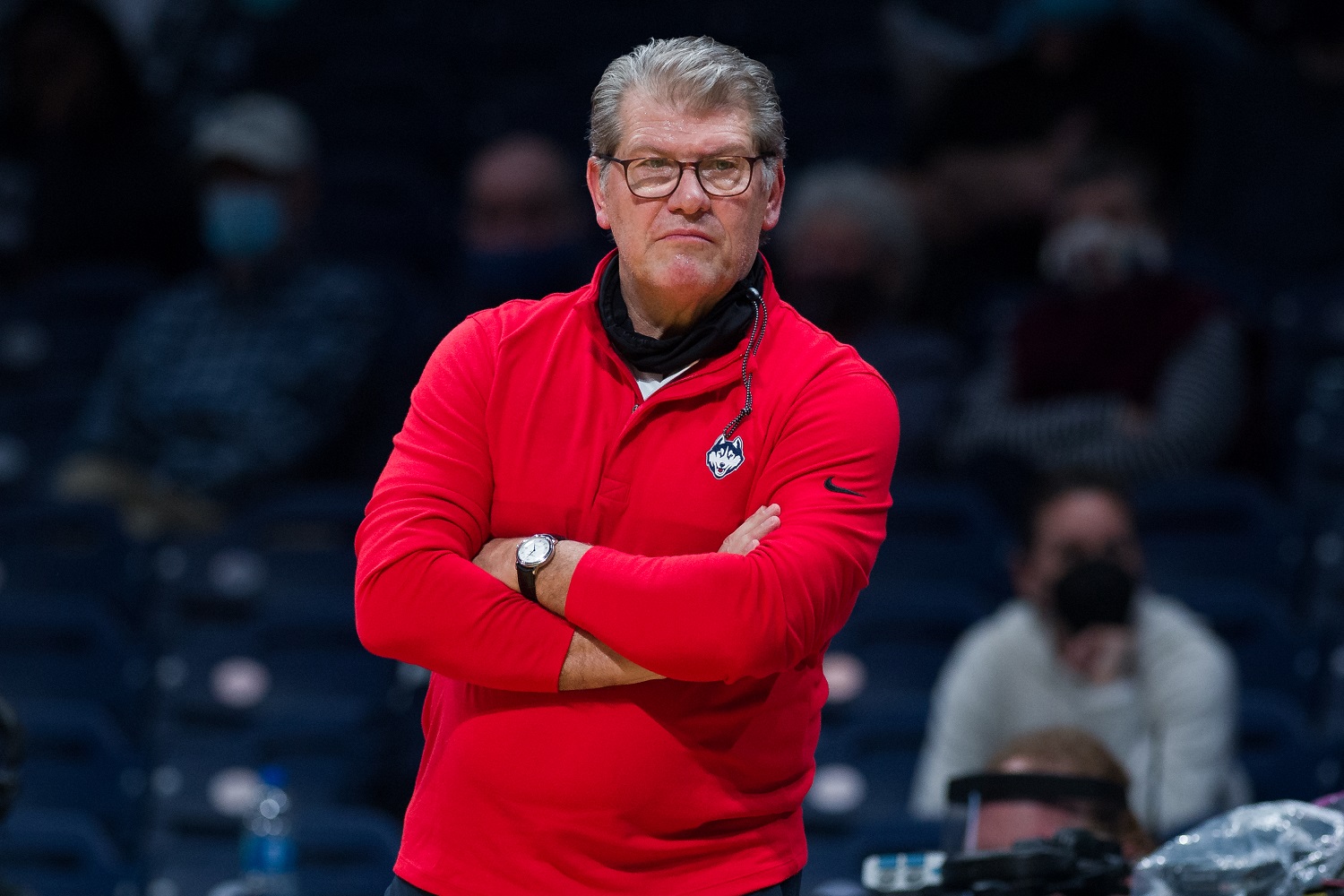 UConn Women's Basketball Maps Out Its NCAA Tournament Plan for Overcoming a Huge Blow
Geno Auriemma has tested positive for COVID-19, taking him out of the first two rounds of UConn's appearance in the NCAA Tournament in women's basketball.
For any other team in the country, losing its head coach on the eve of the NCAA Tournament would constitute a crisis. For the Connecticut Huskies, it's a mild inconvenience because Geno Auriemma has built UConn women's basketball into a dynasty that can handle the unexpected.
UConn women's basketball is the NCAA gold standard
Geno Auriemma coached the UConn women's basketball team to the Elite Eight for the first time in 1994. Since that time, the Huskies have only twice lost more than five games in a season. Meanwhile, they've won 11 NCAA Tournament championships and have made eight of their nine other Final Four appearances since then.
Pat Summit's University of Tennessee program rivaled UConn for a long time. But even the Vols, with their eight NCAA Division I crowns, can no longer keep pace. UConn's last title came in 2016, but they stand a chance this year behind sensational freshman Paige Bueckers.
Auriemma has long owned first crack at many of the top high school prospects, giving him the best starting five and deepest bench for years at a time. Stars that he has sent on to the WNBA and international pro league include Breanna Stewart, Sue Bird, Maya Moore, Diana Taurasi, Rebecca Lobo, Tina Charles, and Jen Rizzotti.
Geno Auriemma will miss the start of the NCAA Tournament
The UConn women's basketball team left Storrs, Connecticut, for the NCAA Tournament in Texas on Tuesday minus one of the biggest names in the history of the sport. Coach Geno Auriemma was forced to stay behind after testing positive for COVID-19 on Sunday. According to ESPN, that development came four days after he received the second coronavirus vaccine dose – too soon to be considered fully vaccinated under Centers for Disease Control and Prevention standards.
UConn said contact tracing showed Auriemma had no close contact since Friday with team members, who are tested daily. According to UConn, all Tier I personnel have tested negative.
Auriemma is asymptomatic and said he felt fine Monday while speaking at a chamber of commerce virtual breakfast.
Auriemma, who turns 67 on March 23, will remain quarantined for 10 days, which takes him out of the top-seeded Huskies' tournament opener against High Point as well as the potential March 23 second-round game vs. Syracuse or South Dakota.
"I just need them to win two games," Auriemma said, "so I can get down there and try to help out with any more games after that."
UConn has devised its NCAA Tournament strategy
With Geno Auriemma KO'd for as least two rounds of the NCAA Tournament, the UConn women's basketball team will be under the direction of associate head coach Chris Dailey.  It won't be Dailey's first time running the show.
Auriemma is 1,115-143 in 36 seasons with UConn, but he has missed 10 games over the years for a variety of reasons, most recently a game against Oklahoma last season following a surgical procedure to treat diverticulitis.
Dailey came to UConn with Auriemma in 1985 and runs the bench in his absence. She has a 10-0 record as a pinch-hit coach.
"I have complete confidence and complete trust and faith in (Dailey) and (the coaching staff)," Auriemma said, according to the Connecticut Post. "I'm an innocent bystander right now so I'm just going to sit back and watch them do their thing. 'CD' is undefeated in tournament play, so I don't think we can get a coach that has a better record in the tournament than she does."
Like Sportscasting on Facebook. Follow us on Twitter @sportscasting19.