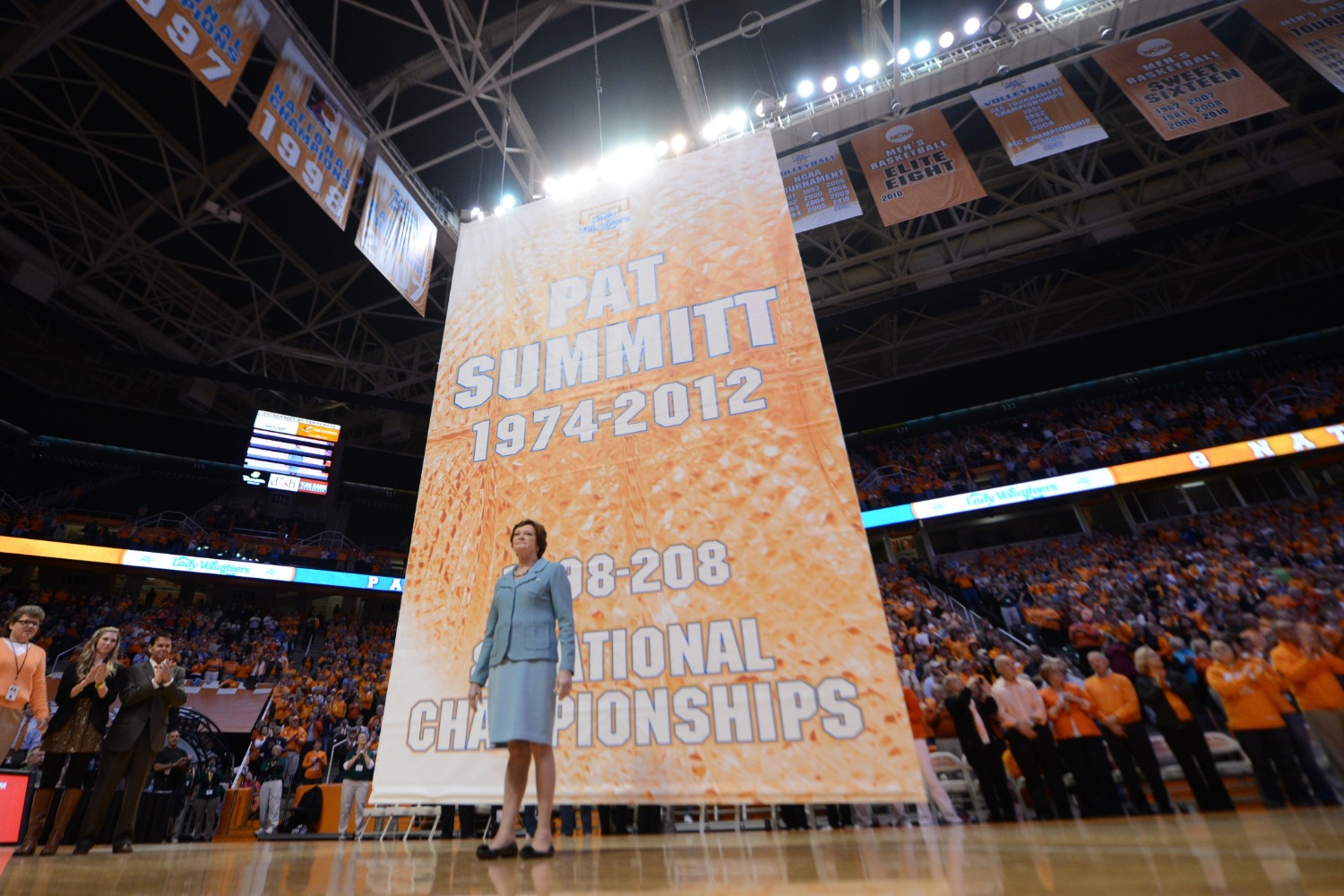 Geno Auriemma Delivered the Perfect Message After the Tragic Death of Rival Coach Pat Summitt
Pat Summitt became the greatest women's basketball coach in history at the University of Tennessee before she tragically died at age 64.
The world of women's college basketball often gets overlooked. Rarely do coaches get national attention or find themselves in the spotlight. But there's one exception to that rule: Pat Summitt.
For nearly 40 years, she paced the sidelines as the head coach of the University of Tennessee women's basketball team. She smashed records, won championships, and won numerous awards in her legendary coaching career. Sadly, Summitt died just a few years after getting diagnosed with Alzheimer's disease, but not before leaving behind an incomparable legacy.
Pat Summit became a coaching legend at the University of Tennessee
Born in Clarksville, Tenn., Pat Summitt spent her entire life dedicated to the game of basketball. And as fate would have it, her coaching career would ensure that she'd be one of the most successful people to ever hail from The Volunteer State.
A standout player in her own right, Summit co-captained the 1976 U.S. women's national team. Ironically, she took on that role just a few years after taking over as head coach at Tennessee. While her playing career certainly deserves praise, Summit proved to be even better as a coach.
Beginning in 1974, she embarked on a journey that would later cement her status as one of the greatest coaches in the history of sports. For 38 years, she roamed the sidelines and garnered a reputation as one of the toughest teachers in the business. In fact, "The Summitt Stare" became a signature part of her style.
Along the way, Summitt turned the Volunteers program into a national powerhouse. The legendary coach led her team to eight national titles, including three straight from 1996-98. In addition, she won the Naismith Coach of the Year Award five times. Summitt also coached Team USA to a gold medal finish at the 1984 Summer Olympics.
A true pioneer in women's basketball, Pat Summitt made magic for four decades. Unfortunately, her coaching career came to a sudden halt through no fault of her own.
Summitt's career came to a close due to Alzheimer's disease
Tennessee emerged as NCAA tournament champions in both 2006 and 2007. The following year, Summitt's squad got eliminated from the first round. Two more deep tournament runs showed that the aging coach hadn't quite lost her fastball. Yet, everything changed in 2011.
In August of that year, Summitt announced that she had been diagnosed several months before with Alzheimer's disease. That didn't stop her from doing what she loved. Even with her health deteriorating, Summitt refused to abandon her team. Though she took more of a backseat role to assistant Holly Warlick, the Volunteers still went 27-9 and advanced to the Elite Eight.
However, that 2011-12 season represented the end of a truly outstanding coaching career. Pat Summitt officially stepped down from her position after compiling a 1,098-208 record. She retired as the winningest coach in college basketball history and never posted a losing record.
Only nobody could have predicted that the world would say goodbye to the longtime Tennessee coach just a few years later.
Geno Auriemma offered the perfect words after his coaching rival's tragic death
Having moved into a senior living facility in Knoxville, Pat Summitt sadly died just two weeks after her 64th birthday. On June 28, 2016, the world lost the coaching legend, but not before she left behind an incredible legacy as a role model, mentor, and of course, a basketball coach.
After getting diagnosed with Alzheimer's, Summitt and her son worked together to create the Pat Summitt Foundation, which helps raise money for nonprofits to research the disease.
Of course, her work as a basketball coach made her a household name. And during her storied career, she got a chance to square off with Connecticut coach Geno Auriemma on many occasions. The two iconic figures in women's basketball had their fair share of disagreements and were often viewed as bitter rivals. However, when his longtime adversary died, Auriemma offered the perfect words about Summitt's impact on women's basketball. (H/T Hartford Courant).
"During our short history, there was one person for a long time. Nobody else was even in that category. There was Pat Summitt. Nobody else. Other people took their turn at getting their 15 minutes of fame, but when people talked about women's basketball in America, it was Pat Summitt and Tennessee. When was the last time a women's team coach got on the cover of Time magazine? It just doesn't happen. And that's saying a lot."