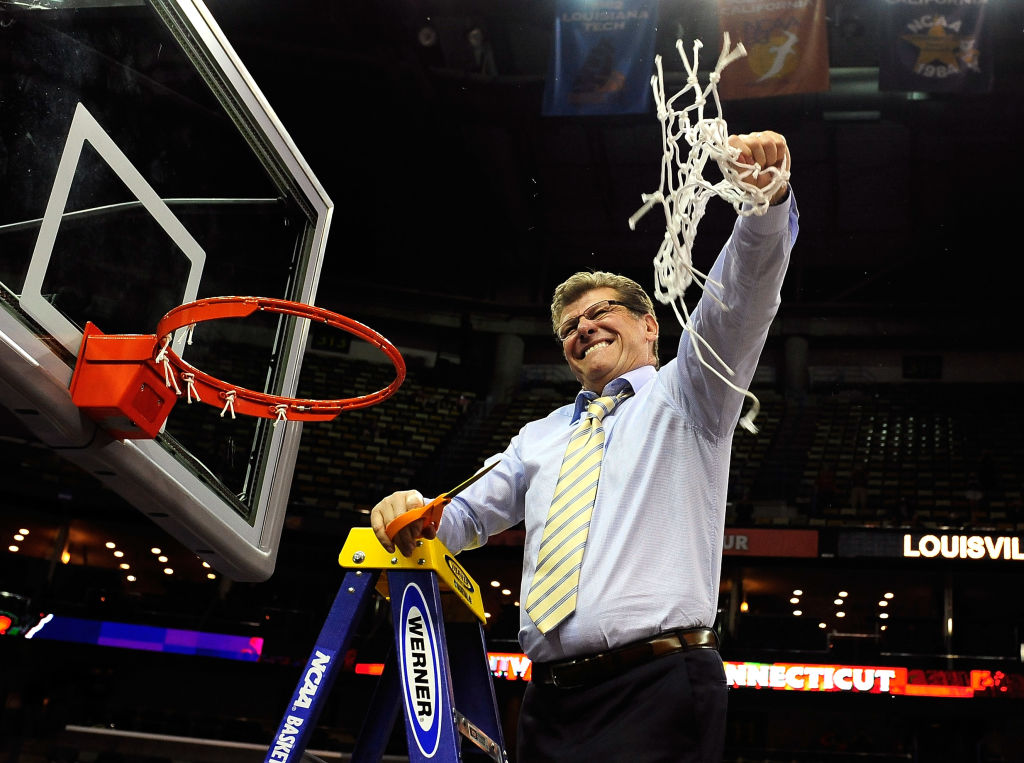 Geno Auriemma's Interesting Idea Would Give College Seniors One More Chance
UConn's legendary women's basketball coach Geno Auriemma has an idea that would give college seniors one more chance.
It has suddenly become March Madness without the basketball. With the coronavirus (COVID-19) wiping out nearly every professional and college sport in its way, it's hard not to feel for the athletes, especially college seniors who have lost out at the chance of playing for a national title. 
Geno Auriemma knows a little bit about championships as his UConn women's basketball program has collected 11 national titles. With the recent news that the NCAA tournaments have been canceled, Auriemma had an interesting idea that would give college seniors another crack at playing for a championship.
Geno Auriemma's plan for college seniors
When the coronavirus wiped out virtually the entire sports world this week, UConn's shot of title No. 12 went out the window. The Huskies were right where they normally are, sitting pretty with a 28-3 record and hungry for another run at a championship.
Appearing on SportsCenter,  Auriemma stressed how bad he felt for the players, especially seniors, and said he would love to see the NCAA grant seniors in both winter and spring sports another year of eligibility.
Auriemma knows it's a longshot, but he said the NCAA (and all of sports) is going through something that's never happened before and that drastic measures should be considered.

"My feeling is this: It's an unprecedented event so you have to take unprecedented measures."

Geno Auriemma
Auriemma's toughest coaching season
The 2019-20 season has been a tough one for Geno Auriemma. Although the Huskies finished with a 28-3 mark, it's wasn't a typical UConn dominant season.

UConn saw its 98-game home winning streak come to an end in early January at the hands of Baylor. He missed a game due to surgery, an assistant coach left for personal reasons, and the death of Kobe Bryant and his daughter Gianna, who dreamed of playing basketball at UConn, really hit Auriemma hard. 

The always-talkative Auriemma was asked to speak at the memorial service for Bryant, but the UConn coach said he didn't think he would be able to.

"It's one of the few times I actually said I don't know if I can handle this," Auriemma said Monday. "I didn't know if I could do what Vanessa [Bryant, Kobe's widow] wanted me to do. I said, 'I don't know if I can do it.' And then when she spoke and then [Diana Taurasi] and then Sabrina [Ionescu], I started thinking, 'OK, what's really important here?' And it was easier to deliver what I wanted to say. If I had been the first guy up, I don't think I could have done it."
The success of Auriemma and the UConn women's basketball program
Auriemma just completed his 35th season as head coach of the Huskies. Prior to him jumping on board in 1985, the UConn women's program had just one winning season in its history.

The 65-year-old Auriemma has compiled 1,090 career victories and had a career 532-64 mark in conference play. Along with his 11 national titles, Auriemma has guided UConn to 20 Final Four appearances.

Auriemma also has served as head coach of the U.S. Women's National Team for eight years, leading Team USA to the 2012 and 2016 Olympic gold medals.