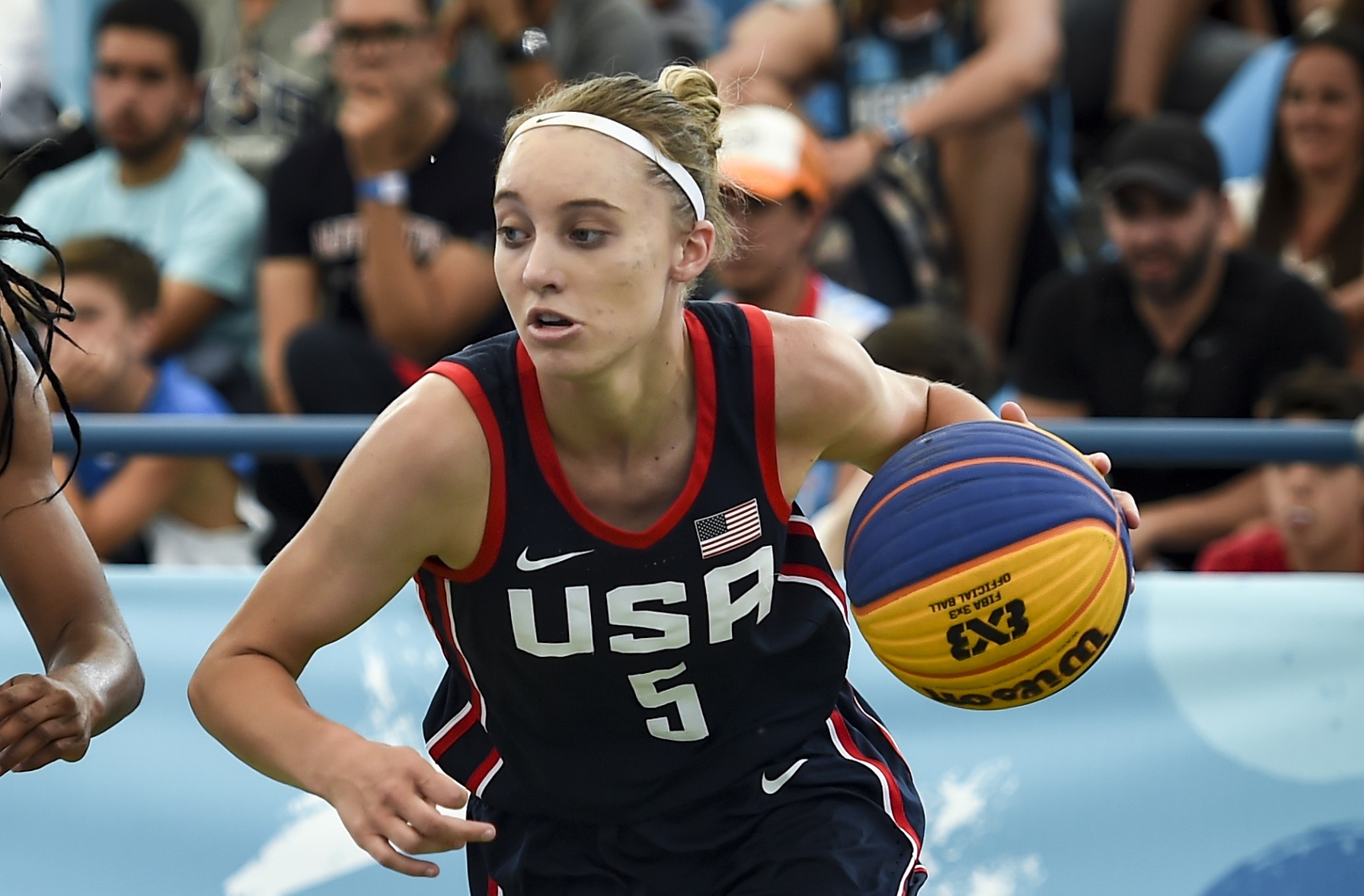 Is UConn Freshman Paige Bueckers Related To Kim Kardashian?
Acclaimed UConn freshman guard Paige Bueckers has a social media following that has her coach drawing a comparison to reality TV star Kim Kardashian.
There is a star player about to take the court for the University of Connecticut women. Of course, that doesn't qualify as news since Geno Auriemma collects McDonald's All-Americans like kids collect baseball cards. What makes this UConn women's basketball prospect unique is that Paige Bueckers is the first player to be mentioned in the same breath as Kim Kardashian.
Another season, another UConn powerhouse
There will be plenty of work to be done on the court this season for the UConn women's basketball team. However, the tools are in place to add another national championship to the trophy case. Coach Geno Auriemma should learn quickly how much his team will have to grow to finish to get the job done.
The third-ranked Huskies open the season Nov. 28 vs. Quinnipiac in the Women's Hall of Fame Challenge at Mohegan Sun Arena. A game against sixth-ranked Mississippi State could follow the next day, and then No. 5 Louisville comes to town Dec. 4. The official return to the Big East after seven years in the American Athletic Conference comes Dec. 6 vs. Seton Hall.
UConn's single-greatest hurdle in pursuit of its 12th NCAA championship (and first since 2016) will be its inexperience. Auriemma welcomes a six-player freshman class to Storrs. It will be the first time in 32 years that first-year players make up the majority of the roster.
The No. 1 attraction in that bunch of newcomers is guard Paige Bueckers, one of the most acclaimed recruits in recent history at a school that routinely gets its pick of top high school seniors. She's already been compared to Sue Bird and is ready to contribute like the all-time Huskies great did.
"We don't want all of the weight on the upperclassmen's shoulders," Bueckers, one of the team's six McDonald's All-Americans, told the Journal Inquirer of Manchester, Connecticut. "We want to have their back. We don't want to be typical freshmen who don't know what's going on."
Who is UConn freshman Paige Bueckers?
It's not every 19-year-old that has an extensive biography on Wikipedia. But Paige Bueckers is not an ordinary 19-year-old. The 5-foot-11 guard out of Edina, Minnesota, began playing varsity basketball in eighth grade. She was nearly unstoppable during her scholastic career.
Bueckers averaged 20.8 points as a freshman, 22.3 as a sophomore, and 24.4 in a junior season during which she went over 2,000 career points. Her senior statistics included 21.4 points, 9.4 assists, and 5.0 rebounds per game to earn Gatorade National Player of the Year honors.
Bueckers announced her commitment to the UConn women's basketball program at the conclusion of her junior season. She picked the Huskies over a long list of other national powerhouses.
Along the way in her career, she earned spots on USA Basketball squads that played in the FIBA U-17, -18, and -19 World Championships. At the U-19 final in Bangkok in July 2019, she produced 17 points and eight rebounds in a 74-70 win over Australia for the gold medal, earning the MVP award.
Is Paige Bueckers related to Kim Kardashian?
Once spectators are allowed back into basketball arenas in the 2020-21 season, UConn women's basketball guard Paige Bueckers can look forward to an endless stream of pictures of Kim Kardashian and chants about the reality-series star aimed at distracting her.
Bueckers is both a superbly talented athlete and a fan of social media. The combination makes her a popular follow on various platforms and has contributed to her becoming a national celebrity before she has played a minute of college basketball.
It has led to coach Geno Auriemma referring to the prized freshman as Paige Kardashian. Bueckers is not related to Kardashian, but she can certainly relate to the woman who became famous essentially for being famous.

Early this fall, Barstool Sports noted that Bueckers had more than twice as many Instagram followers as Anthony Edwards, who just went No. 1 overall in the NBA draft to the Minnesota Timberwolves. She's closing in on 600,000 followers on Instagram alone.
Auriemma can joke about Bueckers' celebrity status because he knows it doesn't go to her head.
"I don't think she can believe all the stuff that's out there about her because that's, like, 180 (degrees) away from who she really is on the court with our players," Auriemma told ESPN. "You would never know. Except for her talent, you would never know. She's just a regular kid that has a lot of talent."