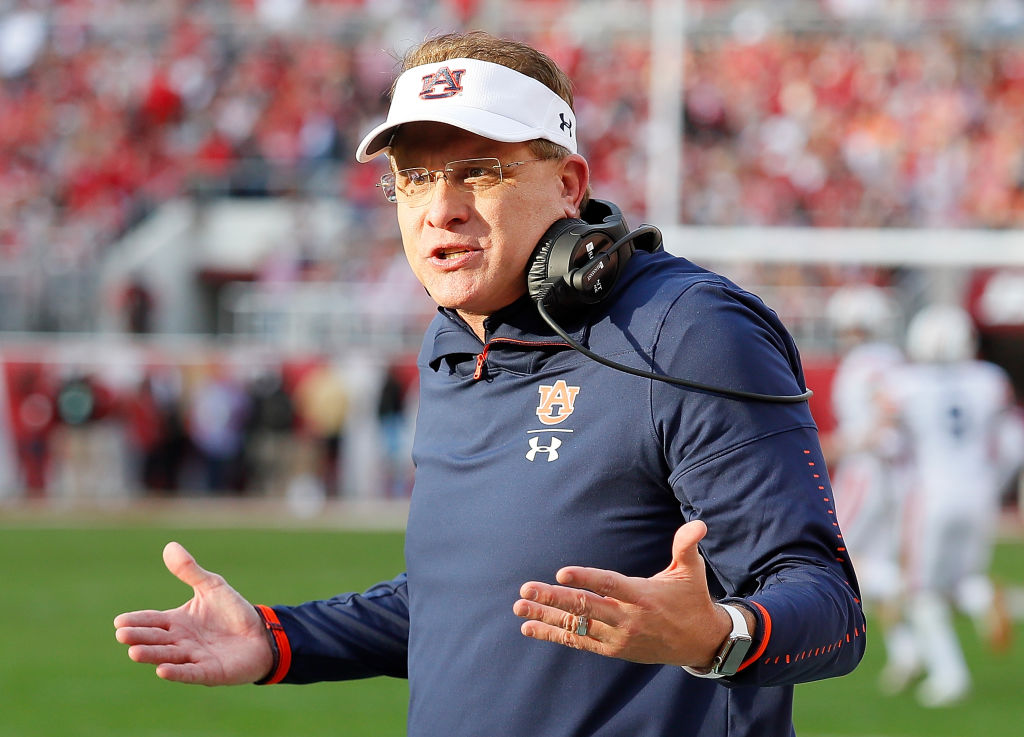 Auburn Coach Gus Malzahn Takes a Swipe at Rival Alabama
Normally reserved Auburn football coach Gus Malzahn fanned the flames in its rivalry when he took shots at Alabama and coach Nick Saban.
When it comes to fierce rivalries in college football, there probably isn't one more heated than Auburn-Alabama. The teams have had some memorable games over the years, and the fans have provided plenty of their own moments as well. Auburn head coach Gus Malzahn recently took a shot at Alabama in a press conference. Today we will look at his comments regarding Alabama and determine who will come away with the victory this year in their annual rivalry game.

Alabama complaining?
Alabama head coach Nick Saban is not a fan of the team having several early kickoffs this season. When the team has to kick off at noon, it means everyone has to get prepared much earlier than other teams in the conference.

That could lead to more injuries on the field, and we have seen Alabama lose a few key players to lengthy injuries already this year. Still, for a program as strong as the one Nick Saban and the Crimson Tide have, an early kickoff or two each season doesn't seem like the end of the world.

Gus Malzahn's comments
Speaking at a press conference, Malzahn had this to say about Alabama's complaining:
"Our guys are excited to be back home for our second home game, playing a very solid Kent State game, 6 p.m. kick…Personally, I wish it was at noon. We'd have more time to prepare for our next opponent."

Malzahn normally is very reserved in his press conferences, uneager to stir the pot. Coaching in Alabama and taking swipes at other teams can leave you open to a heavy dose of criticism from your fan base.

In this instance, we can't say whether we agree or disagree with Malzahn's comments. Alabama has done pretty well against most opponents no matter the time of the kickoff.

Will early kickoffs hurt 'Bama?
In the Crimson Tide's 3-0 start, they have played all of their games in the afternoon slot. They have had two 3:30 PM EST kickoffs and a 4:00 PM EST kickoff. They have scored at least 42 points in each game against quality competition (Duke and South Carolina), and look to be poised for another run to the College Football Playoff.
We don't expect the noon kickoff this weekend against Southern Miss to be a huge issue, as it should bring just a slight amount of inconvenience to the team. 
A bitter rivalry
The Auburn vs. Alabama rivalry has gone on for decades. The teams hate each other, the fan bases hate each other, and the Tigers have spoiled Alabama's shot at college football glory several times recently. Who can forget the "Kick Six" play? Alabama tried a field goal that missed, and Auburn returned the ball that led to a touchdown and a surprise victory. 
We also can't forget about Alabama superfan Harvey Updyke. Updyke put a plant poison in Auburn's Toomer's Corner trees, killing all the trees Auburn fans admired and loved. That resulted in a prison sentence for Updyke. We can't remember the last time a fan was willing to infiltrate a campus to commit a crime on plants.

Who wins the Alabama-Auburn matchup this year?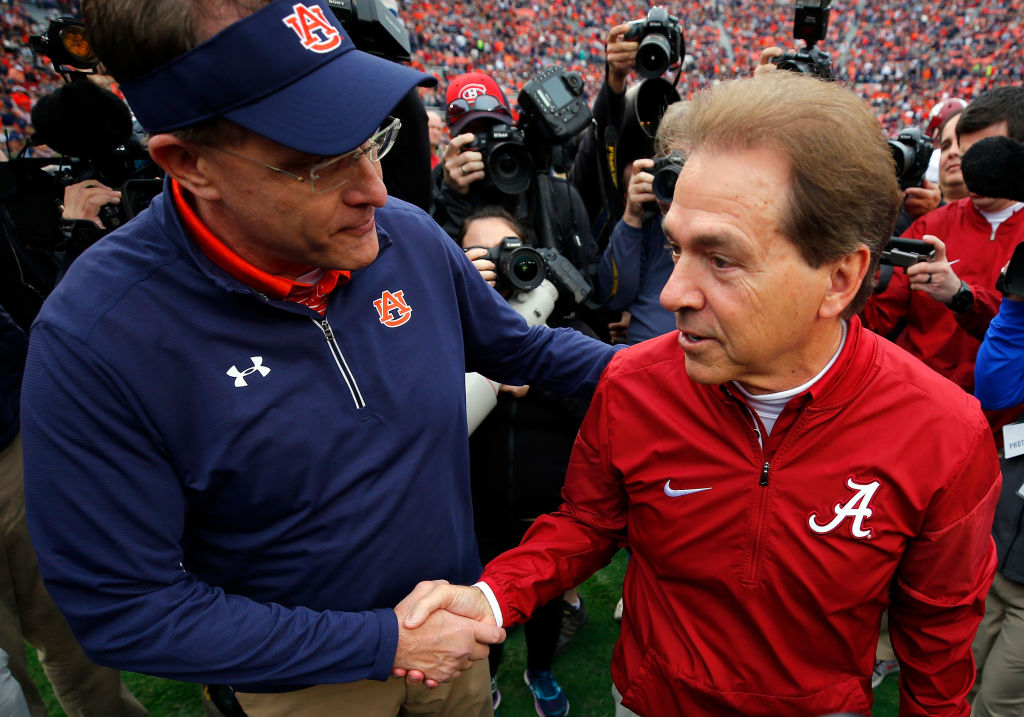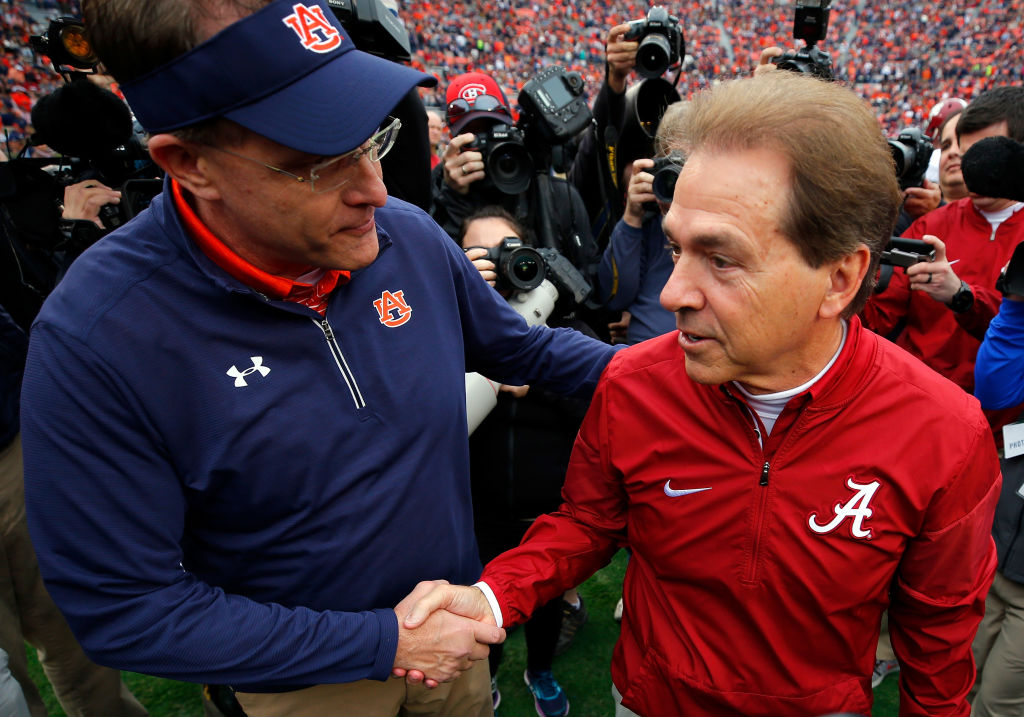 This year we think it will be another tough battle between the two teams, but we expect Alabama to come out on top. Tua Tagovailoa, the team's Heisman Trophy candidate at quarterback, is one of the best players in college football and has started this season red hot. Alabama should win 47-27.

How do you feel about Gus Malzahn's comments?
Do you think Auburn head coach Gus Malzahn was smart to take a dig at Alabama? If the Tigers don't reach double-digit wins, it could put Malzahn on an even hotter seat, so we don't see why he would stir up poster board material for Nick Saban's football dynasty.