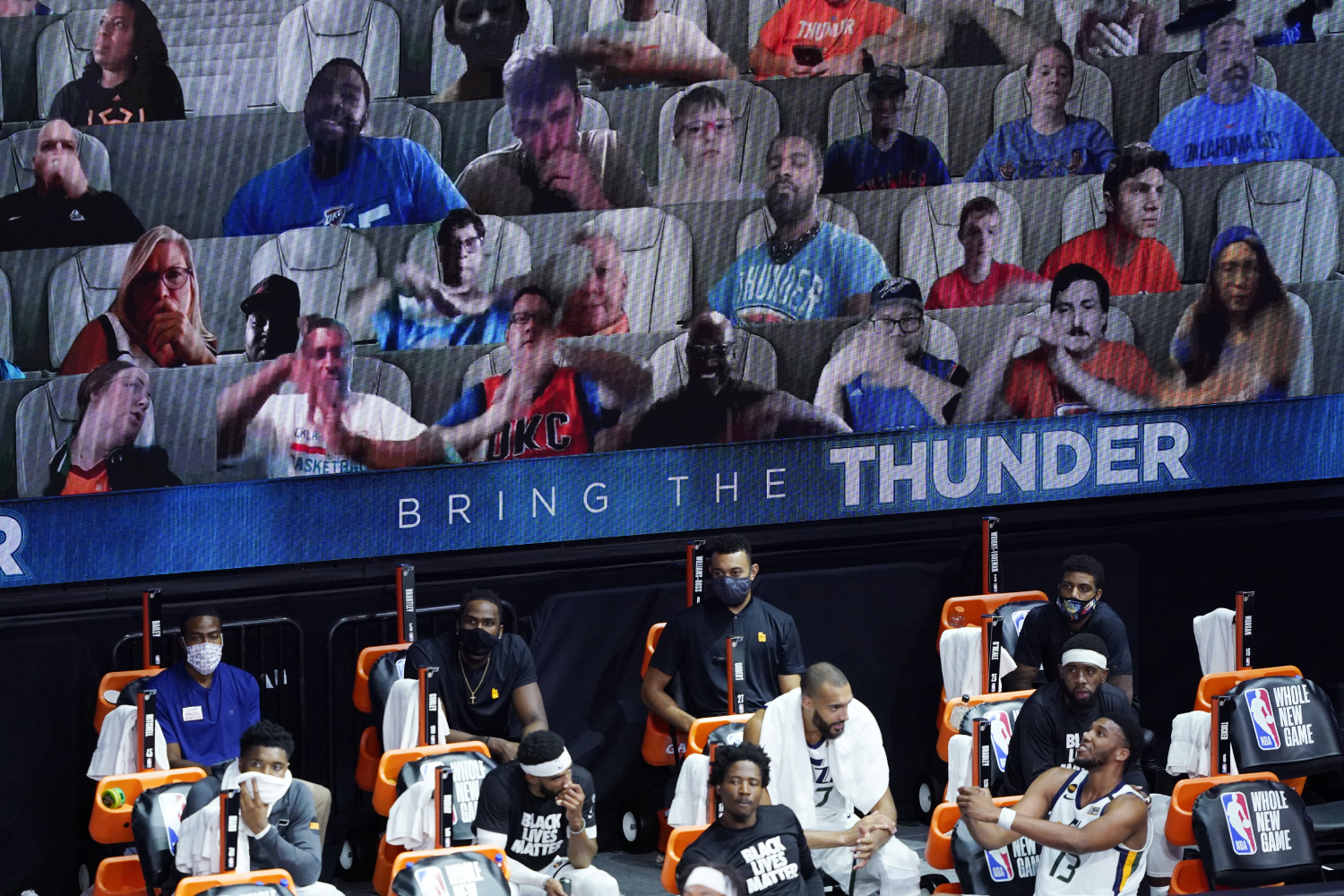 Being a Virtual Fan is Much More Challenging Than Being a Real One
Being a virtual fan at Tuesday's Milwaukee Bucks vs. Brooklyn Nets game was much more challenging than being a real fan.
I guess it's better than being a cardboard cutout. I had the pleasure of being a virtual fan for Tuesday's NBA game between the Milwaukee Bucks and the Brooklyn Nets. While the experience was quite different, it was far from resembling being at the game. Although the risk of getting beer spilled on you or sitting next to an obnoxious fan was non-existent, being a virtual fan certainly had its challenges.
What is a virtual fan?
With all NBA games being played in the 'bubble' in Orlando, Florida, no fans are allowed into the arena. NBA teams are still trying to capture the feel of a basketball atmosphere. Televised games have pumped-in crowd noise and they have invited fans to take part in the Orlando games from the comfort of their homes.
The selected fans log in as they would a Zoom call and a team moderator explains the process. Once logged in, fans are shown in the crowd and cheer for their team as they would if they were at the game.
As a season ticket holder for the Milwaukee Bucks, I had the opportunity to become a virtual fan for a game this week. I signed up and took part in Tuesday's game. Many virtual fans are like regular fans as they get all decked out in their team gear and cheer loudly as if they are right there at the game.
How other sports are handling fans
Major League Baseball has gone a slightly different route when it comes to having 'fans' at their games. Although MLB teams aren't playing in a 'bubble,' fans are still not permitted at their games. Teams are still traveling to different stadiums to play, but fans are not allowed to attend.
Major League Baseball teams have been putting cardboard cutouts of fans in their stands. The New York Mets are charging fans $86 (in reference to their World Series title) to have a cardboard cutout placed in a seat at one of their games. Net proceeds from those cutouts are donated to the Mets Foundation.
It remains to be seen what the NFL will be doing during its upcoming season. Many teams have said capacity will be extremely limited. Any NFL fan who does attend a game will have to wear a proper face covering. Some teams, such as the Philadelphia Eagles, have stated that no fans will be allowed to attend their games.
The challenges of being a virtual fan
When I was officially notified I would be 'attending' the Milwaukee Bucks vs. Brooklyn Nets game Tuesday, I was told I could log in up to an hour before game time. I logged in early and watched the process unfold as others made their way into their virtual seats. Seemed like I had a pretty good seat as I was in Section 2, Seat 3 – whatever that meant. Even after the game was over, I still didn't know where my seat was located when looking on TV.
My biggest issue throughout the game, other than never being seen on TV, was all the background noise. While many fans muted themselves, there were others who didn't. While the game as going on, the announcers were the dominant voice, followed by the unmuted fans, and then the moderator who was trying to give instruction. It was happening all at once. The moderator, who did a fine job, was dealing with technical glitches for those who couldn't seem to find the game feed.
The poor moderator also had to deal with one strange request from a fan. The fan, on multiple occasions, insisted that the virtual fan seated next to him/her was seated too close and asked the moderator to tell that person to move away. The NBA is doing its best to make things as normal as possible under extreme circumstances, but being a virtual fan wasn't worth all the hassle and commotion.