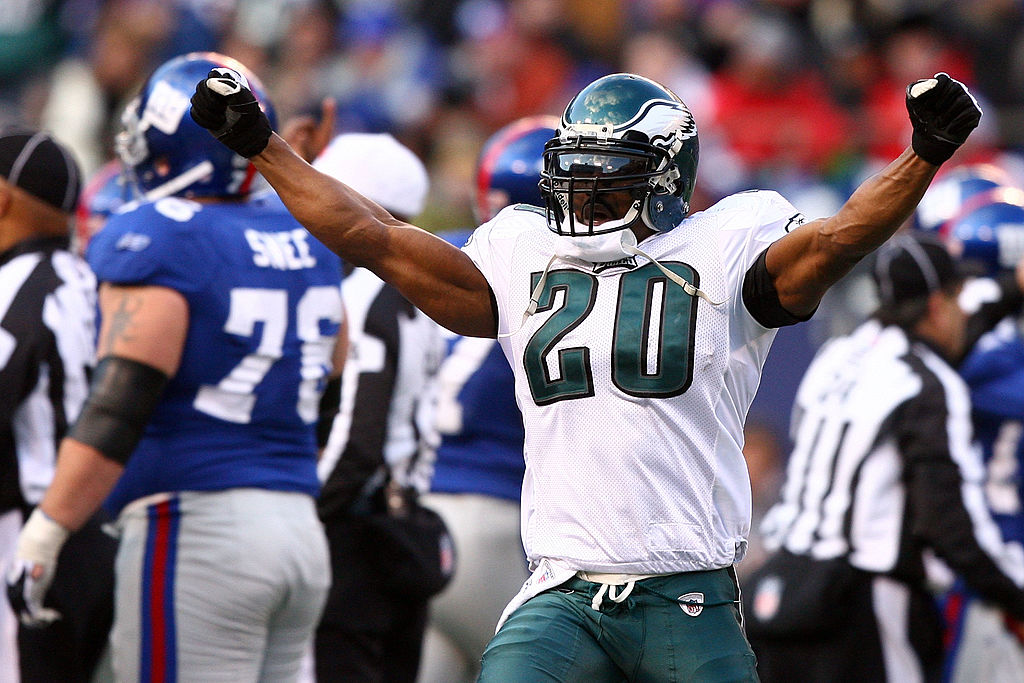 Where is Eagles legend Brian Dawkins now?
Brian Dawkins played 16 seasons in the NFL and was recently elected into the Hall of Fame, but what is the Eagles legend up to now?
Brian Dawkins is one of the greatest Philadelphia Eagles of all time. He played 13 years with the franchise and was named a first-team All-Pro four times in that span. Dawkins is tied with two other players for the most interceptions (34) in Philadelphia history.
Beyond the on-field greatness, Dawkins was also the emotional leader for the Eagles for over a decade. He represented what the city of Philadelphia stood for better than any athlete in the 21st century. His toughness, heart, and love for the game of football made him a beloved athlete and personality who is still admired today. Dawkins retired from the NFL in 2012, but what is he up to now?
Brian Dawkins' NFL playing career
Brian Dawkins played a total of 16 NFL seasons from 1996-2011. He played his first 13 seasons in Philadelphia before finishing his career in Denver. In his prime, he was considered the fastest and hardest-hitting player on the defensive side of the ball. His closing speed to deflect passes and make touchdown-saving tackles was elite.
Dawkins was especially elite at forcing the ball loose from opposing ball carriers. He forced 32 fumbles in his Eagles' career, the most in franchise history. His 16 fumble recoveries were also a franchise record for defensive players. Dawkins is the only player in NFL history to record 30 interceptions and 30 forced fumbles.
Dawkins made nine Pro Bowls in his illustrious career. He was voted to the Pro Football Hall of Fame in 2018.
Brian Dawkins' life after football
Dawkins retired from the NFL in 2012. He signed a one-day contract with Philadelphia so that he could retire an Eagle. Dawkins's No. 20 was later retired by the team, becoming just the ninth number in franchise history to get hung in the rafters.
Dawkins stayed in Colorado after retirement to coach high school football. After a few years, he got the itch to return to the NFL. In 2016, Dawkins was hired by the Eagles as a scouting assistant. Less than a year later he was promoted to the Football Operations Executive position.
His role as Football Operations Executive focused on player development. Dawkins even sometimes spent time with the defensive backs on the field after practice.
In May of 2018, Dawkins stepped down from his full-time role with the Eagles.
What is Brian Dawkins up to today?
Since Dawkins stepped down from his Eagles front office position, he has lived a simple life of philanthropy and motivation.
He started the Brian Dawkins Impact Foundation to help underprivileged families by "providing hope and support to those in need of inspiration, education, and the resources to succeed." Dawkins' goal is to achieve spiritual, mental, and physical health for every person he works with.
As much of an inspirational leader Dawkins was on the field, he is now off the field today. Dawkins frequently serves as a motivational speaker at public events in his retired life. He can be booked to speak using his website, briandawkins.com. Dawkins will also be releasing his first book this Fall.
Dawkins has dedicated his life after football to helping others. He knows how rare it is to be in his position of wealth and fame, and he's using it for good. "Weapon X" is as much a weapon in the community today as he was a weapon on the field in the NFL.