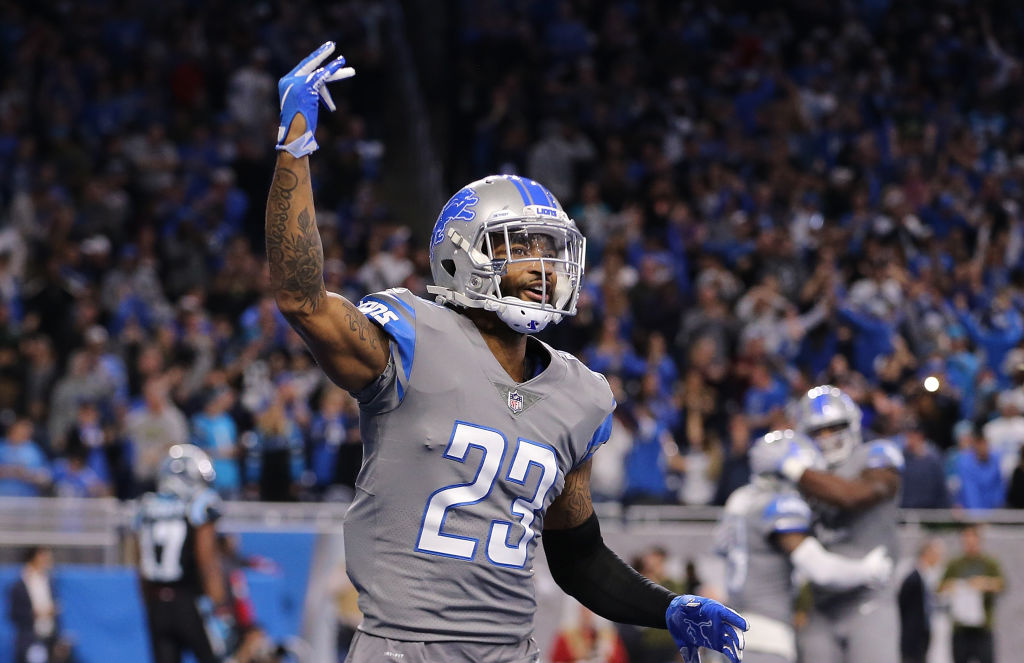 Darius Slay Will Help Eagles' Fans Finally Forget About Nnamdi Asomugha and Byron Maxwell
The Philadelphia Eagles traded for Pro-Bowl cornerback Darius Slay on Thursday, finally putting an end to the team's endless search for a lock-down corner.
The Philadelphia Eagles have traded for former Detriot Lions cornerback Darius Slay as of Thursday morning. Slay will reportedly sign a 3-year, $50 million contract extension with Philly, making him the highest-paid corner in the NFL.
Howie Roseman has been searching for his shutdown cornerback for almost a decade, and he finally found him in Slay. Slay will jump in immediately as the Eagles' No. 1 corner and make Philly fans forget all about the team's cornerback whiffs over the past few seasons.
The Eagles' troubled history with signing and drafting cornerbacks
The signing of All-Pro cornerback Nnamdi Asomugha in 2011 was supposed to be a turning point for the Eagles' new-look secondary. Philadelphia legends Troy Vincent, Lito Shepard, and Sheldon Brown all recently moved on from the team. Asomugha signaled the new beginning for a franchise that had excellent cornerbacks all throughout the 2000s. It turned out to be the beginning of an extremely frustrating decade for Eagles' cornerbacks.
Asomugha flamed out in two seasons. He took his $25 million of guaranteed money and was out of the league three years after signing his five-year mega-contract with Philadelphia. The Eagles' swings and misses at cornerback didn't stop there, however.
In 2015, the Eagles signed Byron Maxwell to a six-year, $63 million contract with — again — $25 million guaranteed. Philadelphia only needed to see one year of Maxwell in midnight green before shipping him to Miami a season later. Maxwell has been out of the league since 2017, but his $25 million from the Eagles is still with him somewhere.
Recently, the Eagles traded for former Bills' star Ronald Darby, but he also didn't live up to the expectations created for him. Darby never played more than 11 games in a single season due to a plethora of injuries. The recent draftees — Jalen Mills, Avonte Maddox, Sidney Jones, and Rasul Douglas — are all still on the roster, but none have shown flashes of a No. 1 cornerback. Enter, Darius Slay.
What Darius Slay brings to Philadelphia
Slay enters as the best man-to-man corner the Eagles have had in their secondary since possibly Asante Samuel in 2011. The three-time Pro Bowler is a physical, instinctive player that isn't afraid of any matchup.
Slay can play press coverage with the best of them, and he relishes the challenge of combat at the line-of-scrimmage. Slay also possesses the speed and quickness to hang with the league's fastest receivers, something the Eagles struggled with last season.
The best news for Eagles' fans is that Slay has been especially successful against his new division rival, Amari Cooper. In five games against Philadelphia, Cooper has torched its secondary for 98 yards per game and four total touchdowns. Birds' fans surely remember the 217 yards and three touchdowns Cooper racked up in the 2018 battle in Dallas.
Slay, on the other hand, has been effective in two matchups with the Cowboys' star. In the two games against Cooper, Slay allowed just 21 yards per game, a 33 percent catch rate, and no touchdowns. Slay obviously frustrated Cooper in their matchup last season in Detroit, and he will look to do the same for Philly starting in 2020.
Is Slay the start of a prosperous decade of cornerback play in Philly?
Philadelphia has tried everything to sure up its cornerback woes this past decade. Signing stand-out corners from bad teams flamed out horribly, not once but twice. Building from the draft has established a sturdy depth at the position, but none of their recent picks have shown the ability to be great players yet.
Mills will most likely move to strong safety to plug the hole left by Malcolm Jenkins' departure. That leaves Douglas, Maddox, and Jones to fight for the second cornerback spot. The Eagles can be successful mixing in all three players and slotting Maddox and Jones into the nickel position at times.
But one thing is for sure: Slay will line up across from the opponent's best receiver and shut him down better than any cornerback Philadelphia has seen in 10 years. He will free up the pass rush by playing effective man coverage for more than three seconds, something the Eagles' cornerbacks of late haven't seemed to accomplish.
This isn't Nnamdi Asomugha or Byron Maxwell all over again. This is one of the best man-to-man corners in the game today. Howie Roseman finally found his answer to the team's cornerback woes, and that answer is Darius Slay.