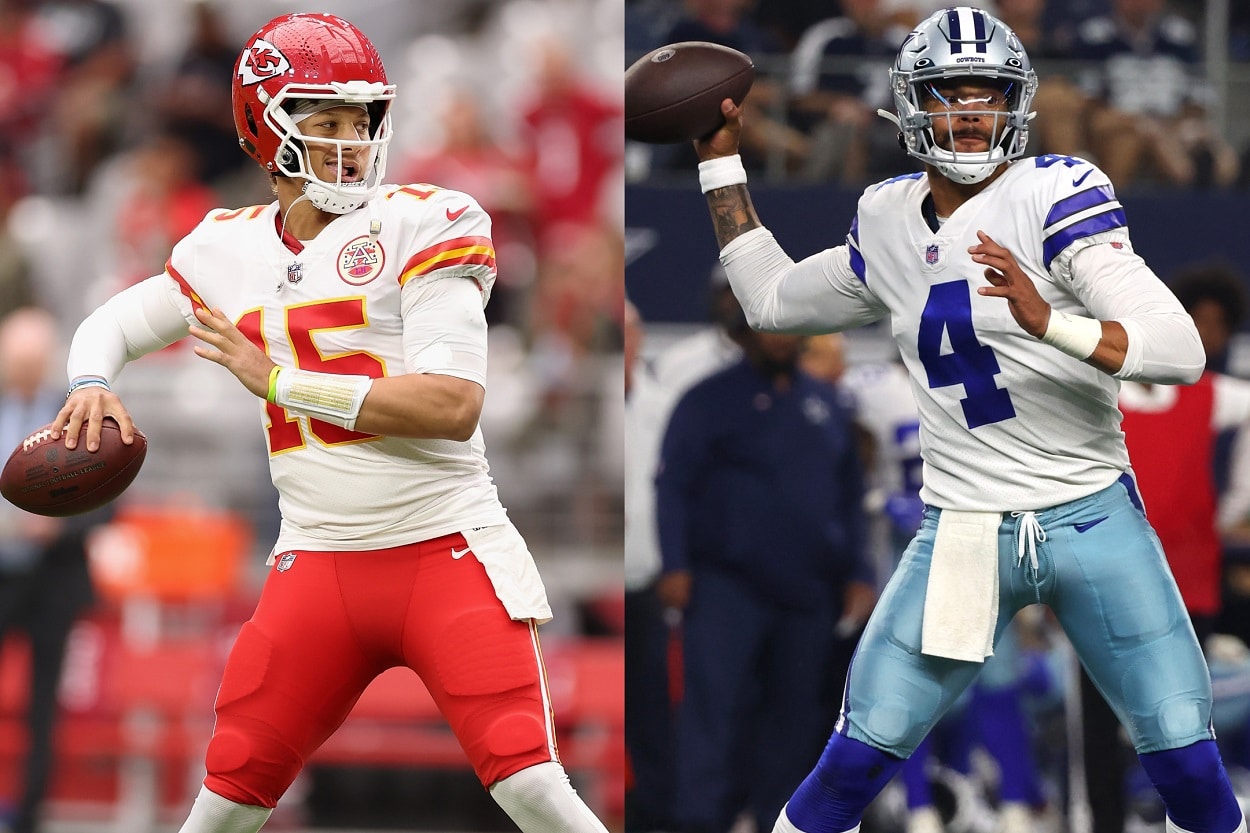 2022 NFL QB Grades: Patrick Mahomes Is Perfect While Dak Prescott Puts the 'D' in Dismal to Bookend Week 1
Week 1 grades for every starting NFL quarterback.
And just like that, Week 1 of the 2022 NFL season is already in the books.
And what an interesting week it was. We saw quite a few surprises, including the defending Super Bowl champion Los Angeles Rams getting blown out at home by the Buffalo Bills. Neither Josh Allen nor Matthew Stafford looked great early on. But at least Allen turned things around and wound up with one of the best QB performances of the week.
Stafford? Yeah, not so much. But look at this way, Rams fans. At least your boy didn't have the week Dak Prescott had. And at least you'll get to see him in Week 2. The same can't be said for Cowboys fans as they'll be without their star quarterback for the foreseeable future as the two-time Pro Bowler will miss the next six to eight weeks with a thumb injury.
But even before Prescott exited Dallas' opening-night matchup with Tom Brady and the Buccaneers, he wasn't playing good football whatsoever. If you would've told me Dak would be bringing up the rear in the opening week of our season-long quarterback competition, I would've laughed directly in your face.
But such is the case as we begin 18 weeks of progressive grading to determine the top NFL quarterback of 2022. You likely won't agree with every grade I hand out, but such is the enjoyment of sports, am I right? As it's just the first week, you'll see plenty of ties in the overall scoring, but that will certainly change as the season moves along.
So without further ado, let's hand out some Week 1 grades.
Dak Prescott, Dallas Cowboys (0-1)
Week 1 Stats: 14-29, 134 yards, 0 TD, 1 INT; 2 rushes, 11 yards
Week 1 Grade: D
After leading the Cowboys on a 54-yard drive to open the game, resulting in a field goal, Dak Prescott went cold the rest of the way. He lost a lot of weapons in the offseason and it showed on Sunday night.
Dak completed just one pass of 20 yards or more, a 22-yard hookup with Noah Brown, who led all Dallas receivers with 68 yards.
When Prescott left the game in the fourth quarter after taking multiple shots to his throwing hand, Cooper Rush came on in relief and completed seven of 13 passes for 64 yards. Unless the Cowboys bring someone else in, that's who you'll see on this list next week.
2022 NFL Season Score: 65
Jacoby Brissett, Cleveland Browns (0-1)
Week 1 Stats: 18-34, 147 yards, 1 TD, 0 INT; 4 rushes, 10 yards
Week 1 Grade: D
Cleveland Browns fans certainly have plenty to be excited about in getting a win over Baker Mayfield and the Carolina Panthers. But please don't pretend Jacoby Brissett looked like an NFL starting quarterback in said victory.
The journeyman has never been the most accurate passer, holding a career completion percentage of 60%. But Brissett was even worse against Carolina, completing just 52.9% of his throws on Sunday. Thankfully for the Browns, Nick Chubb had a big day with 141 yards on the ground.
And Cade York saved the day with a 58-yard field goal with eight seconds remaining to give Cleveland a two-point win.
2022 NFL Season Score: 65
Aaron Rodgers, Green Bay Packers (0-1)
Week 1 Stats: 22-34, 195 yards, 0 TD, 1 INT; 1 rush, -1 yard
Week 1 Grade: C-
lf Aaron Rodgers wants to win a third consecutive NFL MVP, he'll need much better games than the one he played in Minnesota on Sunday.
For the second straight year, the Green Bay Packers were embarrassed in their season opener. Rodgers looked merely average and was visibly upset several times throughout the game. His offensive line didn't do him a ton of favors, nor did his receiving corps.
The absence of Davante Adams was glaring and Rodgers will need his new guys to shape up sooner rather than later. He should be in line for a nice bounceback performance in Week 2 against the rival Bears.
2022 NFL Season Score: 71
Derek Carr, Las Vegas Raiders (0-1)
Week 1 Stats: 22-37, 295 yards, 2 TD, 3 INT
Week 1 Grade: C-
Sure, Derek Carr threw for nearly 300 yards and a pair of touchdowns in Sunday's loss to Los Angeles. But he didn't even reach the 60% mark in completion percentage and also threw three passes to the Chargers' defense, which gave the three-time Pro Bowler fits all afternoon long.
It was just the third three-interception game of Carr's nine-year career and he'll certainly want to avoid any more of those this season if he and his Raiders want to keep up in a tough AFC West.
2022 NFL Season Score: 71
Trey Lance, San Francisco 49ers (0-1)
Week 1 Stats: 13-28, 164 yards, 0 TD, 1 INT; 13 rushes, 54 yards
Week 1 Grade: C-
The only thing keeping Trey Lance from a D score was the nasty conditions at Soldier Field in the 49ers' opener against the Bears.
The dozen penalties didn't do San Francisco any favors, but Lance's lackluster play didn't help. He completed just 46.4% of his passes, which could've been due to wet footballs. But he never truly looked comfortable out there and the Niners' brass has to be wondering if they've made the right call in sitting Jimmy Garoppolo.
Lance will get a chance to silence the haters in Week 2 at home against the rival Seahawks.
2022 NFL Season Score: 71
Matthew Stafford, Los Angeles Rams (0-1)
Week 1 Stats: 29-41, 240 yards, 1 TD, 3 INT
Week 1 Grade: C-
It certainly can't be fun to have banner night wrecked, but that's exactly what happened to the LA Rams on Thursday night. And it was certainly a humbling evening for Matthew Stafford.
After a storybook 2021 campaign that saw the former Lions signal-caller finally get a real shot at a title, Stafford was roughed up by a formidable Bills defense that sacked him seven times and forced three interceptions. He won't face quite the challenges he did this past week as the Rams host the Falcons in Week 2.
2022 NFL Season Score: 71
Joe Burrow, Cincinnati Bengals (0-1)
Week 1 Stats: 33-53, 338 yards, 2 TD, 4 INT; 6 rushes, 47 yards
Week 1 Grade: C-
This couldn't have been the start Joe Burrow was looking for as the Bengals attempt to get back to the Super Bowl.
Sure, last season's Comeback Player of the Year threw for 338 yards and two touchdowns. But those numbers were severely overshadowed a career-high five turnovers as Burrow threw four picks and lost one of two fumbles on the afternoon. He'll look to bounce back in Week 2 against the Dallas Cowboys.
2022 NFL Season Score: 71
Justin Fields, Chicago Bears (1-0)
Week 1 Stats: 8-17, 121 yards, 2 TD, 1 INT; 11 rushes, 28 yards
Week 1 Grade: C
As it was with Trey Lance, Justin Fields' score would have been lower had it not been for the nasty Windy City weather.
Sure, he threw a pair of touchdown passes and brought the Bears back from a halftime deficit to secure a surprise Week 1 win. But let's not pretend his performance was pretty. Fields completed just 47.1% of his passes and wasn't much better on the ground, rushing for just 28 yards on 11 carries.
He did enough to get a victory Sunday, but performances like that won't continue to win the Bears games moving forward.
2022 NFL Season Score: 75
Jared Goff, Detroit Lions (0-1)
Week 1 Stats: 21-37; 215 yards, 2 TD, 1 INT; 2 rushes, 9 yards
Week 1 Grade: C
The good news for the Lions is that they scored 35 points, which they only did once a season ago. The bad news is that they actually could have put up much more.
Jared Goff, who played decently enough with 215 yards and two touchdown passes, missed a lot of open receivers in the loss and made some overly difficult throws. He even admitted after the game he shot himself in the foot several times and that Detroit could have put up 50, which is true.
2022 NFL Season Score: 75
Mitchell Trubisky, Pittsburgh Steelers (1-0)
Week 1 Stats: 21-38, 194 yards, 1 TD, 0 INT; 3 rushes, 9 yards
Week 1 Grade: C
Nobody is ever going to mistake Mitchell Trubisky for Ben Roethlisberger. But the 2017 No. 2 overall pick did just enough to give the Pittsburgh Steelers a Week 1 win over the reigning AFC champion Cincinnati Bengals.
Trubisky wasn't overly accurate on the day, completing just 55.3% of his passes, but he completed the throws he needed to as the Steelers' rushing attack didn't help much. Sorry, Steelers nation. Mitch didn't play poorly enough to get Kenny Pickett into the rotation — at least not yet.
2022 NFL Season Score: 75
Joe Flacco, New York Jets (0-1)
Week 1 Stats: 37-59, 307 yards, 1 TD, 1 INT; 1 rush, 0 yards
Week 1 Grade: C
You have to try really hard to throw 59 passes and score just nine points, but that's exactly what Joe Flacco did for the Jets on Sunday against his former team.
Of course, not everything with the New York offense was Flacco's fault. The pass protection was lousy, and his receivers dropped several passes. Nevertheless, that didn't stop Jets fans from calling for Mike White a few times in the second half. With Zach Wilson out until at least Week 4, it's hard to say what happens with Gang Green the next two weeks.
2022 NFL Season Score: 75
Mac Jones, New England Patriots (0-1)
Week 1 Stats: 21-30, 213 yards, 1 TD, 1 INT; 2 rushes, 0 yards
Week 1 Grade: C+
Mac Jones was easily one of the best rookie quarterbacks in 2021, but the second-year Alabama product looked merely average in the Patriots' season-opening loss to the Dolphins.
But it was also announced after the game that Jones was suffering from a back injury and received an X-ray so that certainly could have played into his subpar performance. He led New England on a scoring drive to open the second half, but that was the only offense Bill Belichick's boys could muster against a tough Miami defense.
2022 NFL Season Score: 78
Baker Mayfield, Carolina Panthers (0-1)
Week 1 Stats: 16-27, 235 yards, 1 TD, 1 INT; 5 rushes, 6 yards, 1 TD
Week 1 Grade: C+
Baker Mayfield was obviously looking for a different result playing his former team in Week 1 and he nearly brought the Panthers back from a 13-point fourth-quarter deficit to pull out a victory.
The 2017 Heisman Trophy winner scored on a seven-yard run, hit Robbie Anderson for a 75-yard touchdown pass, and led Carolina on a 64-yard drive to set up Eddy Pineiro's go-ahead field goal with just over a minute to play.
But it wasn't quite enough. Mayfield & Co. will look to bounce back in Week 2 against the Giants.
2022 NFL Season Score: 78
Marcus Mariota, Atlanta Falcons (0-1)
Week 1 Stats: 20-33, 215 yards, 0 TD, 0 INT; 12 rushes, 72 yards, 1 TD
Week 1 Grade: C+
Making his first start since 2019, Marcus Mariota didn't play a horrible football game in the Falcons' heartbreaking season-opening loss to the Saints, but he didn't play a spectacular one either.
The 2015 No. 2 overall pick certainly doesn't have the same passing skill set as his predecessor, Matt Ryan, but did show off his legs a touch, rushing for 72 yards and a touchdown. He was efficient enough, completing 60.6% of his throws, but he'll need to more as Atlanta moves forward.
2022 NFL Season Score: 78
Lamar Jackson, Baltimore Ravens (1-0)
Week 1 Stats: 17-30, 213 yards, 3 TD, 1 INT; 6 rushes, 17 yards
Week 1 Grade: B-
Mere hours after reportedly turning down a massive contract extension from the Baltimore Ravens, Lamar Jackson helped his team to a 24-9 opening-week win over the New York Jets.
This wasn't the typical performance we're used to seeing from Jackson, who only ran the ball six times for 17 yards. He didn't throw the ball particularly well either, completing just 56.7% of his passes. But the 2019 NFL MVP did toss three touchdown passes, including a stunning 25-yard strike to Devin Duvernay late in the first half to give Baltimore a 10-point lead.
Jackson was solid enough to beat the Jets but will undoubtedly need to be better when the Ravens match up with stronger teams.
2022 NFL Season Score: 81
Kyler Murray, Arizona Cardinals (0-1)
Week 1 Stats: 22-34, 193 yards, 2 TD, 0 INT; 5 rushes, 29 yards
Week 1 Grade: B-
Did Kyler Murray play a game worthy of that monster contract he signed? No. But he played solid football and certainly wasn't why the Cardinals got rolled by the Chiefs, 44-21. But it should be noted that much of his production came when Kansas City was well in control.
The absence of DeAndre Hopkins was certainly felt, and Murray and the Cards will need to figure some things out before next Sunday's matchup with the Raiders in Las Vegas.
2022 NFL Season Score: 81
Trevor Lawrence, Jacksonville Jaguars (0-1)
Week 1 Stats: 24-42, 275 yards, 1 TD, 1 INT; 2 rushes, 4 yards
Week 1 Grade: B-
Trevor Lawrence certainly looked much more comfortable to start his second NFL season. His accuracy still needs plenty of work (look no further than the attempted Etienne pass), but the sophomore star put the Jaguars in position to win their season opener against the Washington Commanders, and that's really all Jacksonville fans could ask for at this juncture.
The overall inexperience shone brightly late in the fourth quarter when Lawrence threw an ugly interception, his only pick of the game, with 1:10 remaining. But there was a lot to like, and one has to think he's only going to continue to improve.
2022 NFL Season Score: 81
Jalen Hurts, Philadelphia Eagles (1-0)
Week 1 Stats: 18-32, 243 yards, 0 TD, 0 INT; 17 rushes, 90 yards, 1 TD
Week 1 Grade: B-
Eagles fans likely won't like the B- grade here for Jalen Hurts, who accounted for 333 yards of offense in Philly's 38-35 win over the Lions.
But I've got no problem with it as the third-year QB continues to struggle with his accuracy, completing just 56.2% of his passes on Sunday. And, yes, I understand several of those incompletions were to avoid sacks, so don't think that was lost on me.
And, yes, he ran for 90 yards and a score, whichchangeds the defensive schemes against him. But with such a talented group of receivers, Hurts will need to do better in the air if the Eagles want a deep postseason run.
2022 NFL Season Score: 81
Tom Brady, Tampa Bay Buccaneers (1-0)
Week 1 Stats: 18-27, 212 yards, 1 TD, 1 INT; 2 rushes, -1 yard
Week 1 Grade: B
If Tom Brady is going to break every NFL single-season passing record — which many projected him to do — he'll certainly have to kick things up a notch.
That's not to say the seven-time Super Bowl champ had a bad night for the Bucs. Because he didn't. Outside of one poor throw, the interception to Donovan Wilson, Brady was in complete control of the Tampa offense and improved his record against the Cowboys to 7-0. Solid start for TB12.
2022 NFL Season Score: 85
Daniel Jones, New York Giants (1-0)
Week 1 Stats: 17-21, 188 yards, 2 TD, 1 INT; 6 rushes, 25 yards
Week 1 Grade: B
Anyone have Daniel Jones completing 80% of his passes in a Giants upset on the road over the Titans in some wild parlay? Because that's what we saw in Nashville on Sunday.
Once down 13 points, New York battled back to take down the AFC's No. 1 seed from a year ago with solid play from their fourth-year QB, one whose fifth-year option wasn't picked up and is playing for a job somewhere in 2023. Was Jones spectacular? No. But he did what needed to be done to win his team the game.
2022 NFL Season Score: 85
Ryan Tannehill, Tennessee Titans (0-1)
Week 1 Stats: 20-33, 2 TD, 0 INT; 2 rushes, 7 yards
Week 1 Grade: B
Ryan Tannehill certainly wasn't the reason the Titans fell to the Giants at home.
The 10-year veteran played a mostly clean game, taking just one sack and throwing no interceptions, and it seemed as if Tennessee would cruise to victory against a team that went 4-13 a season ago. But a late score and two-point conversion from New York combined with a missed 47-yard field goal from Randy Bullock as time expired nullified that notion.
2022 NFL Season Score: 85
Geno Smith, Seattle Seahawks (1-0)
Week 1 Stats: 23-28, 195 yards, 2 TD, 0 INT; 6 rushes, 14 yards
Week 1 Grade: B
Well, who saw this coming? With all due respect to the 2013 second-round pick, I don't think many expected the performance we got from Geno Smith in the Seahawks' surprise Week 1 win over Denver.
Given the pressure of Russell Wilson's return to Seattle in a Broncos uniform, the entire NFL world watching on Monday Night Football, and his first opening-week start since 2014, the longest gap between Week 1 starts in league history, Smith was dynamite in the first half, completing 17 of 18 passes with a pair of touchdowns.
He cooled off a touch in the second half, but this was fun to watch. Geno said before the game that he was ready for the moment and went out and backed it up. This was certainly one of the best stories of Week 1. Now we just have to see if he can keep it up.
2022 NFL Season Score: 85
Tua Tagovailoa, Miami Dolphins (1-0)
Week 1 Stats: 23-33, 270 yards, 1 TD, 0 INT; 2 rushes, 0 yards
Week 1 Grade: B
So it certainly didn't take long for Tua Tagovailoa to warm up to new Dolphins wideout Tyreek Hill, did it? The two hooked up eight times for 94 yards, but Hill was just one of nine players with whom Tua connected in a 20-7 win over the Patriots.
Tagovailoa was easily the better Alabama quarterback on the field at Hard Rock Stadium and completed nearly 70% of his passes, up a few points from his 2021 numbers. He'll face the Pittsburgh Steelers next but won't have to worry about T.J. Watt bearing down on him.
2022 NFL Season Score: 85
Jameis Winston, New Orleans Saints (1-0)
Week 1 Stats: 23-34, 269 yards, 2 TD, 0 INT; 2 rushes, 9 yards
Week 1 Grade: B
It was difficult to know what to expect from the new-look Saints on Sunday. With a new head coach, some new faces, and plenty of high-profile players coming back from injuries, New Orleans certainly didn't look great early on in the season opener against the Falcons.
But Jameis Winston, one of those guys coming back from injury, led his team back from a 16-point fourth-quarter deficit to earn a one-point win. He led a pair of quick touchdown drives and got back in sync with Michael Thomas, who caught five passes for 57 yards and those two late scores in his first game since 2020.
Winston took a few sacks, but didn't throw an interception, which is nothing but good news as that's been a big issue for him in the past.
2022 NFL Season Score: 85
Russell Wilson, Denver Broncos (0-1)
Week 1 Stats: 29-42, 340 yards, 1 TD, 0 INT; 1 rush, 2 yards
Week 1 Grade: B
The narrative, of course, is that Russell Wilson lost to the Seattle Seahawks on Monday night. But let's get real here. Wilson is not the reason the Denver Broncos lost that game.
Did Wilson fumble twice on the goal line? Nope. Did Wilson make the decision to kick a 64-yard field goal with 15 seconds left on the clock? Nope. On the other end of the spectrum for the first time in the hostile environment that is Lumen Field, the nine-time Pro Bowler played well, completing 69% of his passes with a touchdown and no picks.
Are there a few issues to work out with his new mates? Sure. But Wilson will be just fine moving forward in the orange and blue.
2022 NFL Season Score: 85
Carson Wentz, Washington Commanders (1-0)
Week 1 Stats: 27-41, 313 yards, 4 TD, 2 INT; 6 rushes, 12 yards
Week 1 Grade: B
Playing in front of his old coach, Doug Pederson, Carson Wentz had his first four-touchdown game since the day he tore his ACL five years ago as a member of the Eagles.
Take away the two interceptions he threw on two straight passes, and Wentz would be much higher on this list. There were certainly other mistakes, but the fact that he came back after the two picks to throw two touchdowns to give Washington its first win under the Commanders moniker showed a lot.
2022 NFL Season Score: 85
Matt Ryan, Indianapolis Colts (0-0-1)
Week 1 Stats: 32-50, 352 yards, 1 TD, 1 INT; 4 rushes, 12 yards
Week 1 Grade: B
lf this were a piece with overall team grades, I wouldn't be kind to the Indianapolis Colts, who were expected to obliterate the Houston Texans to open their 2022 campaign.
But as this is a quarterback piece, I think a "B" for Matt Ryan is just fine. I certainly didn't expect him to throw 50 passes in his Colts debut, but he at least completed 64% of them. And he rallied Indy back in the fourth quarter when it truly looked as if we were about to witness the biggest Week 1 upset.
He led three straight scoring drives in the final frame to get the Colts to overtime, where nobody could do anything, resulting in a 20-20 tie. Seriously, the league has to figure something out here with these ties. But we'll save that for another day.
2022 NFL Season Score: 85
Davis Mills, Houston Texans (0-0-1)
Week 1 Stats: 23-37, 240 yards, 2 TD, 0 INT; 2 rushes, -1 yard
Week 1 Grade: B+
Go ahead and knock this grade all you like, but young Davis Mills earned it. The Texans weren't supposed to compete in their opening-week matchup with the Colts at all, but the second-year Stanford product kept his team in position for an upset throughout.
Sure, Mills took a couple of sacks in overtime, but Houston fans have to like what they saw in this first official season without Deshaun Watson under center.
2022 NFL Season Score: 88
Josh Allen, Buffalo Bills (1-0)
Week 1 Stats: 26-31, 297 yards, 3 TD, 2 INT; 10 rushes, 56 yards, 1 TD
Week 1 Grade: A-
Take away the two picks, and Josh Allen likely earns an A+ for his Week 1 performance against the defending champs.
Easily one of the leading candidates to win NFL MVP, the fifth-year phenom shook off the slow start to account for four touchdowns. His chemistry with Stefon Diggs, who hauled in eight passes for 122 yards and a score, looks better than ever, and I'd venture a guess that Allen will be near the top of our list throughout the '22 campaign.
2022 NFL Season Score: 91
Kirk Cousins, Minnesota Vikings (1-0)
Week 1 Stats: 23-32, 277 yards, 2 TD, 0 INT
Week 1 Grade: A
I've been telling anyone who'll listen that Kirk Cousins will have better numbers than Aaron Rodgers this season, and that was certainly the case on Sunday.
Does it help to have a guy like Justin Jefferson on your team? Yep. But Cousins hit six other guys in the Vikings' dominating win over the Packers and connected on 71.9% of his passes, a solid jump over his career average of 66.9%.
And the three-time Pro Bowler could be headed for another monster stat line in Week 2 as Minnesota takes on an Eagles defense that just gave up 35 points to the Detroit Lions.
2022 NFL Season Score: 95
Justin Herbert, Los Angeles Chargers (1-0)
Week 1 Stats: 26-34, 279 yards, 3 TD, 0 INT; 4 rushes, 1 yard
Week 1 Grade: A
The Los Angeles Chargers have plenty of new faces, and Justin Herbert made a few of them feel quite comfortable in their debut in powder blue.
When Keenan Allen left the game early with a hamstring injury, Mike Williams got a lot of attention. So Herbert simply adjusted.
The third-year star hit nine different receivers in the win over the Raiders, and his three touchdown passes were to guys playing their first game in a Chargers uniform: DeAndre Carter, Gerald Everett, and seventh-round rookie Zander Horvath.
2022 NFL Season Score: 95
Patrick Mahomes, Kansas City Chiefs (1-0)
Week 1 Stats: 30-39, 360 yards, 5 TD, 0 INT; 3 rushes, 5 yards
Week 1 Grade: A+
Outside of those pesky nine incompletions and one little fumble that Kansas City didn't even lose, Patrick Mahomes played essentially a perfect game of football to open the 2022 season. And he did so in front of his college coach, Kliff Kingsbury, whose Cardinals defense had no answer for the 2018 NFL MVP.
Mahomes certainly didn't seem to miss Tyreek Hill in the slightest as he connected with nine different targets, including 10 completions for 123 yards to new additions JuJu Smith-Schuster and Marquez Valdes-Scantling.
Sixteen more games even close to this, and we'll be calling Mahomes the 2022 NFL MVP.
2022 NFL Season Score: 100
Stats courtesy of Pro Football Reference
Like Sportscasting on Facebook. Follow us on Twitter @sportscasting19 and subscribe to our YouTube channel.