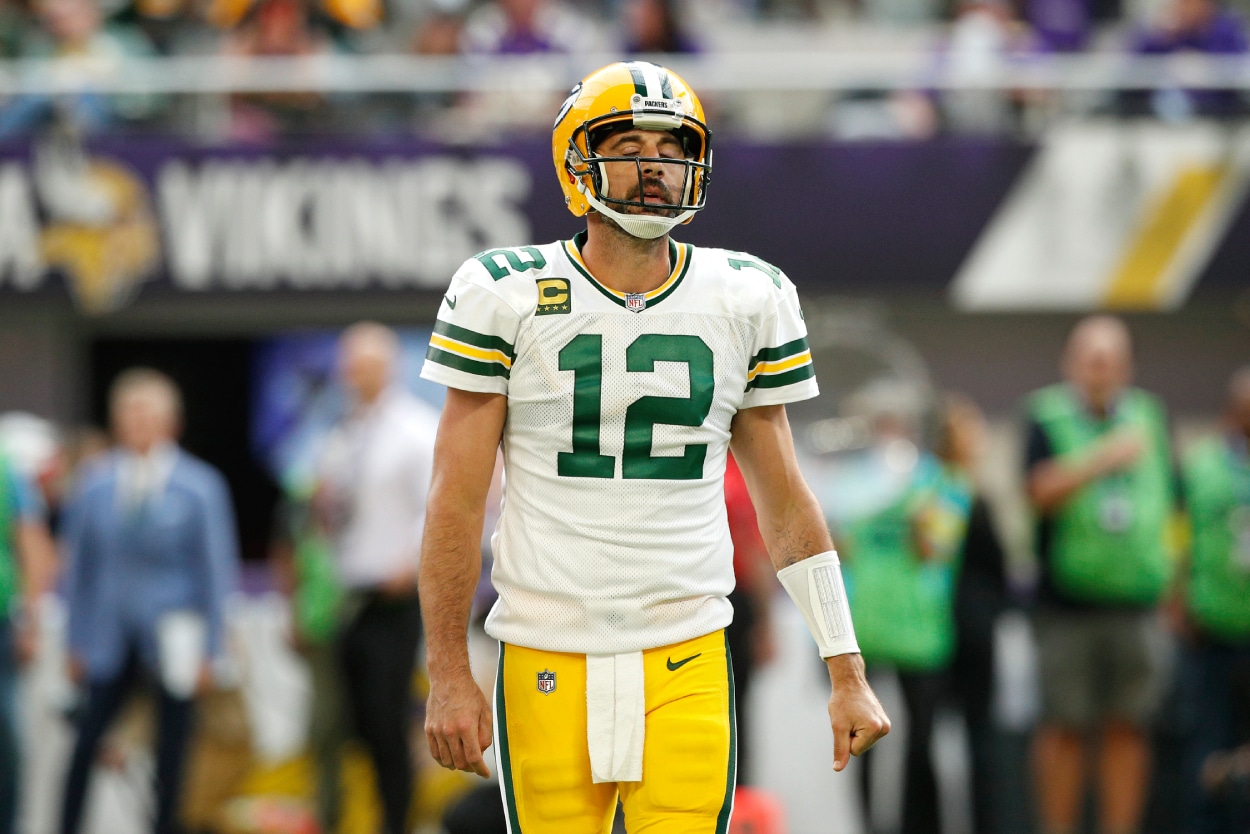 The Green Bay Packers Need to Regroup After Baffling Numbers Stand Out in Embarrassing Week 1 Loss
Aaron Rodgers and the Green Bay Packers had a day they'd like to forget on Sunday.
Here's the good news for Green Bay Packers fans: Sunday's loss wasn't as bad as last year's Week 1 debacle. The bad news? Quarterback Aaron Rodgers doesn't have Davante Adams to fall back on this year.
The departure of Adams clearly affected Rodgers and the Packers in Sunday's 23-7 loss to the Minnesota Vikings. The Green Bay offense was completely out of sync, and some of the Packers' offensive statistics were quite baffling.
Green Bay Packers torched by the Minnesota Vikings in season opener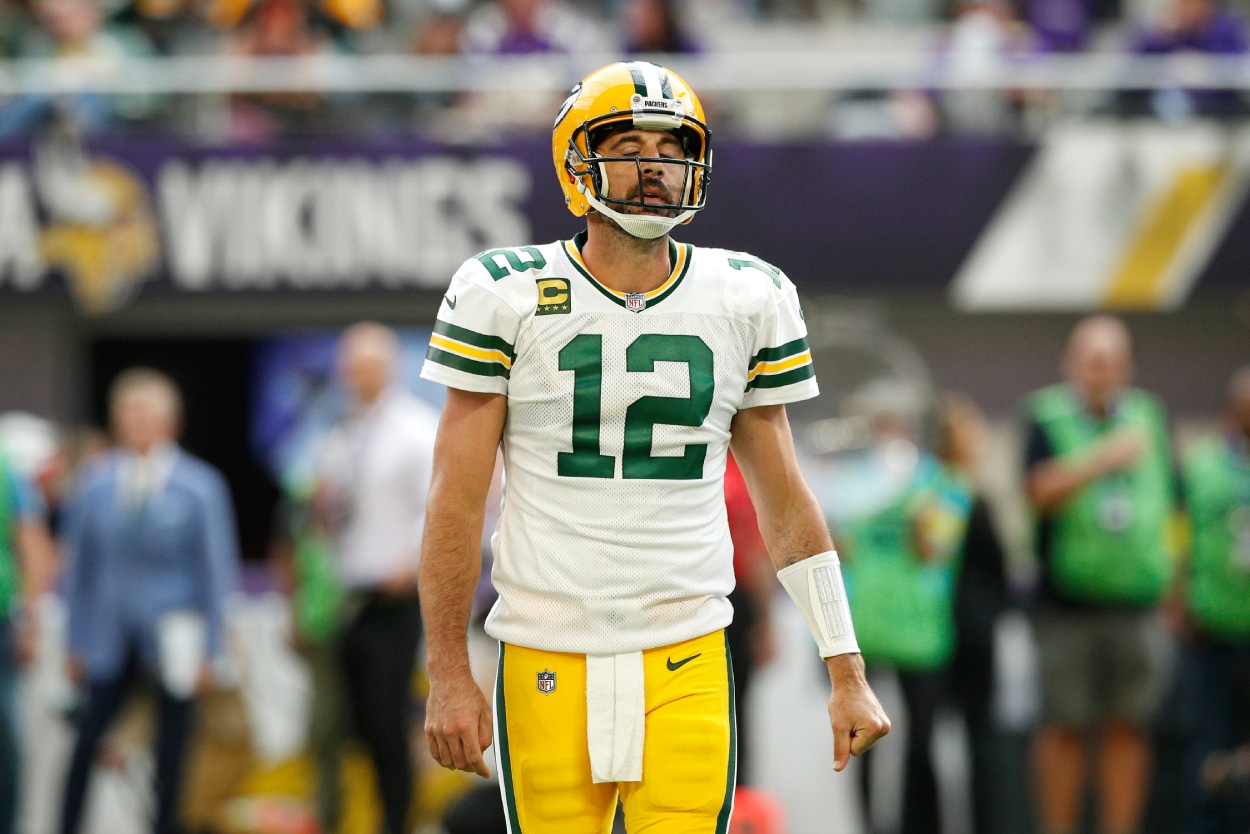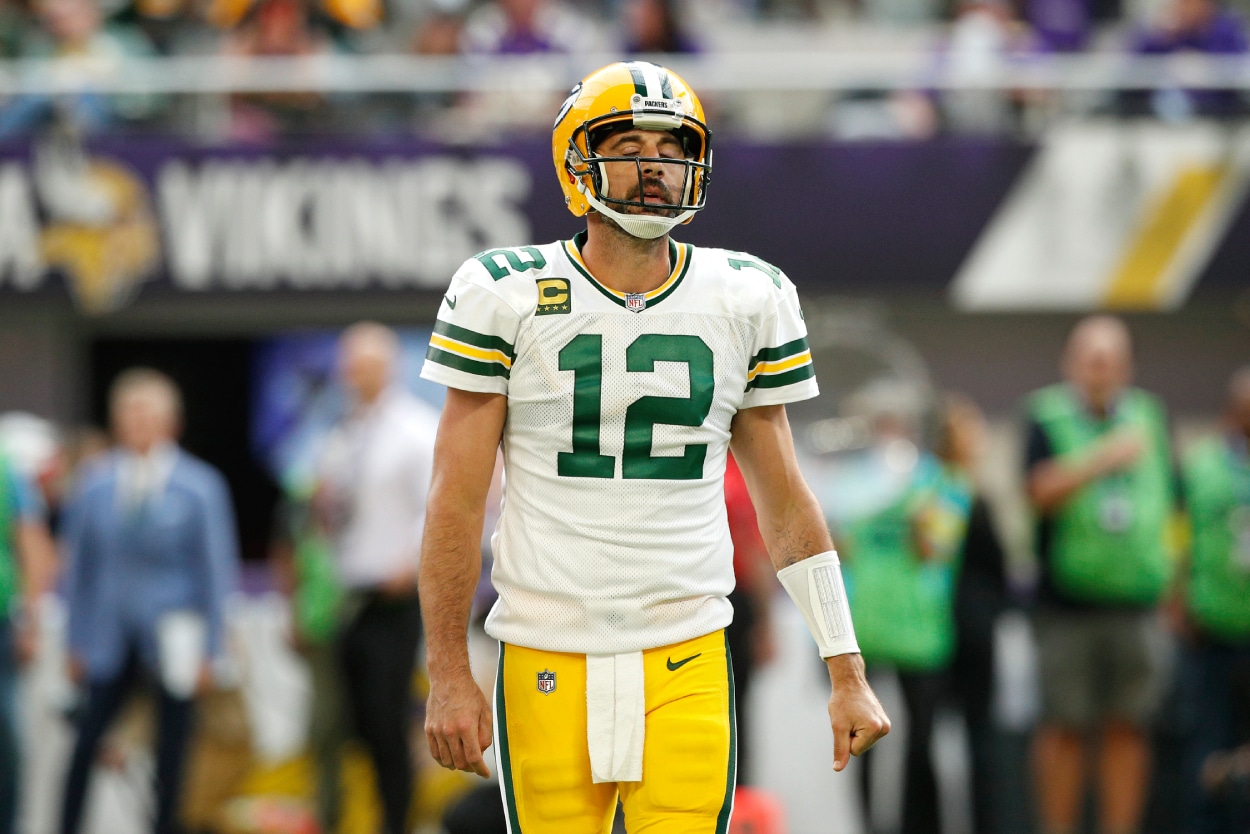 Last season, the Packers started off on the wrong foot in a 38-3 loss to the New Orleans Saints. Rodgers and the Pack bounced back nicely, capturing the NFC North and earning the top seed in the conference. Optimism can't be nearly as high this year.
Rodgers clearly missed his top receiver of a year ago. Adams, traded by the Packers to the Las Vegas in the offseason, caught 123 passes last year in Green Bay. He and Rodgers developed a rapport in their eight years playing together.
With Adams gone, Rodgers has no clear-cut No. 1 receiver. Allen Lazard, expected to open the season as the primary target, didn't play because of an ankle injury. Rodgers was sacked four times behind a depleted offensive line.
Rookie Christian Watson dropped what likely would have been a long touchdown reception on Green Bay's first snap of the game. From there, it was all Vikings. Minnesota held a 17-0 lead at halftime and extended it to 20-0, while the Packers were completely outplayed.
"There's expectation for whoever's in there, that they're going to play well," said Rodgers, who completed 22 of 34 passes for 195 yards, per ESPN. "We had a lot of chances today. I'm not taking anything away from their defense, but we hurt ourselves many times, myself included."
The numbers for the Packers were baffling
Checking out the result of Sunday's Packers game and scouring the stats can only leave you scratching your head. Green Bay's questionable receiving corps was no secret. The rookies struggled, and it was damaging.
Minnesota wide receiver Justin Jefferson outgained all of Green Bay's wide receivers through the air 184-120. He torched the Packers all game, finishing with a pair of touchdown receptions.
"They put him in premier spots and attacked our coverages well. Certainly we had a ton of blown coverages as well where we're cutting him loose," Packers head coach Matt LaFleur said. "If there's anybody you don't want to cut loose, it's No. 18."
Even Adams, in a loss to the Los Angeles Chargers, finished with more receiving yards than Green Bay's entire wide receivers group, with 141 yards on 10 catches.
With Green Bay's struggles through the air, one would think their potent running attack led by Aaron Jones and AJ Dillon would help offset the struggling passing attack. Jones barely got the chance.
He had five carries and eight total touches all game. Despite the lack of touches, he still led the team in rushing.
"Any time Aaron Jones comes out of the game with eight touches, that's not good enough," LaFleur told reporters after the game. "That's not good enough."
Dillon, a bruising back who scored Green Bay's lone touchdown, led the team in receptions with five and receiving yards with 46. Statistically, not much in this game made a whole lot of sense on the Green Bay side.
The Pack went through this one year ago and bounced back nicely. If they want to repeat last year's success, they'll need a whole lot more from those young receivers and a little more usage from Jones.
Like Sportscasting on Facebook. Follow us on Twitter @sportscasting19 and subscribe to our YouTube channel.