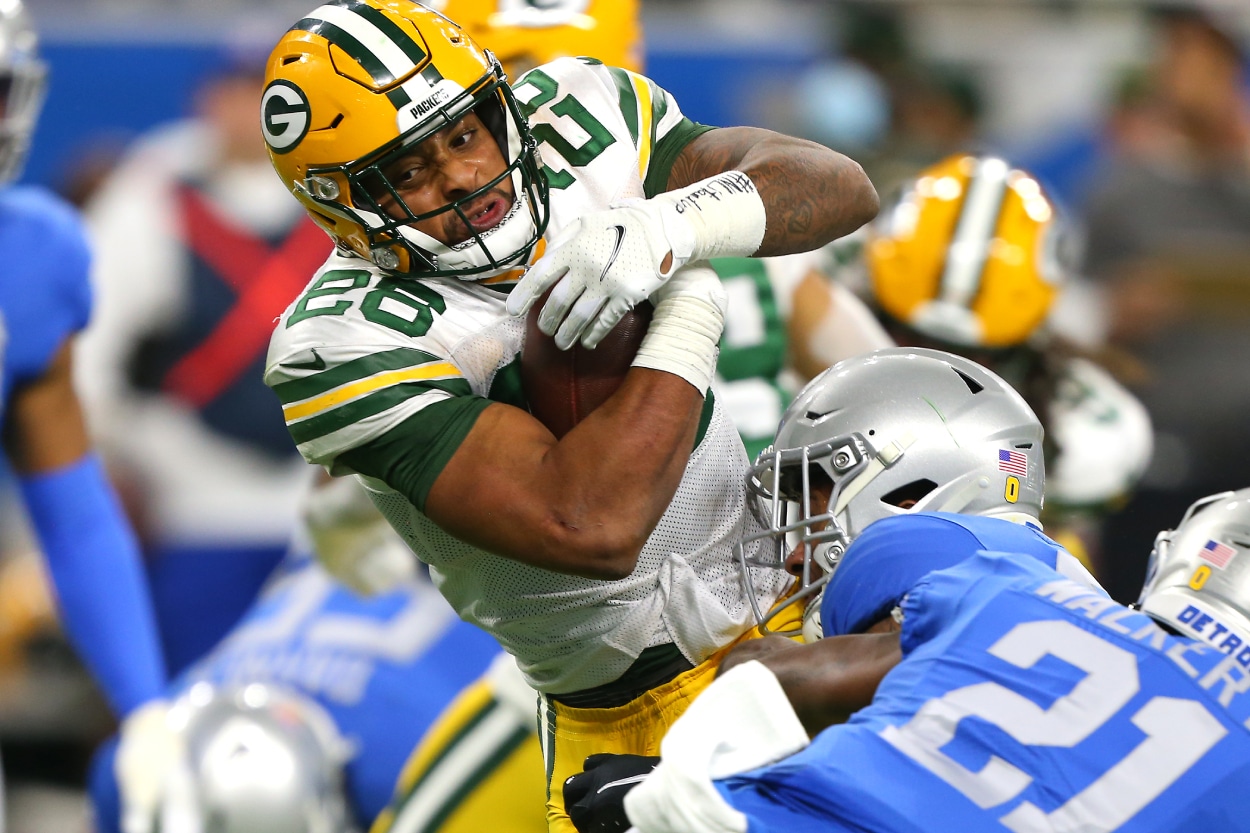 AJ Dillon Expected to Add More to His Already-Potent Power Game
AJ Dillon and Aaron Jones just might be the focal point of the Green Bay Packers offense this year.
Running back AJ Dillon was part of that bizarre 2020 Green Bay Packers draft. A second-round pick out of Boston College, Dillon was selected after Packers GM Brian Gutekunst traded up to snag Utah State quarterback Jordan Love in the first round.
While the Love pick certainly raised eyebrows, the selection of Dillion also was surprising. With quarterback Aaron Rodgers and running back Aaron Jones still playing at a high level, neither Love nor Dillon was likely to see the field for a couple of years on a team that was one game away from a Super Bowl berth.
Well, those couple of years have passed, and Dillon is expected to become much more than the power back he is.
AJ Dillon joins Aaron Jones to give the Packers' ground game a solid 1-2 punch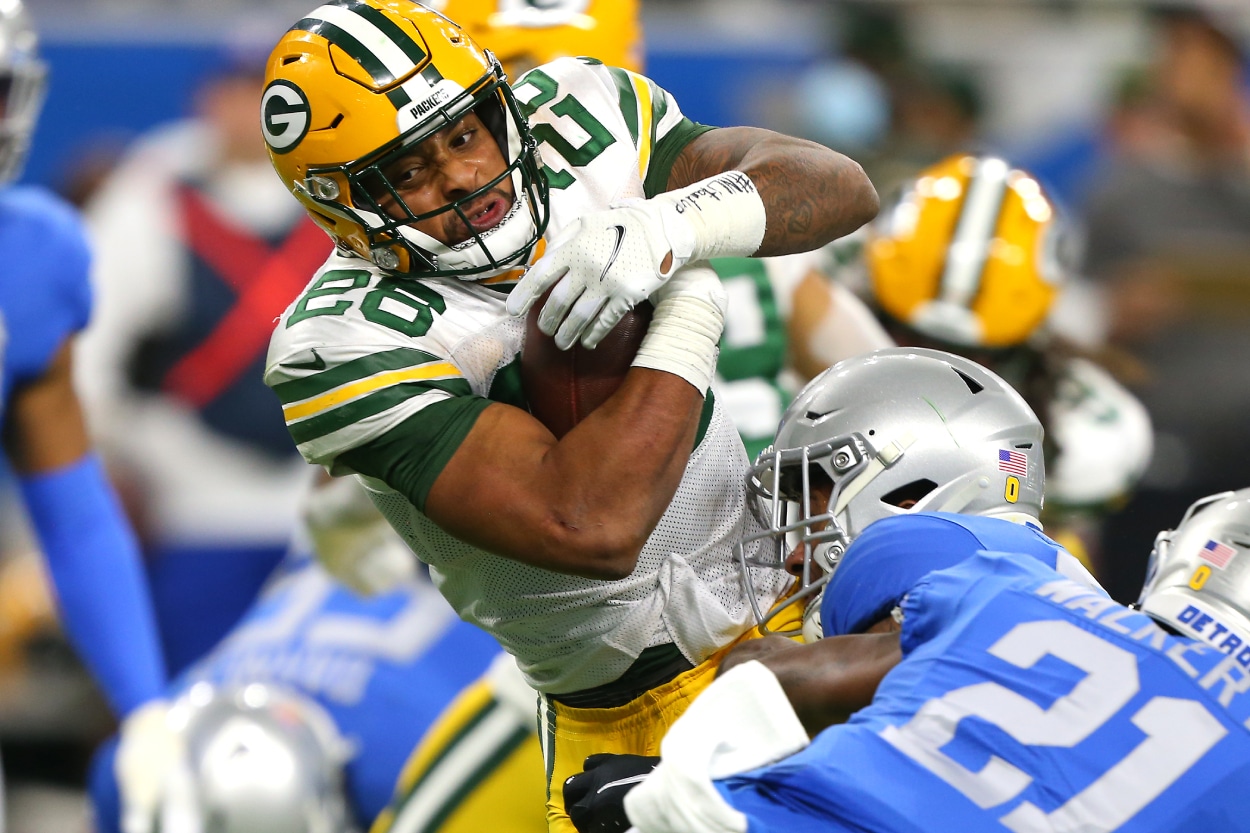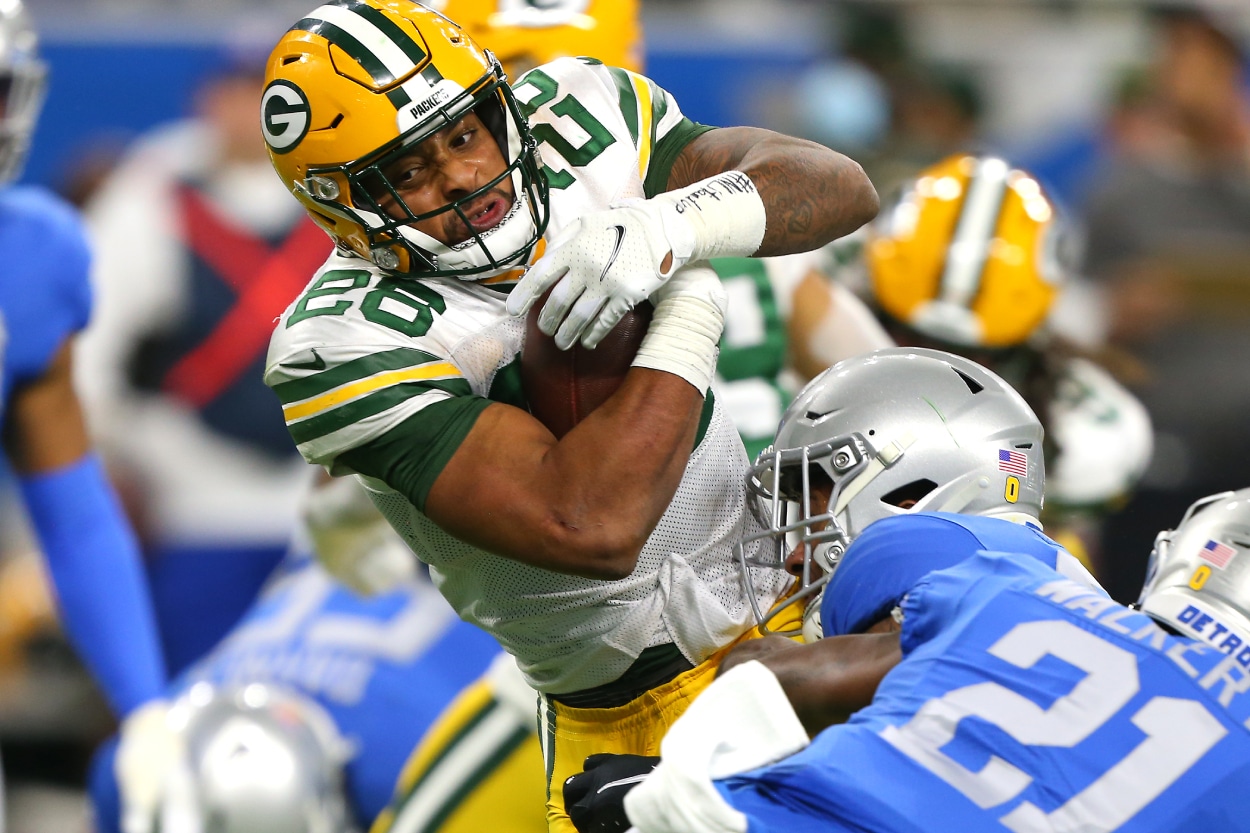 As Dillon enters his third season with the Packers, bigger things are expected from the 6-0, 247-pound bruising back. As a rookie, Dillon had just 46 carries in 11 games. He also had two catches for 21 yards.
He saw a much bigger role last season, appearing in all 17 games, starting two in place of the injured Jones. Dillon rushed 187 times, collecting 803 yards and five touchdowns. While Jones is the more elusive back, Dillon is the power back, giving the Packers a nice mix in the backfield.
With Green Bay's wide receiver situation questionable at best after the departure of veteran Davante Adams, it's likely Rodgers may rely on his ground game more than he has in the past.
After Tuesday's practice, Rodgers had some harsh words for his young receivers.
"A lot of mental errors, a lot of pre-snap penalties," he said. "Kind of been the theme of camp. Simple, simple plays we're messing up.
"You keep dropping the ball, you're not going to be out there. It's going to be the most reliable guys that are out there. The preparation and the job responsibility is most important."
Rodgers hinted at a lot more action from Dillon out of the backfield
The combination of Dillon's success last season and the team's questionable receiving corps means Rodgers' right arm might get some extra rest this year.
While Dillon typically came in to replace Jones, Rodgers said the Packers may have both backs in at the same time.
"We have runs to both of them, we have swing passes to them, we have screens, we have down-the-field stuff, we have action stuff, we have scat protection, we have six-man, seven-man protection stuff," Rodgers said, per Packers.com. "There's a lot in the offense for those two guys.
"We've got to get our best 11 on the field and it seems like those two are both in the best 11."
Rodgers said it was also realistic that both Dillon and Jones could have 50 catches this year.
Head coach Matt LaFleur didn't disagree.
"Not too many backs that size have those type of hands," he said Wednesday. "(Dillon) made the most of his opportunities. He's a really good route runner. That's not the first thing you think of when you see a guy that size."
Like Sportscasting on Facebook. Follow us on Twitter @sportscasting19 and subscribe to our YouTube channel.