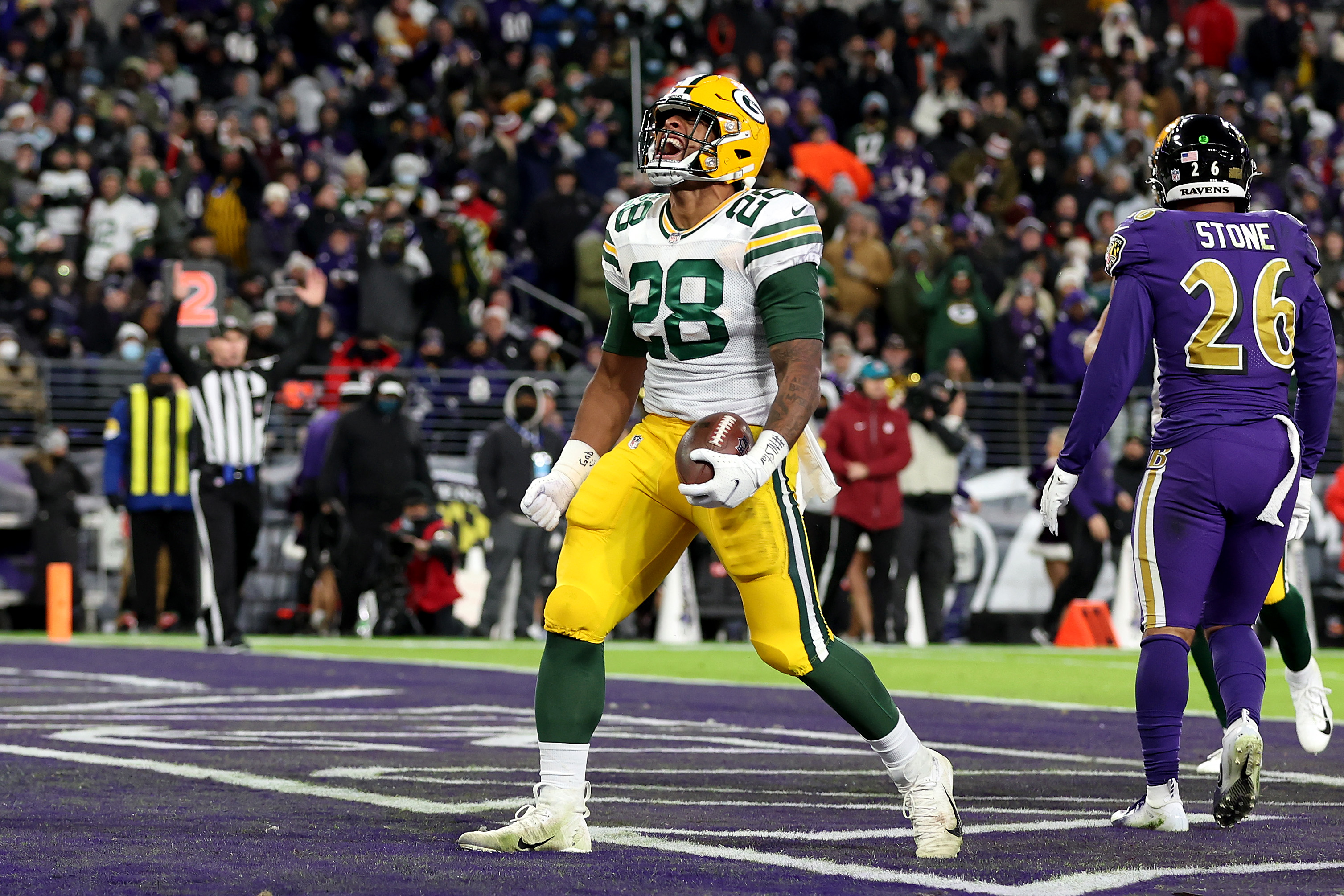 AJ Dillon's 1st Hit of the 2022 Season Is a Devastating One
Green Bay Packers running back AJ Dillon didn't show any mercy on "Elvis" on Saturday.
Looks like Green Bay Packers running back AJ Dillon is already in midseason form. Dillon is a running back with the mindset of a linebacker and is ready to team with Aaron Jones to give the Packers one of the NFL's best backfield combinations.
The third-year back out of Boston College is a bruiser. He loves to deliver a hit to anyone in his way. Just ask "Elvis."
AJ Dillon should see plenty of action in 2022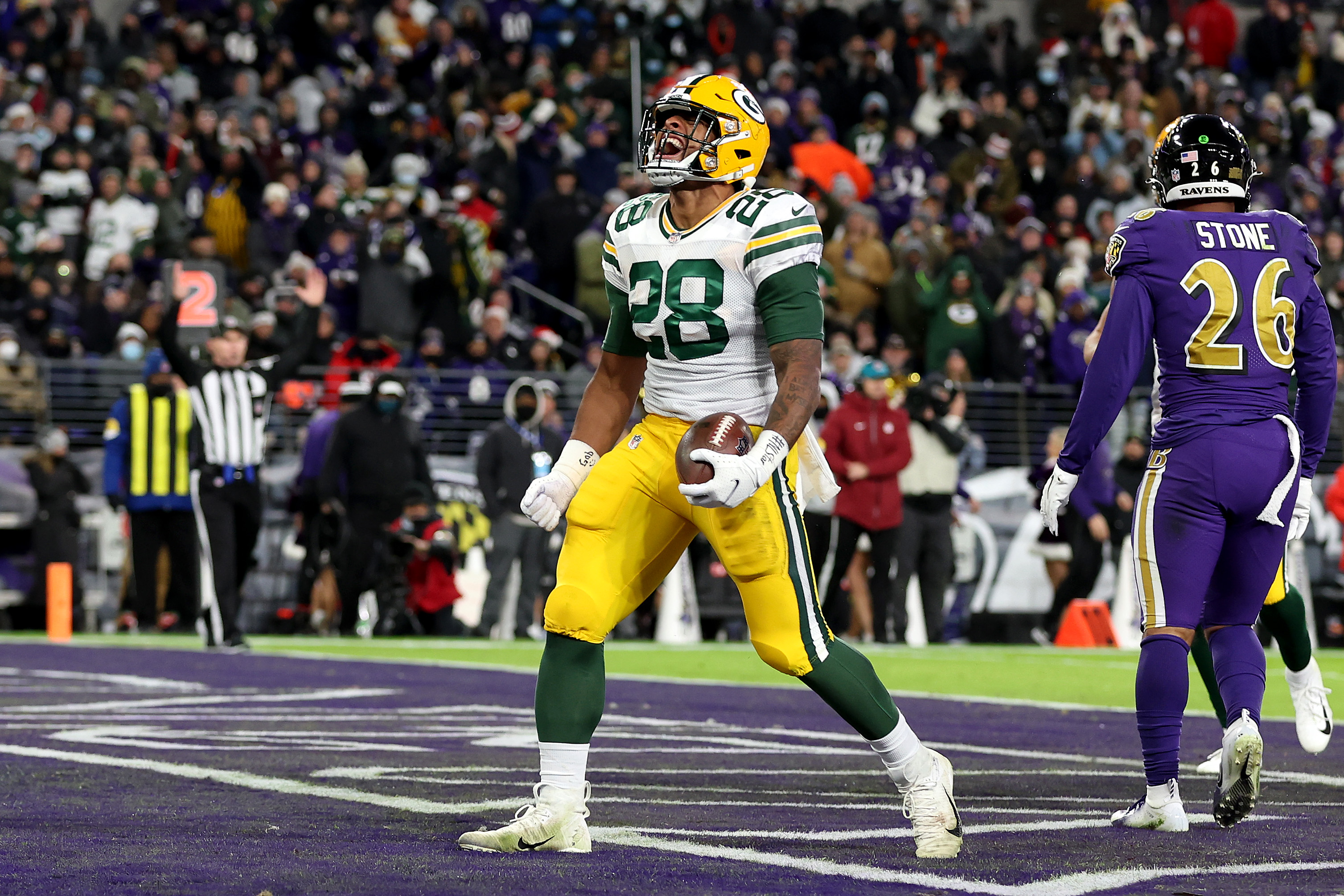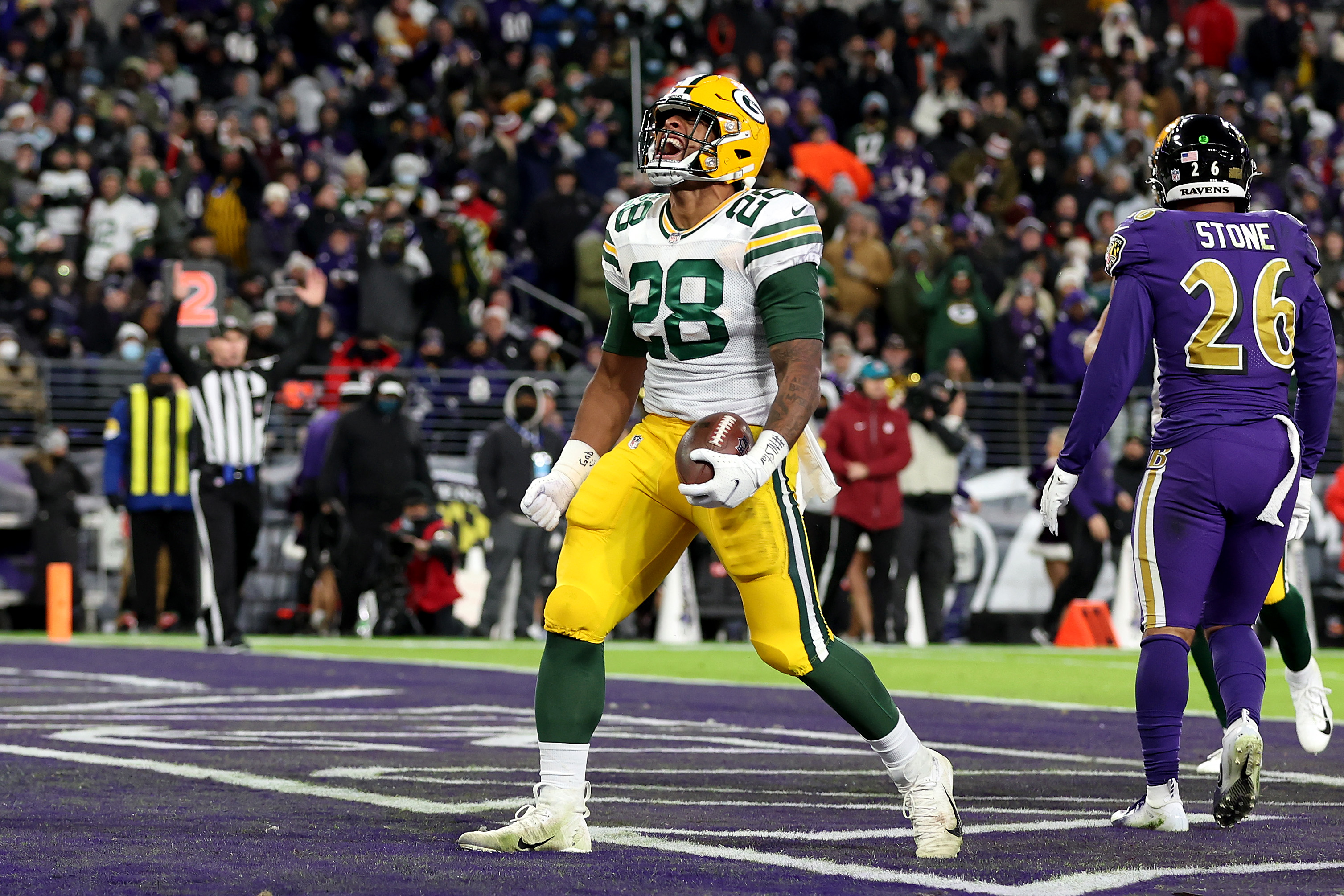 Dillon was part of that bizarre Packers 2020 draft. Fresh off a berth in the NFC title game, the Packers were maybe a player or two away from getting over the hump and back to the Super Bowl. Instead of drafting an immediate need, GM Brian Gutekunst drafted for the future.
Gutekunst infamously traded up in the first round to draft quarterback Jordan Love, a move that seemingly triggered a war between the Packers front office and quarterback Aaron Rodgers. With the second pick, they selected Dillon, despite having Pro Bowl running back Aaron Jones in place.
Three years later, Dillon should see a heavy dose of action in the backfield.
With premier wide receiver Davante Adams having been traded to the Las Vegas Raiders in the offseason, the Packers receiving corps is questionable. There's no true No. 1 target, which means the Pack might rely quite a bit more on Jones and Dillon to take some of the pressure off Rodgers.
Dillon had just 46 rushing attempts in 11 games during his rookie year but broke out last year despite sharing time with Jones. Dillon racked up 803 yards on 187 carries and finished with five touchdowns. He also proved to be a factor in the passing game, catching 34 balls for 313 yards and a pair of scores.
Dillon's first hit of the season sent 'Elvis' flying
It's clear Dillon's ready to go in 2022. He proved it on Saturday at a softball fund-raiser in Kenosha, Wisconsin.
Dillon participated in the Kenosha Kingfish's celebrity softball game that featured several current and former Packers players, including Jordan Love and Dorsey Levens. The Kenosha Kingfish play in the Northwoods League, a college-level summer baseball league.
Dillon made quick headlines, going head-to-head with "Elvis," the Kingfish mascot. They took part in a one-on-one football drill that didn't end well for Elvis.
Dillon and Elvis began the drill lying on the ground facing away from each other. On the count of three, the running back, ball in hand, charged at Elvis, showing no mercy, and laying him out as his foam head went flying through the air.
Dillon's teammate, offensive lineman David Bakhtiari posted the video on Twitter with the caption "911. I'd like to report a dead body."
Like Sportscasting on Facebook. Follow us on Twitter @sportscasting19 and subscribe to our YouTube channel.