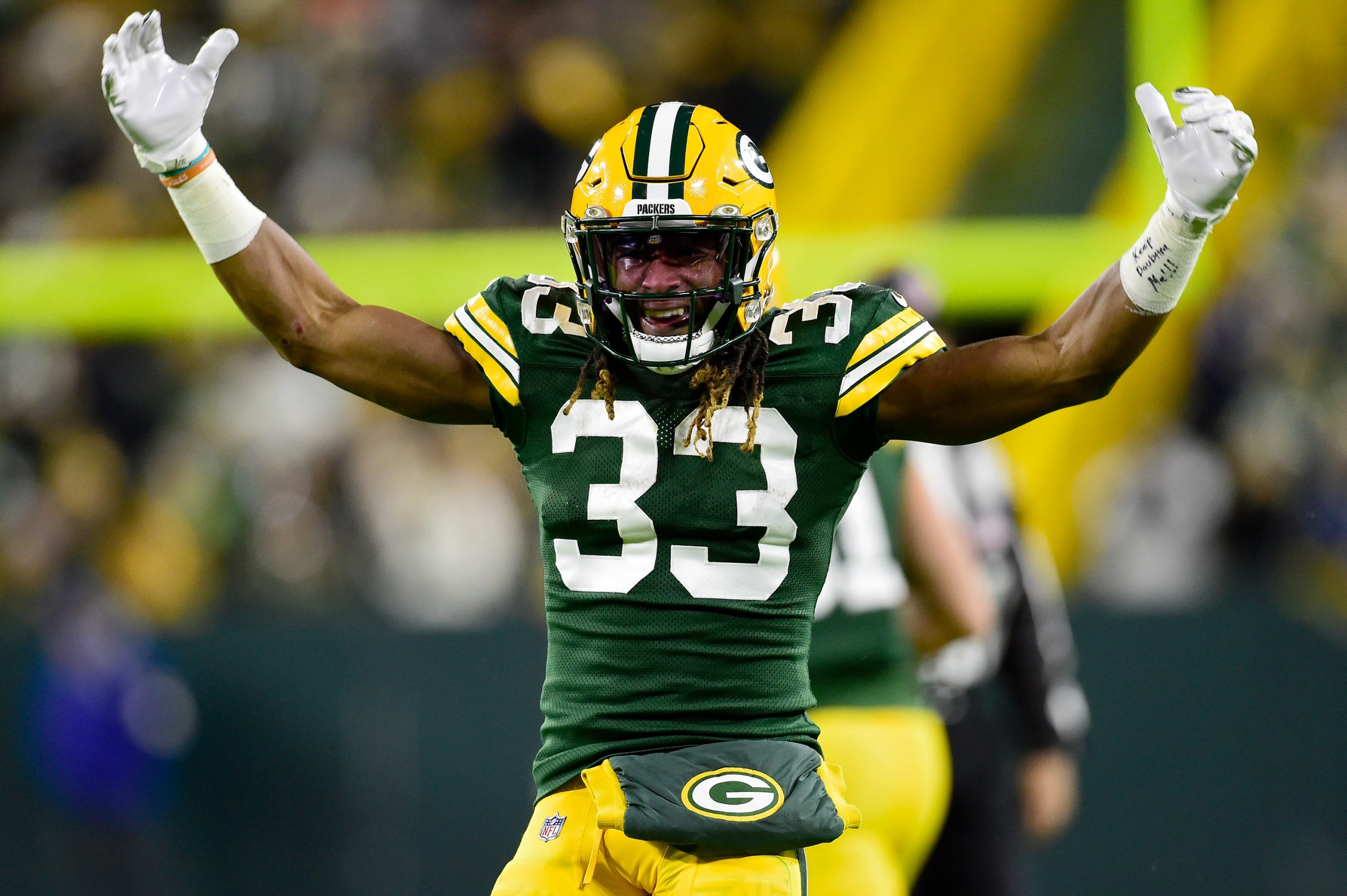 Aaron Jones Has Emotional Message for His Late Father After Getting Nominated for Prestigious Award
Green Bay Packers running back Aaron Jones always has his late father on his mind.
Green Bay Packers running back Aaron Jones hasn't won the big prize yet, but he's come close. He's made it to the last two NFL title games, only to come up short. Now, he's aiming for another big catch, one that just might even mean a little more to him than a Super Bowl victory.
Aaron Jones is sharing the load, but the Green Bay Packers are still clicking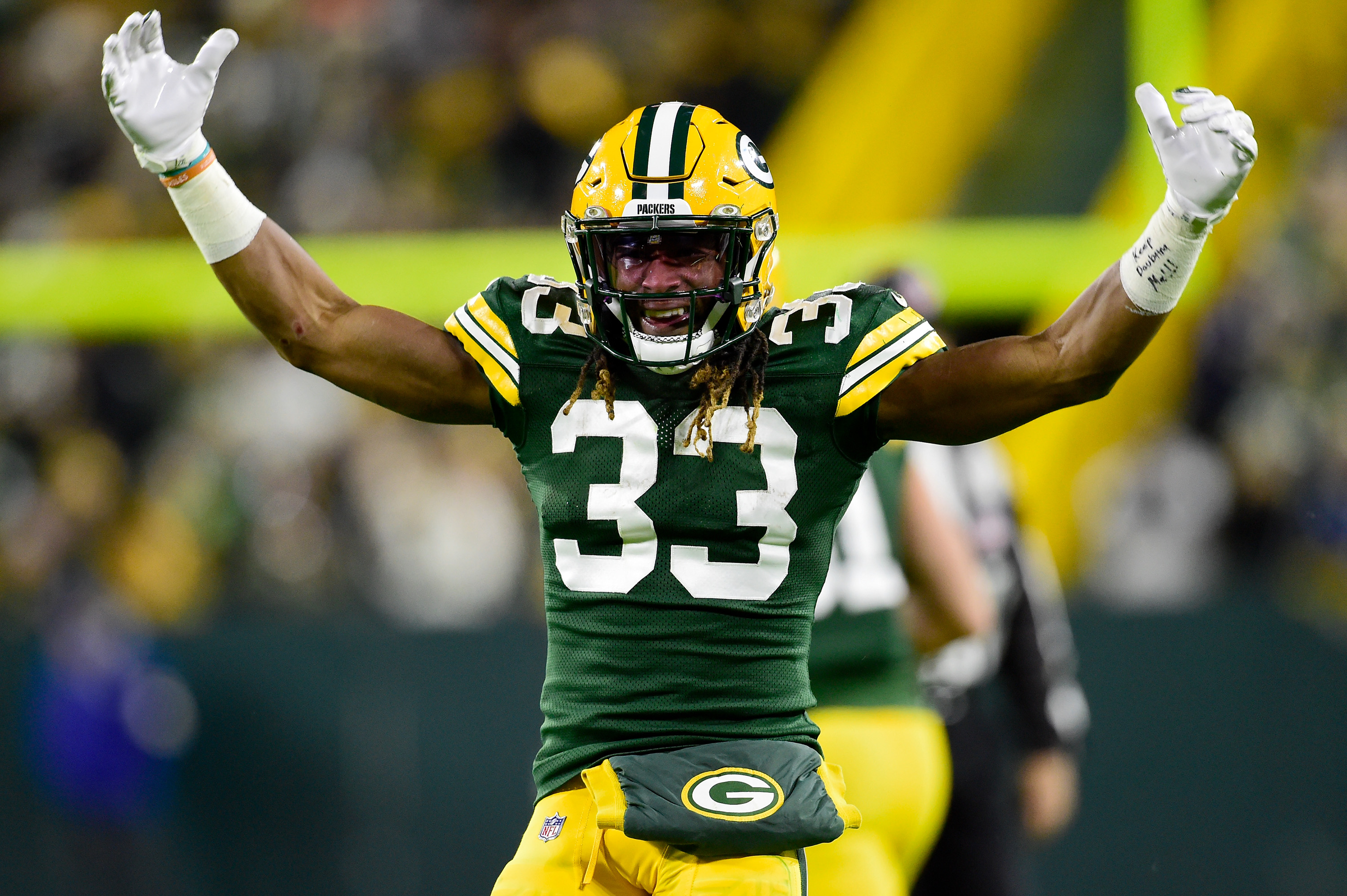 The Packers are again making some noise in a tough NFC as they come off their bye week with a 9-3 record. With the emergence of running back A.J. Dillon, it hasn't solely been the two Aarons (Rodgers and Jones) taking charge in the backfield.
Jones injured his knee in a 17-0 victory over the Seattle Seahawks in Week 10 after rushing seven times for 25 yards. The injury kept him out of the Week 11 loss to the Minnesota Vikings, but he bounced back to split carries with Dillon in a 36-28 win over the Los Angeles Rams. In that one, Jones had 10 carries for 23 yards.
The emergence of Dillon has cut down on Jones' numbers. That may be a blow to Jones' Fantasy Football owners, but it's a blessing to the Packers, who can keep both backs fresh while changing the pace of their running game.
Jones has just three rushing touchdowns this year and one 100-yard game. He rushed for 103 yards in a 25-22 victory over the Cincinnati Bengals in Week 5. For the season, Jones has 564 yards on 133 carries. He also has 298 receiving yards and four touchdown receptions, three coming in a Week 2 win over the Detroit Lions.
Aaron Jones recently had an emotional message for his late father
Alvin Jones Sr. was 57 years old when he died in April due to complications from COVID-19. Aaron Jones has dedicated the rest of his career to his father and hasn't disappointed.
Although he hasn't gotten his hands on the Lombardi Trophy yet, he's had some individual success, making his first Pro Bowl last season after rushing for a career-high 1,104 yards in 14 games. He also added nine rushing touchdowns and caught two touchdown passes.
The previous season, Jones rushed for a career-high and NFL-best 16 touchdowns.
Although the Super Bowl is still his goal, he has something else to strive for — something that may have made his father even more proud. On Tuesday, it was announced that the fifth-year running back was the Packers' nominee for the Walter Payton NFL Man of the Year Award.
"It means everything to me," said Jones of his nomination, per Packers.com. "Me and my family have always been big on giving back to the community and different things like that. Just to be mentioned in the same sentence as some of these guys who are nominated or some of these guys who have won before is a huge honor."
Then Aaron Jones got a bit emotional on Twitter with a message to his dad.
"Pops smiling from ear to ear," he wrote. "I know I'll continue to show how you and mom raised me to be this man."
Jones has been honoring his father by wearing a pendant with his ashes during games
Jones' biggest game this year came when he scored those three receiving touchdowns against the Lions in Week 2. He also added a rushing score in that game — his first at Lambeau Field without his father in attendance. According to NFL.com, he became the first player in franchise history to have three touchdown catches and a rushing score in the same game.
After his second score, however, Jones realized he lost the pendant that he wore around his neck. During his postgame conference, he spoke about losing it.
"He'd be happy," Jones said. "He'd be like, if you lose it any way, lose it in the end zone."
Fortunately for the fifth-round running back, the pendant was found after the game.
Although he's sharing the load and not putting up his usual numbers, Jones could still finish with the best season of his career. He could still walk away as a Super Bowl champ and Man of the Year.