Kurt Benkert Confident and Thriving With the Green Bay Packers After a Little Help From Julio Jones
The stage will be huge for Kurt Benkert on Saturday. With Jordan Love banged up during last weekend's preseason game, Green Bay Packers fans are likely to see plenty of Benkert against the New York Jets. Aaron Rodgers also isn't expected to see any action, so all eyes will be on Benkert.
In his short time in Green Bay, Benkert has become a fan favorite. Off the field, he's interacting with fans. On the field, he's become confident in his game. He can thank Julio Jones for his sky-high confidence level.
Kurt Benkert has never thrown a pass in an NFL regular-season game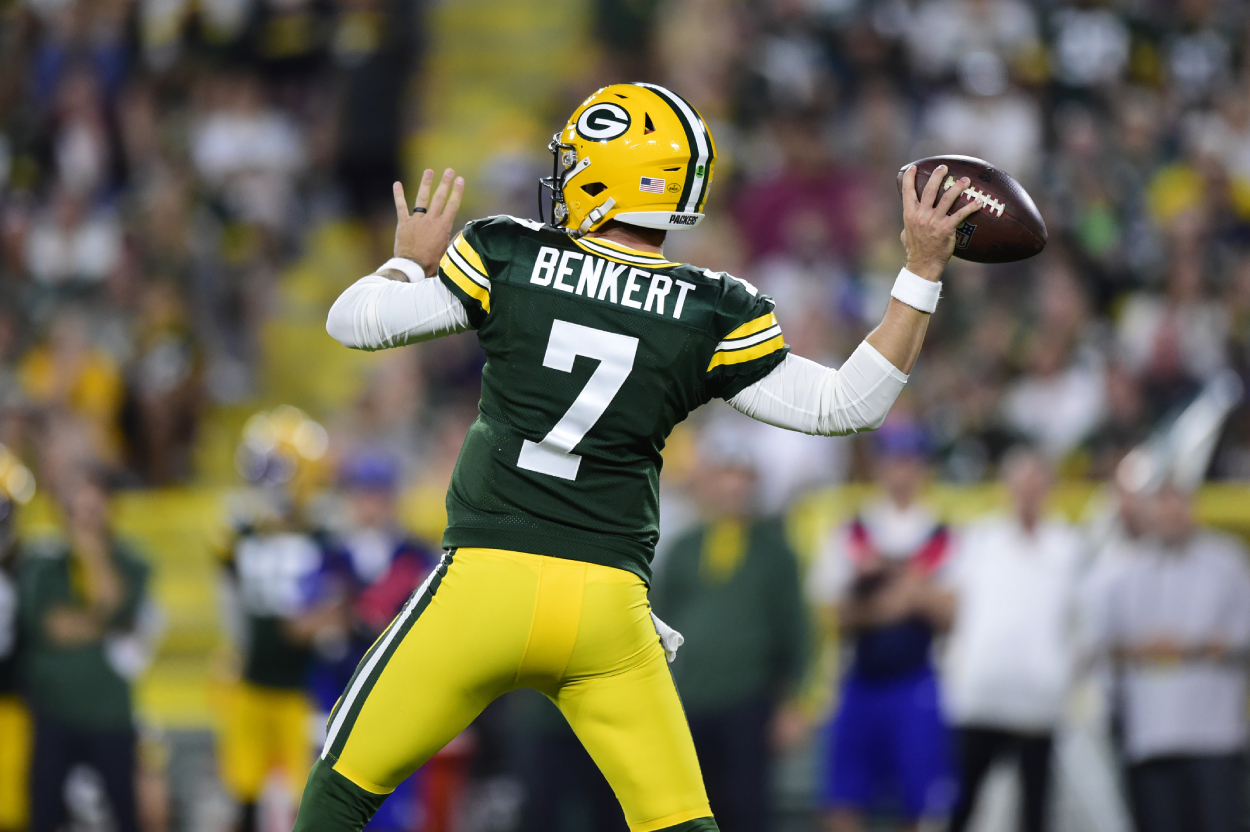 Benkert got his shot in Green Bay because Rodgers remained away from the team during an offseason dispute. With Rodgers away from the team and last year's backup, Tim Boyle, now with the Detroit Lions, the Packers needed some QB depth. The Packers signed Benkert in May. He beat out Chad Kelly, and he outlasted veteran Blake Bortles, also signed in May.
Benkert played his college football at Virginia and went undrafted in 2018. The Atlanta Falcons signed him to a free-agent deal, but he was cut right before the season. He was part of the Falcons' practice squad after getting cut.
Benkert is 6-foot-4, and he's opened some eyes in Green Bay's training camp. Although he's never thrown a pass in the regular season of an NFL game, he completed eight of 12 passes for 88 yards and an interception in last week's preseason contest. He relieved Love in the second half.
Benkert got a boost from Julio Jones after getting cut by the Atlanta Falcons
Benkert played well when he was with the Falcons. He did what was asked of him, but he was a victim of the numbers game. He was stunned.
"I think last year with Covid really opened my eyes," Benkert said in a July interview with Go Long. "Had the best camp I could possibly have. I was balling. Making plays. I was like, 'There's no way in hell they cut me and put me on the practice squad.' I was like, 'I can't be cut. There's no way.' 
"I go into the meeting with the GM and he's like, 'You did everything we asked you to do. You could not have played better. We're lucky we don't have a preseason because we can hide you and stash you on the practice squad.' I was like, 'S—. OK.' That's the reality of the business."
Immediately after he got cut, he received a text message from Jones, then a standout receiver with the Falcons.
"Everyone was shocked that I was cut because I was playing really well," he recalled. "But he was like, 'Look. They have all the leverage right now. It won't always be like this. Just keep doing what you're doing. Don't let them change how you play your game. You're doing well. It will work out when you get your opportunity.'"
Jones was right as Benkert got another opportunity with the Green Bay Packers
Jones' text reassured Benkert that he didn't need to change anything and his time would come. When the Packers came calling in May, Benkert got emotional.
"Man, I shed tears in the car," he said. "It was cool, man. I've always believed in myself but to have the odds stacked against you and to come out like that was a really cool moment."
Benkert remembered the conversation with head coach Matt LaFleur and GM Brian Gutekunst right before he was signed.
"I walked off the field and said, 'I appreciate you having me here,' and went to shake LaFleur's hand and Gute's hand," Benkert said. "Gute kind of had an extended, longer handshake. He didn't just let me back off of him. He said, 'We're going to bring you upstairs and sign you. Congratulations.' It was a really cool moment. Especially somewhere like this where I know the history of guys in my shoes having success."
Benkert could make it another cool moment with a strong outing against the Jets.