Kurt Benkert Is a Fan Favorite With the Green Bay Packers, and He's Making More Money Gaming Than Playing in the NFL
Kurt Benkert is an interesting dude. He's quickly become a fan favorite with the Green Bay Packers and has surprised everyone but himself with his rise up the team's depth chart. For now, Benkert appears to have a hold on the third-string QB job, but he's been there before.
If life as a quarterback fails for Benkert, he can continue his life as a gamer. He's making more money off the field than on it, although he has every intention of sticking around in the NFL.
Kurt Benkert got his first real taste of Green Bay Packers football Saturday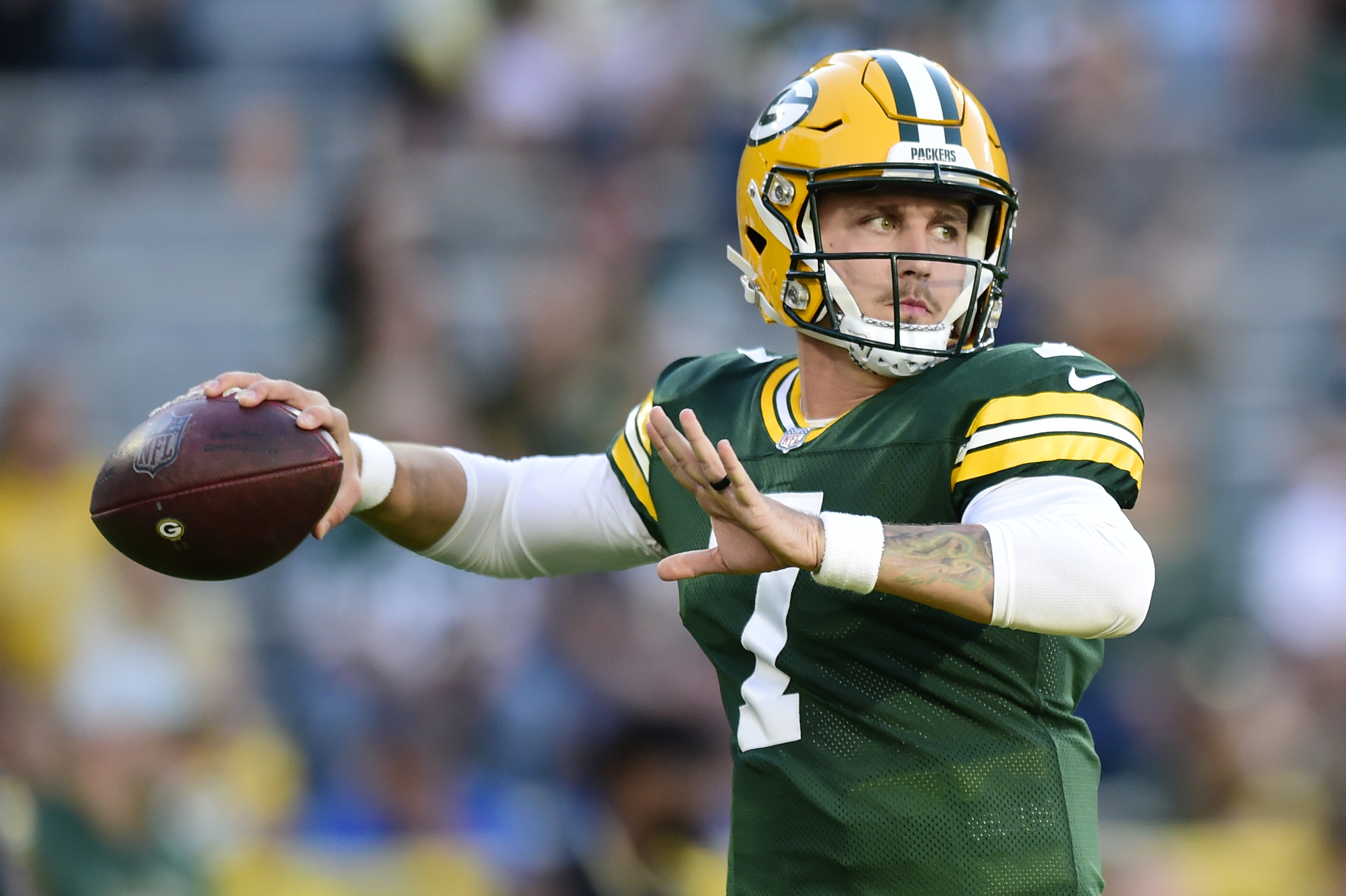 With Aaron Rodgers away from the team for most of the year, the Packers inked Benkert, who played college football at Virginia and spent some time in the preseason with the Atlanta Falcons. The Packers signed Benkert in May and added veteran Blake Bortles to go along with 2020 first-round pick Jordan Love. When Rodgers returned late last month, the Packers released Bortles.
Benkert went undrafted in 2018 but signed with the Falcons before being cut right before the regular season. Atlanta signed him to its practice squad, but he's never thrown an NFL pass in a regular-season game.
On Saturday, Benkert got his first taste of a preseason game with his new team. Love dinged his shoulder during the game and only played a half. Benkert relieved Love and went 8-for-12 for 88 yards and an interception.
Kurt Benkert said he made more money gaming than playing football with the Packers this year
Ever since Benkert signed with the Packers, he's been a favorite among Green Bay fans. He's active on social media and interacts with his fans. He loves his video games and gets paid – and paid pretty well – to play them. During an interview with Go Long, Benkert explained how he's made more money this year gaming than he has playing in the NFL.
"So, I get paid on Twitch," Benkert said. "I stream a lot during the offseason. Like four times a week for five hours a day. So, I'll stream like 20 hours a week where I'm playing video games and talking in the chat — people who subscribe to me — and I get paid for that. G Fuel Energy and Thursday Boots are the two product sponsors I have. So, I'll have their logos on stuff.
"And six months ago, I got signed to a professional team for gaming. "Ghost Gaming," I'm on their roster. I get paid on a bunch of different avenues for all that stuff. That turned into one of my bigger deals. I'm a brand ambassador and a consultant for a website-builder called Universe."
Benkert said gaming has helped ease his mind. He feels he can play football freely, knowing he won't have to panic and find a job should he be released from the team.
"This is the first year I've made more money off the field than on it," he said. "That's part of the no-stress in being able to go out there and play football freely. I don't rely on football to pay for my future or my bills. I can literally go out there and just enjoy it."
Benkert is the No. 1 Fortnite player in the NFL and it's paying off
So how good of a gamer is Benkert?
"I was the back-to-back No. 1 Fortnite player in the NFL for two years," he told Go Long. "I'm pretty good."
Benkert knew there was money to be made in gaming after his initial paid event in 2019.
"It was a Fortnite Pro-Am where there were 50 pro Fortnite players and 50 celebrities, athletes, whatever." he said. "We played in a big-ass tournament for charity. It was like a million dollars for charity. They paid me $1,000 to go out there and they put me up in a nice hotel – all expenses paid. It was in LA. It was just nuts.
"So once I got paid for that, I was like, 'Damn, I should take this s— seriously. There's actual money. You can do cool things playing Fortnite.' I went back, took the money, and upgraded my setup. I re-invested in myself. Now, it's just been bizarre. I have a PC sponsorship from Razer. I have a good formula for how I put out content on gaming and I have a backlog of content for when I'm busy and traveling."
Benkert clearly has the whole gaming world in check, and it seems he's doing pretty well with that NFL thing, too.