The Packers Reportedly Have an Agreement in Place With Aaron Rodgers That Should Make NFL Teams Completely Reconsider Their Plan for the Quarterback Position
Aaron Rodgers put an entire fan base at ease by finally returning to work. However, even though the Green Bay Packers look like a top Super Bowl contender at the moment, that doesn't mean the franchise will continue to challenge for the Lombardi Trophy for years to come.
With Rodgers facing an uncertain future in Green Bay, the idea of the three-time MVP finishing his career in a different uniform seems more realistic than ever. In fact, the Packers have reportedly struck an agreement with their best player that should make other NFL teams completely reconsider their plan for the most important position in sports.
The return of Aaron Rodgers makes Green Bay a top Super Bowl contender for the 2021 season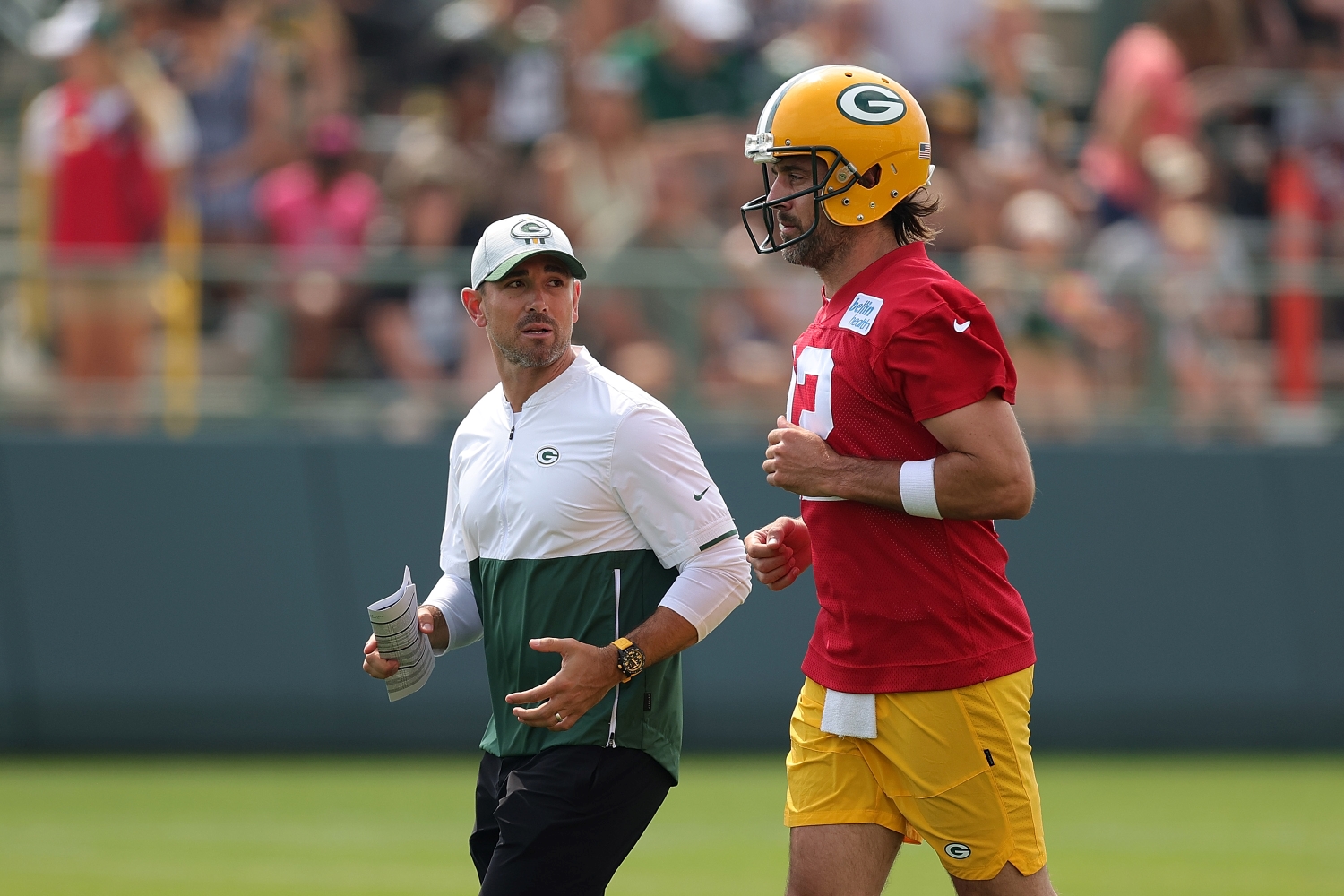 The Packers came agonizingly close to making the Super Bowl last season. Ironically, Rodgers (along with head coach Matt LaFleur) had some culpability in Green Bay losing to the Tampa Bay Buccaneers at Lambeau Field in the NFC title game. But if all goes according to plan, the reigning MVP will get a chance to exact his revenge in January.
Despite months of speculation about the Rodgers potentially retiring or sitting out the 2021 season, that didn't happen. Thanks to some last-minute negotiations and some concessions made by the Packers that included trading for Randall Cobb, the star quarterback showed up to training camp. Considering Rodgers skipped voluntary organized team activities and mandatory minicamp for the first time, that represented a welcomed surprise for Green Bay fans.
With their most important and accomplished player fully committed for 2021, the Packers look capable of making a legitimate run at the Lombardi Trophy. The offense has top-five potential, and the defense could be elite, too.
Of course, Green Bay's status as a no-doubt Super Bowl contender hinges on Rodgers' availability. And even though he's back for another year, the future Hall of Famer faces an uncertain future once the 2021 season concludes.
The Packers reportedly have an agreement in place with the reigning MVP that should force NFL teams to reconsider their quarterback plans
During FOX's broadcast of the Hall of Fame preseason game between the Dallas Cowboys and the Pittsburgh Steelers, Jay Glazer delivered an update on some of the league's top quarterbacks. Naturally, Rodgers' name came up.
According to Glazer, the Packers have a verbal agreement in place to trade their longtime starting quarterback if he still wants out after the 2021 season. Obviously, a non-written, handshake deal doesn't have binding ties from a legal perspective. However, Glazer's report suggests Green Bay understands the reality of the situation involving a star who's made it clear that he doesn't agree with every move made by the team.
For Packers fans, the news shouldn't come as a total surprise. Of course, that doesn't change the fact that it might be be painful to have to say goodbye to one of the greatest quarterbacks of all time.
On the other hand, other fan bases should be excited about the prospect of trading for an NFL legend. In fact, Glazer's report should have teams reconsidering their plan for the most important position in sports. If Rodgers wants out after the season, why not go after a proven commodity instead of using a first-round pick on a college QB? And for teams with an average or even B-level starter, wouldn't Rodgers represent a massive upgrade?
Ideal trade destinations for Rodgers
Unless the Packers win the Super Bowl and Rodgers finds a way to forgive Brian Gutekunst for all of his mistakes, it seems like the 37-year-old will play elsewhere in 2022.
So, which teams should be chomping at the bit to make an offer?
The Denver Broncos have been linked to Rodgers this offseason, so they seem like a logical candidate to make a move for the rocket-armed, sharp-minded signal-caller. Letting him run an offense that features exciting playmakers like Jerry Jeudy, Courtland Sutton, KJ Hamler, and Noah Fant seems like a surefire way for the Broncos to get back into the Super Bowl mix.
How can the Philadelphia Eagles not be considered a potential landing spot? Jalen Hurts remains a complete mystery, and the team doesn't have a viable alternative. General manager Howie Roseman desperately needs to find a franchise quarterback, and while Rodgers may not be the long-term solution at the position, he certainly looks capable of playing at an elite level for at least two or three more years.
What about the Steelers? Ben Roethlisberger could retire at any time, and Mason Rudolph and Dwayne Haskins don't inspire much confidence.
Why not replace one future Hall of Famer with another?
Then again, maybe Aaron Rodgers will surprise everyone and want to finish his career with the Packers.
But that seems like a pipedream, right?
Like Sportscasting on Facebook. Follow us on Twitter @sportscasting19.