After Forcing the Packers to Rescue His Friend From Houston, Aaron Rodgers Has Made a Selfless Sacrifice to Show Randall Cobb How a Proper Homecoming Works in Green Bay
It pays to have friends in high places.
At least, that certainly seems to be the case for Randall Cobb.
Thanks to Aaron Rodgers, the veteran receiver successfully escaped from a disastrous situation with the Houston Texans. Of course, the Green Bay Packers brought him back only after their star quarterback made it clear that he wanted Cobb as one of his pass-catching options for the 2021 season.
After forcing the front office to reunite him with his longtime friend, Rodgers has made a selfless sacrifice to show Cobb how a proper homecoming works. And if the Packers hope to overcome their playoff woes, they need the Rodgers-Cobb connection to work like it did years ago.
Randall Cobb can thank the reigning NFL MVP for rescuing him from Houston
For most of his NFL career, Cobb got a chance to experience the thrill of competing in the playoffs. However, since he left Wisconsin for the state of Texas two years ago, he's experienced losing more often than winning. Luckily for Cobb, he at least put up big numbers in his first and only season with the Dallas Cowboys.
After catching 55 passes for 828 yards and three touchdowns for an 8-8 Cowboys team, he landed a rock-solid contract in free agency. Cobb took his talents from Dallas to Houston on a three-year, $27 million deal. The one-time Pro Bowler appeared in 10 games (two starts) for the Texans. However, his reduced playing time resulted in a serious dip in production.
Despite the fact Cobb's yards-per-catch average dropped from 15.1 to 11.6 last season, that apparently did nothing to change Rodgers' view of his former No. 1 target. As part of his power ploy against the Packers, the three-time MVP told the team he wanted Cobb back in Green Bay. Ultimately, general manager Brian Gutekunst gave in to his most important player's demand by sending a sixth-round pick to the Texans for the 30-year-old slot receiver.
Besides getting to play alongside one of the best quarterbacks of all time, Cobb has a legitimate chance to win his first Super Bowl ring. Needless to say, having Rodgers in his corner paid off big time for a player who seemed poised to suit up for a franchise in disarray before his friend intervened.
Aaron Rodgers has made a selfless sacrifice to make his friend feel right at home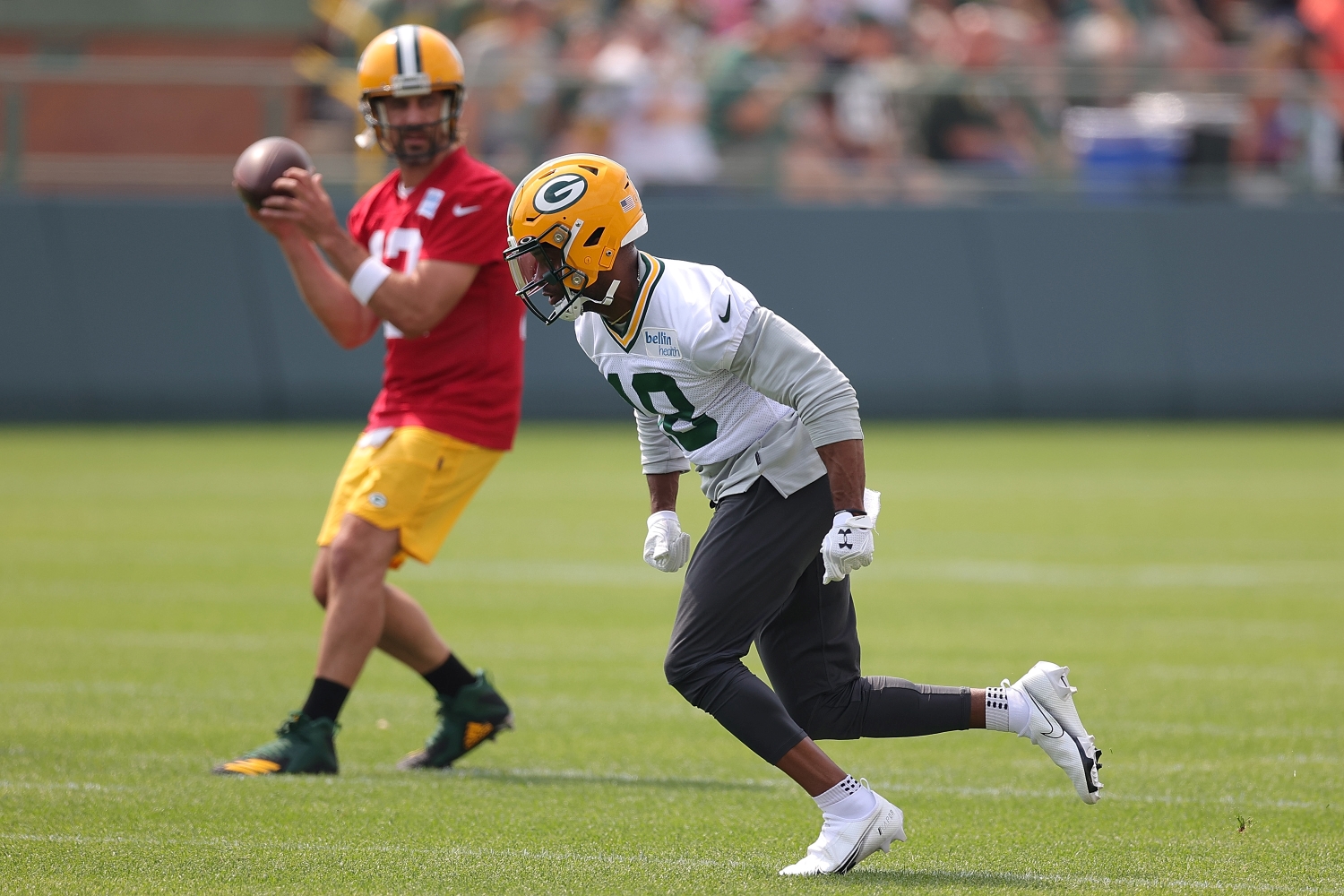 Thanks to the support of his MVP teammate, Cobb and his family got a chance to return to Wisconsin. Considering the veteran wideout enjoyed his best years with the Packers, reuniting with Rodgers seems like a home-run move for everyone involved.
Based on Gutekunst's own admission, the Cobb trade occurred because of the team's star quarterback. Rodgers clearly stuck his neck out by betting that his former teammate can rediscover his prime form during his 11th year in the NFL.
Eager to make Cobb feel right at home, the future Hall of Famer made a selfless move that shows how close the two veterans are. During his Wednesday press conference, Rodgers revealed he and Cobb have become temporary roommates.
"It's been fun spending time with him before he moves out of my house and the wife and kids come up," Rodgers said. "We've had a good time talking ball and catching up on life the last week or so."
Just like with Jeopardy!, the quarterback won't be a permanent host. However, it's clear Rodgers and Cobb share a close relationship off the field that will continue to grow until it's time for the receiver to reunite with his family.
Of course, from the Packers' standpoint, all that matters is how strong their connection is on the field.
Will the Rodgers-Cobb connection pay off for the Packers?
Will the Cobb trade work out for everyone involved? Or will Rodgers look foolish for placing his faith in a receiver who recorded his first and only 1,000-yard season in 2014?
On one hand, it's hard to ignore their chemistry and experience. That could pay dividends in big moments, as Rodgers should have a high level of trust that Cobb will end up in the right spot.
At the same time, it's difficult to get excited about a receiver who struggles to stay healthy (Cobb hasn't played all 16 games since 2015) and doesn't offer much explosion or big-play ability. Then again, perhaps talented third-round rookie Amari Rodgers will prove too good to keep off the field.
Ultimately, the pressure is firmly on Aaron Rodgers and Randall Cobb to make their on-field connection as strong as their off-field one. If that fails to occur, the Packers will once again fall short of winning a Super Bowl title.
Not that that's anything new for the Rodgers-Cobb duo.
All statistics courtesy of Pro Football Reference.