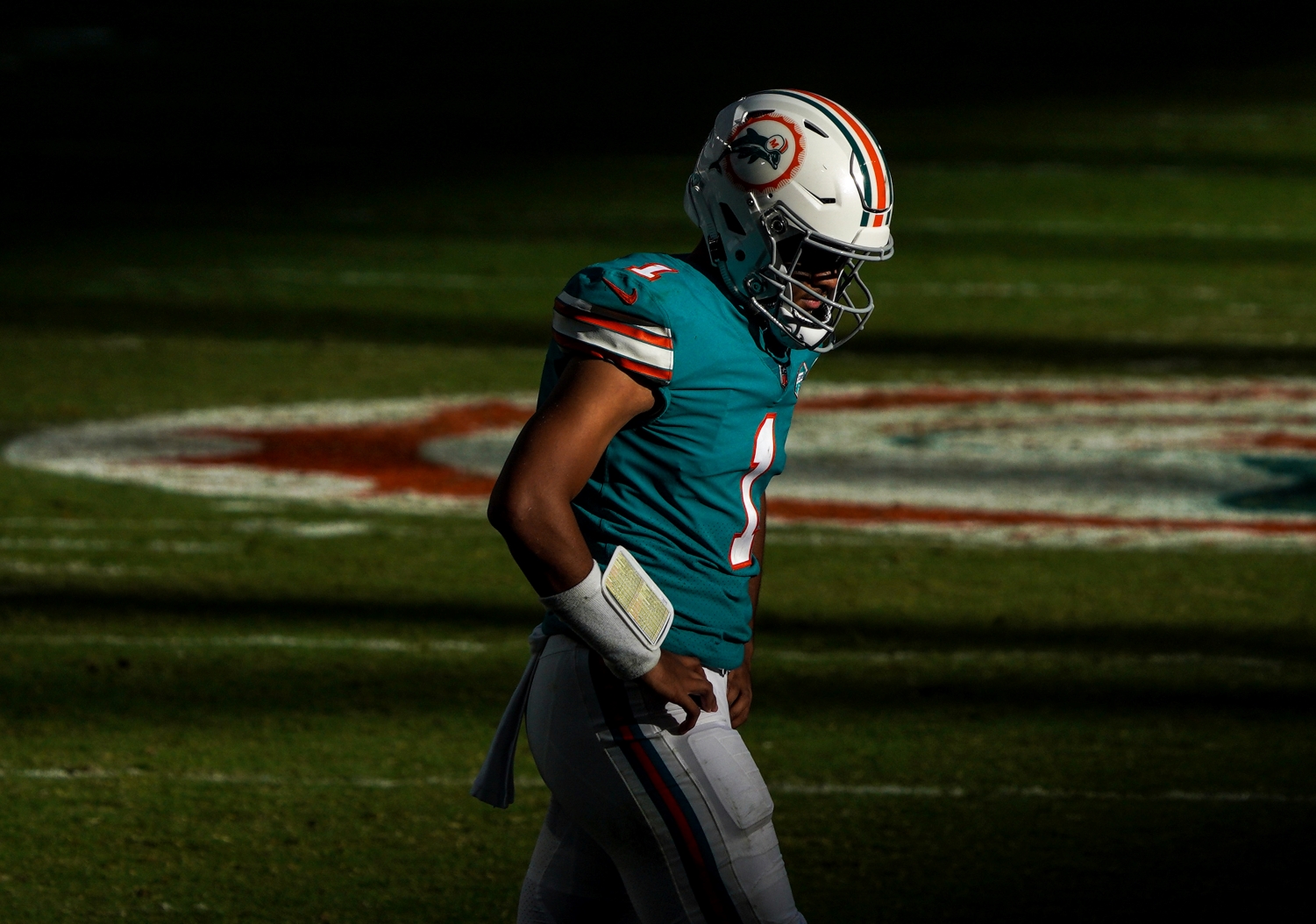 The Dolphins Reportedly Have 'Enough Lingering Questions' About Tua Tagovailoa That They'd Consider Making a Blockbuster Trade That Could Benefit Everyone Involved
Although it may seem like a case of giving up on a young quarterback too soon, the Miami Dolphins shouldn't hesitate to trade Tua Tagovailoa to the Texans for Deshaun Watson.
Tua Tagovailoa looked like one of the best players in college football during his days with the Alabama Crimson Tide. However, the southpaw signal-caller showed some concerning struggles in his first year with the Miami Dolphins.
Coming off an up-and-down rookie campaign, Tagovailoa faces enormous pressure to live up to his draft pedigree. While the talented quarterback deserves more time to prove himself, the Dolphins reportedly have enough lingering questions about the former SEC star that they're still willing to make a blockbuster trade to shore up the most important position in sports.
And when you consider the context of both players' careers, dealing Tagovailoa for Deshaun Watson would make sense for all parties involved.
Tua Tagovailoa didn't deliver on the pre-draft hype during his first season with the Dolphins
It's not fair to judge an NFL player based solely on his rookie season. After all, plenty of future stars started slow out of the gate. However, even diehard Dolphins fans have to admit the first year of the Tua Tagovailoa era did not go as expected.
A true superstar at Alabama, the talented quarterback suffered a gruesome hip injury that effectively ended his college career. Despite some obvious concerns about the long-term health of his surgically repaired hip, the 6-foot, 217-pound signal-caller still went fifth overall in the 2020 NFL Draft. However, the Hawaii native didn't bring the same type of magic to Miami that he did during his time in Tuscaloosa.
The 23-year-old posted a rock-solid 6-3 record as a starter, but he failed to completely cement his status as the Dolphins' franchise quarterback. After averaging 10.9 yards per attempt in college, he averaged only 6.3 on 290 attempts. The same quarterback who racked up 87 passing touchdowns in 32 games for the Crimson Tide only threw 11 in his first 10 games as a Dolphin.
Head coach Brian Flores proved he had concerns about his young quarterback's ability to lead the team to victory. After all, Tagovailoa got benched twice during his rookie season. As much as Miami may have high hopes about his future, it's clear the second-year pro still has a lot to prove heading into training camp.
Miami's lingering concerns about the second-year signal-caller could lead to a blockbuster trade in the future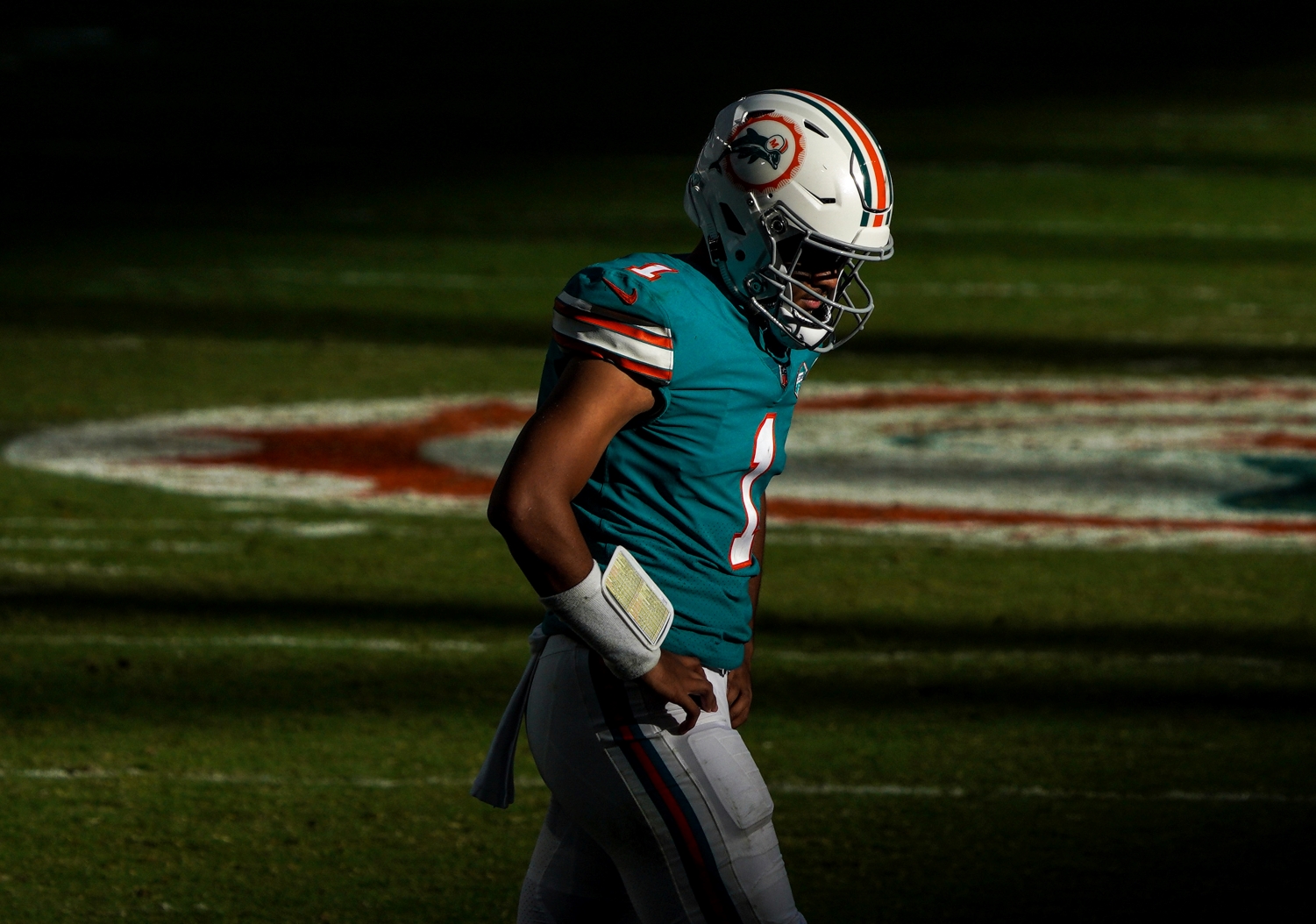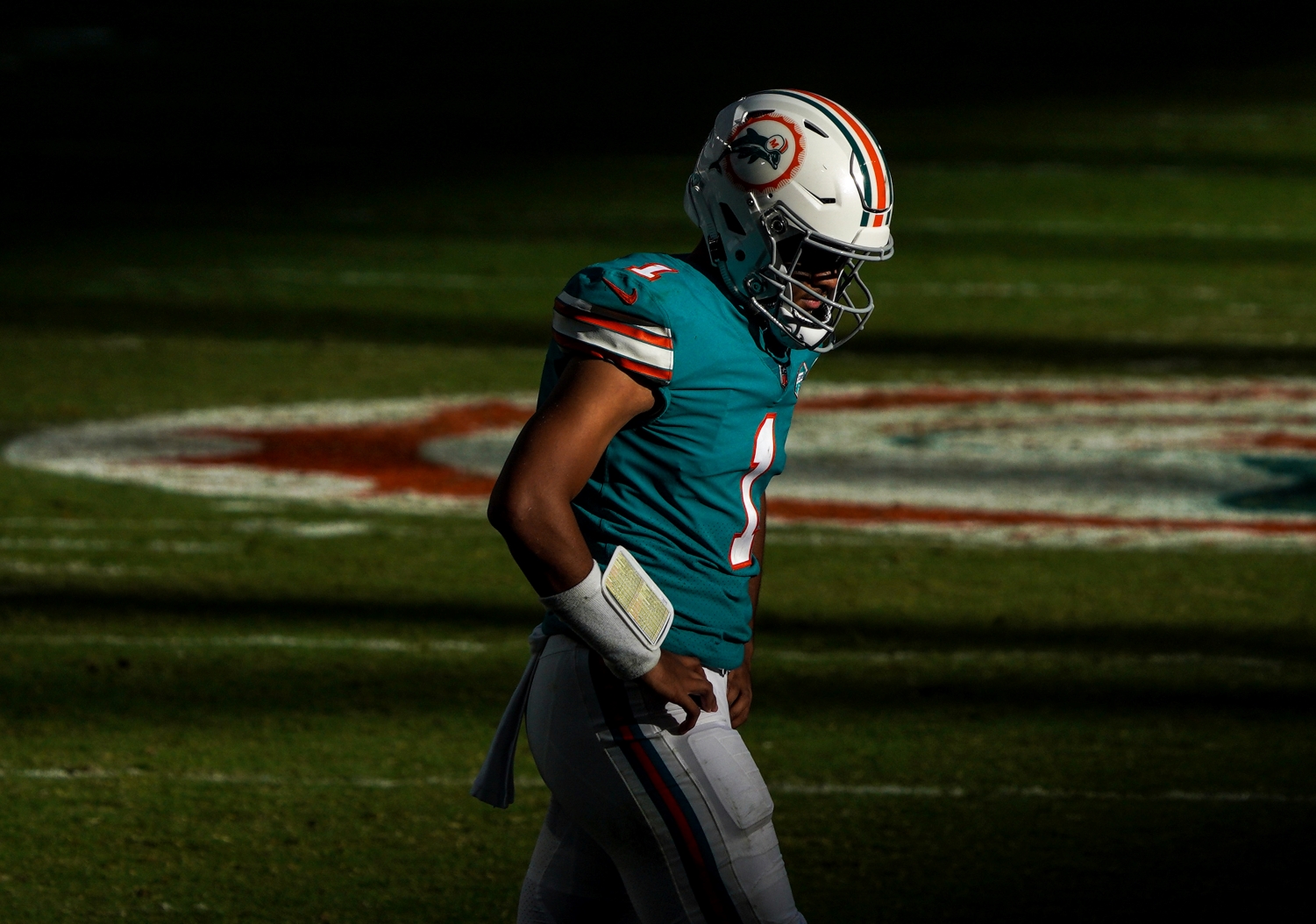 The Dolphins obviously expected big things out of Tagovailoa when they drafted him one spot ahead of 2020 NFL Offensive Rookie of the Year Justin Herbert. While the Los Angeles Chargers lucked out by landing the Oregon quarterback, Miami may have second thoughts about how it handled arguably the most important draft pick in franchise history.
In fact, based on what Tagovailoa has shown so far, the Dolphins still have a contingency plan in mind that could shake up the entire NFL. Of course, whether Miami makes a blockbuster move at the quarterback position depends on factors outside of the team's control. At the very least, though, the Dolphins reportedly haven't changed their stance on going after one of the league's most talented passers.
"We're told the Dolphins have enough lingering questions about Tua's ability and future that they would still consider trading for Houston Texans quarterback Deshaun Watson if his legal situation is somehow resolved in time for the 2021 season," wrote Pro Football Network's Adam H. Beasley.
The Texans star has been accused of sexual misconduct by nearly two dozen women, so his status for the upcoming season remains firmly in doubt. However, according to Beasley, Watson's legal situation "has not stopped the Dolphins from keeping an open mind."
Deshaun Watson and Tagovailoa would both benefit from the Dolphins and Texans doing business
Since no one knows exactly how the process will play out, it's impossible to predict whether Watson will play football this season. But given his disdain for the Texans, it seems unlikely that he will ever suit up for the franchise again.
As much as general manager Nick Caserio may want to hold on to a valuable asset, trading Watson to the Dolphins seems like a win-win scenario for everyone involved.
How so?
First, Watson would get a chance to take over a team that already has enough talent to make the playoffs. That would represent a massive upgrade from the uninspiring roster the Texans have at the moment. Plus, he would instantly become the biggest star in one of the biggest cities in America.
For the Texans, swapping Watson for Tagovailoa and draft picks would give them a young, talented quarterback to build around and the ability to upgrade his supporting cast. That could help Houston save face with a fan base that would assuredly have negative reactions to dealing a proven commodity for a relative unknown.
As for Tua?
Maybe the pressure of playing in Miami doesn't suit him. Or perhaps Flores doesn't know exactly how to maximize his abilities. Either way, a fresh start wouldn't be the worst thing for a supposed franchise quarterback who got sent to the bench on multiple occasions as a rookie.
All statistics courtesy of Sports Reference and Pro Football Reference.