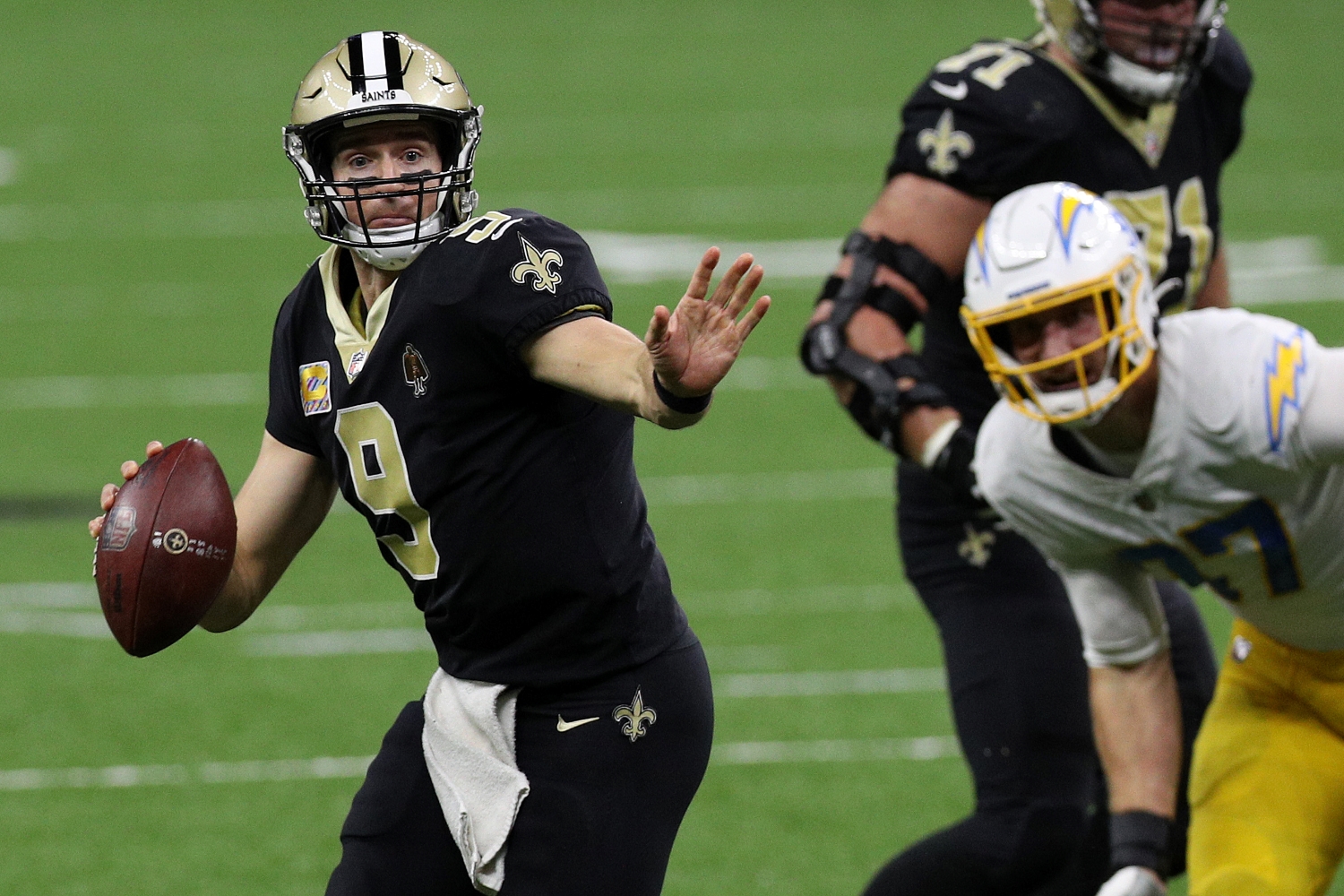 The NFL's Next Great Quarterback Has Officially Caught Drew Brees' Attention: 'I Don't Think I've Seen an Athlete Quite Like Him"
Drew Brees knows what it takes to dominate as an NFL quarterback. His assessment of Justin Herbert shows why the second-year pro has a chance to become the league's next elite signal-caller.
Drew Brees knows exactly what it takes to become an elite NFL quarterback. After all, he established a reputation as one of the best in the business during his Hall of Fame-worthy career. So when it comes to scouting the next generation of signal-callers, the longtime New Orleans Saints star certainly has the credentials to give an informed opinion.
Ironically, the passer who's caught Brees' attention happens to play for the same franchise he left more than a decade ago. And if Justin Herbert's first season with the Los Angeles Chargers was simply a sign of things to come, don't be surprised if the uber-talented quarterback transforms his team into a viable Super Bowl contender sooner than later.
Justin Herbert did his best Drew Brees impression as a rookie
The Chargers finally moved on from Philip Rivers last offseason to build around a new quarterback. The transition didn't result in a winning record (LA did improve from 5-11 to 7-0), but it's impossible to describe Herbert's rookie season as anything but a success. Showcasing incredible poise, a strong arm, and excellent accuracy, the 6-foot-6, 236-pound signal-caller completed 66.6% of his passes for 4,336 yards, 31 touchdowns, and only 10 interceptions. The former Oregon star's exciting first season earned him NFL Offensive Rookie of the Year honors and plenty of recognition from teammates, coaches, and opposing players.
In fact, Herbert's first year in LA featured some truly impressive feats that deserve mention.
First, his 31 passing touchdowns represented the most ever by a rookie quarterback in NFL history. He also set the single-season record for the most total touchdowns (36) by a first-year signal-caller.
In addition, Herbert recorded more games with at least 300 passing yards (eight) than any rookie quarterback in league history. Considering none of his top targets — including Keenan Allen and Mike Williams — stayed healthy for all 16 games, the fact Herbert maintained his poise and put up such prolific passing numbers proved the Chargers made an excellent choice by selecting him with the sixth overall pick.
The NFL's next great quarterback has officially caught Brees' attention
As a connoisseur of throwing the football, Drew Brees can rely on his experience to judge whether a quarterback has the ability to play at a high level. Considering he spent the last two decades immersed in the NFL world, it's safe to say the Saints icon saw a fair share of signal-callers who possessed the ability to shine on Sundays.
In a league that has no shortage of talent at the position, one young quarterback has caught the future Hall of Famer's eye more than any other. Although there were many worthy candidates to choose from, Brees selected Herbert, who looked more like a seasoned veteran than a first-year pro as a rookie.
"I don't think I've seen an athlete quite like him," Brees told Mike Tirico, who filled in as a guest for Peter King's Football Morning in America. "We played them last year, and I was impressed. Then I saw him at mini-camp in OTAs and was amazed at how big and strong he is. His forearms and hands look like he has been digging fence-post holes his entire life."
The praise for Herbert didn't stop there.
"He is good, smart, and has those leadership qualities," Brees explained. "You talk about building an offense around a guy, he can be a 15-year franchise guy."
Those words should inspire confidence about what lies ahead for Herbert. He's a nightmare to defend simply due to his combination of size, athleticism, intelligence, and raw arm talent. He has the mobility to extend plays with his feet. He has the ability to throw the ball deep or make precise passes in tight windows. Plus, Herbert's maturity and professional approach to his craft should set him up for long-term success. After showcasing Pro Bowl skills during his rookie season, it's scary to think how much better the 23-year-old will be by the time he truly hits his prime.
Can Herbert turn the Chargers into a playoff team in 2021?
When you look at the Chargers' current roster, it's clear Herbert and Co. have a chance to take a substantial leap forward in 2021.
With former Rams defensive coordinator Brandon Staley taking over as head coach, the team has a young, hungry leader at the helm. Most importantly, Staley doesn't have to worry about the status of the most important position in sports. Instead, he can let offensive coordinator Joe Lombardi figure out how to best utilize Herbert's dynamic skill set.
Luckily for the second-year signal-caller, he should have plenty of pass-catching options available. Allen and Williams form a rock-solid receiver duo. Meanwhile, veteran tight end Jared Cook provides a big-bodied target in the passing game. Plus, versatile running back Austin Ekeler excels at catching the ball out of the backfield.
Herbert will also benefit from playing behind a vastly improved offensive line. Rookie first-round pick Rashawn Slater seems slated to hold down the left tackle spot for a long time. Corey Linsley, who signed a five-year, $62.5 million contract in free agency, represents a huge upgrade at center.
On the other side of the ball, the Chargers have ample talent, too. Joey Bosa headlines a defensive line that also includes 2019 first-round pick Jerry Tillery and veteran run-stuffer Linval Joseph. LA's secondary looks like one of the league's best units, at least on paper. Chris Harris Jr., Derwin James, Nasir Adderley, and Asante Samuel Jr. should make life difficult for opposing quarterbacks to complete passes.
If the Chargers stay healthy, they have the pieces to push for a 10-7 or 11-6 record. That might not be enough to topple the Kansas City Chiefs off their AFC West throne, but it should be enough to earn a playoff berth. And once Justin Herbert gets his first taste of postseason action, he'll have a chance to do what Drew Brees couldn't: lead the Chargers to a Super Bowl championship.
All statistics courtesy of Pro Football Reference.