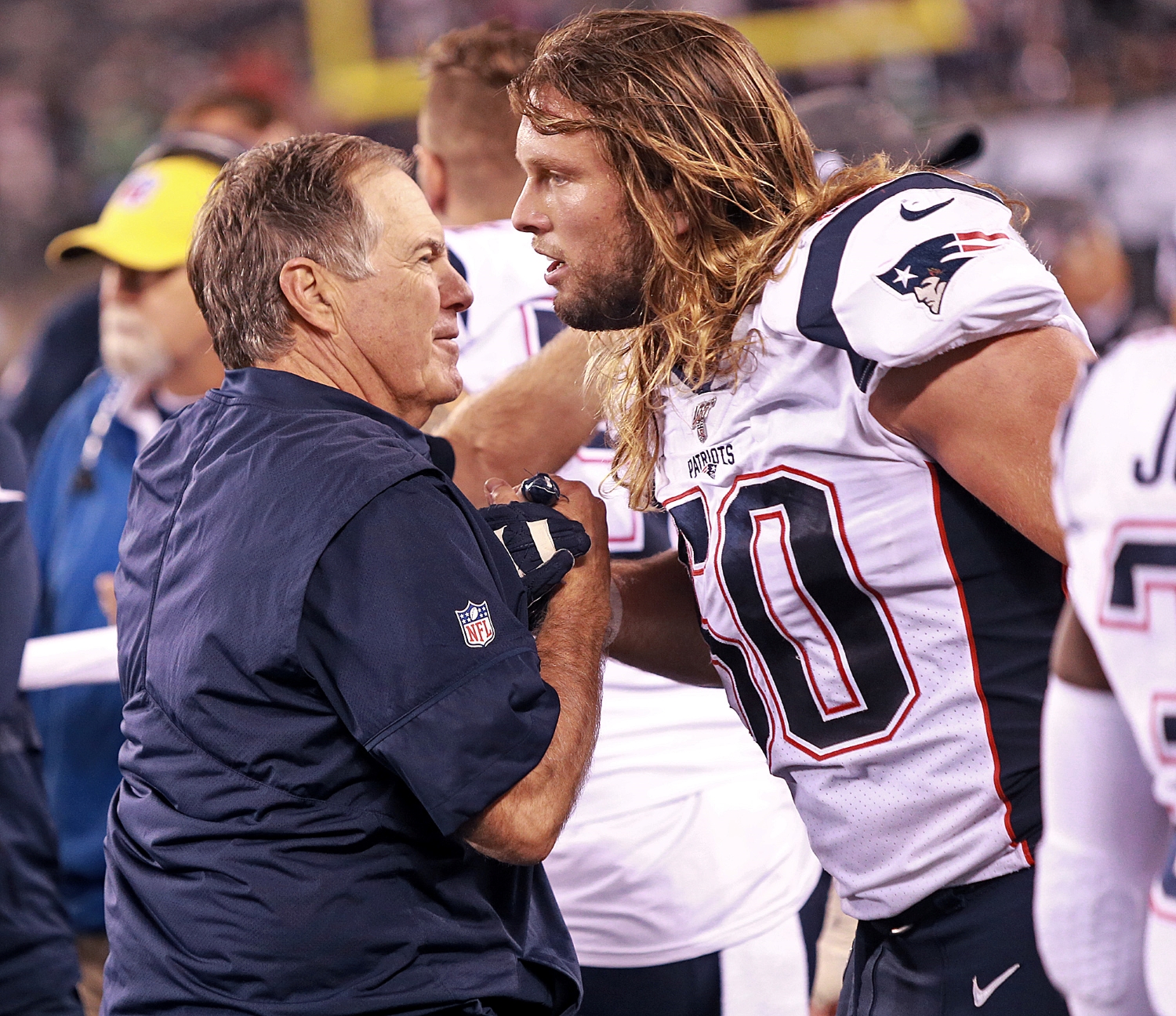 Bill Belichick's Out-of-Character Behavior Spells Trouble for a Select Group of Patriots Players
Bill Belichick took an out-of-character approach to building his roster this offseason. While that means the Patriots should be better in 2021, it also means several recent draft picks could be gone sooner than later.
This offseason, Bill Belichick did something he'd never done before during his two-decade tenure as head coach of the New England Patriots: He spent a significant amount of money on free agents. After years of taking a conservative approach to signing veterans on the open market, Belichick surprised everyone with his drastically different behavior once free agency kicked off.
Perhaps seeing Tom Brady hoist the Lombardi Trophy inspired him to use up a sizable chunk of the Patriots' cap space to fortify a talent-depleted roster. Or maybe the sting of a 7-9 record convinced him to finally try a new approach. Either way, the Patriots most certainly look like a better team heading into the 2021 season thanks to their free-agent additions.
However, Belichick's out-of-character behavior doesn't bode well for everyone on the current roster. For a select group of Patriots players, the coming months will determine whether they'll join a growing list of flameouts or extend their stay in Foxborough.
New England put the rest of the NFL on alert by making major moves in free agency
Other than Adalius Thomas (2007) and Stephon Gilmore (2017), Belichick never went after top-tier free agents since he took over as head coach in 2000. However, after missing the playoffs for the first time since Brady tore his ACL in the Patriots' 2008 season opener, he abandoned his long-held financial principles and handed out roughly $160 million guaranteed on new contracts. Considering his history of waiting for bargain deals, Belichick's new approach certainly took many people by surprise.
The Patriots undoubtedly got better from a pure talent standpoint. An offense that lacked proven pass-catching options received a big boost in the form of the tight end tandem of Hunter Henry and Jonnu Smith and the receiver duo of Nelson Agholor and Kendrick Bourne. Meanwhile, the Patriots got better on all three levels of their defense with the additions of defensive linemen Davon Godchaux and Henry Anderson, outside linebackers Matthew Judon and Kyle Van Noy, and hybrid defensive back Jalen Mills. Plus, Belichick pulled off a trade with the Las Vegas Raiders to bring back former starting left tackle Trent Brown, who has plenty of motivation to play at a Pro Bowl level again since he's on a one-year deal.
With more proven veterans on the roster, the Patriots look capable of making the playoffs this season. But Belichick's commitment to paying established players could lead to career-altering consequences for a few draft picks who have yet to live up to expectations.
Belichick's uncharacteristic behavior spells trouble for several of his recent draft picks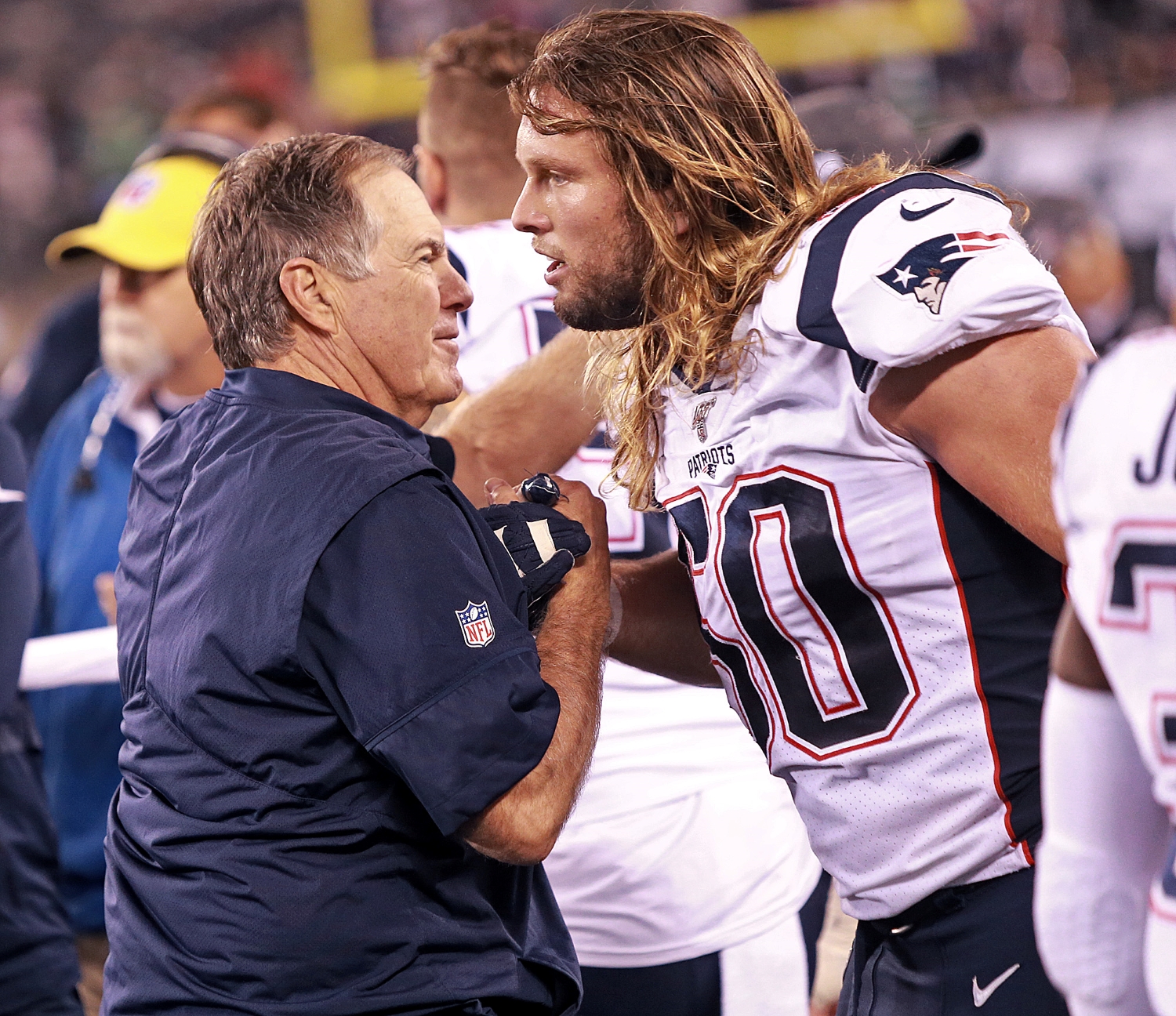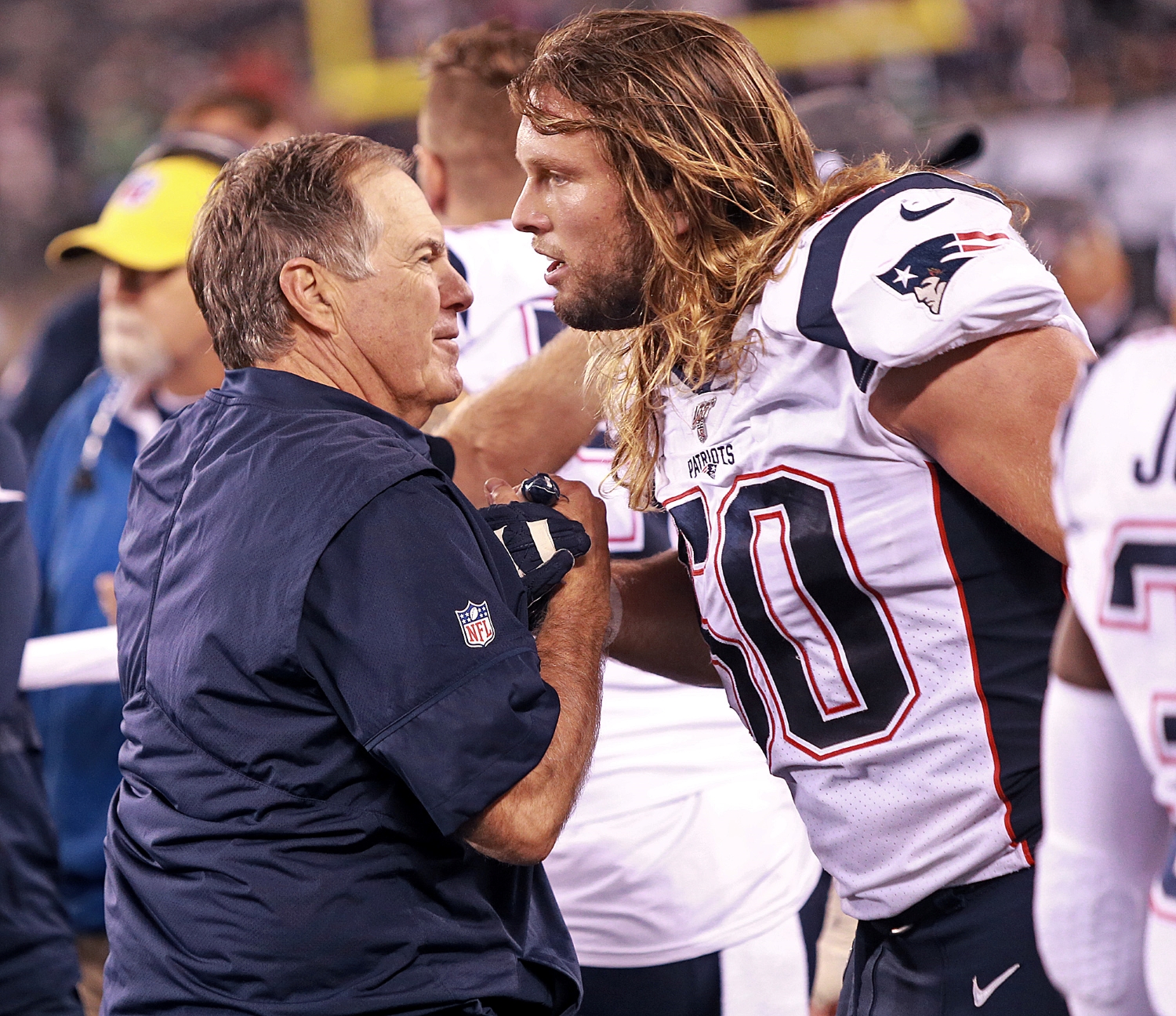 Belichick may be the greatest head coach of all time, but most Patriots fans would agree that he's much closer to average as a general manager.
Sure, he found plenty of future stars through the draft, including Brady, Richard Seymour, Vince Wilfork, Rob Gronkowski, Julian Edelman, and Devin McCourty. However, he hasn't had nearly that same level of success in recent years. In fact, before punter Jake Bailey (a fifth-round pick in 2019) earned the honor in 2020, the last Patriots draft pick to get named to the Pro Bowl was Jamie Collins, who got selected 52nd overall in 2013.
Needless to say, it's been a while since Belichick has put together a rock-solid draft class.
With several highly-paid projected starters joining the team over the last few months, a few of his recent selections should feel the pressure to step up before it's too late. 2019 first-round pick N'Keal Harry already requested a trade, which makes drafting him look like the worst personnel decision of Belichick's career. Joejuan Williams, who the Patriots traded up for to take 45th overall in that same draft, hasn't found a way to earn consistent playing time during his first two years with the team. The arrival of Mills doesn't bode well for his chances of making the final roster since both play a hybrid corner/safety role.
Don't forget about two other key members of that 2019 class. Third-rounder Chase Winovich has flashed intriguing pass-rush ability, but he couldn't capitalize on a golden opportunity to secure his status as a long-term starter during the 2020 season. With Van Noy and Judon in the fold, the former Michigan Wolverine faces a make-or-break training camp. Plus, the presence of promising rookie third-round pick Ronnie Perkins could push the Patriots to explore trading the 6-foot-3, 250-pound outside linebacker to a team looking for pass-rush help.
Just like unproven quarterback Jarrett Stidham, on whom Belichick took a flyer in the fourth round, Winovich faces an uncertain future in Foxborough.
The Patriots have several starting positions up for grabs heading into training camp
Competition brings out the best in some players. For several recent draft picks, Belichick's spending spree should serve as a wake-up call that the clock is ticking on their time to prove themselves.
Once training camp kicks off, here are some top position battles to monitor:
Quarterback: Will Cam Newton somehow turn things around at age 32? Or will rookie first-round pick Mac Jones convince Belichick to send the veteran to the bench? Plus, Stidham and Brian Hoyer have to show they're worth keeping around at all.
Tight End: The Henry-Smith tandem should dominate the majority of the snaps. But the battle for backup duties remains an intriguing one to watch. Can 2020 third-rounders Devin Asiasi or Dalton Keene show enough to get another chance to contribute? Or will a lack of development cause them to get cut or traded?
Outside Linebacker: Van Noy and Judon represent massive upgrades over what the Patriots put on the field a year ago. How the rest of the depth chart shakes out remains a mystery. Will 2020 second-rounder Josh Uche build off a promising spring and earn a bigger role in his second season with the team? Does Winovich have more to offer, or will he get phased out? Can Perkins contribute right away? What about 2020 third-rounder Anfernee Jennings? He didn't impress as a rookie, and he looks like a candidate to get released or traded at some point this summer.
Safety: At 32 years old, McCourty anchors a secondary that has a mix of veterans and young players. New England has a collection of intriguing safeties behind him that includes physically imposing 2020 second-round pick Kyle Dugger, versatile veteran Adrian Phillips, and Mills, who signed a three-year, $21 million contract in free agency. Rookie sixth-round pick Joshuah Bledsoe also figures into the mix, so this is a spot that seems like it should be a position of strength for the Patriots.
All statistics courtesy of Pro Football Reference. All contract data courtesy of Spotrac.