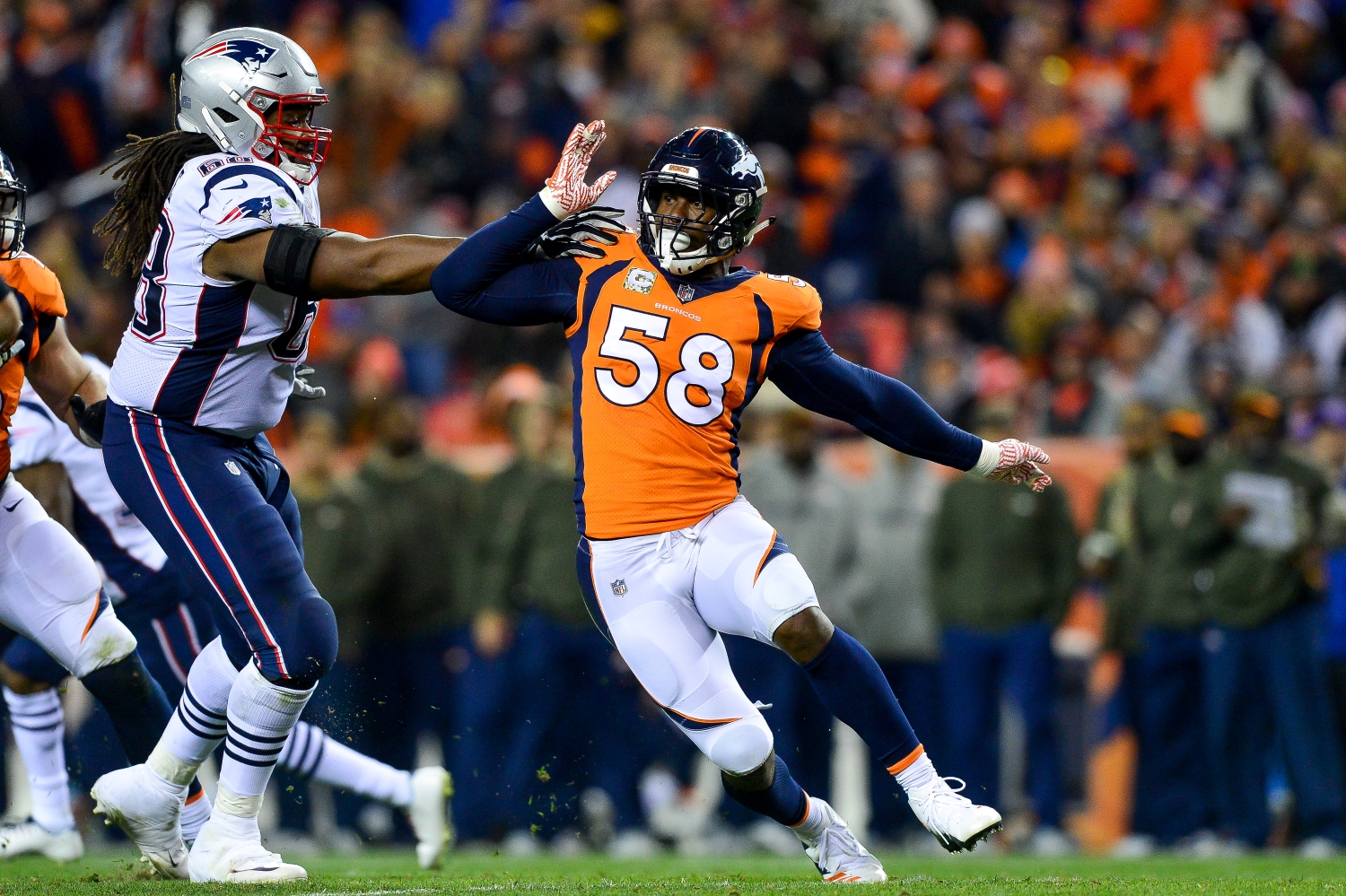 Von Miller Has Given the Patriots an Invaluable Gift That Could Pay Big Dividends For Years to Come
Josh Uche has the physical skills to become an All-Pro. Thanks to some help from Broncos star Von Miller, the second-year linebacker has an even better chance of living up to expectations with the Patriots.
Von Miller gets paid handsomely to make life miserable for NFL quarterbacks. And whenever the longtime Denver Broncos star decides to retire, he won't have to worry about whether he did enough to earn a spot in the Pro Football Hall of Fame.
Although his career has yet to come to a close, Miller has shown a willingness to help opposing players hone their craft. And thanks to an invaluable gift from the All-Pro linebacker, the New England Patriots should feel even better about the future of their own defense.
Von Miller cemented his status as a future Hall of Famer by terrorizing opposing quarterbacks
The 2011 NFL draft featured a number of blue-chip prospects, including Cam Newton, A.J. Green, Julio Jones, Patrick Peterson, and J.J. Watt. Yet, even in a class full of future NFL stars, it wouldn't be a surprise if Miller's name got called first in a re-draft.
That's no knock on his peers. Rather, it reflects just how amazing Miller has been since he entered the league more than a decade ago.
After exploding onto the scene as a rookie with 11.5 sacks and 29 quarterback hits, he followed up by earning first-team All-Pro honors in his second NFL season. Although his 2013 campaign came to a premature end due to a torn ACL, Miller didn't let that setback stop him from finding success again.
He averaged almost 13 sacks per season from 2014-18 by relying on a lightning-quick first step, rare flexibility to bend the edge, and the ability to close in a hurry.
Plus, he made big plays when it mattered.
Miller's sensational performance in Super Bowl 50 still stands out as one of the greatest individual efforts by a defensive player in postseason history. He recorded six tackles, 2.5 sacks, and two forced fumbles in the Broncos' 24-10 victory against the Newton-led Carolina Panthers.
Injuries have kept Miller off the field more in recent years, but he could never play another NFL game and still be considered a Hall of Fame lock.
The Patriots recently received an invaluable gift from the longtime Broncos star
It's no secret the Patriots struggled to rush the passer in 2020. After racking up 47 sacks in 2019, Bill Belichick's defense totaled only 24 last season. And as much as free-agent additions Matthew Judon and Kyle Van Noy should help fix that gap, the two veterans can't do everything on their own.
Luckily for the Patriots, they recently received an invaluable gift from one of the greatest pass rushers of all time: a free tutoring session for one of their most important young players.
According to Nicole Yang of The Boston Globe, Patriots linebacker Josh Uche took part in Miller's fifth annual pass rush summit. The 2020 second-round pick received an invite from the Broncos star to join a group of players in Las Vegas that included former Michigan teammate Rashan Gary, 2017 first-round pick Solomon Thomas, and 2020 first-round pick K'Lavon Chaisson.
"I've been looking up to Von since I was little," Uche said Wednesday after New England's final minicamp practice. "I've been on YouTube watching the pass rush summits since middle school, I want to say."
So how did the experience go for the explosive linebacker?
"It was just great to exchange wisdom with different guys who have done it at a high level," Uche said. "A lot of insight was taught."
Will Josh Uche become a long-term building block for Bill Belichick?
Will Miller's gift of knowledge pay off for the Patriots? Or will Uche fail to develop into a starter for Belichick?
It's easy to get excited about the second-year linebacker's potential. Uche's long 33 5/8-inch arms make up for his less-than-ideal height (he measured in at just over 6-foot-1 at the NFL Scouting Combine). His sideline-to-sideline speed, closing burst, and overall athleticism also stand out as positives. So even though he didn't make much of an impact as a rookie (nine tackles, one sack, seven quarterback hits), Uche's physical skills make him an intriguing long-term prospect.
If he can take the lessons he learned from Miller's summit and apply them on the field, the Patriots will have a legitimate Pro Bowl linebacker. With Dont'a Hightower and Van Noy both on the wrong side of 30, Belichick desperately needs a young player to step up at the position. Uche has the highest upside out of anyone on the depth chart, so he should receive ample opportunity to prove he belongs in the lineup.
Then again, Belichick doesn't exactly have a great history of drafting front-seven defenders in recent years.
Patriots fans can only hope that Uche doesn't join Geneo Grissom, Vincent Valentine, Derek Rivers, and Chase Winovich as Day 2 picks who've failed to pan out.
Maybe Miller's advice will prevent that from happening.