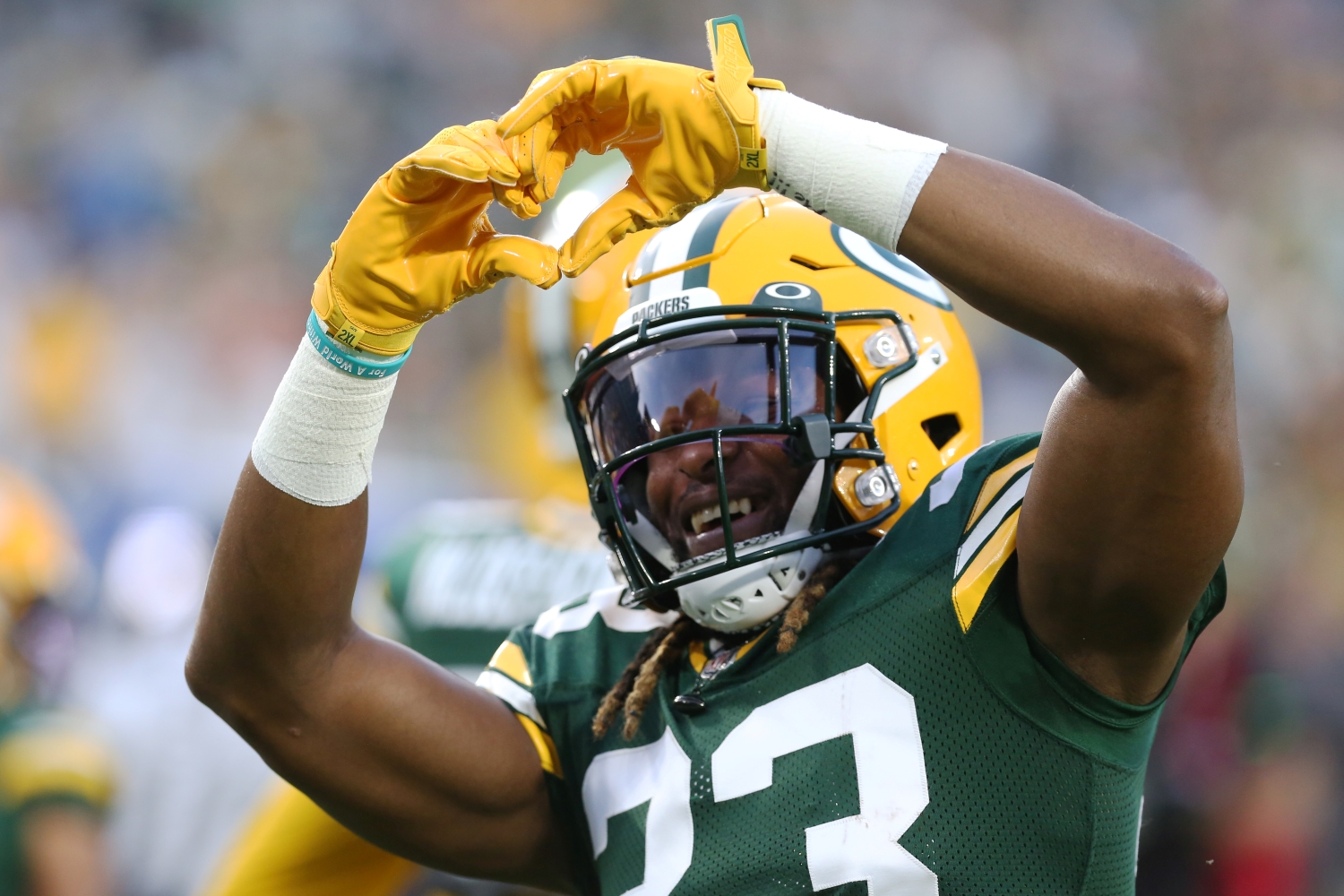 Packers Trainer Saves Star RB Aaron Jones From Losing His Father's Ashes Forever: 'It Shows How Much They Care About Us'
Aaron Jones put on quite a show on Monday Night Football. However, the star running back almost lost his father's ashes forever until a Packers team trainer saved the day.
Just a few months after the Green Bay Packers fell to the Tampa Bay Buccaneers in the NFC Championship, Pro Bowl running back Aaron Jones suffered a tragic loss that nobody can prepare for.
In April, his father, Alvin Jones Sr., died of COVID-19 complications at the age of 56.
Having to say goodbye to one of his biggest fans represented a tough blow for the 26-year-old NFL star. However, it also gave Jones the opportunity to honor his late father in a unique way.
And whether you believe in spirits or not, it's hard to ignore what happened both during and after the Packers' victory against the Detroit Lions and not come away thinking someone was watching over Green Bay's dynamic running back from above.
Aaron Jones had a fantastic performance on the night he paid tribute to his late father
Aaron Jones wanted to make the Packers' home opener particularly special.
And he most certainly did just that.
Not only did Green Bay's dynamic running back deliver a fantastic performance, but he also earned widespread respect for his touching tribute to his late father. Wearing a necklace that contained his dad's ashes in a small football-shaped medallion, Jones had an unforgettable night that included 67 rushing yards, 48 receiving yards, and four total touchdowns.
Coming off a disappointing Week 1 outing in which he totaled only 22 yards on seven touches, his bounce-back effort couldn't have come at a better time. After all, the Green Bay needed every bit of Jones' speed and playmaking ability to overcome a 17-14 halftime deficit and avoid an 0-2 start.
While the Packers scored 21 unanswered points to earn a much-needed victory, their dual-threat tailback appeared to have lost the pendant he waited to unveil in his first game back at Lambeau Field.
Packers trainer comes up big for the team's star running back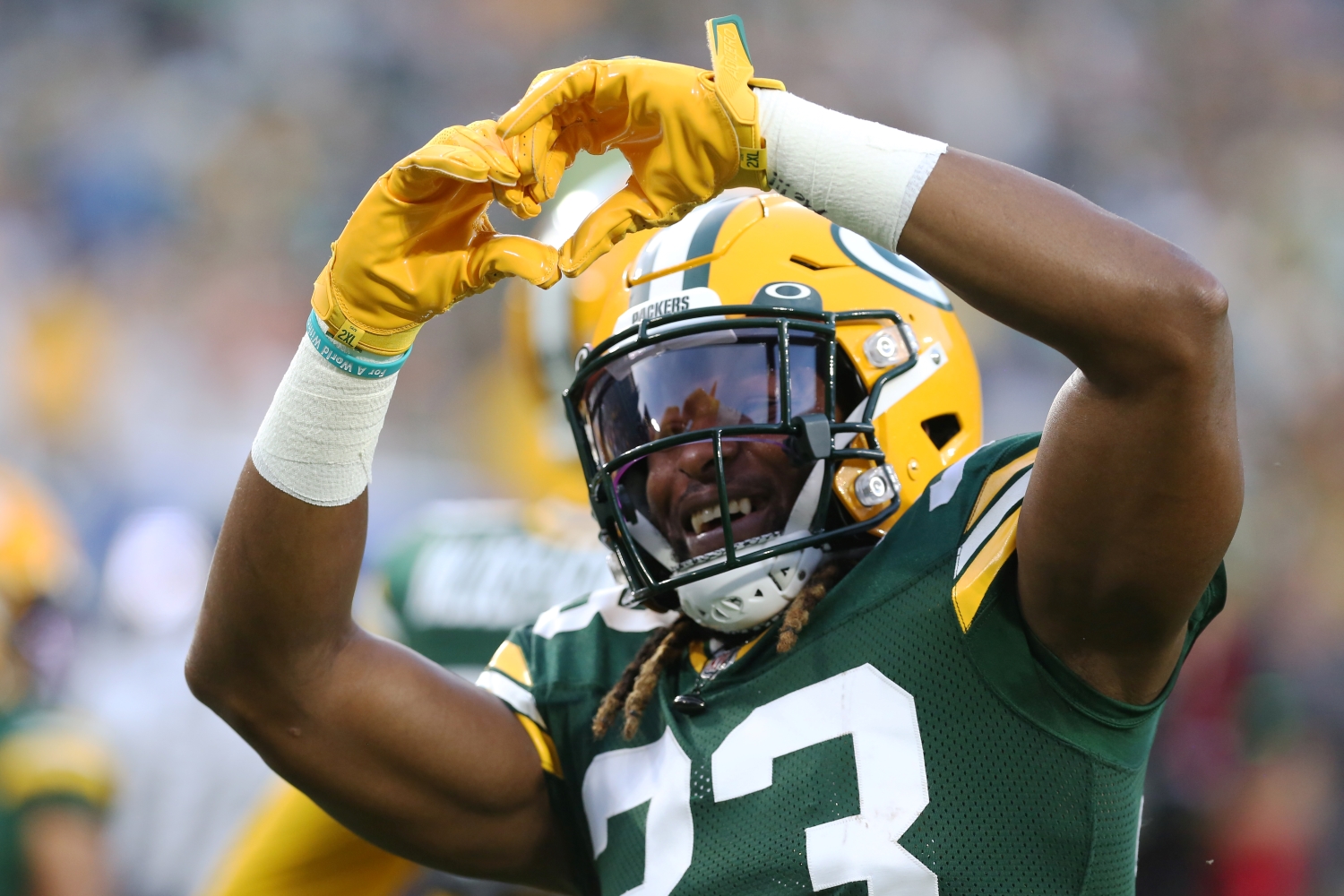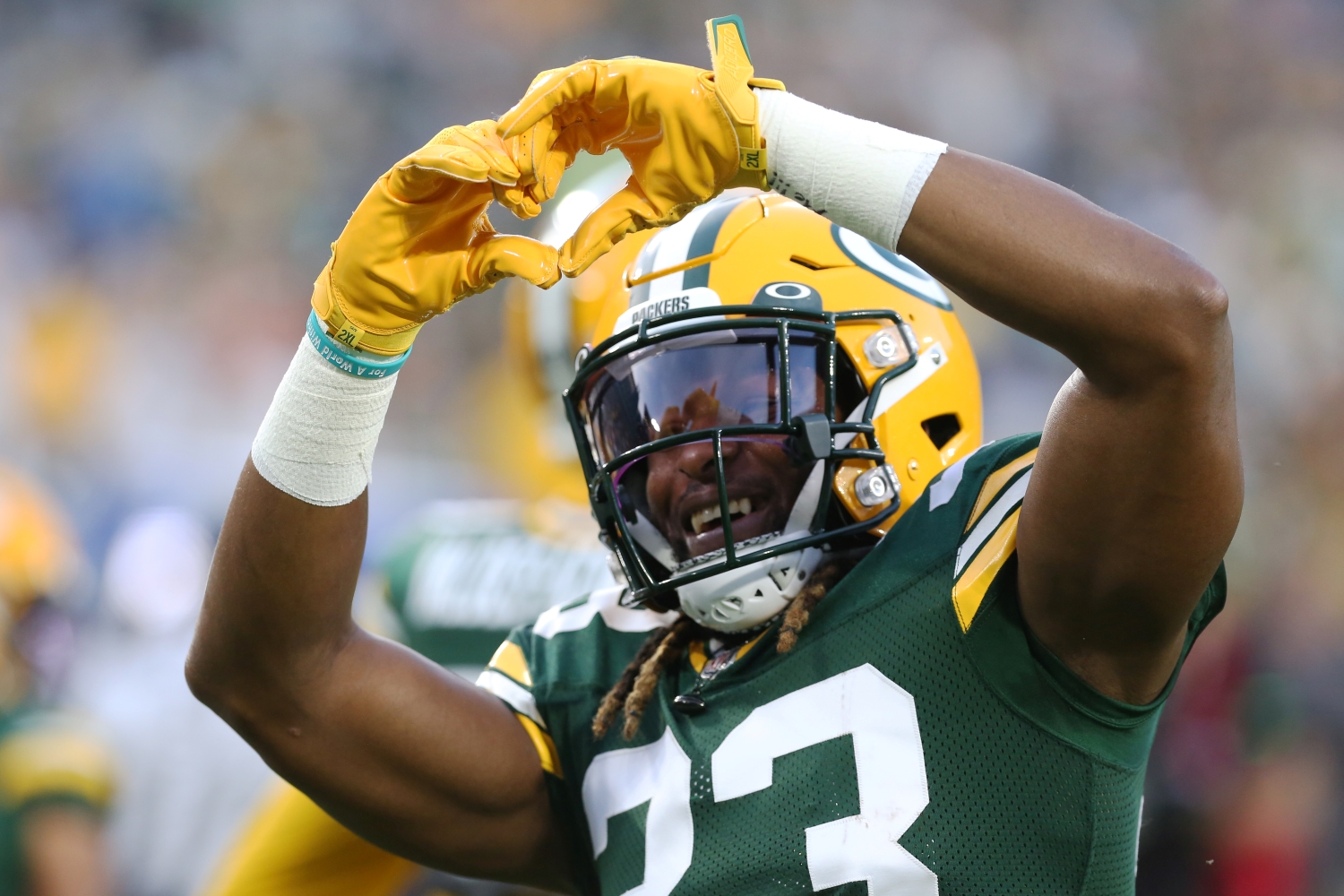 Jones found the end zone four times during Green Bay's 35-17 win over Detroit. However, one of those scoring plays resulted in the ash-containing medallion coming off.
"If there was any place to lose it, that's where my dad would've wanted me to lose it," Jones said, per ESPN. "So I know he's smiling."
Luckily for the fifth-year pro, his father's ashes didn't go missing for very long.
Jones appeared on The Steve Czaban Show on 97.3 The Game Tuesday to confirm a Packers trainer came through in the clutch after an exhaustive search.
"[He] found it, so we're perfect," the 2020 Pro Bowler said. "Thank you to him. He was out there until 1:45 [a.m. CT]. It shows how much they care about us."
Jones later tweeted a picture of the small football-shaped medallion containing his father's ashes with the message, "Found at 1:45 am. Thank you to our trainer Bryan "Flea" Engel. I'm forever grateful."
Can Green Bay keep things rolling in Week 3?
Although Jones and the Packers came out victorious against the Lions, they may have a tough time moving to 2-1. Matt LaFleur's team has to travel to San Francisco this week to take on a 49ers squad that ranks eighth in points scored (29.0 per game) and 10th in points allowed (22.0 per game).
Injuries continue to cause problems for Kyle Shanahan, but the roster still looks capable of doing damage. The 49ers feature three first-rounders along their front seven (Arik Armstead, Nick Bosa, and Javon Kinlaw), and middle linebacker Fred Warner has the speed and range to make plays from sideline to sideline.
On the other side of the ball, San Francisco can't match Green Bay in terms of pure talent at running back. However, Jimmy Garoppolo still has two excellent targets in tight end George Kittle and wide receiver Deebo Samuel. Plus, 2020 first-rounder Brandon Aiyuk has the physical skill set to become an impact player.
Can the Packers contain an offense that traditionally gives them problems? Or will Joe Barry's unit get exposed by Shanahan's creative play designs?
Meanwhile, Jones and the offense must prove they can move the ball consistently and put up points across all four quarters. That hasn't happened so far, so it will be interesting to see if Green Bay gets off to a hot start.
If not, Aaron Rodgers could follow up a home-opening win with a loss in his return to his home state of California.