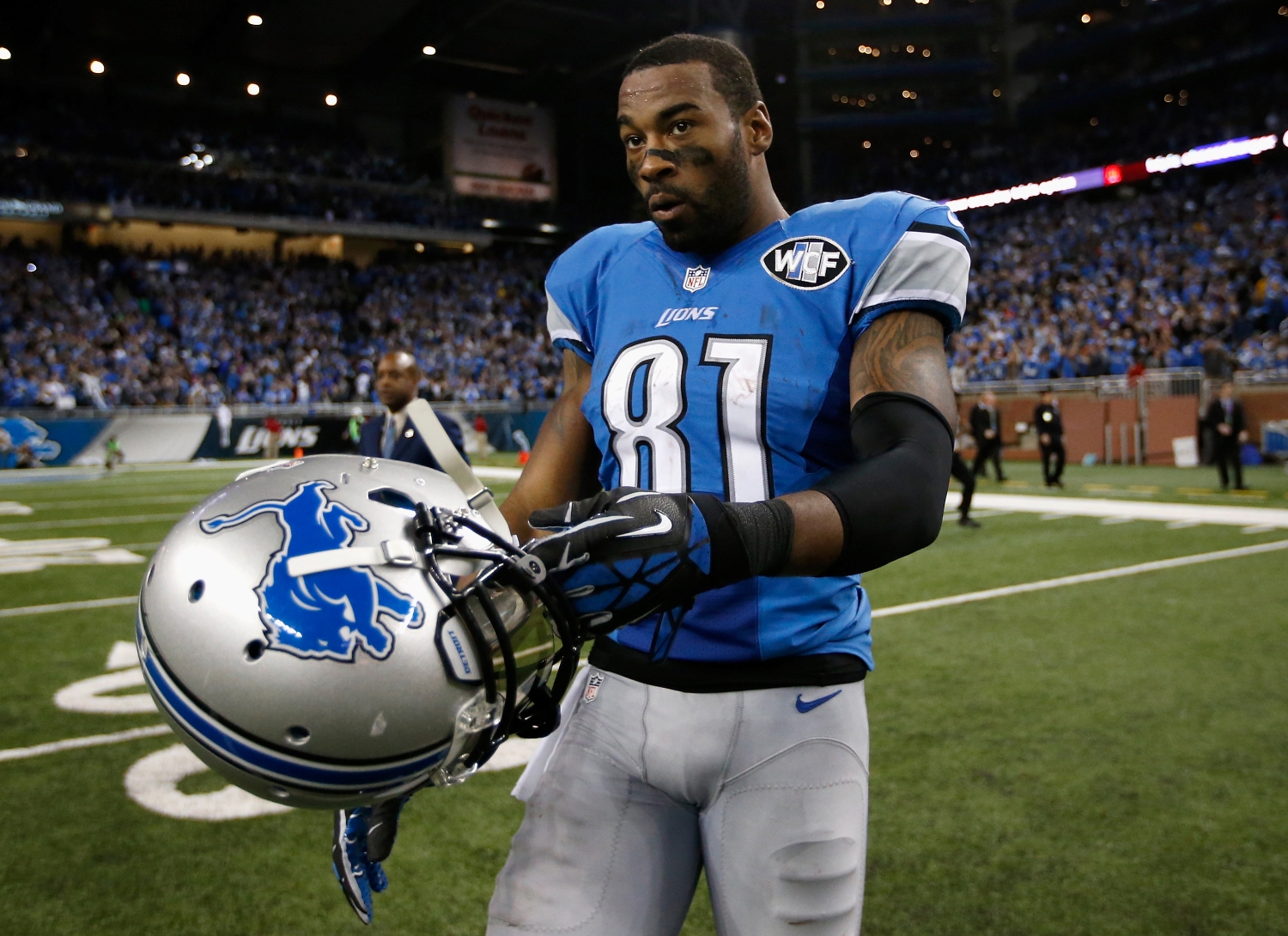 Calvin Johnson Made $112 Million During His Legendary NFL Career, But He Refuses to Let a $1.6 Million Problem With His Former Employer Go Unresolved
Calvin Johnson hasn't suited up for the Lions since 2015, but that doesn't mean he's done with the franchise. Will Detroit finally make a $1.6 million problem go away?
Calvin Johnson didn't even play a decade in the NFL, but he undoubtedly walked away from the game as an all-time great. Along the way, he dominated defensive backs using a unique combination of size, speed, strength, and skill. And by racking up prolific numbers as a game-breaking receiver for the Detroit Lions, the six-time Pro Bowler put himself in a position to earn more than $100 million and a spot in the Pro Football Hall of Fame.
Unfortunately for Johnson, he and his former employer remain at odds over a much smaller sum of money. And by letting the problem linger, it shouldn't be a surprise that the Lions still look like a franchise searching for some semblance of direction.
Calvin Johnson broke the bank by becoming one of the best receivers in NFL history
It pays to be an expert at your craft.
In Calvin Johnson's case, his ability to consistently torch cornerbacks and safeties helped him become incredibly wealthy. After entering the league as the No. 2 overall pick of the 2007 NFL Draft, the former Georgia Tech star signed a six-year, $55.5 million deal that included a $14 million signing bonus.
And it didn't take long for Johnson to prove the Lions made a smart investment.
The 6-foot-5, 237-pound wideout caught a league-high 12 touchdown passes in just his second NFL season. Two years later, he earned his first of six consecutive Pro Bowl selections. Although the Lions didn't experience much success as a team, Johnson gave Detroit fans plenty to cheer about by making highlight-reel plays on a weekly basis.
While his individual brilliance didn't pay off in terms of championship rings, the 35-year-old certainly earned a lucrative living ($112.21 million across nine seasons) thanks to his football prowess. Not only did he break the bank with his rookie contract, but he also did so again in 2012 when he signed an eight-year, $132 million extension with $60 million guaranteed.
However, Johnson didn't play out that record-setting deal.
Instead, he abruptly retired from the NFL following a dominant 2015 season that included 88 catches for 1,214 yards and nine touchdowns.
But that decision came back to bite the Hall of Famer.
The Hall of Fame wideout refuses to let a $1.6 million problem with his former employer go unresolved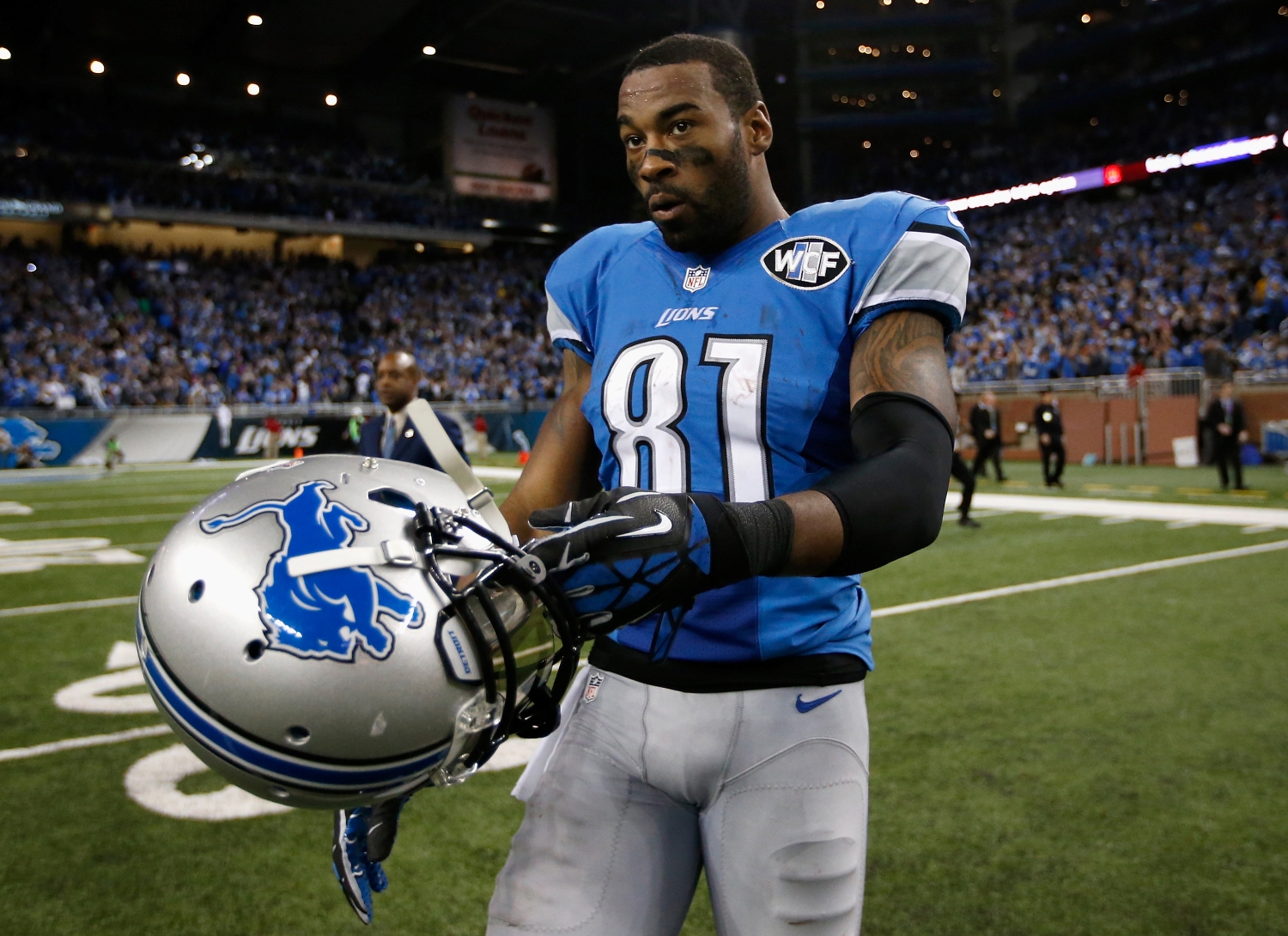 Once Megatron chose to end his NFL career prematurely, his longtime employer surprisingly forced him to repay $1.6 million in signing bonus money. According to Dave Birkett of the Detroit Free Press, the Lions allegedly offered Johnson a three-year deal that would have paid him $500,000 annually for appearance fees and a $100,000 donation for his charity.
The legendary receiver turned down the proposed deal.
The Lions' decision to make Johnson give back $1.6 million raised plenty of eyebrows given his contributions to the franchise. Since he was a fan favorite who commanded widespread respect from teammates, coaches, and opponents, it made little sense to punish him for retiring. After all, Johnson endured years of losing and playing through injuries during his time in Detroit.
Despite the fact he hung up his helmet and shoulder pads five years ago, the former NFL star still hasn't reached a resolution with the Lions.
"I'm not gonna close a chapter, but I'm not gonna bend over backwards to try and do anything, because I didn't do anything. I did my job," Johnson said during an interview with Graham Besinger. "I'm not saying they gotta repay me the $1.6 (million) all up front, but they need to figure out a way to do it and not have me work for it. Because I already did the work for it."
Of course, other big-name players have unexpectedly called it quits. Yet it's clear the Lions have taken a vastly different approach to handling an abrupt retirement compared to other teams.
"You see [Tony] Romo come out, you see Andrew Luck come out, you see how their owners take care of them," Johnson said. "When we were playing with the Lions, you see (ownership) out at practice, but that wasn't an everyday thing when I was playing. They just see us as, we're just pawns out there. We're just numbers. They don't see the personalities; they don't see the people."
The Lions need to find a way to make things right with Megatron
The ongoing feud between one of the greatest receivers in NFL history and his former employer just goes to show how easy it is to ruin a relationship. Neither side truly needs that $1.6 million, but it's clear it matters greatly to all parties involved. At this point, the Lions would be smart to make things right with Megatron and figure out a way to give him back the money he received as part of his signing bonus.
That move would allow the franchise to close the chapter on a story that should never have extended into 2021. Johnson would get what's rightfully his, and the team might be able to mend fences with a player who dedicated nearly a decade of his life to trying to bring joy to the city of Detroit.
Will the situation get resolved?
Considering the ordeal began when Jim Caldwell was head coach, it won't be a surprise if the Lions let it linger even longer. But if they care about winning back Calvin Johnson's trust and showing their fans they want to do better moving forward, perhaps the perennial NFC North bottom-dwellers will do the right thing after all.
All statistics courtesy of Pro Football Reference. All contract data courtesy of Spotrac.